Akash Systems, Inc., founded by Felix Ejeckam and Ty Mitchell in 2016 and whose seed fund was led by Khosla Ventures in Q4 2017, strives to resolve issues critical to the expansive growth of the satellite industry.

RF probe testing of an Akash GaN-on-Diamond wafer of power
amplifiers at the company's RF facility near Dallas, Texas.
With goals to extend the reach of fast, affordable information across the globe, the company is focused on enabling the next generation of smallsats using proprietary RF power amplifiers and radios. Gallium Nitride (GaN)-on-Diamond, a new material created by Ejeckam, is at the heart of the company's RF products.
Akash's GaN-on-Diamond materials use the extreme thermal conductivity of synthetic diamond to minimize thermal waste in a satellite. This feature delivers record-breaking information data rates at little power consumption levels. Launch costs, typically dominated by weight, are dramatically reduced due to the reduced size and weight of thermal management hardware.
Innovative Technology
Akash's patented GaN-on-Diamond technology promises to transform the SATCOM industry.
Radio frequency power amplifiers are used by every satellite on-orbit. Akash's solid-state power amplifiers bring diamond — the most thermally conductive material on Earth — within nanometers of the GaN heat source, resulting in power-added efficiency (PAE) that is 5 to 20 points higher than incumbent technology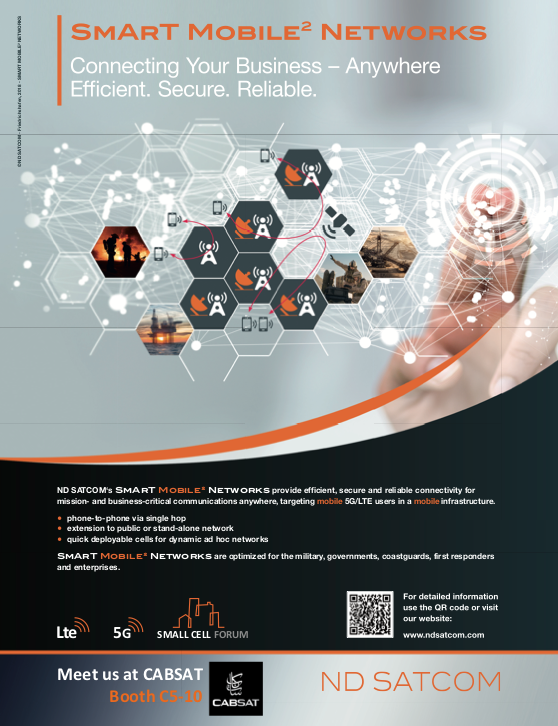 With less wasted heat, Akash customers will often decide to raise the temperature of the baseplate by as much as 80 degrees Celsius, shrinking the size of the thermal management mass of the satellite. Simultaneously, due to increased PAE of the amplifiers, customers can reduce the size of the batteries and solar arrays needed to support a mission.
Many satellite systems can use the higher efficiency of GaN-on-Diamond amplifiers to achieve sharply higher data rates for a fixed satellite design. This allows satellite operators to serve more customers and increase the revenue derived from a single launch.
Akash envisions their RF amplifiers delivering new services to the market, such as 1 Terabit per second downlink data rates, extremely high-resolution (10 cm.) Earth imaging, terapixel (1012 bytes) video capabilities, powerful radars and opportunities in "burst" communications that will enable new applications, from consumer mobile to use by the military.
Smallsats continue to be a dominant source of growth in the space industry, easily illustrated by the number of new startups and large companies that are launching satellites through rideshare programs.
Akash has designed its smallsat radios to easily integrate with existing ground station and satellite infrastructure — customers are typically Earth Observation (EO) satellites whose sizes can range from 3U CubeSats to microsatellites.
The small radios Akash is developing promise impressive performance that has not yet been seen on the market: the X-band will deliver up to 400 Megabits per second data rate at 8.0-8.4 frequency, and the Ka-band will boast more than 1 Gigabits per second data rate at 25.5-27 frequency. The CubeSat radios will be completed in 2019 with pre-sales starting immediately.
Business Strategy
Akash is taking a phased approach to its business. Currently in Phase One, Akash is delivering GaN-on-Diamond HEMTs, Hybrids and MMIC Power Amplifiers to customers who make systems requiring high frequency and power efficiency. This year, the company plans to enter Phase Two, delivering radios with groundbreaking capabilities.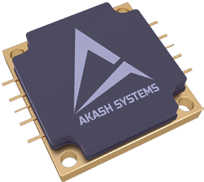 Recognition in the Industry
As a three-year-old startup, Akash sets the bar for what's to come in the SATCOM industry.
In September of 2018, Akash earned the Best Newcomer Award at FinSpace, a Shark Tank-style business competition for startups during Euroconsult's World Satellite Business Week (WSBW) in Paris.
Akash presented alongside other startups such as Phase Four, NSLComm, Hiber and Exotrail. FinSpace provided an invaluable opportunity for Akash to share its work, learn from other leading companies and forge meaningful connections with trailblazers equally excited about the next frontier in satellites and space communications.
Opportunities continue in 2019 for Akash to demonstrate leadership in the industry. Daniel Francis, Ph.D., VP of Materials, delivered a keynote speech at the Diamond D-Day conference in Bristol, England, to highlight Akash's recent work on the GaN-on-Diamond wafer materials.
In May of this year, Akash will compete alongside 15 industry entrepreneurs in the third annual Startup Space Competition at the satellite show in Washington, D.C.
Meet the Team
Since the company's founding in 2016, Akash Systems has carefully built its team with the brightest industry minds.
Co-founders Felix Ejeckam and Ty Mitchell, both with backgrounds in science and engineering, paired their expertise to create a dynamic partnership. The company is now staffed with 20 full-time employees.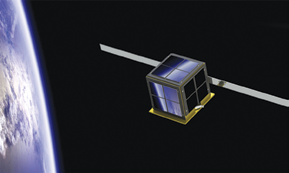 With a Ph.D. in Electrical and Computer Engineering from Cornell University, Ejeckam grounded his career in transformative technology. He is a seasoned entrepreneur, electrical engineer and venture capitalist and invented the GaN-on-Diamond technology in 2003 at Group4 Labs, Inc., by lifting GaN epitaxy from its original growth substrate, silicon, and transferring it to a synthetic chemical vapor deposition (CVD) diamond substrate. In 2013, Group4 Labs was acquired by Element Six, a DeBeers company.
Dr. Ejeckam has published more than 100 journal and conference papers and has obtained many patents. Prior to Group4, Felix was the co-founder and CEO of venture-backed Nova Crystals, Inc., a developer and maker of next-generation semiconductor lasers and detectors for the Telecom/Datacom markets.
Co-founder Mitchell started his career as an engineer at General Electric (GE) and International Business Machines Corporation (IBM) before earning his Ph.D. in Materials Science and Engineering from the University of California, Berkeley.
Dr. Mitchell gravitated toward business development and leadership roles within the GaN and SiC materials, optoelectronics and LED lighting fields. Prior to Akash, Mitchell held an executive role with Cree, Inc., a $1.6 billion manufacturer of power and RF applications, lighting class LEDs and LED lighting.
Akash's Dallas office is led by CTO Kris Kong, Ph.D. Along with VP of Device Technologies Paul Saunier, Ph.D., Dr. Kong was a Senior Fellow at Qorvo/TriQuint before joining Akash. Daniel Francis, Ph.D., VP of Materials, leads the Oakland, California, office.
Most recently, Akash Systems welcomed Brian Holz onto the team to serve as Chief Architect. Holz has more than 31 years in progressive space system engineering, program management and executive leadership.
Akash's products share a common goal: to create smaller, lighter and less expensive satellites that reduce manufacturing and launch costs, while expanding communications access.
akashsystems.com
Jeanette Quinlan is Director of Space Systems at Akash Systems. Prior to Akash, Jeanette managed the U.S. Operations of Starburst Aerospace Accelerator, connecting traditional aerospace primes with startups in aerospace. Before joining Starburst in 2016, she spent more than 10 years as an engineer in the satellite industry. Her experience includes analysis, design, testing and on-orbit monitoring of RF and electro-optical satellites in LEO and GEO orbits.
Jeanette spent nearly two years at OneWeb on the satellite engineering team as the startup grew through its early stages of the Joint Venture with Airbus. Jeanette led as a Thermal Engineer at Space Systems Loral (SSL, now Maxar), working on the world's top geosynchronous communications satellites.
Her career began at ITT (now Harris) in Rochester, NY, working with optical systems for government contracts. Jeanette has a B.S. in Mechanical Engineering from the University of Rochester in Rochester, NY.
---