The challenge of creating ubiquitous broadband connectivity is key to the continued growth and development of the satellite sector.
That's because the very nature of satellite technology means it is often the only viable solution for areas where geography makes access most difficult. Where other methods of connectivity are either substandard, uneconomical or completely absent, only satellite communication technology can deliver affordable and reliable broadband connectivity direct-to-premises.
The many thousands of isolated islands dotted across the Pacific Ocean provide a stark illustration of the limitations of traditional terrestrial approaches to connectivity. One operator, Kacific Broadband Satellites, is looking to address this endemic lack of connection and, in so doing, created a service model that can deliver fast, affordable, connectivity to nations within and around the Pacific, across Asia and beyond.
A Vision Of A Connected Continent
Kacific started by looking at the needs of the people in the world's most difficult-to-connect geography: the blue continent. The project goal was to deliver affordable, high-speed Internet to enterprises, agencies and remote communities in the Pacific Islands, Eastern Indonesia, Papua New Guinea and beyond, transforming the communications landscape in these remote regions.

The region has had a pervasive lack of communication for a very long time. Historically Pacific island nations have always lagged behind the connected world simply because of the geography, topology and dissemination of the islands. Some island groups are spread across thousands of square kilometers of ocean, and it is very difficult to connect them, especially as they have a fairly modest population density. It is expensive, and the total market has a limited willingness or ability to meet the very high expenditure required to connect them by terrestrial means. Satellite has always been the preferred connectivity option.
Kacific was driven by the insight that, if the price is right (comparable to that of urban areas), then demand will follow. Kacific made a technology commitment to Ka-band High Throughput Satellite (HTS), and its solution is driven by a frugal model: lost cost, easy to deploy technology based on standard parts, a solution that easy to maintain, robust, power tolerant and sustainable.
Extending The Vision
Kacific's initial focus was on operating owned or part owned satellites; however, as the company's initial offering unlocked huge pent up demand in the Pacific, inquiries started to arrive from users in other parts of the world—from the Falklands to the Caribbean, from Africa to East Asia—all of which led Kacific to understand that there's more demand in all areas of the globe.
As the scope of the demand for low-cost, high-speed broadband connectivity became clearer, Kacific started looking at the shared payload model for time-to-market practicality, to allow the firm to deliver interim services in advance of the planned satellite launch. This shared payload approach allows Kacific to meet demand, deliver services and prove professional business cases.

Kacific has seen the opportunity in the unmet demand across the world for fast, accessible, affordable, bandwidth. This demand is a low-priority for traditional GEO operators, but the demand is urgent—ICT infrastructure drives human capital and economic development.
The number of communications satellites is growing steadily and operators are systematically launching payloads with excess capacity. Nimble players with key know-how can take advantage of this arbitrage opportunity. The key point is, you don't have to build a constellation to provide a cost-effective, multi-continent service.
An agreement signed with Newtec in April of 2016 enables Kacific to provide interim Ku-band capacity to customers in the Pacific, ahead of the launch of the company's Ka-band satellite, and to extend service to many underserved areas—not just in the Pacific, but in southeast Asia and beyond.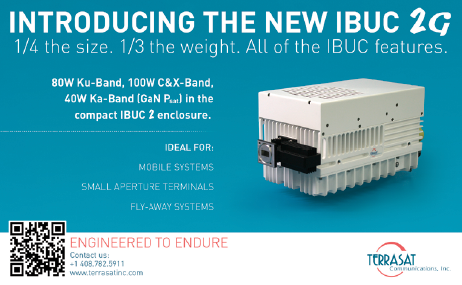 Disaster Recovery
Disaster recovery is a major issue for isolated regions throughout the world. Every year cyclones cause massive disruption to Pacific nations. In the aftermath of the cyclone that hit Fiji earlier this year, lack of communications significantly hampered rescue and recovery efforts. Equally powerful hurricanes lash the Caribbean, tsunamis threaten coastal villages across Asia, and earthquakes lay waste to remote and isolated regions all along the ring of fire.
When these affect terrestrial communications, as they so often do, information flows are restricted, aid distribution is hampered, lives are lost and recovery is long delayed. Kacific has been working with several governments who are interested in providing increased resiliency and who recognize that satellites can address their requirements better than cable.
And it's not just natural disasters that bring to light the vulnerability of Pacific nations. When the lone undersea fiber-optic cable linking the Commonwealth of the Northern Mariana Islands (CNMI) to the rest of the world was struck by a boulder in July of 2015, telecommunications, banking, healthcare and other services were disrupted to such an extent that the government declared a state of emergency.
With Kacific's decision to deploy Newtec's multiservice platform Newtec Dialog®, rural South East Asia and the islands of the Pacific Rim will soon be receiving vastly improved Internet connectivity, which will support disaster recovery efforts. That same improvement to disaster recovery can be replicated wherever a satellite beam can touch the Earth.
Affordable Connectivity
Using Newtec Dialog, Kacific will provide affordable connectivity services to public institutions, consumers and enterprises, initially delivering Internet access to a number of schools in the Republic of Vanuatu. As Kacific's business rolls out, nations across the whole of South-East Asia and the Pacific—from Sumatra, Indonesia, to the French Polynesian archipelagos—are in line to benefit from Kacific's broadband service.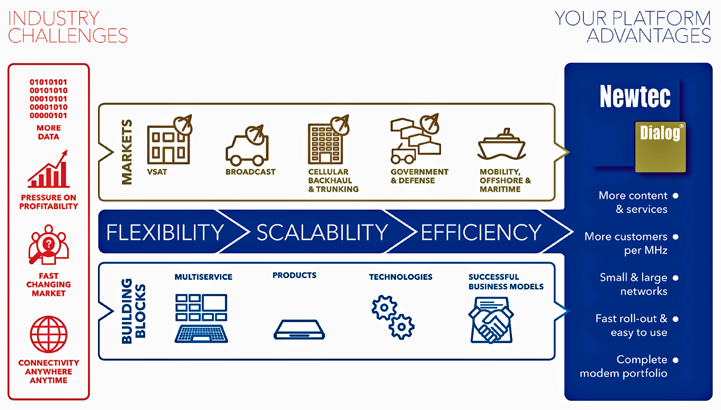 As the satellite market continues to diversify and more varied applications become mainstream, satellite service providers, network operators and broadcasters increasingly need innovative business models, strategies and network infrastructure which adapt easily to change, and all satellite service providers—big and small—can seize the opportunity today to fulfill their ambitious business objectives.
In the current climate, companies have to win ground in their core markets and increase profitability if these companies want to play a significant role in the entire satellite communications ecosystem. This is where multiservice platforms such as Newtec Dialog come into play.
Flexible, Scalable, Efficient
Newtec Dialog's role in the provision of satellite broadband from Kacific illustrates its flexibility, enabling a wide range of business-to-consumer, business-to-business and governmental applications over a single, versatile satellite communications system covering both fixed and mobile environments.

Pay-As-You-Grow
The Newtec Dialog Hub, which is the core of the platform, is designed to be a fully scalable and flexible multiservice solution. The benefits are also felt from a commercial perspective, with the flexible licensing model and a modular hub architecture enabling service providers and operators like Kacific to start at the size they need and "pay-as-they-grow," and because of the simple upgrade path, outbound carriers, return technologies and throughput capabilities can be added with ease to efficiently address new opportunities and markets.
With Newtec's advanced modulation technologies, such as the new DVB-S2X standard, and its unique return link technology Mx-DMA®, Kacific will be able to deliver many different types of satellite connectivity—all at efficient and competitive rates.
Unique, Dynamic Approach
Alongside enabling tailored services and guaranteeing optimal modulation and bandwidth allocation—whether it is being used to provide enterprise, consumer broadband, cellular backhaul or mobility services—the Mx-DMA technology also makes Kacific's services more bandwidth efficient and enables services to run more reliably than before.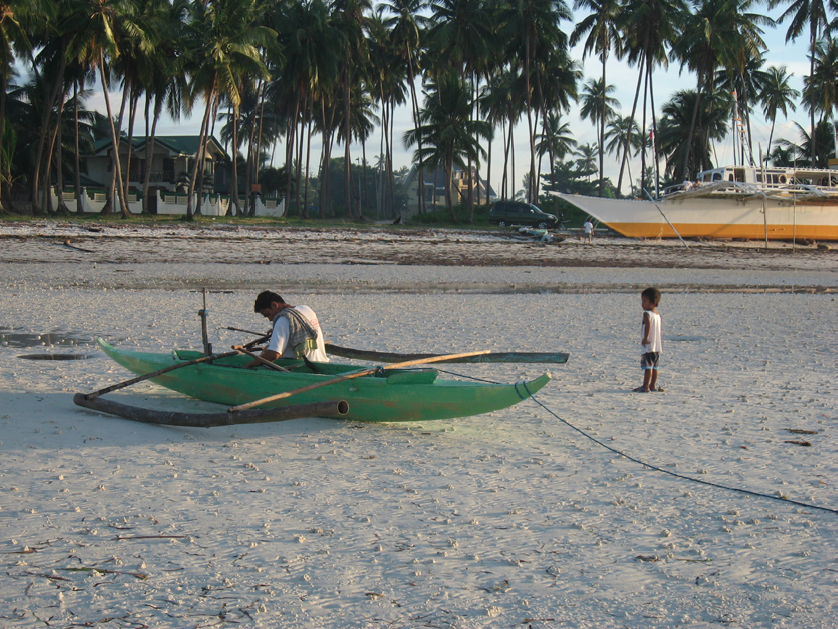 ---
"Newtec Dialog is, in our opinion, an excellent choice. It is a highly scalable multiservice platform that supports a wide range of applications and services and we will enjoy advantages over other offerings in terms of cost-efficient usage of satellite capacity and bandwidth savings."—Kacific CEO Christian Patouraux
---
Operating in the space between SCPC and MF-TDMA, where a large number of applications with low to medium overbooked services and dedicated throughput rates up to 70 Mbps, Mx-DMA combines the efficiency of the former with the dynamic bandwidth allocation of the latter, dynamically allocating satellite bandwidth in real-time depending on traffic demand, Quality of Service (QoS) profiles and link conditions.
The changes are seamless and without any packet loss or additional jitter and allow services with continuously changing rates to run as they would with MF-TDMA, but with the efficiency of SCPC. This feature allows network operators to deploy anything from dedicated services to low-to-medium overbooked services at any given time and at minimum space capacity cost.
The Newtec Dialog platform allows terminals to easily switch from one return technology to another, and having the choice between these three return technologies in a network within a single modem guarantees network operators a business model with maximum flexibility in supported applications, responsiveness to new market opportunities and Service Level Agreement (SLA) schemes that fit customers' needs.
www.newtec.eu
kacific.com
---
"As well as meeting the operator's needs today, we are also confident that, thanks to the scalable nature of
Newtec Dialog, it will continue to meet Kacific's needs long into the future and that it will help to close the
digital divide in many underserved areas not just in the Pacific, but in South East Asia and beyond"
—Serge Van Herck, Newtec CEO.
---