Following a decade of faithful service to a large SATCOM company where I served in a variety of technical roles, our senior management identified a character trait in me that, in their view, potted my destiny for a life in Sales. So with the grace of an alley cat being shoved into a washtub of water, I was plucked from the nurturing womb of Engineering and cast into a new trade, a trade that seemed to lack a prerequisite for any apparent skills what so ever. Was this punishment? Let's face it. Engineering carried with it an air of sophistication and mystery. Back in the day, SATCOM was an esoteric new field where rules were being written and boundaries defined. "Procurement" was a back-office entity – engineers ruled!
Following the transition, rack elevations and wire lists gave way to a whole new set of challenges. Challenges — and perks! At least, perks as they are viewed through the eyes of a naive new sales warrior. Perks — such as the trade show! Ah yes, the trade show!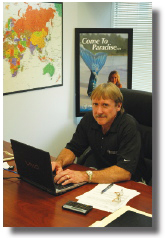 Remember the trade shows of the renaissance era of SATCOM? Exhibitors and attendees alike donned elegant suits and traipsed among the floral bouquets that adorned the ornate and sophisticated stands. We manned our elaborate displays like distinguished ambassadors eagerly awaiting passing customers, attempting to bait them with trinkets like mouse pads and risqué posters. All in hopes they would stop to view our latest wares. And after-hours, numerous companies would host festive hospitality suites where lucrative deals were discussed over lavish gourmet spreads and champagne bars. Ah yes, those were the days.
But as the saying goes, "Nothing lasts forever." Speaking for someone who has "done the time," "paid the dues" and continues to passionately serve this industry, what a difference a couple of decades can make! Like I, and the scores of individuals that call it home, the industry we know and love has aged, and not necessarily with grace.
Though no longer considered a perk, I still make my ritual pilgrimages to a number of trade shows every year. As I board the plane to embark for the "city of convention," I usually recognize a number of my fellow passengers — many now stooped and gray, with briefcases once stocked with mechanical pencils and slide rules — now stuffed with bottles of Lipitor and Diovan. And I ask myself, "Is that my future?" Thanks to my astute investment strategy, I could only be so lucky.
When I finally arrive at the convention center, I see that the acres of multi-story stands from years past have given way to small portable displays and cloth-clad picnic tables, giving the appearance of an upscale flea-market. I'm greeted by half the industry that I happen to know on a first name basis, at least those that survived the span of time since the previous show.
Exhibitors' three-piece suits have given way to polo shirts and Dockers, though they jealously admire attendees decked out in the same cut-off shorts and open sandals they wore to Woodstock (the first one). I'm just waiting for the day that the presenter of the opening commencement speech will be clad in coveralls and sporting a mullet.
I stand on the corner of my modular booth feeling more like a Wal-Mart greeter than a distinguished ambassador, my eyes glaring with distrust at my counterpart on one of the neighboring booths, even though he used to work for me — or I for him. Passersby also have less bounce in their step. Anxious curiosity has been replaced with attention-spans shorter than one or two wing-flaps of a hovering hummingbird.
Scavenging tickets to a gala hospitality event has now given way to scalping invitations to Silvano's open wine bar. Thanks, Silvano, for keeping the dream alive! The Dixie cup wine-glasses are certainly in vogue for the event.
Thanks to the constant "ebb and flow" — the proverbial game of "musical chairs" characteristic of our industry, any semblance of "the secret sauce" has been tossed into the wind only to fall like fairy dust onto the latest entrepreneurial spin-off. But does it matter? Open-standards and interoperability have forced all but a few products into wearing a boringly similar skin, where brand-selection is analogous to selecting fruit at the local farmer's market. But an occasional technology break-through (or a clever re-packaging of last year's break-through) is all that's necessary to invoke the return of the masses — return to once again partake in the ceremonial reunion.
Though SATCOM has yielded little in the form of wealth and prosperity for more than a chosen few, the gift it has given to the veterans of the trade is the opportunity to resurrect old stories perennially spewed at fraternal gatherings throughout the event. With a seemingly scant infusion of fresh meat, our social circle is comprised of an ever shrinking industry base; an ever receding gene pool of passionate die-hards.
The question remains, "Will the last standing SATCOM member please not forget to turn off the lights?"
More Tony Radford ruminations
at this link
.