Satellite Solutions Acquisition Brings Broadband To The Netherlands

Satellite Solutions Worldwide Group plc (www.satellitesolutionsworldwide.com/), a global communications company specializing in rural, last-mile satellite broadband, has acquired Sat2Way SARL ('Sat2Way'), one of the largest and most respected providers of satellite broadband in France, with over 5,500 residential and business customers. Predominantly operating in France, Sat2Way also has customers in Spain, Switzerland and Belgium.
SSW, which already has more than 1,000 customers in France, sees the territory as a key market in Europe as the French Government has incentivized the roll-out of satellite broadband as the solution for many homes and businesses, and is currently offering subsidies in many areas via their 'subvention' scheme. As a result of this acquisition, SSW becomes the second largest satellite broadband provider in France with over 6,500 subscribers and is well positioned to target an addressable market of nearly 1 million homes in France, equating to 3 percent of French households, which have less than 2 Mbps broadband coverage*.

Sat2Way has been acquired out of administration for €825,000 in cash for 100 percent of the share capital. For the eight months ending February 28, 2015, Sat2Way generated sales of €1.73 million (FY2014: €2.54 million) and an EBITDA loss of €0.36 million (FY2014: loss of €0.34 million) (all figures are unaudited). The acquisition is expected to be earnings enhancing for SSW within the current financial year.
CEO Andrew Walwyn said, "We are delighted to welcome Sat2Way customers and staff to SSW. This is our third acquisition in a key European market since listing on AIM in May 2015; it underpins our growth ambitions and takes our subscriber base to approximately 20,000 customers, a 65 percent increase since float.
"Following this acquisition, France is now our second biggest market after the UK, and we expect to expand further there in due course."
Established in 2008, SSW offers a broad range of satellite broadband services with customers across 31 countries. With solutions targeting B2C and B2B users, and with products developed specifically for the broadcasting/SNG, Police and Military markets, SSW's brand Europasat is a leading independent provider of satellite broadband Internet services across Europe.
Working closely with satellite owners and operators, SSW targets customers in the 'digital divide' with solutions that deliver up to 30 Mbps satellite based broadband services to almost any premises, whether residential, commercial or industrial across Europe, irrespective of location or local infrastructure.
*Source: Point Topic data.
---
HYLAS 4 Financing Now Completed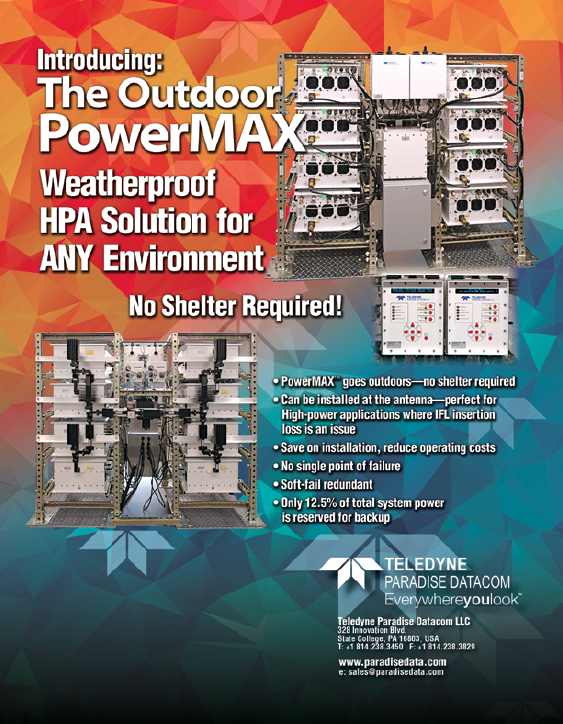 Avanti Communications Group plc ("Avanti"— www.avantiplc.com/) announces the completion of financing for its HYLAS 4 satellite, in line with the previously announced financing plan.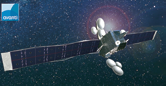 Avanti has successfully placed $125 million in Senior Secured Notes due 2019 (the "Notes") under the Company's existing indenture. The Notes will be issued at a small discount to the current trading price of Avanti's existing notes and will have a coupon of 10 percent. The investor group was led and managed by MAST Capital Management, LLC, a Boston-based investment firm. HYLAS 4 remains on-track for launch in early 2017 and will complete Avanti's coverage of EMEA. The majority of the satellite's capacity will serve high-growth markets in Africa.
The Company expects that this will consolidate its first mover advantage across EMEA, and enhance the future cash generation potential of the Group. In addition, Avanti has also simultaneously conducted an equity capital raising (the "Capital Raising"). Avanti has issued 3,592,781 new ordinary shares (the "New Ordinary Shares") of 1p each ("Ordinary Shares") at a price of 200.65p per New Ordinary Share, to raise approximately £7.2 million ($11.3 million) (net of expenses) in order to satisfy demand from bond investors. The Capital Raising has been conducted under the Company's existing shareholder authorities to allot new Ordinary Shares for cash on a non-pre-emptive basis.
The issue price of 200.65p represents a discount of 4.0 percent to the closing middle market price of 209.00p per existing Ordinary Share on August 17, 2015, the last dealing day prior to this announcement. Application has been made to the London Stock Exchange for the New Ordinary Shares to be admitted to trading on AIM ("Admission").
---
SES Platform Services To Deliver Content To StarTimes
SES Platform Services (www.ses-ps.com/), a wholly-owned subsidiary of SES S.A., announces that StarTimes, the fastest-growing digital TV operator in Africa, will distribute TV channels for their DTH subscribers across Sub-Saharan Africa via SES Platform Services' broadcast facility in Germany.
Under the new multi-year agreement, SES Platform Services will be providing signal turnaround, video processing, and uplinking services for StarTimes' SD and HD channels. StarTimes has more than 5 million DTT and DTH subscribers across 16 countries in Africa and currently provides English-language TV content to viewers across the region via the SES-5 satellite located at 5 degrees East.
"We want TV audiences in Africa to perceive StarTimes as a reliable DTH platform operator broadcasting engaging content at competitive rates to its subscribers," said StarTimes Group Chairman and President Pang Xinxing. "The new contract provides both space and ground segment services to grow their business in Sub-Saharan Africa," said Wilfried Urner, Chief Executive Officer of SES Platform Services.
---
DEV Systemtechnik's Solution For Broadcasters
During IBC 2015 in Amsterdam, September 11-15, DEV Systemtechnik, a Quintech Company (Hall 1, Stand 1.B31—www.dev-systemtechnik.com/), will unveil its new 8² Distributing Matrix ("Eight Squared") product, which offers outstanding flexibility in 1 RU.

With the launch of the new 8² Distributing Matrix, DEV/Quintech's Matrix product family now offers a full range of next generation RF matrix switches designed to meet a variety of sizes, from small to extremely large.
For small configuration environments such as SNG vehicles, the compact 8² Distributing Matrix offers an ideal mix of cost and performance plus unique advantages. The new 8² Matrix's optical inputs, unique redundancy options, LNB powering, full color display user interface, and dual redundant field replaceable power supplies give cable, satellite and broadcast facilities the most reliability and flexibility available on the market. The 8² is suitable for various redundancy purposes, and can be operated in autonomous mode.
The 8² is available in sizes 4x4, 4x8, 8x4 or 8x8, and easily field-upgradeable to the maximum size of 8x8, without any disruption of service. Various connector types, 50 or 75 Ohm, optical inputs, redundancy options, TRAC and field replaceable power supplies let customers equip the device to their needs. A 9th output comes as a standard feature for monitoring purposes. Additional features such as variable gain and tilt deliver optimized and linear RF signal transmission.
---
Berg Insight's Look @ SATCOM + Cell In O&G
The oil and gas industry is characterized by remote and inaccessible facilities where wireless communication in many cases is the only viable option for transferring M2M data ...

M2M Applications in the Oil and Gas Industry is the third consecutive report analyzing the latest developments on the use of wireless M2M technologies in this worldwide vertical industry. This report provides 140 pages of unique business intelligence, including 5-year industry forecasts, expert commentary and real-life case studies to assist with business decisions.
According to a new research report from the analyst firm, Berg Insight, the number of devices featuring cellular or satellite connectivity deployed in oil and gas applications worldwide was 0.5 million at the end of 2014. Growing at a compound annual growth rate (CAGR) of 20.1 percent, this number is expected to reach 1.25 million units by 2019.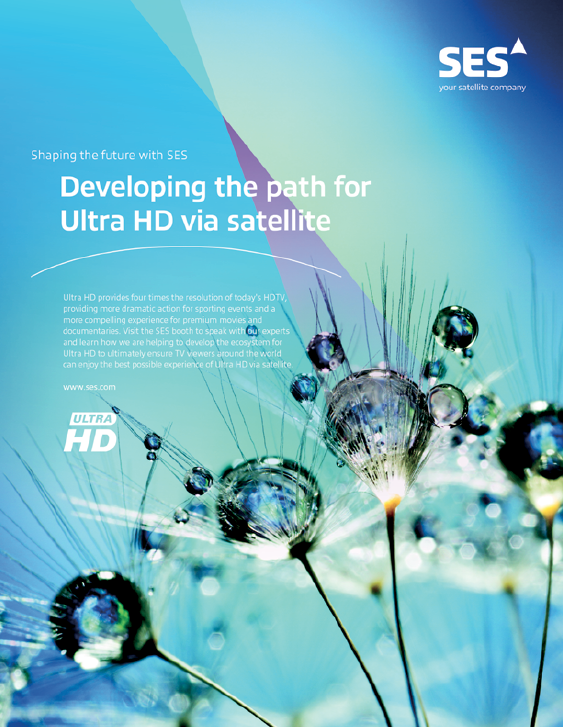 The split between cellular and satellite based M2M devices at the end of the forecast period will be 0.99 million units and 0.27 million units respectively. The oil and gas industry is characterized by remote and inaccessible facilities where wireless communication in many cases is the only viable option for transferring M2M data.
Pipeline monitoring and tank monitoring are the top two M2M applications in the midstream and downstream segments while on-shore well field equipment is the most common wireless application in the oil and gas upstream segment.
Wireless M2M solutions have become increasingly popular in oil and gas applications in the past few years.
The main drivers for adoption are safety and environmental concerns, regulatory compliance and demand for improved operational efficiency.
berginsight.com/
---
Analysis: Are OTT Concerns Over the Top?
By Alan Crisp, NSR Analyst
OTT seems to be wearing on the minds of many these days. DTH and Cable TV platforms are perhaps the most threatened, given the rise of OTT video products and the potential to reduce revenues for video platforms and satellite operators alike. However NSR's latest report on the satellite video markets, Linear TV via Satellite: DTH, OTT & IPTV, 8th Edition finds that much of this concern is unwarranted, with a few exceptions.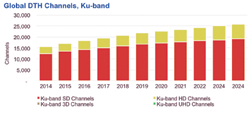 NSR forecasts that globally, DTH channels will increase to over 26,000 by 2024, representing a 67 percent increase over channel counts in 2014, with similar trends for both C-band and Ku-band video distribution. This corresponds to 438 transponders of additional DTH capacity required to handle this growth with a further 343 transponders for video distribution for Cable and IPTV headends.
The plethora of options for consuming video content has never been higher, including (but not limited to): YouTube; Netflix, now available in 80 countries worldwide, along with similar services; Youku and iQiyi in Chinal OTT platforms provided by DTH and cable platforms
However, NSR found the rising OTT presence represents a growing video market pie, rather than cannibalization of revenues. Instead, cannibalization is in the form of viewing time, with consumers spending less time viewing linear content and more on OTT content. However, this doesn't correlate to cord-cutting in most instances, with the exception of the United States where a number of variables have lined up to cause subscription cancellations to occur:
• An existing very high pay-TV penetration rate
Pay-TV is a high cost as a percentage of income for many households, whereas in many other regions, low income households have never signed up for pay-TV services
• Plethora of options for OTT platforms, both free and paid
A home-grown advantage for OTT, as high percentage of high quality content is produced in the U.S.
As a consequence, NSR expects leased DTH capacity growth in North America to remain fairly soft over the next decade.
However, OTT is not a major cannibalizing factor elsewhere, where there is insufficient incentive for consumers to cancel their pay-TV subscriptions, as much higher quality local content is available for lower cost, and the lack of maturity of many OTT services and oftentimes broadband (a key to solid OTT).
Further, as economic development expands in many developing regions, large numbers of consumers are signing up for pay-TV services for the first time, boosting revenues globally. Instances of this include India, Indonesia, and Brazil, with India having overtaken the United States in 2014 for largest DTH market by total subscribers, for example.
Even with OTT acting as a form of complimentary competition, there still remains significant DTH and cable growth opportunities in most regions, which appear sustainable for a decade or more. For instance, the Pay-TV market in large parts of
Sub-Saharan Africa remains largely unregulated, with piracy being a major issue, particularly with STBs flowing from South African DTH platforms to other parts of the continent.
Some DTH platforms have been able to capitalize on OTT content to expand their subscriber base and overall revenues, such as Sky Deutschland and Sky Italia, and this is a trend which NSR expects to become more prominent. Sky Deutschland (for example) saw their largest subscriber increase ever in terms of total number of subscribers in 2014.
And much longer term, after Internet connectivity and OTT become much more ubiquitous, there is likely to be a trend for quality over quantity for Linear TV content, including significant added capacity from the higher bitrate UltraHD format. Although OTT is perceived as a fierce threat, in reality the overall video market pie is increasing, rather than there being cannibalization of Linear TV revenues in most regions. However, this shouldn't
mean that video platforms should stay still. Rather, video platforms will need to diversify to have an OTT product and become a part of the continually expanding video market pie.
2015 is really the beginning of the growth curve for OTT, and if traditional platforms don't step up and offer their own OTT products, their dominance in the long term may be taken away by those who do.
Alan Crisp joined NSR in 2014, following a Hong Kong based engineering role at Aurecon. Mr. Crisp is the co-author of NSR's annual M2M and IoT via Satellite and also the Direct-to-Home (DTH) Markets reports. As a member of NSR's Fixed Satellite Services (FSS) group, Mr. Crisp's areas comprise of M2M and IoT communications - including both the satellite and terrestrial M2M landscape.
Previous consulting experience includes forecast analysis and risk management of natural disasters in Manila, where he made recommendations to policymakers about backup and emergency telecommunication links for use in city and nationwide emergencies. He obtained a Bachelor's Degree with First Class Honours in Engineering (Civil & Structural) from the University of Adelaide, Australia. Aside from English, Alan can speak French and Chinese.
NSR is experienced in strategic advisory and consulting efforts regarding linear TV and OTT growth across all regions, platforms and channel types.
---
This Power Is All Green
Aerojet Rocketdyne has completed delivery of a green propellant propulsion subsystem that will be used to test a non-toxic fuel on NASA's future spacecraft, the Green Propellant Infusion Mission (GPIM).
The subsystem was delivered to GPIM prime contractor, Ball Aerospace & Technologies Corp., for integration into the Ball-designed Configurable Platform (BCP) 100 spacecraft bus. Scheduled to launch in 2016, the GPIM will provide safer operations and higher performance on future missions. The green propellant propulsion subsystem, built by Aerojet Rocketdyne in Redmond, Washington, consists of a propellant tank and five 1-newton thrusters to carry the new non-toxic fuel, called AF-M315E. Developed by the Air Force Research Laboratory at Edwards Air Force Base, the new propellant is safer to handle and offers a 50 percent increase in density-Isp, compared to the conventional chemical propulsion systems, such as hydrazine.
AF-M315E burns hotter than hydrazine, requiring new metals to withstand the high temperatures in the thrusters aboard the propulsion system. The GPIM payload will fly aboard the BCP 100 spacecraft bus, which will provide standard payload interfaces and streamlined procedures for short lead-time and affordable access to space.
GPIM is sponsored by NASA's Space Technology Mission Directorate. Led by Ball Aerospace, the GPIM team includes Aerojet Rocketdyne; the U.S. Air Force Research Laboratory; the Air Force Space and Missile Systems Center; and three NASA field centers.
---