"We're really in the heart of Greek wine country here," remarks Christopher Slaney, VP Business Development of Europe Media Port (EMP), as he slows down for farm vehicles coming the other way along the narrow road flanked by vines. In a broad valley, bordered by tilled hills interspersed by ranks of olive trees, all we can see are grape vines and storage silos, until we come upon a cluster of huge, white satellite dishes. This is the Nemea Earth station, the heart of EMP, one of Europe's fastest growing satellite service providers. "We want to bottle a limited edition of wine under our own label and hand it out as gifts to visitors. But the new rules on flying with liquids on carry-on baggage has put an end to that idea," says Slaney. We agree to share a glass or two at the local taverna before heading back to Athens.
Nemea Earth station
is in the
Peloponnesus
region of Greece, some one hundred kilometers west of Athens. It takes its name from the nearest village, a historical site associated with
Hercules
where the ruins of ancient temples attract visitors from around the world. By the time we get to the main gate, the '
OTE
' logo can be seen on the biggest dish, and this explains how the newcomers at EMP came to be based in such a great facility.
OTE
— or
Hellenic Telecommunications Organization
— is the Greek national telecom carrier that built the Earth station in the early 1990s.
EMP
, a company formed by private investors and headquartered in Nicosia, Cyprus, entered into an agreement with OTE in 2007 to jointly develop new business and market services based at the Nemea teleport and a second Earth station at Thermopylae, close by the ancient battle site of the same name.
The Nemea Earth station occupies a 20,000 square meter site with two antenna arrays set on either side of the management building, control center, and workshops. It's difficult to imagine anyone except a government-funded national carrier having the means to build something similar, and for the time being in Europe, that scenario is unlikely to reoccur.
EMP has room to grow at the Nemea site and this is something they are keen to stress. "I have a presentation which lists 10 points why you should come here instead of investing money and time on building or enlarging a teleport anyplace else," says
Slaney
. He then sums it up like this, "If you want to play tennis, you don't need to build your own tennis court, you just join a club. If you want to be in the SATCOM business, don't spend years going through site surveys, planning permission, appealing for approval from government regulators, choosing suppliers and integrators and fretting over cost overruns. Don't even tie up any capital. Come to us and get everything you need out of a teleport as a service paid for on a yearly basis, even if you want to install and run your own network operations center."
In its second year of business, EMP reported traffic via Nemea is around 40 percent TV related, and 60 percent non-TV, which can be loosely described as 'data'. On the TV side, EMP operates a multi-channel platform on Thaicom 5, uplinks single-channel-per-carrier content to several other satellites and hosts playout and other channel management services.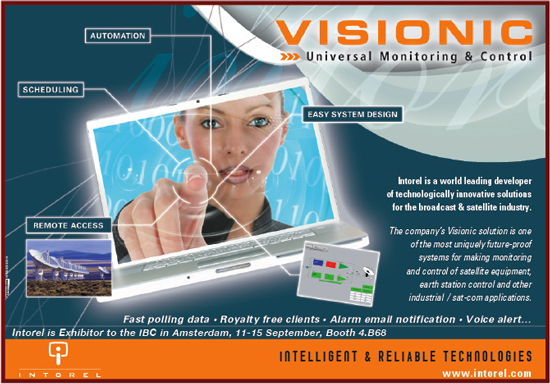 Although Slaney's background is in television, right now he's also interested in the opportunities presented by the 'carrier-to-carrier' market, especially in Africa and the Middle East. He cites the geographic location of Nemea and its array of C-band antennas as giving them a clear advantage.
"The Earth station is much further south and east than any other similar facility in Europe," he says. "From Nemea we see satellites in an arc from
85 degrees East
through to
45 West
, which is ideal as a turnaround point for transmissions between Europe and Asia, and being closer to center-beam for some of these satellites results in better link budgets." The weather that favors the grapes grown around Nemea is also cited as an advantage. The dry Mediterranean climate means less rain-fade; a factor not to be overlooked when communicating with remote sites which might be in rain-soaked tropical Africa.
Nemea already hosts communication hubs for
Gateway Communications
,
Cielux Telecom
and two government services. EMP is in talks with another company with a similar profile to those of Gateway and Cielux that has an interest in the rapidly growing African market for satellite based Internet and GSM backhaul services. Slaney hopes the next service contract will be for hosting a client's complete C-band Earth station for a 10 or 15 year term.
Already after EMP's first full year of operation, Nemea received honorable mention from the
World Teleport Association
in its '
Fast Twenty
' ranking the world's 20 fastest growing teleports. "Of course it was a tremendous boost to be able to come into a business where OTE had already established a major presence," says Slaney, who also cites OTE's technical facilities and terrestrial connectivity as well as its highly trained and motivated personnel.
This sentiment is confirmed by
Giannis Manos
, who heads OTE's
Special Networks Division
, "We at OTE are very happy that we serve EMP business needs by our two Earth Stations at Nemea and Thermopylae. We are expanding our Earth stations to include new services and new clients. This is a very exciting market. We provide our satellite Earth stations services with historically high standards of service assurance."
Slaney
sums up EMP's second year in business, "It's a busy market right now with several companies like ours chasing every deal. Despite the current global economic woes we remain confident of steady growth in the communications sector, especially in developing markets. You just have to remember all those people who still have no access to a phone, and the businesses struggling without a reliable Internet connection. In Africa and parts of the Middle East 'notspots' still outnumber the 'hotspots' and satellite is the fastest, most efficient way of getting people connected."
Terrestrial connectivity is through OTE GLOBE's network with ample bandwidth and plans for expansion well under way. "Right now, there are twin local loops of 2.5 gigabit each at the Earth station and we forecast needing three times that by the end of 2010," says
Slaney
and adds that having a sole provider for the fiber connectivity has not prevented them from being very competitive on price.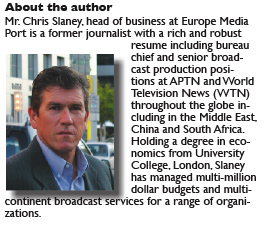 Expansion plans also include the installation of additional uplinks. The facility is operating at almost full capacity and has recently had to defer some business due to a lack of available antennas. A decision has been made to add at least three more C-band antennas. EMP is also developing a product for the maritime sector using dedicated bandwidth to deliver high-end services to the owners of 'mega-yachts'.
Slaney
hints that one of the world's most demanding yacht owners is already online with the service, but respect for client privacy prevents him from saying more. "As of now we provide the service to people who are definitely early adopters," but he predicts it will soon be rolled out to a wider market.
At last we make it to the taverna to sample the Nemea vintage. It really is quite good.