A Rapid Rise For These Dual Passengers
Arianespace provided another on-time Ariane 5 launch by orbiting a pair of telecommunications spacecraft at the service of Asian region operators, on a mission that included multiple numerical milestones for the company and its customers.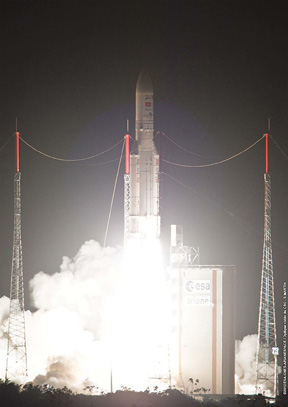 Lifting off from the Spaceport in French Guiana, Arianespace's heavy-lift workhorse delivered the JCSAT-13 and VINASAT-2 relay platforms into geostationary transfer orbits on the 48th consecutive success for Ariane 5.

The two passengers lofted on today's mission were the 100th and 101st commercial geostationary communications satellites from Lockheed Martin Space Systems, as well as the 42nd and 43rd platforms from this U.S. spacecraft manufacturer launched by Arianespace. Both relay platforms are similar in overall configuration, as they are based on Lockheed Martin's A2100 spacecraft platform design. According to Arianespace Chairman and CEO Jean-Yves Le Gall, this flight also enabled his company to surpass the 300th mark for the total number of primary satellite passengers launched in its operations from French Guiana, a count that does not include some 50 additional auxiliary or secondary payloads.

Le Gall also noted the mission continues a 23-year relationship of Japan's SKY Perfect JSAT Corporation with Arianespace, which began in 1989 when JCSAT-1 was orbited on an Ariane 4. With tonight's flight, JCSAT-13 become the 27th satellite that Japanese operators have entrusted to commercial launch services with the Ariane family of vehicles.

JCSAT-13 is to be positioned in geostationary orbit at 124 degrees East, providing direct TV broadcast links to all of Japan as a replacement satellite for JCSAT-4A, and its capacity will meet satellite relay coverage demands in Southeast Asia. Weighing nearly 4,530 kg. at launch, JCSAT-13 is equipped with 44 Ku-band transponders and has a design life exceeding 15 years.

VINASAT-2 is the second satellite launched by Arianespace for operation by the Vietnam Posts and Telecommunications Group, and follows the lofting of VINASAT-1 on an Ariane 5 flight in April 2008.



Equipped with 24 Ku-band transponders to handle radio, television and telephone links for all of Vietnam, VINASAT-2 had a liftoff mass of approximately 2,970 kg. and will operate from an orbital position at 131.8 degrees East during a design lifetime of 15-plus years.

Ariane 5 is shown prior to liftoff from the Spaceport's ELA-3 launch complex with its dual-passenger payload of JCSAT-13 and VINASAT-2.

For the 62nd liftoff of an Ariane 5 since its introduction, the vehicle's delivery capabilities were confirmed once again—with the following estimated orbital parameters at the cryogenic upper stage's injection—Perigee: 250.2 km. for a target of 250.0 km.—Apogee: 35,927 km. for a target of 35,909 km.—Inclination: 1.97 deg. for a target of 2.00 deg.

This second heavy-lift launch of 2012 will be followed by the next flight on June 19th. In the upcoming dual-payload mission, the workhorse will carry the Space Systems/Loral-produced EchoStar XVII high-throughput telecommunications platform for Hughes Network Systems, along with the Meteosat Second Generation-3 (MSG-3) weather satellite for EUMETSAT that was built by a Thales Alenia Space-led industry consortium.

* * * * * * * * *

Russian Ramp Up For Iridium
Iridium Communications Inc. has announced that OOO Iridium Communications ("Iridium Russia") has received authorization from Russian authorities for commercial operations in the country.

Iridium Russia expects to launch service in the second quarter of 2012, once all technical licensing requirements are complete. Iridium anticipates expanded demand for its products and services in Russia as a result of this authorization for commercial operations. In 2009, Iridium formed Iridium Russia to conduct business in the country due to strong regional interest in its innovative voice and data communications capabilities. Iridium is making a significant, multi-year investment as part of its commitment to the Russian market.

The company is actively engaging new and existing distribution relationships in the country to support customer demand.

* * * * * * * * *

Also Relishing A New Russian Response
A mere 200 meters away from the Kremlin, Thuraya Telecommunications Company has announced the launch of its mobile satellite services in Russia in partnership with GTNT.



The announcement was made at a press conference at the Congress Centre of the Chamber of Commerce and Industry of the Russian Federation in Moscow and was attended by Thuraya's Chief Executive Officer, Mr. Samer Halawi, GTNT's General Director, Mr. Alexey Ostapchuk and invitees from the corporate and Telco sectors and the media.

Spanning more than 140 countries, Thuraya's sophisticated satellite communications network guarantees reliable, secure and affordable communications within the world's largest country, especially in remote and rural locations typically underserved by terrestrial networks. Thuraya's portfolio of products includes high-speed data, voice and maritime offerings that are tailored for the vertical markets.


Through its partnership with GTNT, Thuraya will provide uninterrupted satellite communications services to federal, departmental and corporate users in energy, petrochemical, construction, logistics, forestry, relief and media sectors. GTNT is Thuraya's sole Service Partner in Russia authorized to distribute Company products, solutions and services across the country.

In addition to the most advanced satellite-based voice and data services, Thuraya will offer GSM consumers satellite roaming facilities, effectively ensuring universal coverage all across Russia. By simply inserting their GSM SIM cards into a Thuraya handset, GSM consumers can instantly roam on Thuraya's network and make and receive calls.

Covering more than one-eighth of the Earth's inhabited land area, Russia extends across the whole of northern Asia and across 40 percent of Europe, spanning nine time zones. It has the world's largest reserves of mineral and energy resources and is the second largest oil producer and second largest natural gas producer globally.

Communities in remote corners of Russia can rely on Thuraya for instant access to modern data and voice telecommunications facilities. More prominently, Thuraya is poised to serve the Russian maritime market with a special focus on the fisheries and the cargo sectors.

* * * * * * * * *

Thrane & Thrane's SAILOR Now Hears Many Voices
When one is good, how much better are nine?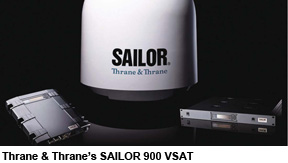 Thrane & Thrane has launched Inmarsat Multi-voice across its entire SAILOR FleetBroadband portfolio. The new service, which Inmarsat made live in May 2012, is standard on all new SAILOR FleetBroadband systems and is accessible on existing terminals with a straightforward software update.

Multi-voice enables FleetBroadband users to expand from the original single voice line to a maximum of nine simultaneous voice lines, on a single SAILOR FleetBroadband terminal.

SAILOR 500 FleetBroadband offers the full nine simultaneous voice lines available through Multi-voice, while a SAILOR 250 FleetBroadband can offer up to six concurrent calls and a SAILOR 150 FleetBroadband up to four concurrent calls.

With no requirement for extra hardware besides the additional handsets, existing users can upgrade their SAILOR FleetBroadband terminals quickly and easily via the free software update. With the software update in place, all users need to do is configure their SAILOR FleetBroadband terminal via the user-friendly web-interface and attach the required number of Thrane & Thrane or third party handsets, or if desired connect an existing PBX.

Users selecting the sophisticated Thrane IP Handset for Multi-voice on SAILOR FleetBroadband benefit from high-quality hardware, functionality, flexibility and ease-of-use. It offers extra convenience as it provides easy access to a dedicated BGAN menu via the integrated screen, where value-added supplementary voice services, such as phone book and call forwarding, can be operated from the handset itself.

* * * * * * * * *

Enhancing Crucial Capabilities
This Company has delivered a novel CubeSat solar array drive assembly (SADA) to MMA Design LLC, for integration into their High Watts per Kilogram (HaWK) tracked power system.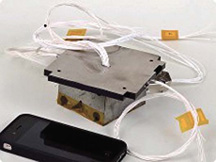 MMA's HaWK array is a modular dual-wing solar array deployment and tracking power system designed to provide enhanced capability for CubeSats, increasing orbit average power (OAP) by more than 300 hundred percent and enables new high performance applications in Earth imaging, space science and situational awareness.


Measuring just 6.5mm—thinner than the world's thinnest smartphone—the CubeSat SADA provides +/- 180 degrees of smooth, low power tracking motion along a single axis. The SADA incorporates power transfer, tracking motion and control electronics, and is designed to accommodate orbit average power of 22 watts (11 watts per wing), and peak power of 36 watts (18 watts per wing) with the modular HaWK-2 power system. The SADA is capable of transferring 100 watts peak power with alternate HaWK modular configurations. Existing CubeSat power capabilities are limited to only 5 watts of orbit average power.

Designed to maximize mission payload volume and mass on standard CubeSat platforms, Honeybee's SADA module is compliant with the 3U CubeSat bus form factor. The module occupies the vacant space between CubeSat and P-POD, eliminating the need for any changes to bus geometry. MMA Design is developing HaWK under a Phase II SBIR sponsored by the Air Force Research Laboratory (AFRL).

* * * * * * * * *

The Learning Connection
Optus has signed a five-year contract estimated at $15 million with the New South Waltes (NSW) Department of Education and Communities (Australia) to deliver an enhanced satellite service to improve the distance learning experience for the state's most remote students.

The enhanced satellite solution will improve Internet access and support a range of new services such as two-way video conferencing and interactive media applications to enrich the learning experience for remote students.

Optus' satellite service will cover NSW public schools that cannot be serviced by fibre under the Department's Connected Classrooms Program, which aims to give all schools and TAFE campuses access to high-speed broadband.

The enhanced satellite service will benefit students at the 22 schools, six TAFE campuses and 165 homesteads currently enrolled in the Department's distance education program.

NSW Minister for Education, Optus has five satellites currently in orbit, with a new satellite, Optus 10, scheduled for launch in 2013.

* * * * * * * * *

Nimiq 6 Gets Carried Away
International Launch Services (ILS) has successfully carried the Nimiq 6 satellite into the planned orbit on an ILS Proton for Telesat, a leading global fixed satellite services operator headquartered in Ottawa, Canada.


The ILS Proton Breeze M launched from Pad 24 at the Baikonur Cosmodrome at 1:12 a.m. local time (19:12 GMT, 3:12 p.m. EDT, on May 17th). After a 9-hour, 14-minute, 5-burn mission, the Breeze M successfully released the satellite, weighing approximately 4.5 metric tons, into the planned geostationary transfer orbit. This was the 377th launch for the Proton vehicle since its inaugural flight in 1965 and the 73rd ILS Proton launch. The launch of the Nimiq 6 satellite was the 5th Proton launch in the past 93 days.

Telesat's Nimiq 6 satellite was built by Space Systems/Loral (SS/L) using the flight proven SS/L 1300 platform. Nimiq 6 has 32 high powered Ku-band transponders that will provide coverage to Canada from its orbital location of 91.1 degrees West. Telesat's Nimiq fleet is comprised of direct broadcast satellites used by Telesat's customers to provide Direct-to-Home (DTH) television services to consumers in North America.

ILS President Frank McKenna said, "With the ILS Proton launch of Nimiq 6, ILS Proton has launched all of the Nimiq series satellites built for Telesat. This is an accomplishment we are very proud of and reflects a level of confidence and trust by Telesat in the performance of the ILS Proton vehicle. Our strong relationship with Telesat spans over 12 years and 8 satellites launched to date. We thank the collective mission teams of ILS, Khrunichev, Telesat and Space Systems/Loral for their outstanding work on the Nimiq 6 launch and look forward to the ILS Proton launch of Anik G1 later this year."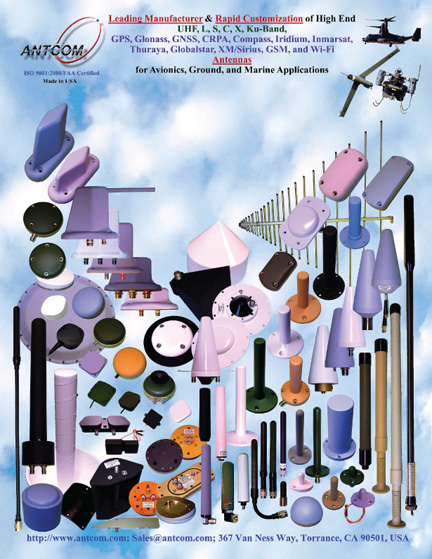 "Launching our satellites on schedule is of great value to Telesat," said President and CEO of Telesat, Dan Goldberg. "With the successful ILS Proton launch of the Nimiq 6 satellite we are meeting demand for additional high-powered Ku-band capacity for DTH services. Nimiq 6 joins our existing Nimiq fleet and will provide Bell TV with improved performance to deliver the very latest video services for their subscriber base across Canada. The ILS, Khrunichev, Telesat and Space Systems/Loral teams are to be commended for another mission well-executed."

* * * * * * * * *

Satellite Spies On Sites
The Russians launched it and now military installations, troop movements, and other sites of interest around the globe will be photographed... spy anyone?

A Russian Soyuz rocket was successfully launched on May 17th that performs as a photo surveillance satellite designed to collect intelligence on strategic sites around the world for Russian defense purposes.

The Soyuz-U launcher lifted off from the Plesetsk Cosmodrome in northern Russia at 1405 GMT (10:05 a.m. EDT), 6:05 p.m. Moscow time. The Plesetsk launch site is a military-run facility in Arkhangelsk Oblast. The payload will be named Kosmos 2472 in the Russian military's nomenclature for defense spacecraft.

Thursday's mission marked the last flight of a Soyuz-U rocket from Plesetsk, known for their launches of satellites headed for polar orbits. The rocket flew north from Plesetsk to reach a high-inclination orbit carrying its payload over the poles, an orbit in which the satellite will observe nearly all of the planet. It is believed that the cargo is a Kobalt M reconnaissance satellite carrying an optical camera that will orbit between 150 miles and 300 miles above Earth. Kobalt spacecraft reportedly carry canisters to return film to Earth during the satellite's mission, which will last at least several months.

Thursday's Soyuz launch was the first of three space missions due to blast off in a span of about five hours. A Japanese H-2A rocket was in the final countdown at the time of the Soyuz launch. It will deliver four satellites into orbit, including a research craft to probe the link between water and climate change.

* * * * * * * * *

Satellite Control Center Awarded To GMV
GMV has been awarded its first contract with the THAICOM Public Company Limited to provide the satellite control center for the THAICOM 6 communications satellite.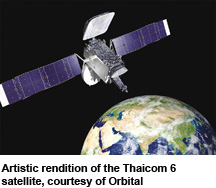 The project builds on GMV's extensive satellite control center experience, including work with operators such as Eutelsat, Star One, SES, MEASAT, Hispasat as well as successful support for satellite manufacturers such as Orbital and Space Systems Loral.

THAICOM PLC. is a satellite and telecommunications operator with customers throughout Asia, Africa, Europe and Australia. Currently, the Company operates two THAICOM satellites at geostationary orbit. THAICOM 5 carries more than 400 television channels at its "hotbird" location of 78.5 degrees East, while THAICOM 4 (IPSTAR) delivers broadband services to millions of users across 14 countries in Asia Pacific.

THAICOM 6 will be a Star-2 platform, Orbital Sciences geostationary telecommunications spacecraft located at 78.5 degrees east that will be co-located with THAICOM 5. THAICOM 6 is a three axis stabilized type satellite with 26 transponders.

The launch of Thaicom 6 will increase THAICOM'S ability to provide satellite services; most notably broadcasting services, such as satellite television and HDTV platform. THAICOM 6 satellite's payload will offer Ku- and C-band services to the South and Southeast Asia and Southern Africa regions. The satellite will generate approximately 3.7 kilowatts of payload power and will be located at 78.5 degrees East Longitude.

GMV will bring its 25 years of experience to develop, test and install the satellite control center for THAICOM 6. This control center is based upon commercially available hardware for the baseband equipment and timing system—GMV's proven software product hifly for satellite monitoring and control and focussuite for space craft flight dynamics. The control center also integrates the ground system monitoring and control.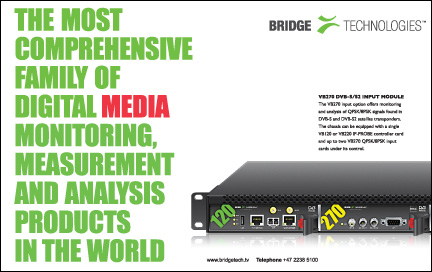 "GMV is proud to offer exceptional technical competency that enabled us to stand out from the competition to be selected for the THAICOM 6 project," said Theresa Beech, president of GMV USA. "We are pleased to bring our experience in successful communications satellite control center installation and operation around the globe to THAICOM 6 and to build our relationship with THAICOM an important spacecraft operator in Southeast Asia."

THAICOM 6 is expected to launch into orbit in mid 2013. THAICOM has contracted its launch vehicle to SpaceX, aboard the Falcon 9 rocket.

Forty-five percent of the commercial telecommunications satellites launched in 2011 use GMV technology. GMV has been providing satellite ground systems to satellite manufacturers, commercial operators, integrators, and Space Institutions around the world for more than 25 years. In addition, more than 280 space missions have selected GMV technology, and GMV's operational systems are currently installed on six continents in 25 countrs. More info at http://www.usa.gmv.com.

* * * * * * * * *

Cloud Technology Assists African Firms
VT iDirect, Inc. (iDirect), a company of VT Systems, Inc. (VT Systems), has announced that Q-KON, a leading African satellite network operator, and Business Connexion, a leading African ICT service provider, have partnered to deploy iDirect's iDX 3.1 software upgrade and newly released Evolution X1 remotes.


Through iDX 3.1, Q-KON and Business Connexion can enhance their services for enterprise customers and scale their iDirect networks to a much greater number of sites.
Q-KON anticipates strong demand from its service provider partners for iDX 3.1 to support enterprise-class networks for corporations.

In the case of Business Connexion, iDX 3.1 enables the company to enhance its enterprise cloud services solutions, offering corporations the benefits of virtualization at a lower cost. iDX 3.1 is a great fit for Business Connexion because it is specially designed for the large network deployments required to run an efficient and affordable cloud infrastructure.
iDX 3.1 includes a new 16-channel licensing option for the Evolution XLC-M Line Card that, when paired with the new lower-cost X1 remote, is an ideal solution for large networks featuring one large outbound and numerous small return channels.

Additionally, iDX 3.1's built-in Group Quality of Service (GQoS) enhancements allow service providers to serve customers with large dormant networks more efficiently and affordably by lowering the amount of bandwidth needed to keep idle remotes in network.
Finally, the Evolution X1 Outdoor remotes, which are designed for durability in difficult terrain and weather conditions, offer a reliable solution for sensor-management applications such as SCADA, as well as environmental and surveillance monitoring. To download a spec sheet for the Evolution X1 satellite router, access this direct link.

* * * * * * * * *

MSS Research + Analysis
Amidst an uncertain environment where funding is leveling off due to government budget reductions, mobility via satellite has reached a new level of recognition across the board and is expanding its reach across the globe.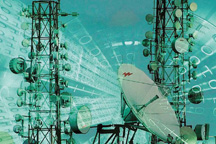 With more than a half-million subscribers on the Iridium platform, Inmarsat having completed designs for three high-power Ka-band satellites, and Globalstar successfully launching the first 18 of its next-generation satellite constellation, the MSS market is poised for the next phase of growth.

NSR has researched and followed growth in the Mobile Satellite Services (MSS) market since its inception, and this coverage enables a complete assessment of MSS opportunities worldwide.

NSR's Mobile Satellite Services, 8th Edition report is a key element of this industry-leading research effort and is a must-have for anyone tracking future demand for satellite-based mobility solutions.

Sounding out the ebb and flows of the MSS market as it navigates to new shores with more handsets, greater bandwidth solutions and new products that are blurring the lines between MSS and FSS providers, this report is the definitive tool to help you track the evolution of this ever-changing marketplace.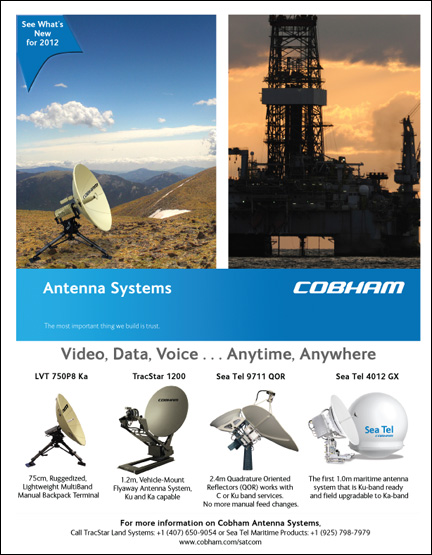 Previous editions of NSR's MSS report indicated that satellites with unprecedented amounts of capacity would lead to a strong battle between MSS and FSS operators, which we are seeing now particularly in maritime markets. However, NSR's reports also noted that even if subscriber base growth would be concentrated mostly in data services, these would not generate enough revenues to ensure future growth prospects. Thus the 'coalition' efforts noted by NSR between MSS and FSS operators to move clients to Ku- and Ka-band, while keeping L-band as a back-up and critical communications solutions, has been validated for a growing number of maritime, aeronautical and land-mobile customers.

This longest-running report on the MSS market provides a completely updated assessment to give readers highly valuable information and data points to examine where the market is headed globally and by region.

NSR's Mobile Satellite Services, 8th Edition offers an objective view of the trends underlying the growth and the major impact of drivers and restraints to growth in both commercial and government segments.

By evaluating and forecasting in-service units, equipment and services revenues, average revenues per user, and capacity demand for mobility services, NSR provides the most complete and thorough analysis of expectations in the MSS market for the next ten years.

* * * * * * * * *

Serving APAC Communities With 3G Mobile Broadband
Ireland-based Altobridge Limited (Altobridge) has obtained exclusive rights to a mobile data optimization technology that bridges the mobile broadband divide between rural and urban areas.


"After five years of operations in Malaysia, we are currently looking at providing 3G mobile broadband to the remote communities. The new technology, Data-at-the-Edge, delivers mobile data backhaul reductions of over 50 percent, profoundly impacting the costs of delivering mobile broadband via backhaul constrained cellular base stations," Altobridge chief executive officer (CEO), Mike Fitzgerald told The Borneo Post.

As such, the technology could be applied to base stations that serve remote communities, remote enterprises and macro urban areas in emerging markets and developing nations.

Also the co-founder of Altobridge, Fitzgerald explained that his experience in China and the U.S. had led him to encounter the same challenges—inability to connect when you get to the rural areas. As such, the company had spent 10 years driving down the cost of remote communications access.

"The high costs have deterred people from putting transmission towers in these rural areas. However, we have since developed 'light on transmission' and 'light on power' method through our Altobridge lite-site," Fitzgerald said.

The lite-site™ was the lowest power consumption mobile communications systems for remote communities, using 50 percent less backhaul than competing optimized solutions.

Fitzgerald highlighted that Altobridge had maintained a successful long-term partnership with Maxis Bhd in Malaysia and had its regional headquarters in Kuala Lumpur. It had also identified Sabah and Sarawak as having the greatest demand for its low-cost mobile broadband solutions.

"Over the last three years, we have concentrated on mobile broadband optimisation and this turnkey solution enables the world's mobile network operators to truly bridge the mobile broadband divide," the CEO added.

When asked if Altobridge had faced any challenges in its local operations, Fitzgerald revealed that the company had expected deployment to be a challenge during the initial years of its operation, but he was impressed by the support provided by the local partners.

The company is currently expanding its influence in countries such as Indonesia, Papua New Guinea, the Solomon Islands, among others. Fitzgerald believed that it was the dominant supplier in the Southeast Asia and is also looking at Africa and South America in the near future. (Source: Borneo Post Online, Chai Li Tiing)