A WISE Release (Imagery)

NASA unveiled a new atlas and catalog of the entire infrared sky today showing more than a half billion stars, galaxies and other objects captured by the Wide-field Infrared Survey Explorer (WISE) mission.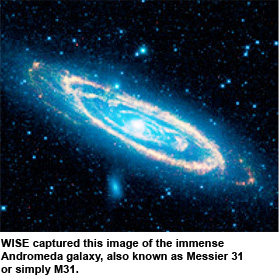 "WISE delivers the fruit of 14 years of effort to the astronomical community," said Edward Wright, WISE principal investigator at UCLA, who first began working on the mission with other team members in 1998.

WISE, built by Ball Aerospace & Technologies, launched on December 14, 2009, and mapped the entire sky in 2010 with vastly better sensitivity than its predecessors. It collected more than 2.7 million images taken at four infrared wavelengths of light, capturing everything from nearby asteroids to distant galaxies. Since then, the team has been processing more than 15 trillion bytes of returned data.

A preliminary release of WISE data, covering the first half of the sky surveyed, was made last April. The WISE catalog of the entire sky meets the mission's fundamental objective. The individual WISE exposures have been combined into an atlas of more than 18,000 images covering the sky and a catalog listing the infrared properties of more than 560 million individual objects found in the images. Most of the objects are stars and galaxies, with roughly equal numbers of each. Many of them have never been seen before.

WISE observations have led to numerous discoveries, including the elusive, coolest class of stars. Astronomers hunted for these failed stars, called Y-dwarfs, for more than a decade. Because they have been cooling since their formation, they don't shine in visible light and could not be spotted until WISE mapped the sky with its infrared vision. WISE also took a poll of near-Earth asteroids, finding there are significantly fewer mid-size objects than previously thought. It also determined NASA has found more than 90 percent of the largest near-Earth asteroids.


Other discoveries were unexpected. WISE found the first known Trojan asteroid to share the same orbital path around the sun as Earth. One of the images released today shows a surprising view of an echo of infrared light surrounding an exploded star. The echo was etched in the clouds of gas and dust when the flash of light from the supernova explosion heated surrounding clouds.

At least 100 papers on the results from the WISE survey already have been published. More discoveries are expected now that astronomers have access to the whole sky as seen by the spacecraft.

The Company also shipped the Global Precipitation Measurement (GPM) Microwave Imager (GMI) to Goddard Space Flight Center for integration with NASA's Global Precipitation Measurement Mission spacecraft.


The GMI instrument will play an essential role in the worldwide measurement of precipitation and the Earth's environmental forecasting when it launches aboard the GPM space-borne Core Observatory in 2014. The GPM mission is a joint effort between NASA, the Japan Aerospace Exploration Agency (JAXA) and other international partners. The GPM mission will improve climate, weather and hydrological predictions by providing more accurate precipitation measurements from space.

Ball Aerospace's role in the GPM program included the design, development and fabrication of the GMI. Roughly eight feet tall, the conical-scan microwave instrument is a powerhouse of radiometry. GMI is designed to improve on-orbit calibration and advanced space-borne radiometry by rotating at 32 revolutions per minute, using four very stable calibration points on each revolution to calibrate the data it has scanned. This allows for temporal sampling of rainfall accumulations as well as more frequent and higher quality data collection.

GMI's design is based on successful microwave sensors built previously by Ball Aerospace including the Shuttle Radar Topography Mission (SRTM), Spaceborne Imaging Radar-C (SIR-C), GEOSAT Follow-On (GFO) and the Submillimeter Wave Astronomy Satellite (SWAS).

Following launch, Ball Aerospace will provide post-delivery support at NASA's Goddard Space Flight Center (GSFC) and launch site as well as post launch support. Ball Aerospace & Technologies Corp. supports critical missions for national agencies such as the Department of Defense, NASA, NOAA and other U.S. government and commercial entities.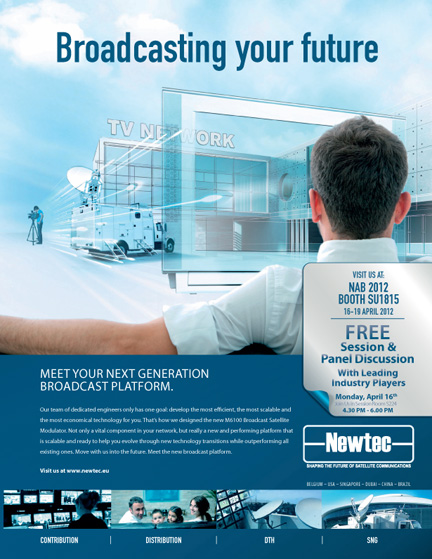 * * * * * * * * *

Montana State Goes For Launch

The Montana State University satellite that rode into space on a NASA rocket has now gathered information longer than the historic U.S. satellite it was built to honor, said the director of MSU's Space Science and Engineering Laboratory (SSEL).

Almost four months after the October 28th launch, and shortly after learning that NASA had selected another MSU satellite for possible launch on a NASA rocket next year, SSEL Director David Klumpar cheered as he suddenly realized that Montana's only satellite had collected data for 111 days as of February 15th. Since then, the satellite has well surpassed the entire 111-day mission of its history-making predecessor, Explorer-1, the first successful U.S. satellite. "HRBE is working great," Klumpar said. "On February 15, we surpassed our goal."

HRBE, pronounced "Herbie," is the nickname of the tiny student-built satellite that was originally called Explorer-1 [Prime] and is now called the Hiscock Radiation Belt Explorer, or HRBE. The satellite was renamed in November to honor the late William A. Hiscock, an MSU physics professor who headed the Montana Space Grant Consortium and the MSU physics department.

MSU students and faculty were thrilled when ham radio operators, first in Spain, then successively in France, The Netherlands and England, reported hearing from the satellite within three hours of its launch from the Vandenberg Air Force Base in California. HRBE later passed through an intense band of energetic electrons that was bombarding Earth's upper atmosphere above Alaska.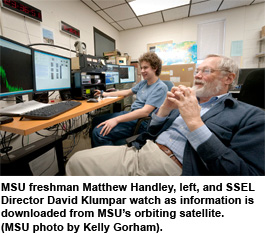 Since then, HRBE has been monitoring variations in location and intensity of the Van Allen Radiation Belts, which were discovered around the Earth by the original Explorer-1, Klumpar said.

MSU's satellite could orbit for 12 more years before its batteries die or it burns up in the atmosphere, Klumpar said. For an indefinite time before then, MSU students will continue to communicate with the satellite two or three times a day as it passes within range of their antenna on top of Cobleigh Hall. The satellite can be as far east as the Great Lakes or as far west as the California coast and still emit a signal strong enough for MSU to receive.

The computers allowed him to see that the satellite was straight south of Mexico City and 305 miles above Earth. It was traveling at 18,000 miles an hour.

About six minutes later, Handley picked up the first beep that indicated HRBE was close enough to download data. Handley directed the satellite to send the information it had gathered since its last report.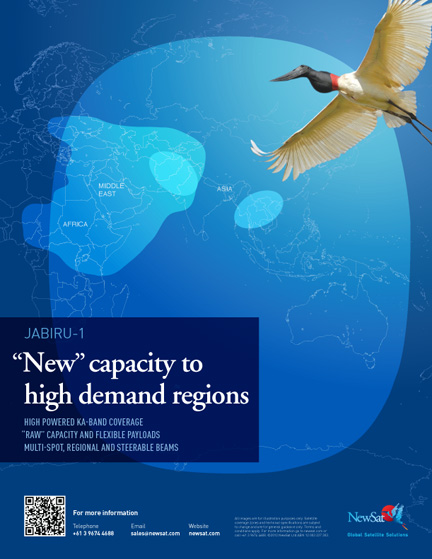 That information—accompanied by loud squeals—looked like random letters and numbers scrolling onto the computer screen. Actually, they were codes that gave the status of the satellite's electrical systems, levels of radiation above the atmosphere, and more. About 15 minutes later, Handley lost touch with HRBE as it neared the north coast of Alaska and passed around the other side of the Earth.

Ham radio operators play an important part in the mission as they contact MSU whenever they hear HRBE's "heartbeat," a beep that occurs every 15 seconds, Klumpar said. A map in the Space Operations Center keeps track of those operators. They live in Germany, Australia, Sudan, Japan, all over the United States and the rest of the world.

HRBE's February 15th milestone wasn't the only reason Klumpar and the students of the SSEL had to celebrate. That same day, they learned that NASA had selected an MSU satellite as one of 33 small research satellites to piggy-back on rockets it plans to launch in 2013 and 2014. The SSEL will build the satellite with partners from Colorado, Maryland, North Carolina and Kentucky, Klumpar shared.

"It's really a great endorsement of the fantastic work our students do that NASA selected us to participate in another NASA launch," Klumpar said. "We are training students who will be the next generation of space scientists and engineers."

The new satellites, like HRBE, are cubes that generally measure about four inches on each side and weigh 2.2 pounds. That's a standardized size that allows university-built satellites, called "CubeSats," to fit into an enclosed container called a P-POD and ride on a NASA rocket.

MSU's new satellite will be the same size as HRBE, Klumpar said. It could launch on a NASA rocket, possibly as early as 2013. The mission may last a little over seven years before the satellite reenters and burns up in Earth's atmosphere.


Unlike HRBE, the new satellite will be built out of nano-carbon-impregnated plastic instead of aluminum, Klumpar said. As it will be built with an unusual technique using technologies that grew out of the printing industry, the mission will be called PrintSat.

Members of The PrintSat Team will design the satellite on computers. Then, instead of sending their plans to a machine shop for fabrication, they will push a button. Computers will guide lasers as they build the satellite one layer at a time.

The process, called 3D printing or additive manufacturing, is used in building Formula 1 race car components and in the sport of motorcycle racing—the PrintSat Team want to show that it's a viable, affordable process for satellites, Klumpar said.

"Successful demonstration of the technology used in PrintSat will further lower the costs and speed the development of very small satellites, enabling future scientific missions comprised of dozens of satellites flying in formation," Klumpar said.

Jim White, president of Colorado Satellite Services, one of Klumpar's partners, said, "Additive manufacturing (also called 3-D printing) has evolved in the past few years to be a very inexpensive and fast way to make mechanical parts.

With PrintSat, the entire structure of the small satellite will be printed. As the first use of additive manufacturing for a satellite, we plan to show it's not only cheaper and faster, but that we can make parts that cannot be made in traditional ways.

"This also opens up new avenues for making specialized parts and for creating entire fleets of small satellites that can do things single satellites can't," White said.

Story by Evelyn Boswell for MSU News Service


* * * * * * * * *

Shakin' It Up

Brüel & Kjær is to provide ASTRIUM with an LDS vibration shaker system for mechanical vibration and shock testing of satellites.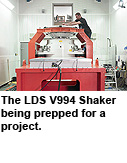 Built within the scope of Republic of Kazakhstan SBIK satellite project, the system is for the new satellite Assembly, Integration and Test Complex (AITC). Brüel & Kjær will provide a Head Expander and LDS V994 Shaker, which will be equipped with a large auxiliary slip table—and a special, extra bearing positioning. As part of the mechanical testing facilities, a shaker capable of operating in three axes was required.

ASTRIUM—an EADS company—has been selected as prime contractor from KGS (the JSC National Company "Kazakhstan Gharysh Sapary" reporting to the national space agency of Republic of Kazakhstan) for the SBIK satellite system.

The agreement covers the supply of Earth observation satellites equipped with a high-resolution optical sensor, an Assembly, Integration and Test Centre—and the entire ground segment of the system, which will carry out in-orbit operation, data acquisition and processing. ASTRIUM will also provide all satellite launch and test services.



* * * * * * * * *

New Spatial Capabilities For Chile

Astrium's teams have successfully completed the in-orbit delivery of the SSOT satellite system, which launched from the European spaceport in French Guiana on December 16, 2011.



In accepting delivery, the Chilean Air Force (FACh) confirmed that the conditions for the handover of the satellite, FASat Charlie, have been met in full within three months of its launch, thanks to its exceptional performance.

The SSOT program comprises a satellite and an operational ground segment based in Santiago, Chile. The satellite has a panchromatic resolution of 1.45m, representing unprecedented performance for a satellite weighing only 117kg. The 20 Chilean engineers operating it were trained at the Astrium site in Toulouse, where the system and satellite were developed and built.

SSOT is the latest satellite system to be exported by Astrium. Astrium is playing an active role at FIDAE 2012, which is currently taking place in Santiago, participating in conferences on space that have brought together, under the auspices of the Chilean Air Force, representatives from space agencies across Latin America.

* * * * * * * * *

Loopy Lighting So
Far, Far Away

Thanks to NASA's Image Of The Day Gallery, we can observe the wispy tendrils of hot dust and gas glowing brightly in this ultraviolet image of the Cygnus Loop Nebula, taken by NASA's Galaxy Evolution Explorer.



The nebula lies about 1,500 light-years away and is a supernova remnant left over from a massive stellar explosion that occurred 5,000 to 8,000 years ago.

The Cygnus Loop extends more than three times the size of the full moon in the night sky and is tucked next to one of the 'swan's wings' in the constellation of Cygnus. The filaments of gas and dust visible here in ultraviolet light were heated by the shockwave from the supernova, which is still spreading outward from the original explosion.

The original supernova would have been bright enough to be seen clearly from Earth with the naked eye. (Image credit: NASA/JPL-Caltech)


* * * * * * * * *

Satellite Services Rule

SES announced that satellite has become the leading TV infrastructure in Europe, ahead of terrestrial and cable reception.


Approximately 84 million European households have satellite DTH as their primary TV reception mode, an increase of 22 percent over the last four years.

In the same period, terrestrial TV lost nearly 16 million homes, while cable lost over 2 million. IPTV, the TV distribution over tele-communication networks in IP format, has grown from a very low level to some 16 million households.

These are the results of the year-end Satellite Monitor that SES presents annually and that is based on primary research in 35 European and North African countries. The study is based on more than 62,000 interviews, conducted by leading market research institutes under the lead of TNS Infratest, Germany.

The main growth markets for satellite in 2011 were the U.K., Germany, Ukraine, Poland and Italy. The main growth drivers are the development of digital reception and HD.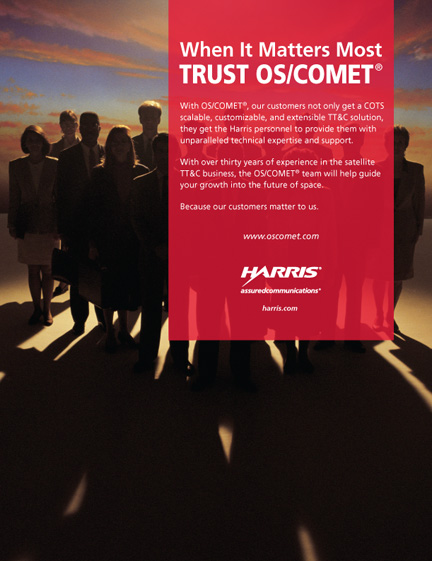 Currently, satellite is the leading digital infrastructure, reaching nearly 44 percent of all 186 million digital TV homes in Europe. The digitalization rate of satellite is 97 percent, compared to 70 percent in terrestrial reception and 48 percent in cable.

The entire report and stats are available here.

The new study that SES presented in London also reveals that ASTRA is extending its position in the European markets. Around 142 million TV households are served by ASTRA, 7 million more than the year before and 25 million more than four years ago. More than half of the European TV homes (57 percent) receive their signals from ASTRA. 73 percent of all European satellite homes are ASTRA households, a total of 62 million.

As a leader of digitalization and HD, ASTRA is also the leading HD platform in Europe. More than 23 million of the total 29 million satellite HD households in Europe are ASTRA households. The ASTRA Satellite System transmits 267 HD channels.

Worldwide, SES broadcasts more than 1200 HD channels on its fleet of 50 satellites and reaches 258 million TV households.

"This success confirms our view that satellite reception is the most attractive and future-proof mode for households to watch TV", said Norbert Hölzle, Senior Vice President Commercial Europe, in London.

"The trend in Germany, where satellite overtook cable for the first time in history, is confirmed in the UK as well as in Europe overall, where satellite outgrew the other reception modes. The number and variety of channels, the quality of the broadcast, and the large reach of satellite remain compelling arguments for households to decide for a satellite dish. The factual growth of satellite and ASTRA in the digital world confirms their leading role.

"It puts us in a strong position to compete with other networks and combine our strengths with DSL and broadband reception. The combination of both in the connected TV will be the best of all possible worlds for the TV viewer."