Frank McKenna became the President of International Launch Services (ILS) and board member in October of 2006, following two years as Vice President and Deputy of ILS. Additionally, in August of 2008, McKenna became the co-chairman of the Board of Directors of ILS. McKenna has more than three decades of experience in the aerospace and space launch businesses with Martin Marietta and Lockheed Martin Corporation, which was a partner in ILS until October of 2006. McKenna's background includes business management, business development and strategy, several CFO positions, and management of domestic and international joint ventures.

During the first year of McKenna's leadership, ILS won more than $1.2 billion in new orders serving customers across the globe. In August of 2007, the industry publication Space News honored McKenna as one of "10 Who Made a Difference in Space." After establishing a significant quality initiative, by August of 2008, ILS' backlog reached 24 Proton launches valued at more than $2 billion — a record high. In March of 2009, ILS celebrated a significant milestone — the 50th ILS Proton launch. In October of 2010, ILS and Khrunichev set the industry standard with 26 consecutive successful launches in 27 months — 18 commercial missions and nine Federal missions.



ILS, a U.S. company with headquarters in Reston, Viginia, near Washington D.C., is a global provider of commercial launch services for satellite operators worldwide, and offers a complete array of services and support from contract signing through mission management and on-orbit delivery. The Company has exclusive rights to market the Proton and Angara vehicles, and has launched most commercial satellite platforms. ILS has worked with all major global satellite operators.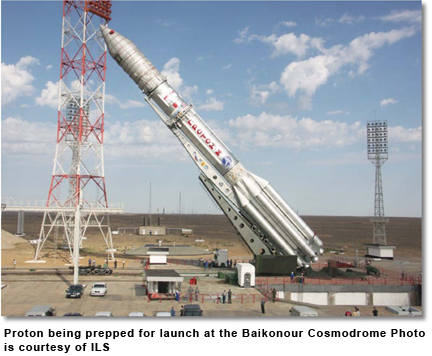 Khrunichev State Research and Production Space Center, which holds the majority interest in ILS, is one of the cornerstones of the Russian space industry and manufactures the Proton system and is currently developing the next generation Angara launch system. The Proton launches from facilities at the Baikonur Cosmodrome in Kazakhstan and has a history of more than 360 missions since 1965.
SatMagazine (SM)
Mr. McKenna, would tell us about your background leading up to your current role as president of ILS?
Frank McKenna
Prior to joining ILS in 2004, all of my career was in the U.S. aerospace and defense industry. I worked with Martin Marietta and Lockheed Martin Corporation (LMC), which was a partner in ILS until October 2006. For Martin Marietta and LMC, I held CFO positions, oversaw business development and strategy and managed domestic and international joint ventures. It has really been a great experience taking this background, combined with a talented management team at ILS and Khrunichev, to create a world-class commercial launch company.
SM
What are your thoughts on the launch market, given the predicted decline in satellite orders? How do you think new entrants or reentrants will fare in this environment?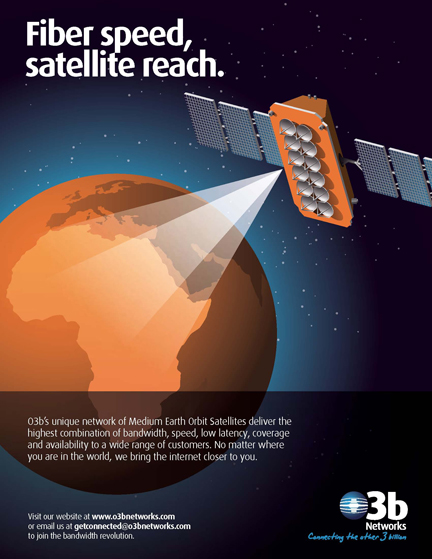 Frank McKenna
We believe that the rationalization of the commercial launch industry has been very obvious and inevitable, driven by market forces for years. We have predicted and have been preparing for the decline in satellite orders to less than 20 per year for the GTO market by the end of this year. This dynamic does not fare well for new entrants or those who plan to reenter the market.
We believe that GTO satellite orders will remain low for the next few years, as replacement cycles for the FSS market have largely been met. ILS has built a solid financial and operational foundation with a robust business model to weather the storm and succeed.
Considering that peak demand has been satisfied by the two main launch providers over the last few years, creating additional supply in the commercial launch heavy lift market during a lull in demand will be detrimental to the market in the long term. Oversupply in the commercial launch market led to instability in the last decade resulting in rationalization by shareholders and market forces that drove other suppliers such as the
Atlas
and
Delta
vehicles to primarily serve a more profitable launch sector — the U.S. Government.
Sea Launch
and
SpaceX
entering the market now will inevitably result in a similar shake out. The two main commercial launch providers,
ILS
and
Arianespace
, have been more than able to supply 20 or more commercial satellite launches per year, which will be well in excess of demand for the next several years.
SM
How does a multinational company, such as ILS, manage to compete against other heavyweights in the industry to garner launch contracts? What sets ILS apart from other commercial launch services providers?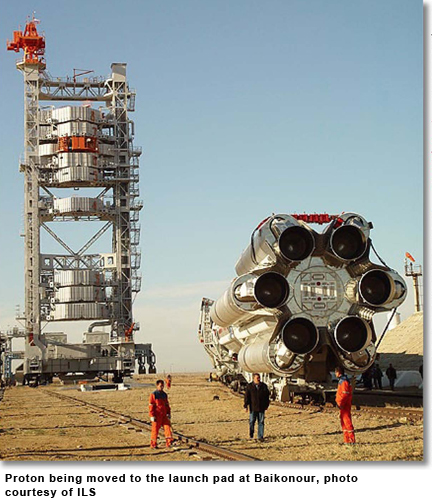 Frank McKenna
Lockheed Martin
, but we have spent the last five years building a formidable competitive global capability. So far this year, we have won seven new ILS
Proton
launch orders. Any competitor that comes up against us gets a fair, well fought competition — and they can attest to that. As for heavyweights, our parent company,
Khrunichev
, is a heavyweight, by any standard, as a primary supplier to the Russian Federal space program. It is crucial to have a substantial government business as a second leg to lean on, especially taking into consideration the forecasted low commercial market. What sets ILS apart are several different factors; the strong heritage and performance of the dedicated Proton vehicle, the flexibility of the Proton system to launch to customized orbits, and unmatched schedule assurance to meet customers' needs at fair value. All of those benefits, combined with a solid, sustainable business model with the ILS and Khrunichev partnership, is the total value package we offer.
SM
What was the result of the Russian State Commission investigation and inquiry made by ILS? And how does a company encourage its professional core of contributors to remain positive after an event such as anomaly with the Russian Federal Proton launch of the Express-AM 4?
Frank McKenna
The
Inter-Agency Commission
issued a statement on August 30th regarding their review of the failure of the Russian Federal Proton mission with the
Express-AM 4
satellite on August 18. The statement noted that the off-nominal orbital injection of the Express AM4 satellite was caused by the improper programming of "time interval to manipulate the gyro platform". This resulted in an off-nominal orientation of the
Breeze M
and injection of the spacecraft into an unintended orbit. All other Breeze M systems performed within specifications. According to the report, all other Breeze M systems performed nominally. ILS conducted its own
Failure Review Oversight Board
(
FROB
) on September 8 and 9 to review the detailed results of the Russian IAC investigation. ILS circulated the FROB's findings in mid-September.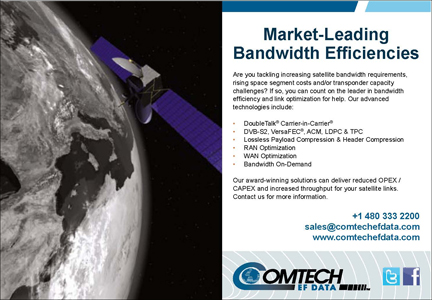 The teams of dedicated professionals at ILS and Khrunichev want nothing more than a successful launch for all of our customers. When an anomaly of any nature occurs in our business, the ultimate goal of ILS and Khrunichev is to find out the cause of the failure, determine what corrective actions need to be implemented, and put measures in place to ensure that such issues will not occur on future missions. Our focus is on our customers and our performance. We are extremely grateful to our customers for all of the support we received throughout this timeframe and during our efforts to properly and safely return to flight.
SM
What does the rest of 2011 look like for ILS in terms of launches, given the Russian Federal Proton Mission on August 18th with the Express-AM 4 satellite, which resulted in an anomaly?
Frank McKenna
After the Inter-Agency Commission concluded its investigation of the Express-AM4 anomaly and determined that Proton was cleared for flight, we proceeded to work with our customer,
SES
, to determine a new launch date for
QuetzSat-1
, which is now the end of September. This is just two and a half weeks after the original launch date of September 12. There will be a Federal Proton mission prior to the ILS Proton launch of QuetzSat-1, with
ViaSat-1
for
ViaSat
to follow.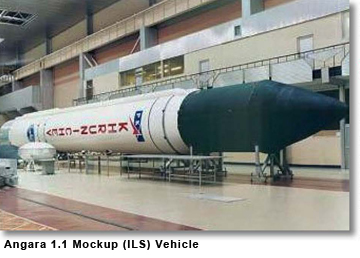 In total, we plan to conduct four ILS Proton commercial missions before the end of the year, along with three Federal Proton missions managed by Khrunichev.
SM
How can ILS accommodate such a busy schedule and manifest?
Frank McKenna
ILS and KhSC have proactively planned ahead to accommodate a rapid launch pace by maximizing production in the factory and building new facilities. The
Second Spacecraft Processing Facility
(
SSPF
) that was recently brought into service at the launch site allows overlapping campaigns, minimizing the required spacing between commercial launches from five to six weeks to three weeks. This facility allows ILS to accommodate our customers' spacecraft schedules when, as is the case this year, spacecraft deliveries are delayed or clustered within a short period of time. ILS/Proton continues to provide the best schedule assurance in the industry and the addition of the SSPF in Baikonur increases our ability to provide on-time launches for our customers.
SM
How are relations between Russian and Kazakhstan with respect to the launch site in Baikonur?
Frank McKenna
Relations between the two countries are strong and the partnership, with respect to the use of the Baikonur Cosmodrome, is on solid ground. In fact, immediately after the ILS Proton launch of the
SES-3
satellite for SES and the
Kazsat-2
satellite for the Republic of Kazakhstan in July, the heads of the two space agencies, Roscosmos and the
KazCosmos
, met to discuss launch site improvements at the Cosmodrome as well as future cooperation in advancements in space.
According to
Vladimir Popovkin
, in a recent statement to the press, the Baikonur Cosmodrome, which is under a long-term lease to Russia until 2050, will continue to be in full use for many decades to come as "the busiest launch site in the world".
SM
Can you tell us about the next-gen Angara launch vehicle? Its capabilities? Milestones toward actual use?
Frank McKenna
The Angara launch system will initially support federal missions with first flight test anticipated in late 2013 or early 2014 on an Angara 1.2 vehicle. ILS is offering a commercial payload opportunity for the second launch of Angara family of launch vehicles using the heavy
Angara 5
. The idea is to provide our commercial customers and the insurance community an early view of the Angara system. However this opportunity is a unique one, as we would consider commercial use of Angara only after it becomes fully flight-proven on Russian federal missions.
With 97 percent of the independent tests, as well as the comprehensive tests of the rocket's assemblies and bays now complete, the Angara system is on a steady development path. Angara engines will use an environmentally friendly liquid oxygen-kerosene mixture and the family of vehicles will have lightweight, medium, and heavy lift variants. The first stage of the Angara system has flown 100 percent successfully during the first two missions of KSLV in 2009 and 2010. The Russian Federation and Khrunichev are fully committed to the development and fielding of the Angara system as the next generation family of launch vehicles.
SM
Do you observe progress being made in the attempts by commercial launch companies to attract military and government payloads, as Hosted Payloads become more viable? Does ILS have plans in this area?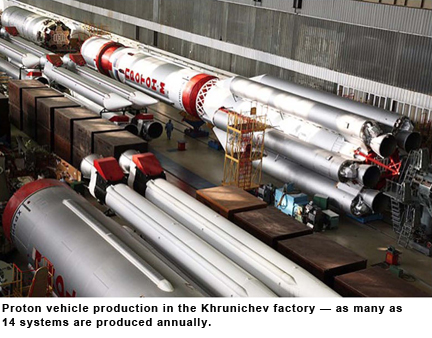 Frank McKenna
ILS is the leader in commercial launch for shared and hosted payloads. ILS has launched and we are contracted to launch several satellites with hosted payloads. We launched
Anik F1R
in 2005 for
Telesat
, which has a
Wide Area Augmentation System
(
WAAS
) payload for the
FAA
. Currently under contract we have
Intelsat 22
for
Intelsat
, which has a UHF payload for Australian and U.S. defense forces,
Anik G1
for Telesat with an X-band payload for
Paradigm
,
Sirius 5
for
SES
with a
European Geostationary Navigation Overlay Service
(
EGNOS
) application for the
European Space Agency
(
ESA
) and
Yahsat 1B
, which will have a dual use payload for
United Arab Emirates
(UAE)
Air Force
.
We expect there will be more opportunities for the commercial launch sector with hosted payloads for military, commercial and civil use, considering the economic and schedule advantages this has for governments and the financial challenges and constraints that exist in support of global space programs. The more that commercial satellite operators augment their business plan with hosted payloads, the more common it will become in the commercial launch market.
ILS Proton is ideally suited for satellites that include hosted payloads. With a dedicated, heavy-lift launch system, ILS Proton offers optimal performance and on-time delivery to orbit. We can offer an economical solution to governments who need to deploy their programs at a lower cost to orbit than if they built their own satellite.
SM
Where do you see the launch industry, in general, over the next year or two? Will there be more consolidation of various companies?
Frank McKenna
Consolidation is not likely, considering the strategic nature of launch vehicles in most countries. However, we do expect a shakeout of the commercial launch industry over the next several years as new entrants and reentrants to the market will be appearing at the same time as a decrease in demand for commercial launches. This follows the basics dynamics of market rationalization that occurred in the previous decade.
SM
When you look back over your career at ILS, what, in your opinion, has been the most significant achievement of the company during your tenure?
Frank McKenna
I would say more good fortune rather than an achievement for me, to be exposed to, and learn from, the talented people at ILS and Khrunichev to create a formidable force in the commercial heavy lift market. We have, together, secured more than $2 billion of business in our first year as a new entity in 2007, increased production and quality to launch a record eight commercial missions on a regular basis, sustained backlog of over 20 missions for the past four years, and have also created significant value for our heritage customers and new customers. This has fostered a streamlined and customer-focused partnership with Khrunichev to serve the global commercial launch market for many years to come.
For additional information regarding ILS, please visit their website at:
http://www.ilslaunch.com
* * * * * * * * * * *
International Launch Services
2011 Mid-Year Report
The continued support of our customers during a dynamic first half of the year in commercial launch has been absolutely essential for our success. The ILS Proton manifest, as with all launch providers, is dependent on the timely delivery of our contracted missions. This year, the first three commercial launches in our manifest were delayed due to satellite deliveries and after our first ILS Proton launch, there were further shifts in the launch schedule due to satellite in-orbit anomalies and technical issues. However, ILS was able to minimize the impact of these delays on our downstream missions due to several factors: The robust production in the Proton factory, responsiveness of the ILS mission teams, and the new facilities that have been put in place at the launch site to accommodate overlapping campaigns. We appreciate the patience and support of our customers.
Telesat
, with a successful launch on May 21, with the
Telstar 14R/Estrela du Sol 2
satellite. ILS was able to accelerate this mission for Telesat due to the delayed delivery of other satellites that were scheduled to launch earlier in the year. Unfortunately, the satellite suffered a deployment anomaly after separation, and the resulting review process delayed deliveries of Space System/Loral spacecraft on our manifest. ILS Proton performed successfully on the mission and was exonerated during the anomaly review and cleared for future missions.
On July 16, ILS Proton launched the second mission for the year with a commercial first; a shared mission with the
SES-3
satellite for SES and the
KazSat-2
satellite to serve the Republic of Kazakhstan. SES-3 was the first Western satellite to be paired for launch with a Russian-built satellite. The SES-3 satellite was placed into geostationary transfer orbit, while the KazSat-2 satellite, built and managed by Khrunichev, was injected directly into geosynchronous orbit. This dual launch option was not previously available in the commercial market — and ILS was honored to have provided this attractive launch opportunity to our longtime customer, SES.
In addition to the shared launch option, ILS also offers the ILS Duo capability, designed in direct response to satellite operators' demand for a lower cost solution for the delivering smaller spacecraft to orbit.
The ILS Proton Duo
capability is currently being marketing in conjunction with
Orbital Sciences Corporation
with two Orbital satellites stacked on a heavy lift Proton. Proton has a proven track record of launching multiple spacecraft to different orbits successfully (with the
Iridium
,
Glonass
,
Express
,
Cosmos
and
Raduga
spacecraft), and most recently, as a commercial first with the shared launch of SES-3 and KazSat-2 last month.
Strong Partners in Space: Russia and Kazakhstan
During the SES-3/KazSat-2 launch, high level dignitaries representing the Kazakh and Russian governments were in attendance to observe and offer support of this important milestone in the space industry for both countries. From Kazakhstan, the Prime Minister,
Karim Masimov
, the Minister of Defense,
Adilbek Dzaksybekov
, and the head of the Kazakh Space Agency, Kazkosmos,
Talgat Musabaev
attended, and from Russia, there were the head of the Russian Space Agency, Roscosmos,
Vladimir Popovkin
and Khrunichev Director General,
Vladimir Nesterov
. Immediately following the launch, the heads of the two space agencies met jointly to discuss future cooperation and other common goals and interests in developments and advancements in space, launch site improvements and enhancing their well-established partnership.
Plans for Expansion
ILS continues to be well received in the global commercial launch market. We have signed a contract with
Inmarsat
for ILS Proton launches of their
Global XPress
™ constellation:
Inmarsat 5 F1
,
Inmarsat 5 F2
and
Inmarsat 5 F3
. In addition to the Inmarsat triple award, we recently secured another ILS Proton launch in 2013, to be announced at a later date.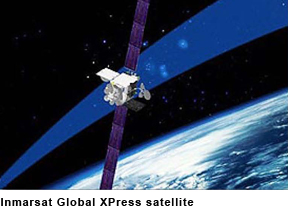 Earlier in the year, we announced the ILS Proton launch of the
SES-6
for SES in 2013, the sixth mission under the
Multi-Launch Agreement
(
MLA
) signed more than four years ago between ILS and
SES Satellite Leasing Limited
in the
Isle of Man
. One month later, we were awarded two launches from
Mitsubishi Electric Corporation
(
MELCO
) with the
Turksat 4a
satellite in 2013 and
Turksat 4b
satellite in 2014. Turksat 4a and 4b will serve MELCO's customer, Turksat, bringing direct TV broadcasting and telecommunications services throughout Turkey. This brings ILS to a total of seven new launch orders to date and a backlog of missions valuing nearly $2.5 billion dollars.
Maximized Throughput
The unique ability of ILS and our partner
Khrunichev
, to adapt to the evolving needs in the marketplace is critically important to our customers and we continue to work together to create flexible solutions to support their plans for growth, expansion and technological breakthroughs in the telecommunications industry.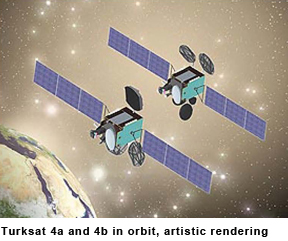 Proton production has also contributed to our ability to serve and perform for our customers as demands require. With as many as 14 systems produced annually, the consolidation of key Proton suppliers under Khrunichev has contributed a steady production pace with maximized throughput to serve both the commercial and Federal Proton programs. To date, Proton has performed 31 consecutive successful missions since July of 2008; still the highest launch rate in the industry for a heavy-lift system.
Second Spacecraft Processing Facility
(
SSPF
) in Baikonur, completed this past spring. The SSPF allows overlapping campaigns, minimizing the required spacing between ILS launches from five to six weeks to around three weeks. Some of the upgrades include a new hotel for on-site personnel; two new spacecraft control rooms, new communications systems and several new offices. ILS Proton continues to provide unmatched schedule assurance and this demonstrated capability is strengthened with the addition of the SSPF.
While the marketplace is dynamic, the ILS and Khrunichev partnership continues to serve our customers' goals and objectives. We look forward to a very busy second half of the year and thank our customers for their ongoing support, confidence and trust in ILS Proton. b
s/Frank McKenna