Solaris Mobile is the joint-venture between SES Astra and Eutelsat, two players not best known for co-operation, but both recognising that in the uncertain world of Mobile Satellite Services, a problem shared is a problem halved. Solaris Mobile took an S-band payload onto already planned Eutelsat craft (W2A) and then sold the capacity to Europe's mobile telephony operators and maybe even a proposed Europe-wide pay-radio system.
The craft was launched in April and all initially looked good. Now it is known that the satellite's S-band payload is badly flawed. Everything else is working well, including Eutelsat's Ku- and C-band transponders. We now know that an insurance claim is being made, and that
Solaris Mobile
's two joint-venture partners are already discussing a replacement payload, as well as other potential 'fast track' solutions to replace capacity. Perhaps every bit as important is the fact that both the project's backers remain confident of success, despite what is now clearly a significant set back for the scheme.
The news has also prompted a strongly supportive response from
Ondas Media
's CEO
Dave Kreuger
, confirming his company's wish to see a prompt resolution to Solaris Mobile's problems. Ondas Media has already signed up the likes of
BMW
and others to its pay-radio plan, similar in scope to
Sirius-XM
.
We understand the technical and engineering tests on the S-band payload are more or less concluded. They have shown there's a problem with the
Harris
-manufactured giant antenna — a very similar device is on board TerreStar 1, launched in early July.
While the satellite's electronics seem to be working well, it has taken some time to pinpoint the reason for the antenna's poor performance. The satellite has no camera on board — few commercial craft carry such equipment — in order to see the state of the antenna. This is why it has taken so long to track down the precise problems. The technicians have tested power levels, beam focus and general efficiency — the insurance claim filing revolves around the fact that the S-band payload is performing below nominal and designed expectations. Moreover, the tests have attempted to evaluate whether the 'problems' could be remedied or improved, and whether the satellite's payload is stable — in other words, whatever the problem is, can it now be depended upon to remain operationally consistent?
The issues have been identified with a reasonable degree of confidence, and the shape of the antenna seems to be the problem. Data was received shortly after launch that the antenna
HAD
been deployed — apparently satisfactorily. It was only a few days later when signals were fired at the craft's S-band payload that problems began to emerge. It quickly became apparent that the specification wasn't in order. The S-band payload wasn't functioning as designed. The most likely conclusion of the experts is that the antenna has imperfect shaping. Following exhaustive tests the belief is that in all key measures the S-band payload isn't performing nominally.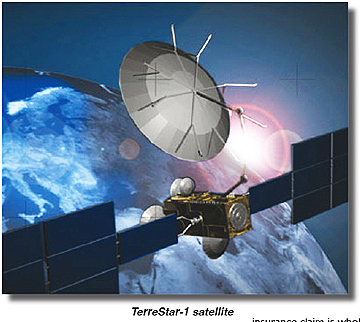 Hence the insurance claim, based on the degraded performance levels, and operating below specification. However, there's a glimmer of hope. The technicians have discovered that by slight tweaks, including twisting and modifying the in-orbit - and planned - functionality, the payload can be teased to provide a somewhat limited service. It seems to mean using the antenna in ways beyond its original specification. The tests have created options whereby the satellite can deliver a level of service, albeit limited in scope and coverage. Specifically we understand that its S-band service levels can match and comply with the commitments given in Solaris Mobile's spectrum application. However, our understanding is that the sort of service levels available are well below expectations.
This means that Solaris Mobile can offer some or certain services, as yet undefined. But while some services can be offered, it is nothing like those anticipated originally, and nowhere near the number, or range of services, needed to achieve commercial profitability.
The final piece of this complex jigsaw is that Solaris always anticipated it would need a second satellite. Both
SES Astra
and
Eutelsat
have a long-established commitment of in-orbit back-up, and as well as introducing new services. Solaris Mobile "2" was in the longer-term plan, and this was in the original spectrum application. What this means is that Solaris Mobile will now have to bring forward its plan — or search — for additional S-band capacity to complement or replace that which is aboard W2A.
Solaris Mobile believes its insurance claim is wholly valid based on the technical results achieved — or not achieved. However, it's likely that some hard bargaining will be needed with the insurers to reach a settlement that's acceptable to all of the concerned parties.
It is understood that the antenna's deformation is in one main segment only. However, all of the beams are affected and do not emit the designed power levels. This overall power level output is one key problem. The other is that the antenna seems to be unable to correctly focus its output. The end result is that Solaris
CAN
focus and deliver some beams, by more or less abandoning activity on the other beams. By using a combination of the better beams, and reducing power, some services could be sustained.
As far as a second satellite is concerned, the various options are now being considered, and our understanding is that both SES Astra and Eutelsat remain 100 percent committed to the project. A decision will be made in conjunction with the dialogue with the insurance sector, and is therefore likely to be months rather than weeks away.
One dilemma now facing the project is Solaris Mobile's potential client base. There were no firm contracts in place with either the cellular industry or other clients. All were waiting for the payload's clean bill of health. Solaris Mobile's view is that despite these challenging problems they are still out ahead of their rivals in terms of the concept — and perhaps a limited service can be promptly started.
Ondas Media's View
Dave Kreuger, Ondas Media's CEO, said: "Ondas is deeply interested in the Solaris impact assessment and especially their long range plans. Ondas significantly influences a number of leading replacement options for satellite capacity in the 2GHZ band and we are pleased to work with Solaris to offer these opportunities as part of a total solution. It is necessary that the network architecture have all the attributes required for Ondas automotive quality and availability of service."
He continued: "We would like to assure our investors and customers that we do not promote a commercial service that is vulnerable to a single satellite failure. We have made it clear to the industry from the beginning that no commercial service can operate with the threat that a satellite, launch or subsystem will fail and subscribers are left without service for any length of time. Investors will not meaningfully finance a business that can disappear with one anomaly, nor will customers install the service in their cars. Therefore the Ondas architecture is fully redundant so that even if we lose a satellite we still operate with extremely high service availability and quality.
"Ondas will maintain its momentum in the 2GHZ band for our satellite radio service and we represent interested investors and customers who desire to take full advantage of the band to provide superb satellite radio services into automobiles. To that end we offer our full support to Steve Maine and the Solaris team during this re-planning stage."
But if the possibilities — and backers — for Europe-wide pay-radio remain optimistic, there are other commercial problems now facing the project, in that the industry has changed quite dramatically over the past few years. Three or so years ago the cellular industry was full of optimism about the prospects of DVB-SH services to handhelds and vehicles.
"There is a certain risk in this new challenge," admitted
Giuliano Berretta
,
Eutelsat
's CEO, announcing the creation of Solaris Mobile with SES Astra in October 2006. As
Barry Flynn
, of
Farncombe Research
says in his recent study of S-band prospects: "Looking back, this seems like the understatement of his career. At the time, Eutelsat could be sure neither of the future size of a pan-European mobile TV market, nor that the new JV, Solaris Mobile, would be awarded vital S-band frequencies above Europe."
Flynn continues: "It would not be unfair to say that since then, Europe's mobile broadcast TV market has under-performed. And it would be a brave person who suggested today, as Berretta did two-and-a-half years ago, that a total universe of between 30 and 50 million mobile subscribers would be using television services in the eight European territories to be covered by its W2A satellite by 2015."
Solaris was awarded 30MHz of spectrum by the EU on May 14, in the 2.2GHz band (
Inmarsat
has the same amount of spectrum in its licence award). Two failed applicants in the European spectrum bid were
ICO Global
and
TerreStar
. Both are pursuing assorted legal challenges to the EU's decision, which if nothing else seems to suggest that the two challenging businesses still see merit in a Europe-wide business plan.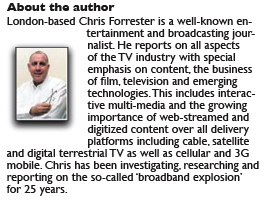 Solaris Mobile had two other thrusts amongst its potential portfolio of services, including the already mentioned satellite-delivered pay-radio to vehicles and handhelds, and to provide first-response wireless services to rescue and emergency services. One can only guess at this stage, but one suspects that it is this latter business option that Solaris might now be seeking — pending the decision of its insurers.