The satellite industry was intensely focused on two major stories in 2019 and those hot topics will continue to dominate the sector in 2020.
The first topic revolved around the prospects for the growing number of mega-constellations currently and to be launched around Earth. The latest news that Apple might be joining this quickly expanding club will be examined momentarily.
The second focus — one which provided an absolute roller-coaster of worries — focused on the prospects of the C-Band Alliance (CBA) comprised of Intelsat, SES, and Telesat — and a semi-detached Eutelsat, which started the year as a member of the Alliance but is now seemingly hedging their bets.
---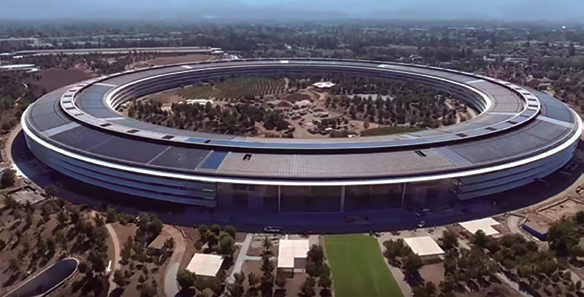 Apple's Spaceship Campus in Cupertino, California — perhaps a design more apt to the company's possible SATCOM moves than many may realize.
---
The multi-million-dollar concerns were whether the CBA would be able to sell off their wholly-owned, C-band frequencies in use over the U.S. for 5G usage. We now know the U.S. Treasury will be taking a large portion of the likely revenues from the planned auction and this news devastated the share prices of the key players, especially Intelsat and SES, the two operators with the greatest batch of frequencies and clients over the U.S.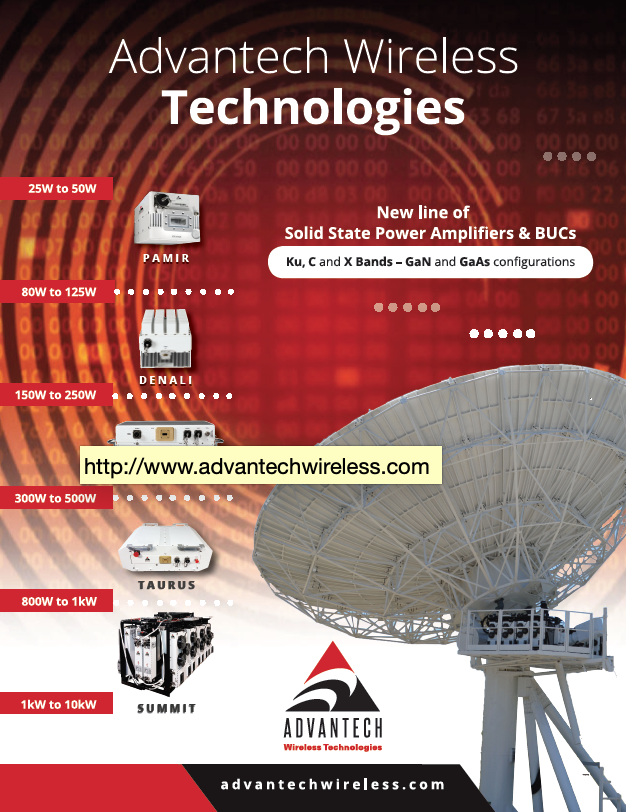 Intelsat was once said to be expecting multiple billions of dollars for selling its portion of the initial 180 MHz of spectrum. That expectation has now been slashed to a — still useful — $3 billion or so. Nice, but not enough to wipe out the company's debt burden. Consequently, Intelsat's share price crashed and burned from a superb $25 a share to nearer $6 during the final portion of 2019.
SES also suffered, but not quite as badly as Intelsat. The company's mid-summer 2019 price was around 17 to 18 euros a share, but that tumbled to 11 to 12 euros per share in mid-November. Bad, but not quite as catastrophic as that of the Intelsat share pricing.
The 2020 focus is on timings, guidance and rules from the FCC. On January 23 of this year, FCC Commissioner Mike O'Rielly is hosting a visit in Washington DC for investors (organized by investment bank Exane/BNPP) where it is likely some clues will emerge as to the FCC's detailed plans. The FCC is expected to issue their formal Order for its C-band auction plan on January 31.
The operators are certainly hoping for some good news. There are plenty of analysts who still believe that the windfall rewards for the satellite players will still be meaningful. As a recent Bloomberg report reminded readers, "At the heart of their optimism is a belief the market is taking too dim a view of the company's prospects to cash in on the sale of so-called C-band radio spectrum, which it controls — or thought it did. Satellite operators suffered an interstellar sucker punch last month when the FCC got in the way of their plan to sell the bandwidth directly to mobile phone operators, raising the prospect of a public auction process in which the government gets almost all the money."
Bloomberg quotes Vivek Stalam, a New Street Research analyst whose $34 price target for Intelsat is the highest on Wall Street, saying, "We think the spectrum is going to go for a much higher price than folks realize. Some folks think in a public auction process the majority of the proceeds go to the government. We simply think that's not the case."
It is now accepted — indeed, mandated — that the FCC expects 300 MHz of C-band to be freed up over the next three years, and perhaps more thereafter. However, if the FCC — and the Department of Justice (DoJ) — are too tough with this upcoming Order, they will potentially jeopardize the CBA's promised eight new satellites order for replacement spectrum duties over the U.S.
Either way, we can expect arguments, not only between the CBA and the FCC, but also between the CBA and Eutelsat as to that firm's slice of the 'windfall' revenues. In other words, this particular 'fat lady' hasn't even started clearing her throat, let alone started to sing.
Mega-Constellations
The highly expensive mega-constellation club might well see a new member in 2020 in the shape of Apple. Last year saw concrete progress, with launches from SpaceX's Starlight constellation as well as from OneWeb.
One player dropped out of the race in late 2019 (LeoSat) and that places into question the spectrum held by Thales-Alenia. However, the club still has billions of dollars remaining for investment in fleet building and launching, as well as additional billions for the entire marketing and awareness-raising endeavors to be aimed at the public at large.
Apple, as mentioned, is reportedly contemplating entering the 'mega-constellation' satellite race and joining SpaceX, Amazon, OneWeb and others in launching craft into orbit. It remains unclear whether Apple is preparing to build their own satellites launched or, alternatively, plans to use capacity on existing satellites. A Bloomberg report in late December said that Apple has quietly assembled a team of experts to examine the best way to beam data directly to and from their own devices by satellite, thereby bypassing ground-based, wireless infrastructures.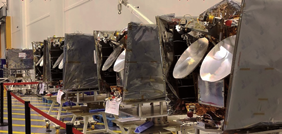 Five OneWeb satellites post-build. Photo is courtesy
of Airbus.
The staffers now on the Apple payroll possess skills from the aerospace, satellite and antenna industries, said Bloomberg, although admitting the project is in its early stages. Among the hirings are the former head of satellite engineering at Google and former head of spacecraft at Google. Google was an early investor in OneWeb, for example, and is still developing its 'Project Loon' high-altitude, balloon transmission concept.
Direct connectivity from an iPhone to space is far from impossible and there's plenty of experience from today's conventional satellite phones to connect 'direct-to-satellite' — even to geostationary satellites with commensurate latency (while out-of-doors). The plans of SpaceX, Amazon and OneWeb are all for LEO satellites with extremely short latency times. Apple's plans — such as they are — would have to match or embrace one of those LEO-type services.
In December, the FCC permitted SpaceX to adjust its planned orbits for the company's Starlink mega-constellation. SpaceX had asked for permission to create orbits in 72 rings around the planet at orbital heights of 550 km., three-times the previously allowed plan. Each ring will now contain 22 satellites instead of the previous 66 and will permit SpaceX to more quickly populate each ring.
SpaceX will place a total of 1584 satellites into these orbital rings and already has 120 in orbit (with another launch planned as of this writing). Overall, SpaceX wants 12,000 satellites in orbit, although the bulk of these extra satellites will operate at both higher and lower altitudes than the initial 1584.
"Grant of this application will allow SpaceX to accelerate the deployment of its satellite constellation to deliver broadband service throughout the United States, especially to those who live in areas underserved or
unserved by terrestrial systems," said the FCC in its decision. It is also expected that this new permission will allow SpaceX to start commercial operations later in 2020 in some key 'Hurricane' states in the South and East of the U.S.
OneWeb is extremely busy, not only with its build and launch plans, but actively readying for sales and marketing of their own services. OneWeb is — much like the existing O3b MEO service from SES — planning to reach remote, rural communities, local authorities and schools, as well as high-end financial and professional users who will appreciate the constellation's ultra-low latency coverage of the planet.
Q2 of 2019 witnessed the OneWeb/Airbus joint-venture manufacturing facility at Exploration Park, Florida, initiate production of their modular, low-cost (they state) "Generation 1" satellites. They are now starting to launch, but the industry will be waiting for the unfortunate legal spat between Intelsat and OneWeb to be aired and, hopefully, resolved. Intelsat is alleging all sorts of problems between the two, which started with the initially proposed — and aborted — cooperation agreement between Intelsat and OneWeb. One allegation states that financial backer SoftBank attempted to sell off their stake in OneWeb.
While OneWeb is preparing for a sales/marketing effort, one can be assured that Elon Musk is having similar thoughts, especially with a likely entry into service later in 2020. Jeff Bezos' Project Kuiper remains distant, but do not underestimate the marketing power that Amazon could bring to the party.
The same is true of anything that Apple might accomplish in the satellite space. The company's plans might not result in actual satellites but possibly a virtual/rented fleet using spare LEO capacity — this move should not be ignored. All of these marketing/awareness efforts will require extremely deep pockets and enthusiastic financial backers.
Certainly, 2020 will continue to supply a news flow that will generate much interest and excitement.

Senior Columnist Chris Forrester is a well-known broadcasting journalist and industry consultant. He reports on all aspects of broadcasting with special emphasis on content, the business of television and emerging applications. He founded Rapid TV News and has edited Interspace and its successor Inside Satellite TV since 1996. He also files for Advanced-Television.com.
In November of 1998, Chris was appointed an Associate (professor) of the prestigious Adham Center for Television Journalism, part of the American University in Cairo (AUC), in recognition of his extensive coverage of the Arab media market.
---