Novotronik—Broad Bandwidth Appeal
Novotronik GmbH, a well known German manufacturer of RF-switches and Matrix systems, has introducing a new matrix switch which covers the bandwidth from 20 to 4200MHz.

This compact unit (19inch subrack with 1u and a depth of 380mm) allows the distribution of 8 inputs to 8 outputs in a non-blocking manner.
This unit can be realized as a RX-version (full fan out) or as TX-version (full fan in). Control is managed via the Ethernet—integrated web browser—and manual control via push buttons and a LC display located on the front panel of the unit.
The matrix has unity gain and good values for dynamic range. The unit is powered by redundant hot interchangeable power supplies, which cover the range 90-264VAC
Novotronik's infosite is located at: http://www.novotronik.com/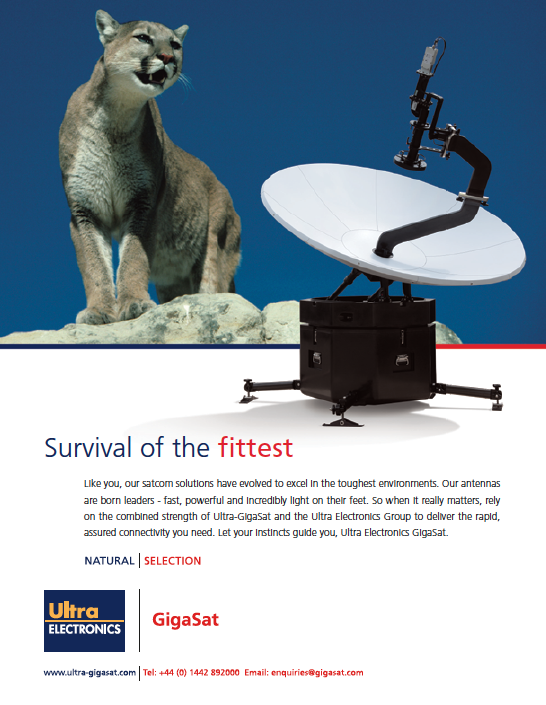 * * * * * * * * *
Optus + NBN Co—Operational Oversight
Optus has signed a new, five-year agreement with NBN Co to operate its two new satellites that will deliver high-speed broadband services to rural and remote Australia.
Under the agreement, Optus satellite will provide tracking, telemetry and control services for the NBN Co satellites, planned to launch into orbit in 2015. This new agreement is in addition to Optus' existing relationship with NBN Co, announced in May 2011, under which Optus supplies managed services for NBN Co's Interim Satellite Service.
Optus currently has five satellites in orbit with another planned for launch in 2014 to provide additional satellite services to its corporate, enterprise and government customers. The two new *Ka-band NBN Co satellites will be controlled from Optus' satellite ground station facility located in Sydney's northern suburb of Belrose. Optus will use its dedicated resources and expertise in satellite command and control to support NBN Co in the satellite broadband component of its National Broadband Network rollout.
Paul Sheridan, Vice President of Satellite at Optus, said, "Optus looks forward to working with NBN Co to fly these satellites and assist it in meeting the significant demand for high speed broadband services in regional and remote Australia."
Matt Dawson, Program Director of Satellite at NBN Co, said, "The NBN Co satellite service is key to bridging the divide between the city and the bush. It can give people in the outback, remote regions and Australia's overseas territories access to economic and social opportunities."
Since 1985, Optus has successfully launched and operated nine of its own satellites. Optus satellite services facilitate the provision of free-to-air television, pay television, radio broadcast, voice and data to corporate and government organizations, consumer broadband IP, video conferencing, and mobile satellite services to Australia and New Zealand, including territorial waters. *Ka-band satellites operate at high frequency to support high-bandwidth applications and critical communications networks worldwide.
More info available at https://www.optus.com.au/
The NBN Co infosite: http://www.nbnco.com.au/
* * * * * * * * *
NASA—The Deepest "Capture" Ever Completed
This long-exposure Hubble Space Telescope image of massive galaxy cluster Abell 2744 (foreground) is the deepest ever made of any cluster of galaxies and shows some of the faintest and youngest galaxies ever detected in space.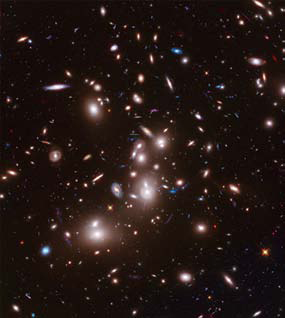 The immense gravity in Abell 2744 is being used as a lens to warp space and brighten and magnify images of more distant background galaxies—the more distant galaxies appear as they did longer than 12 billion years ago, not long after the big bang.
The Hubble exposure reveals almost 3,000 of these background galaxies interleaved with images of hundreds of foreground galaxies in the cluster.
Their images not only appear brighter, but also smeared, stretched and duplicated across the field. Because of the gravitational lensing phenomenon, the background galaxies are magnified to appear as much as 10 to 20 times larger than they would normally appear.
Furthermore, the faintest of these highly magnified objects is 10 to 20 times fainter than any galaxy observed previously. Without the boost from gravitational lensing, the many background galaxies would be invisible.
The Hubble exposure will be combined with images from Spitzer and NASA's Chandra X-ray Observatory to provide new insight into the origin and evolution of galaxies and their accompanying black holes.
* * * * * * * * *
iGT—Ensuring DoD Router Compliance
iDirect Government Technologies (iGT), a wholly owned subsidiary of VT iDirect, Inc. (iDirect), is releasing its newest satellite router, the e150 Integrated Router Board, designed to meet Department of Defense (DoD) SATCOM requirements for remote sensor monitoring.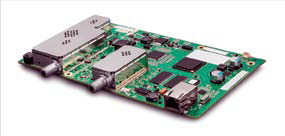 The e150 is ideal for sensor applications. The remote features DVB-S2/ACM and time division multiple access (TDMA), basic routing; virtual local area network functionality; and quality of service.
The 3150 includes spread spectrum for small antenna applications and transmit keyline control for battery power management savings.
Features include:
– Small form factor that enables smaller terminal design
– Low weight for maximum portability
– Spread-spectrum technology provides bandwidth and spectral efficiencies that enable the use of very small antennas
– Transmit keyline provides for significantly lower power consumption resulting in longer battery life and much lower dissipated heat output
– Supports all antenna variants and all satellite frequencies
– Functionality optimized for the sensor market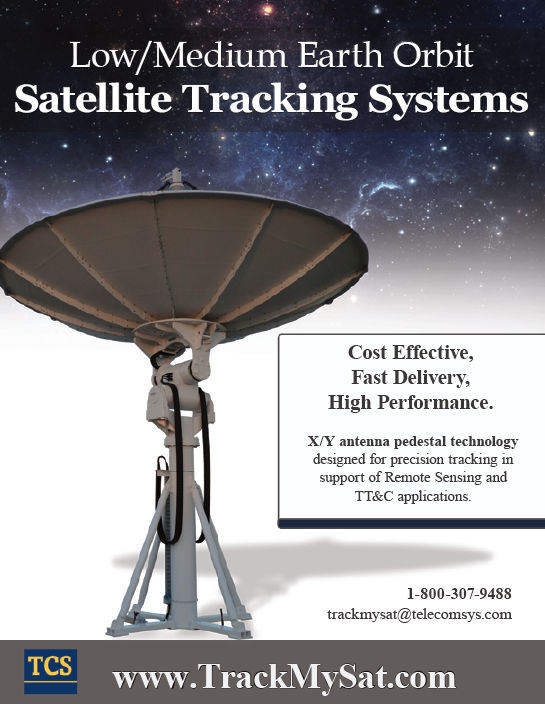 "The e150 was developed specifically to suit unique military applications and provide our DoD customers with TDMA, QoS and other bandwidth- and power-efficient features to support their overall missions," said Karl Fuchs, iGT Vice President of Technology.
iDirect Government Technologies infosite is accessible at http://www.idirectgt.com/
* * * * * * * * *
SpeedCast—Newly Persuasive In Perth
SpeedCast has opened its new facilities in Perth, Australia—the company also plans to unveil at Australasian Oil and Gas Exhibition and Conference (February 19-21) its new streamlined global operations to serve the Natural Resources sector, with the consolidation of SpeedCast, Australian Satellite Communications, Pactel International and Elektrikom Satellite Services under one global brand, SpeedCast.

Launching the new office in Perth is the company's next step in its strategic investment to address the needs of oil and gas and mining customers. Previously together with its partner Satcomms Australia, SpeedCast invested in state-of-the-art teleport facilities in Perth's suburb of Henderson.
This allows SpeedCast to provide services into Africa, Asia and Australia directly from Perth. SpeedCast has strengthened its position in Australia with the acquisitions of established satellite industry players Australian Satellite Communications and Pactel International.
The Perth office complements SpeedCast's presence and infrastructure in the region's other major oil and gas and mining hubs: Singapore, Kuala Lumpur, Jakarta, Port Moresby and Dubai.
SpeedCast's infosite is located at http://www.speedcast.com/
* * * * * * * * *
PlanetObserver: Something New For You In 2014
The French company PlanetObserver, specialized in geospatial data, satellite imagery and elevation data, has launched a new website, which offers...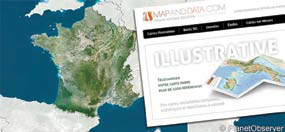 – New look: Attractive design, better navigation and user-friendly interface for an easy and quick access to information.
– New products: The website presents PlanetObserver three new product ranges : PlanetSAT, PlanetDEM and PlanetAIR.
– New features: Revamped with several novelties, the new interactive platform provides users with more efficient access to the different sections. Discover detailed case studies and several imagery and elevation data samples available for free download, so that you may test our products directly in your solutions.
"[The website] features a better design and improved structure and has become more efficient while offering additional content. In just a few clicks, you can discover our full range of geospatial data," said Laurent Masselot, CEO of PlanetObserver.

PlanetObserver offers a full range of value-added geospatial products: Global imagery mosaics in natural colors with a unique visual quality and truly global high quality Digital Elevation Models.
All products are developed internally, backed up by PlanetObserver's know-how in geospatial data processing and more than 25 years of technological expertise.
PlanetObserver imagery and terrain products are perfect for numerous commercial, military and consumer applications, ranging from web-mapping to 3D visualization and simulation solutions, flight simulation, cartographic mapping to audio-visual production.
Recently, Intercarto and PlanetObserver joined forces to provide an innovative and highly attractive range of maps to all professionals involved in mapping and communication projects.
Intercarto is a well known supplier of illustrative and vector maps for graphists and GIS users. Its online webshop, MapAndData.com already offers more than 5,000 map references available in different formats and pricing for immediate download.
PlanetObserver has a unique know-how in the production of natural color satellite imagery products. Intercarto has selected the company's range of innovative georeferenced images for distribution to graphists and geographic information specialists.
PlanetWeb's new infosite is located at http://www.planetobserver.com/
* * * * * * * * *
IRG—A Walk For Interference
Participants will meet the companies involved in all three areas, as well as learning more about the solutions and processes for reducing satellite interference.

The Satellite Interference Reduction Group (IRG) will be hosting a Carrier ID (CID) Tour at CabSat and Satellite 2014.
The tours will help demonstrate the CID process, walking participants through the three main stages: Transmission, Detection and Resolution.
Participants will meet the companies involved in all three areas, as well as learning more about the solutions and processes for reducing satellite interference.
The tour will start with how CID is included at transmission, visiting encoder manufacturers, Comtech, Ericsson and Newtec for insight.
It will then look at how the CID is detected after transmission, which will involve demos from a number of companies.
This part of the tour will visit Crystal Solutions, SAT Corporation, and Siemens Convergence Creators.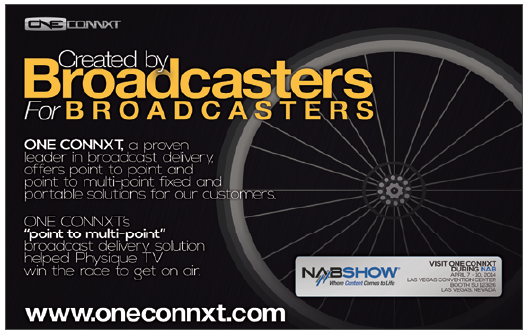 The tour will end by looking at how issues can be resolved thanks to CID. This part is handled by the satellite operator, using the CID Database provided by the Space Data Association, which is currently being created by AGI. Satellite operators in the tour include ArabSat, Eutelsat, Inmarsat, Intelsat, SatMex and SES.
"We have come a long way with the CID initiative over the past couple of years," said Martin Coleman, Executive Director; Satellite Interference Reduction Group.
"We now need to ensure widespread implementation, and in order for that to happen, the industry needs to understand exactly what is entailed, where to source the right solutions, and who can help them achieve that. We hope that this tour will go some way to filling in those gaps."
IRG will also be supporting the GVF Interference Prevention Summit at CabSat and co-hosting an Interference Prevention Summit with GVF at Satellite 2014.
The Satellite Interference Reduction Group (IRG) is a leading organization working to reduce satellite frequency interference.
The organization comprises four main working groups, covering EUI (formed from the former RFI-EUI), Carrier ID, Intentional Interference, and VSAT interference.
The Group's membership is comprised of satellite operators, users, uplinkers, service providers, equipment vendors and other organizations with a stake in combating radio frequency interference.
For further information or to register, please email angie.mar@gvf.org
To view the full schedule or register for one of the tours, please visit http://satirg.org/carrieridtour
* * * * * * * * *
Hiltron—Anywhere, Anytime, + Under Two Minutes
Hiltron Communications new flyaway antenna can locate satellites anywhere, anytime, and in under two minutes.

Hiltron Communications, Germany's satellite and wireless communications systems integrator, manufacturer and distributor, has selected CABSAT 2014 to introduce their new MAF 1.4m flyaway antenna's introduction into the MENA markets.
Shown in prototype at IBC 2013 and now deliverable, the MAF 1.4 incorporates fully automatic satellite acquisition. Based on the unique Hiltron HSACU SNG antenna controller, it allows a satellite to be found in less than two minutes, from any location and at any time.
"The MAF 1.4 is equipped with a high-precision antenna mount which is guided by a carrier identification algorithm," explains Hiltron Managing Director Michael Schiestl. "Antenna mount and controller are closely integrated. The MAF system provides a level of quality and excellence not seen before in the satellite newsgathering market at such an affordable price."
The antenna can be accommodated in five IATA-compliant cases comprising three for the antenna plus one each for the control electronics and high power amplifier.
Hiltron's award-winning HMCS SNG management software allows fast and easy setup of the uplink without need for deep technical knowledge.
Hiltron Communications operates from headquarters at Backnang near Stuttgart, Germany.
On-site facilities include a large technical operations area with high access doors and ceiling, capable of accommodating satellite-link vehicles and their roof-mounted antennas.
Hiltron is part of the Dan Technologies group, one of Europe's leading suppliers of audio, video, transmission products and digital media solutions.
Additional information is available at http://www.hiltron.de/
* * * * * * * * *
Advantech Wireless—WAAS + EGNOS Requirements Met
Advantech Wireless Inc., a privately-held Canadian corporation and manufacturer of Satellite, RF Equipment and Microwave Systems has released their new Synthesized Frequency Converter Series WAAS/ EGNOS Compliant.
The spectral purity, low phase noise and high stability meet the requirements of WAAS and EGNOS international satellite network operators.
The WE range of converters are used in systems that require accurate location indication, by correcting the GPS signal provided, making them an ideal choice for large Earth stations specialized in WAAS or EGNOS applications.
The flexible and comprehensive monitor and control features on the WE series converters ensure that it will fit into any network management system architecture.
The user-friendly front panel or the RS485 remote interface will provide full set-up and fault monitoring facilities.
The RS232 will provide the Monitor and Control functions via a PC and will also allow for software downloading. Optional Ethernet SNMP or WEB browsing is available.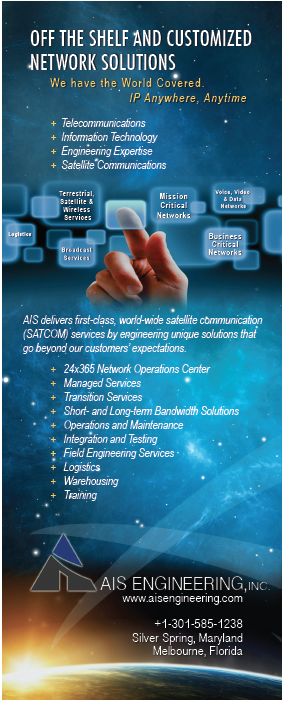 The converter is fully synthesized with the PLL oscillators either locked to a highly stable internal 10 MHz reference or if the external reference option is fitted and the proper level of signal is present, the PLL will automatically lock to the external reference.
For more information: http://www.advantechwireless.com/
* * * * * * * * *
TECOM Industries—Airborne Add-In For Connectivity
TECOM, part of the Smiths Microwave Business Unit, announces the introduction of its newest SATCOM product.

The KaStream 5000, mounted in the tail of the aircraft, is part of the Ka-band VSAT solution for airborne in-flight connectivity.
This airborne SATCOM product provides the industry with leading performance for VSAT.
TECOM's products leverage more than five years of experience with more than five million hours of operational flight time with the KuStream®1000.
TECOM offers the following advantages to the industry with its newest Ka-band VSAT product line:
– Market-leading Effective Isotropic Radiated Power (EIRP) in a small form factor allowing higher data rates off the aircraft
– Two Line Replaceable Units (LRUs), a single Antenna Control Unit (ACU) and 11.5-inch Ka-band Satellite Tracking Antenna Assembly (STAA)
– Multi-modem capability supporting different satellite and ground systems worldwide
– Swappable Ku- or Ka-band antenna platforms for maximum network and operational flexibility
The product is designed to be form and fit swappable with either Ka- or Ku-band STAA. TECOM will introduce its new Ku-band VSAT tailmount SATCOM product and swappable STAA later this year.
TECOM's infosite is located at http://www.tecom-ind.com.
* * * * * * * * *
ASC Signal—Opening The Gateway In Kuwait
ASC Signal Corporation was awarded a contract from Kuwait-based Al-Rashed Holdings to provide gateway satellite antennas and equipment for the State of Kuwait's Ministry of Information, to be used for the distribution of television and radio content throughout the Middle East and Africa.
Under the contract, ASC Signal will provide transmit and receive earth stations to access both Nilesat and Arabsat satellites.
The fully-redundant Ku- and DBS-band, 5.6-meter antennas include interchangeable feed systems that allow the Ministry of Information to use the same antenna at different frequency bands as required for program delivery.
Installation of the ASC Signal antennas will equip the Ministry of Information to deliver content from its own facilities in Kuwait City.
In addition to the high-performance antenna system, Al-Rashed will provide ASC Signal's Next Generation Controller (NGC), which gives users a single, simplified, central device to control and operate multiple antenna systems.
The Ministry will capitalize on the many advanced features of the NGC, including utilizing the remote access and tracking capabilities built into the system, as well as the optional internal spectrum analyzer.
"As ASC Signal continues its rapid expansion into the Middle East, our new relationship with Al-Rashed and Kuwait's Ministry of Information marks an important milestone," said Keith Buckley, President and CEO of ASC Signal. "Our high-performance, competitively-priced antenna systems, along with the feature-rich NGC, opens many opportunities in this fast-growing region."
"Al-Rashed Holdings is delighted to award the contract for gateway antennas to ASC Signal," said Abdulaziz Al-Rashed, Chairman and CEO of Al-Rashed Holdings. "This landmark project is of key strategic importance for Kuwait and the selection of ASC Signal reflects their extensive expertise in this area. Al-Rashed Holdings, as a leading local telecommunications and networking provider, looks forward to working with ASC Signal systems in successfully executing this contract and to future collaboration."
More info is available at http://ascsignal.com/
* * * * * * * * *
Raytheon Space + Airborne Systems + SIA —Joining Up
The Satellite Industry Association (SIA) today announced that Raytheon Space and Airborne Systems, a division of Raytheon Company (NYSE: RTN), a technology leader specializing in defense, security and civil markets throughout the world, has become SIA's newest member.
SIA is a full-service trade association that represents commercial satellite companies as the unified voice of the U.S. satellite industry on policy, regulatory, and legislative issues affecting the satellite business.
"SIA is pleased to welcome Raytheon Space and Airborne Systems to our Association," said Patricia Cooper, SIA's President. "Their 45 years of experience in space technology for environmental sensing, space situational awareness and both enterprise and government solutions will augment SIA's growing membership of satellite sensing manufacturers and enhance SIA's representation of the broader U.S. satellite industry."
"We are excited to be a part of the Satellite Industry Association and participate in the Association's efforts to advance the interests of the commercial satellite industry," said Ron Stopher, director, Strategy and Business Development, Space Systems. "We have a unique history as a sensor solution provider with a 45-year record of innovation and successful on-orbit performance, and we look forward to sharing that perspective with the SIA."
Raytheon Company specializes in technology pertaining to defense, security and civil markets throughout the world. Sales in 2013 were $24 billion and the company has 63,000 employees worldwide. With a history of innovation spanning 92 years, Raytheon provides state-of-the-art electronics, mission systems integration and other capabilities in the areas of sensing; effects; and command, control, communications and intelligence systems, as well as cyber security and a broad range of mission support services. Raytheon is headquartered in Waltham, Massachusetts.
* * * * * * * * *
MTN Communications—Know-How For Norwegian Line
MTN Communications (MTN) is supporting Norwegian Cruise Line's launch of the newly-christened Norwegian Getaway with its advanced hybrid communications network—this innovative network enables satellite and terrestrial broadband connectivity for higher performance connections on large vessels at-sea and in-port.

With approximately 4,000 guests and 1,600 crew, Norwegian Getaway, the world's newest cruise ship, is the first to showcase one of the most visionary communications solutions at sea today. While sailing in the open sea is a remote experience, guests and crew members don't want to leave their "connected lives" back in port. Being able to share experiences as they are happening, and staying connected to friends and family while on vacation, are must-haves for consumers today.
Cruise ships traditionally have relied solely on satellite bandwidth. The new MTN Terrestrial Broadband Network delivers faster, more efficient connections, enables access to applications and content, and optimizes corporate IT data. This allows people to bring their daily online habits with them to sea, including social media, infotainment, content and more. Between 2008 and 2013, MTN managed a six-fold increase in satellite bandwidth requirements as a result of Internet, content and voice usage. Internet logins on the MTN network more than doubled to almost 33 million per year. Voice communications increased approximately 50 percent.
To support this new hybrid network, MTN equipped Norwegian Getaway with the industry's most sophisticated software systems to maintain multiple types of connections simultaneously. It also uses the fastest data path available so it can access terrestrial broadband when near and in ports. A broadband antenna tracking and stabilization system enables the ship to "lock" onto an MTN access point in-port for terrestrial broadband connectivity with no impact to the end user during the switchover.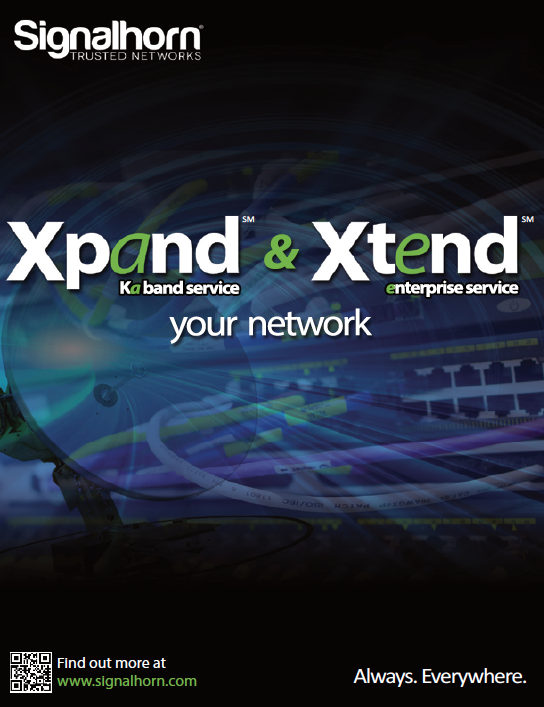 Key to this land-like level of service, the shipboard data center of Norwegian Getaway also is equipped with the industry's most advanced processing technologies. Leveraging these technologies, MTN is delivering improved efficiency and throughput for Internet, television and crew calling services on the vessel.
Further information is available at: http://www.mtnsat.com/mtn-markets/cruise
* * * * * * * * *
Euroconsult—Global Space Program Funding Dives
This is the first time since 1995 that public space programs worldwide have entered a downward trend,
According to Euroconsult's newly released research report, Profiles of Government Space Programs, global budgets for space programs dropped to $72.1 billion in 2013 following peak spending at $72.9 billion in 2012.
This is the first time since 1995 that public space programs worldwide have entered a downward trend, a direct result of the cyclical nature of countries' investment in space-based infrastructures combined with governments' belt-tightening efforts during tough economic times.
"Nevertheless, the current global context for public space programs shows many positive signs brought by new leading space nations and an ever-growing number of countries who have initiated plans to build up their space-based capabilities. We anticipate government space spending to recover in the second part of the decade in many countries currently experiencing intense budget pressure," said Steve Bochinger, COO at Euroconsult and Editor of the report.
The report highlights that in a period of budget tension many countries develop innovative mechanisms to implement their space programs notably calling for wider private sector involvement including in areas until now reserved for government initiatives.
This transforming relationship between public agencies and the private sector shall have long lasting effects in the way governments conceive their space programs and industry contractors structure their government business.
In 2013, 58 countries invested $10 million or more in space applications and technologies, compared to 53 in 2011 and 37 in 2003. 22 more countries have been identified with plans for space investment:
– The U.S. invested $38.7 billion in its space program (civil and defense) in 2013 confirming the downward trend initiated since the start of the decade. This is an $8.8 billion reduction compared to the peak spending of $47.5 billion in 2009.
– Russia recorded a massive increase of its public investment in space and is the only country after the US to pass the $10 billion cap. In the last five years, Russia's investments have accelerated at an impressive average growth of 32 percent in local currency.
– Another six countries invested over $1 billion: Japan, China, France, Germany, Italy and India, as well as the European Union. China's 8th place ranking for space spending as a ratio of its GDP indicates there is room for investment growth in the future.
– 19 countries recorded over $100 million in spending: the UK, Canada, Brazil, Spain, South Korea, Belgium, Kazakhstan, the UAE, Argentina, Mexico, Australia, the Netherlands, Switzerland, Turkey, Sweden, Israel, Nigeria, Iran, and Norway
– 30 other countries invested between $10 million and $100 million in their national space programs; only 10 of them were part of that list in 2003.
"Interestingly, we see a period of transition in many national programs which is reflected in their investment profile. This is also true in emerging countries that have been a key market driver for the space industry. After first or second-generation launches, these emerging space nations now need to decide on stable, longer-term spending. Similarly, there is a new 'third wave' of potential space nations, but commitments seem slower to materialize," said Bochinger.
Profiles of Government Space Programs is the only complete assessment of public space programs. The report, published since 1994, is a comprehensive review of all 80+ active space programs around the world, including leading countries and organizations, emerging programs, defense and civil agencies.
Each program is analyzed and assessed by the same criteria, through extensive qualitative and quantitative information and analysis, including current and future policies, budgets and programs.
For further details, access the firm's infosite at http://www.euroconsult-ec.com/
* * * * * * * * *
Airbus Defence and Space—A Conversion For Astrium Services + 50 Million Sent...
Astrium Services, a global provider of satellite enabled solutions, has announced that they will operate with immediate effect under its new name—Airbus Defence and Space, a division of Airbus Group.
The change from Astrium Services to the new Airbus Defence and Space is part of a rebranding throughout the wider EADS organization.
Earlier this year, EADS became Airbus Group, with three distinct divisions: Airbus, Airbus Defence and Space, and Airbus Helicopters. The entire Astrium Services portfolio of satellite communications and geo information services will continue under the newly created Communication, Intelligence & Security (CIS) business line of Airbus Defence and Space. CIS will also integrate secure land communications and integrated system activities of the former Cassidian organization of EADS.
The company will continue to offer best-suit choice of multi-band satellite services, reliably answering communications needs of all key markets.
"The new Airbus Defence and Space set-up will allow bringing all governmental and commercial satellite communication activities together into one integrated SATCOM unit, as part of CIS. The mission of new SatCom unit will be to be the provider of choice for trusted satcom-enabled solutions, with a very strong customer focus across all our key vertical markets," said Erik Ceuppens, newly appointed Head of the Satellite Communications program line. "We're proud to operate under the Airbus name and its association with technology excellence."
The reorganization will be rolled out gradually during the course of 2014. All parts of the new division will be rebranded as Airbus Defence and Space over the coming months.
Airbus Defence and Space has also just reached a fresh record for its dedicated SkyFile Mail software in 2013, with more than 50 million emails sent by some 40,000 mariners worldwide—a 25 percent growth in email volume over the previous year.
SkyFile Mail is an intuitive email solution for business and crew working for some of the world's largest shipping companies.
It is a leading messaging application optimised for SATCOM and the perfect partner for Pharostar, Sealink and WaveCall VSAT services from Airbus Defence and Space.
The increased use of SkyFile in 2013 was similar for both VSAT and MSS, reflecting the ease of migration to SkyFile from other email platforms and from L-band satcom, as users do not need to be retrained when a vessel upgrades its satcom from MSS to VSAT.
SkyFile optimizes bandwidth efficiency on board through sophisticated data compression, which further reduces the size of emails sent.
The remaining VSAT bandwidth can be put to use for other operational or crew applications. Further efficiencies come from enhanced remote management features.
"Owners and operators looking to change to our dedicated maritime email solution can keep their existing email addresses and be confident in SkyFile's ability to enhance their email communications regardless of the satcom band they use," said Tore Morten Olsen, Head of maritime activities at Airbus Defence and Space.
SkyFile Anti-Virus also saw growth, with the amount of licences in operation nearly doubling throughout 2013. New over-the-air updates attracted more users, who recognize that up-to-date anti-virus software is important for security and efficiency.
"SkyFile Mail is part of a unique family of satellite optimised data applications that will continue to grow with some exciting developments already in the pipeline," Tore Morten Olsen said.
The company's infosite: http://airbusdefenceandspace.com/