India's insatiable appetite for content and connectivity is nothing short of amazing.And SES WORLD SKIES satellites are enabling operators to deliver DTH, mobile connectivity and corporate networks in unprecedented numbers and in record time.
India is adding an average of one million DTH subscribers per month, with October seeing the addition of 1.4 million additional subscribers and November 1.7 million subscribers.
"The numbers and the opportunities they represent for SES WORLD SKIES and our global fleet is mind boggling," said Deepak Mathur, the Vice President of Sales for South Asia and the Middle East for SES WORLD SKIES. "In most countries, the addition of a million new DTH customers is considered solid growth over the course of a year. India is rewriting the benchmarks and making telecom history as we speak," he added, noting India is expected to surpass the U.S. in DTH subscribers in the next year.
India has seven DTH providers already serving a market of 30 million subs, and projections call for that number to leap past 40 million by 2015. The country's largest DTH operator, "Collaborating closely with ISRO (
India Space Research Organization
) and its commercial arm ANTRIX, SES WORLD SKIES is aggressively expanding strategic satellite capacity over the region," Mathur detailed. "We see the tremendous opportunities and look forward to continuing to partner with ISRO and ANTRIX to help India meet the demand for the reliable delivery of video, voice and data." A key challenge is to provide co-located expansion capacity for neighborhood sensitive applications such as DTH, VSAT and video contribution and distribution services..
Vast VSAT Growth
India is also experiencing tremendous growth in VSAT deployments, as e-governance initiatives, corporate networks and rural demand for broadband, television and mobile phone services are booming at a brisk pace.
"We have six VSAT operators running in excess of 100,000 VSAT terminals on our NSS-11 and NSS-12 satellites," said Mathur. "Nowhere else have we seen that level of VSAT deployment," he added, noting SES WORLD SKIES currently serves India with four advanced satellites — NSS-6, NSS-11, NSS-12 and SES-7 — that provide Ku-band capacity over India. SES-7 is the former Protostar 2 spacecraft acquired by SES as part of a strategic effort to meet the increasing demand for additional capacity throughout the region.
By enabling major telecommunications providers such as Bharti, Hughes and Tata to connect and empower everyone from big companies to remote farmers in rural towns and villages, SES WORLD SKIES is contributing to the transformation of an entire country.
Corporate VSAT networks have become increasingly vital across India, as companies and their metropolitan and rural workforces depend on reliable and scalable connectivity for everything from email, Internet and Intranet access.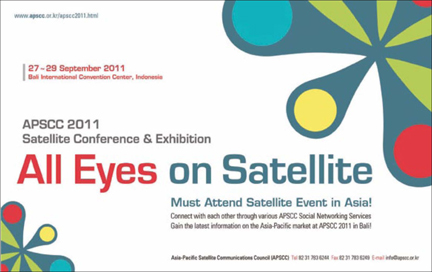 "Everyone in the major cities has at least one mobile phone, and in some cases two," Mathur explained. "What's happening now is India operators are starting to use satellite-delivered GSM backhaul to expand their reach further and further into rural markets."
Less densely populated areas in the Himalayas and Northeast India are so remote, Mathur said, that satellite is the only economically viable way to bring capacity to connect the un- and under-connected. With the recent auctions of 3G licenses, and the roll-out of high through-put data services across the networks, backhaul demand is likely to see exponential growth.
India's large agricultural communities rely on satellite-delivered broadband for access to the Internet, email, and farming information portals. For example, ITC's e-choupal offers real-time weather reports, crop analysis and other vital insight never before available along the back roads and remote stretches of the world's seventh largest country.
"SES WORLD SKIES satellites are enabling operators to bring a whole new world of information, not to mention a newfound competitive edge, to farmers and farm operations across India," said Mathur. "As a result, remote villages are more prosperous and productive than ever before."
Rising rural demand is just one in a swarm of market activities driving India's capacity craving. The hyper-competitive DTH market has led to the introduction of price-points on the hardware and subscription side that are facilitating mass adoption of a technology that, just a few years ago, was considered a niche product offering. The recent introduction of HD is a glimpse of things to come – bigger HD channel lineups lighting up TV screens across India. E-governance programs are gaining traction as well, and cell phone use continues to breakthrough unimaginable milestones.
The Future Looks Bright
Even at the bottom of India's recession, the country's financial growth rate fell from 9 percent to 6.9 percent. "That's not bad at all, considering the far smaller growth rates in other markets and regions of the world," said Mathur. While India is certainly not immune from the global environment, the internal demand that comes from its young population keeps the country less vulnerable to pressures affecting many other economies. "As the Indian economy climbs out of the recession, the growth rate is at 8.8 percent and rising. The expectation is that India's economy will grow in the 8-10 percent range over the next few years. That will inevitably fuel the already explosive growth in telecom and television services."
SES WORLD SKIES is certain to continue its collaborative work with ISRO, a multi-faceted, integrated space agency that is a satellite manufacturer, fleet operator, regulator and partner to international satellite companies. SES WORLD SKIES is keenly focused on providing much needed capacity and connectivity to the region.
"For example, India's wired infrastructure is not able to deliver broadband to meet the stated objectives of the Government of India. One possible avenue to leapfrog the ground infrastructure bottleneck is for the DTH providers to make the connection. Tiering on a broadband product offering via satellite and serving part of the captive audience of 40 million-plus subscribers by the year 2015 is clearly one major avenue of growth and an important path to raising the low ARPU's in the marketplace. While two-way satellite broadband is unlikely to be a mass product offering, it can definitely add value to a sizeable niche of DTH subscribers," Mathur said.
"Satellite-delivered broadband is a very exciting opportunity in India for SES WORLD SKIES," he added, citing India's current broadband penetration of just 3 percent.
"India is one of the most dynamic economies on Earth today," said Mathur. "And SES WORLD SKIES people, satellites and expertise are certainly playing an integral role enabling our customers to deliver the services needed to help realize India's bright future."
About the author
Paul Sims is a freelancer writer based in Atlanta, Georgia. He may be reached at
http://www.simscomm.com.