On October 31st, the Federal Aviation Administration created a loud buzz among airlines and airline passengers with their approval for the use of personal electronic devices below 10,000 feet.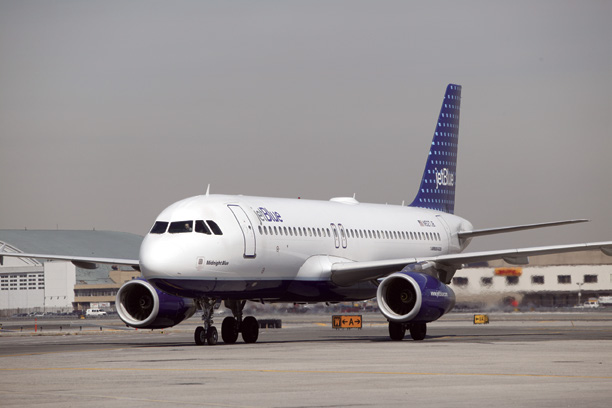 The text of the FAA announcement read in part:
"Passengers will eventually be able to read e-books, play games, and watch videos on their devices during all phases of flight, with very limited exceptions. Electronic items, books and magazines, must be held or put in the seat back pocket during the actual takeoff and landing roll. Cell phones should be in airplane mode or with cellular service disabled—i.e., no signal bars displayed—and cannot be used for voice communications based on FCC regulations that prohibit any airborne calls using cell phones. If your air carrier provides Wi-Fi service during flight, you may use those services."
The reaction was delight and enthusiasm for the most part, but the Halloween announcement may have thrown a little scare into the in-flight Wi-Fi market share leader. With its air-to-ground (ATG) network not designed to operate under 10,000 feet, that company had to admit, "we can't do that now."
However, Satellite Can…
As we head into 2014, the long-term outlook for satellite in-flight Wi-Fi has never looked better. Three major players—Global Eagle Row 44, Panasonic Avionics, and ViaSat—are focused on improving services in North America and beyond. Even market-leader Gogo has stated that its long term strategy will be based on satellite communications.
Row 44 and Panasonic already have installed bases, performing with some success at Ku-band. With Ku-band capacity ubiquitous around the globe, these service providers have the advantage of bandwidth for connectivity and entertainment just about anywhere an airline wants to fly.
Meanwhile, JetBlue just went live with its new Ka-band service from ViaSat, with United to follow—United being one airline using a mix of different services.
All satellite in-flight systems have the advantage of connecting to the sky, rather than to the ground, so even while an aircraft sits on the tarmac, it is able to receive satellite signals. Airlines using satellite can light up the cabin with Wi-Fi from gate to gate. ccording to IHS Inc., just over 4,000 aircraft will be outfitted for Wi-Fi by the end of 2013, representing only 21 percent of the global fleet—as you can see, there's plenty of room for growth.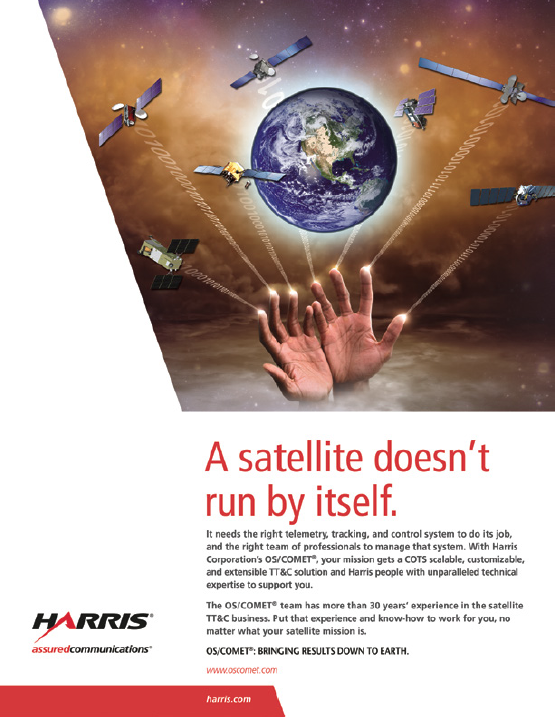 One Nagging Issue: Why Don't People Use The Technology?
Just about everyone following the in-flight connectivity market continues to cite the dismal uptake of services to date. Typical comments include this one in a Bloomberg BusinessWeek story (Gogo's Problem: Inflight Wi-Fi Is Expensive, and No One Uses It, by Justin Bachman, 6-24-13) debating the merits of Gogo ATG service:
"Only about 6 percent of fliers on Gogo-enabled flights used the service in the first quarter, the company says." Even with faster satellite services now added to the market, the take rate is maxing out at about 10 percent of passengers.
That level of Wi-Fi use does not indicate that passengers are happy with those offerings or as "engaged" as the airlines would like them to be. An engaged audience on board is what airlines value and also what other potential partners hoping to tap into that audience are looking for. Until someone figures out the recipe for getting at least half of the passengers to jump online, there are limited opportunities for Wi-Fi to create the loyalty factor airlines want or the active audience that could represent meaningful additional revenue for airlines and airline partners.
Those Who Ignore History…You Know The Rest
Here on solid ground, we have seen a Wi-Fi story already play out. People have always liked the idea of being connected, but it wasn't always easy or affordable to do so. Remember when you had to buy a license and load a third-party application onto your PC to search for Wi-Fi hookups in your vicinity? If you found a network, only for an extra charge did you get a connection. The same scenario played out at the local Starbucks or at a hotel.
If you were lucky enough to have the expense account or budget to get that connection, it might be passable for minimal web surfing, but not much more. You were scratching for your share of bandwidth with many others and it seemed as though you were always the one left starving for bits for your online activities.
Then came the shift.
Hotels started offering free Wi-Fi. The coffee houses followed suit. Soon, airports, malls, restaurants, and other gathering places came to see connectivity as a perk that made their customers happy. And that was true even when those customers saw an advertisement or portal page in front of them, promoting the place of business or complementary services. Not only that, but the connection was better. Now you could tunnel into work with your VPN or watch some YouTube without frequent loss of service.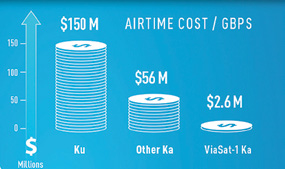 Should we expect passengers who come from free Wi-Fi in a hotel, to free Wi-Fi on the train, to free Wi-Fi in the terminal to be happy when that option is not available on the plane?
Stated simply in the previously noted Bloomberg BusinessWeek story is this comment from Tim Farrar, president of TMF Associates, a research firm in Menlo Park, California, "People have an expectation, and it's grown over the past few years, that Wi-Fi should be free."
The Market Is Already Responding
Satellite Internet has already come a long way in overcoming its reputation as a slow and expensive alternative for fixed service. Starting in January 2012, ViaSat's new Exede Internet for the home has won more than 400,000 new customers by focusing on providing a great value in price and performance. Customers are not just converting from slower satellite services; about 40 percent switched from terrestrial alternatives.
With that successful network on the ground already proving that 12Mbps service to every customer is an economically sound and successful business, it's is ready to take flight. In fact, the economies gained from building the ground infrastructure and satellite system with the primary purpose of reaching consumers on the ground, the economics work out even better when extended to in-flight applications.
The key benefit that high-capacity delivers is in its bandwidth economics. With a single satellite carrying 100 times the capacity of a typical Ku-band satellite, at a similar capital cost per satellite, the economic equation becomes obvious.
There is no doubt of the growing demand among consumers for more and more bandwidth. Only satellite can keep up for in-flight services, and only high-capacity satellite, with that large "inventory" of cheaper bits, can provide the best value to the airlines.
Rather than a single bucket of bandwidth to the aircraft to be shared by all passengers, a 12Mbps service level for each seat is now possible. The economics are also such that airlines will have much greater flexibility when it comes to pricing service to the passenger. They could even give away a basic connection for email and browsing, just as you get your soda and peanuts or pretzels today, then provide passengers with an option to pay a little more to stream video or use other bandwidth-heavy apps.
O'er The Oceans
But what about the oceans, where passengers on long haul flights really need the benefits of connectivity the most? Where are those same consumer-based economies then?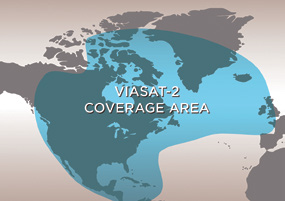 There's a fix for that.
One ongoing debate about high-capacity (or high-throughput) satellite systems has centered on the tradeoff between optimizing coverage or optimizing total system capacity. One Ka-band mobile service provider, Inmarsat, has opted to launch a three-satellite constellation that will blanket the globe with Ka-band in one swoop. That option figures to serve some customers well who may choose coverage over capacity while giving up something in the bandwidth economics department (as seen in the previous chart.)
However, what if you didn't have to make that tradeoff? Enter ViaSat-2, the next class of high-capacity satellite. With a coverage area still targeted primarily to home Internet subscribers, it is designed to bust the myth of coverage or capacity, instead enveloping seven times the coverage area as ViaSat-1 combined with an equally impressive doubling of bandwidth economics.
As seen on the coverage map, ViaSat-2 is designed to retain all the economies of serving the residential customer first, and build out coverage south to the tip of South America, in the Caribbean, and maybe most importantly, over the primary air routes in the North Atlantic, building a bridge to high-capacity Ka coverage in Europe and the Mediterranean Basin
New Plane Orders Point The Way To Growth In 2014 + Beyond
Airlines also continue to order new aircraft. Just considering the two leading aircraft manufacturers, Boeing and Airbus, the total backlog at the end of 2012 was 9,055, up 847 units from the previous year, according to Aviation Week. That backlog is expected to grow when the 2013 year-end figure is announced, with both companies already adding about 2,000 orders through the end of September.
Airliner manufacturers want to get ahead of the curve. One example is a recent deal between ViaSat and Boeing Commercial Airplanes (BCA) who reached agreement to work together toward offering ViaSat Ka-band airborne satellite terminals as a factory line-fit option on Boeing commercial aircraft. Airlines will be able to specify ViaSat in-flight connectivity on new Boeing aircraft and take delivery of planes with the equipment already installed, with a target availability of 2015.
The expectations for in-flight Internet seem clear. Passengers want more speed, no matter how many people are connecting and airlines stand to gain more value and loyalty from their passengers if more people use it. Satellite communications is the right technology to deliver that kind of service, and only high-capacity satellite systems can provide both the great service and economics to satisfy both parties.
For additional information: http://www.viasat.com/exede-in-the-air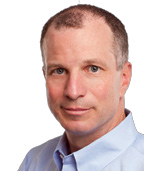 About the author
Don Buchman is General Manager, Commercial Aviation Services at ViaSat Inc In his current position, he is responsible for directing the ViaSat team that is providing industry-leading high-speed Ka-Band mobile Internet into commercial aviation market segments. Mr. Buchman has been at the leading edge of communication system development for military and commercial applications for the past 23 years. During the past 15 years he has been employed at ViaSat, where he has played a leading role in developing several of the company's products, including several patented technologies. He took ViaSat into commercial high-speed mobile applications 10 years ago with the creation of the highly successful Yonder® service offering into business aviation, government aviation and maritime market segments. He is now leading the next wave of innovation by taking the award winning Exede® Internet service to commercial airline and business aviation customers.