Newtec providing Kacific with Dialog® VSAT platform
Newtec's Dialog® VSAT multi-service platform has been selected by broadband satellite operator, Kacific, for that firm's new, High Throughput Satellite, to significantly expand that firm's broadband service delivery in underserved areas of South East Asia, New Zealand and the Pacific Island.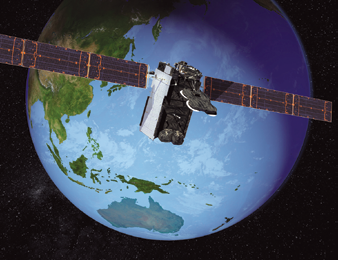 Artistic rendition of the Kacific1 satellite. Image is courtesy of Kacific.
The initial contract is for $10 million of Newtec Dialog hubs and this is expected to result in further terminal procurements totaling several million units during the first years of service.
Kacific1 will deliver affordable, high-speed internet broadband to telecommunications companies, internet service providers
and governments throughout the region, with Newtec's Mx-DMA® (www.newtec.eu/technology/mx-dma ) return technology providing the highest bandwidth efficiency.
The Kacific1 satellite features 56 high power subscriber spot beams, each with the capability to provide targeted capacity at high speeds.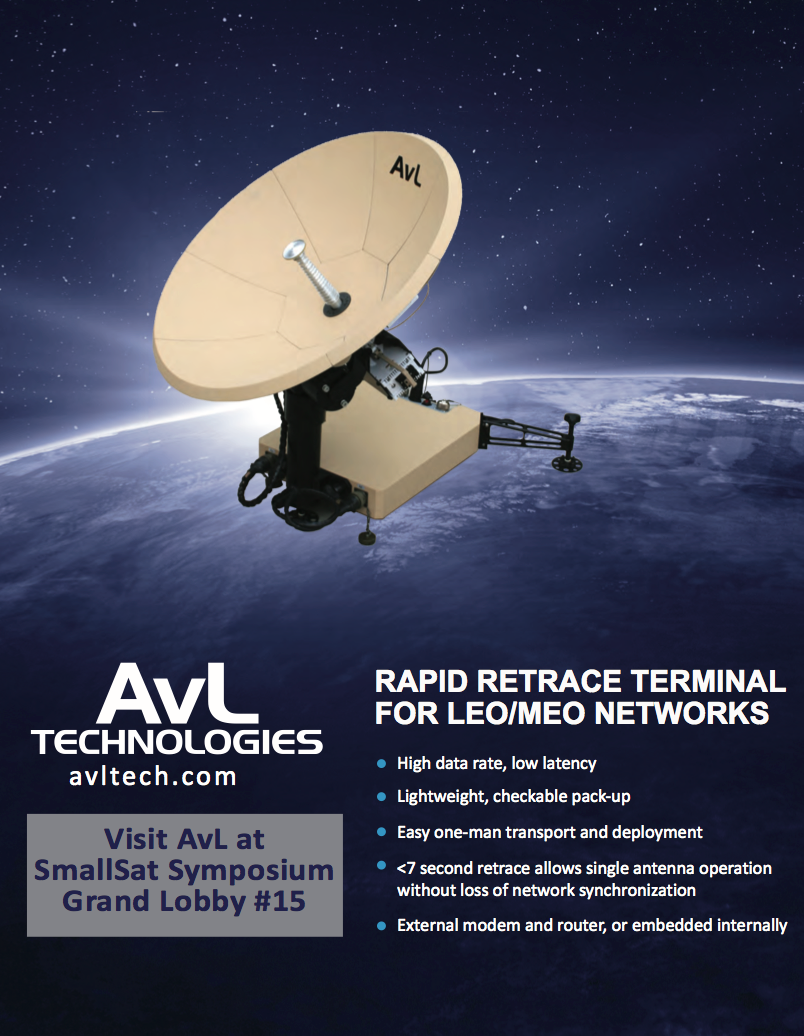 Kacific services enable access to high demand applications, such as community internet access and mobile backhaul, that will help stimulate socio-economic activity throughout the region.
Public institutions will benefit from dedicated services including healthcare, education and civil defense, in areas that are beyond the economical reach of terrestrial infrastructures in most of Kacific's coverage areas.
Kacific was recently presented with the SSPI Better Satellite World award for its focus on connecting underserved populations.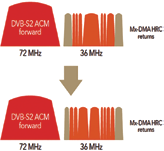 The Mx-DMA waveforms. Image is
courtesy of Newtec.
Newtec's next-generation Mx-DMA return technology incorporates the best features of MF-TDMA and SCPC technologies to provide dynamic bandwidth allocation with the highest level of efficiency.
Mx-DMA return technology on the Newtec Dialog platform uniquely adjusts the frequency plan, the symbol rate, the modulation, coding and power in real-time for every terminal in the satellite network in response to traffic demand and Quality of Service (QoS) changes.
Christian Patouraux, CEO and Founder of Kacific, said the Kacific HUB, based on the Newtec Dialog multi-service platform, is a pivotal part of the satellite network. The company selected Newtec because the firm demonstrates the highest performance and ability to offer the highest link efficiencies that are required for Kacific's Ka-band spot beam system.
Patouraux noted that the company also been impressed with other unique features offered by Newtec, such as the Satellite Network Calculator, which enables the company to tailor new services in a highly efficient and fast-to-market manner, which will only help ensure the reliability and enhance the quality of Kacific services to customers.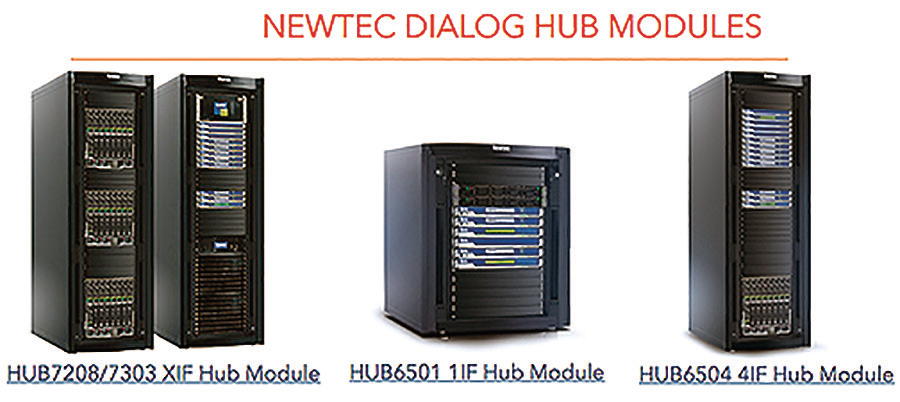 Thomas Van den Driessche, CEO at Newtec, added that in partnering with Kacific, the company is strengthening the firm's presence in South East Asia and the Pacific. This project bridges the digital divide to people in regions that have never before had access. Among many other features, Newtec's Satellite Network Calculator has an acute ability to provide valuable insight into the performance of the network.
He continued by saying that the product use in a multi-beam satellite network such as this will allow Kacific to harness these insights to optimize future deployments and add value for their regional partners and customers.
www.newtec.eu/
kacific.com/
---
Arianespace to launch EyeSat + ANGELS to space for CNES
Arianespace and the French CNES have signed a launch services contract for the EyeSat smallsat, an astronomy mission that will study zodiacal light as well as image the Milky Way.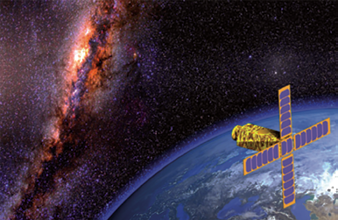 Artistic rendition of the EyeSat smallsat. Image is courtesy of CNES.
EyeSat is a triple CubeSat-sized smallsat that is designed to study the zodiacal light and image the Milky Way and has three main objectives:
• Scientific, by observing the zodiacal light in the visible bandwidth, in both polarized and non-polarized modes; and taking a thorough – and global image – of the Milky Way in color
• To demonstrate new satellite technologies. These technologies were developed through research efforts by CNES, and are considered sufficiently mature to be incorporated on EyeSat
• To train students in space engineering professions.
The EyeSat smallsat is being financed and developed by the French CNES (Centre National d'Etudes Spatiales) space agency within the scope of the Janus project (Jeunes en Apprentissage pour la réalisation de Nanosatellites des Universités et des écoles de l'enseignement Supérieur), designed to encourage students in universities and engineering schools to develop their own smallsats.
EyeSat will be launched in 2019 as an auxiliary payload with the COSMO-SkyMed Second Generation (CSG 1) and CHEOPS satellites from the Guiana Space Center (CSG) aboard a Soyuz launcher.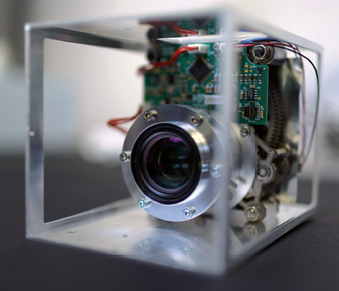 Photo of the IRIS telescape for the EyeSat mission.
Photo is courtesy of CNES.
The smallsat is in the form of a triple (3U) CubeSat and is fitted with an instrument called IRIS, which is a small space telescope.
The smallsat will have a mass at liftoff of approximately 8 kg. and will be placed in Sun-Synchronous Orbit (SSO) at an altitude of about 500 km.
Following the contract signature, Marie-Anne Claire, Director of Orbital Systems at CNES, said: "Thanks to the EyeSat triple CubeSat, CNES will be able to test in orbit a dozen new miniaturized technologies developed through our research and technology program. We also helped train more than 250 students in space engineering professions. CNES is very pleased that EyeSat will be orbited by Arianespace from the Guiana Space Center."
Stéphane Israël, Chief Executive Officer of Arianespace, added, "Arianespace is honored to have been chosen by CNES to launch the EyeSat triple CubeSat dedicated to science. Once again we have proven our ability to guarantee independent and competitive access to space for Europe, encompassing satellites of all sizes, thanks to our flexible service offering and our versatile family of launchers."
There's more... the EyeSat contract for Arianespace is not the only business move the firms have signed... a launch contract for the first smallsat completely built by French industry, called ANGELS (ARGOS Néo on a Generic Economical and Light Satellite), will also be launched by Arianespace.
ANGELS will be launched as an auxiliary payload with the COSMO-SkyMed Second Generation (CSG 1) and CHEOPS satellites by a Soyuz rocket in 2019 from the Guiana Space Center, Europe's Spaceport in French Guiana (South America).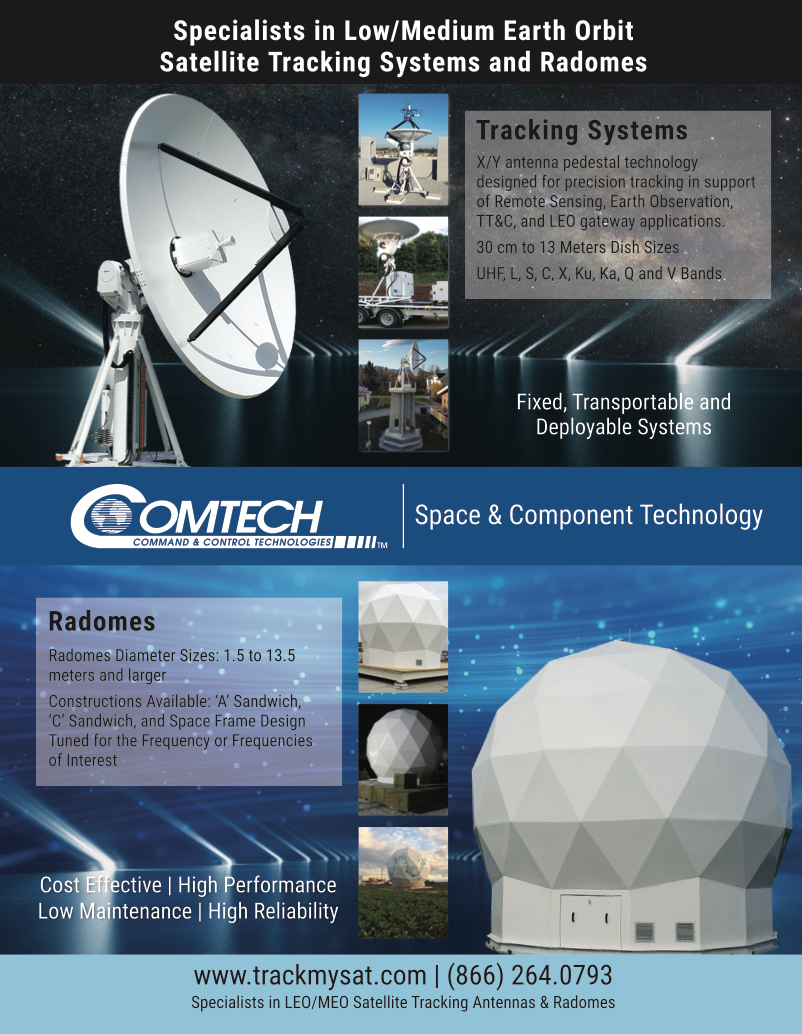 This mission is jointly financed and developed by the French CNES (Centre National d'Etudes Spatiales) space agency and NEXEYA (www.nexeya.com), an innovative industrial group active in the aerospace, defense, energy, rail and automotive markets.
The satellite will be fitted with a miniaturized ARGOS Néo instrument, which is 10-times smaller than the equivalent previous-generation device.
The instrument collects and determines the position of low-power signals and messages sent by the 20,000 ARGOS beacons now in service worldwide.
Two project teams — CNES and NEXEYA for ANGELS, and CNES, Thales Alenia Space and Syrlinks for ARGOS Néo — are working together on this French space project.
The ANGELS smallsat will have a liftoff mass of approximately 30 kg. at launch, including its separation device, and will be positioned in Sun-Synchronous Orbit (SSO) at an altitude of more than 500 km.
Marie-Anne Clair, CNES Director of Orbital Systems,said that CNES has been committed to miniaturizing satellites for a number of years, in particular through the Proteus mini-satellite and Myriade micro-satellite programs. ANGELS pursues and amplifies this initiative, by paving the way for French industry to build operational nanosatellites within the NewSpace environment.
Stéphane Israël, CEO of Arianespace, added that Arianespace is proud of winning this new contract from CNES to launch ANGELS. Against the backdrop of a dynamic small satellite market, this first nanosatellite from French industry reflects the availability of Arianespace's services and its ability to adapt to the needs of the market.
www.arianespace.com
cnes.fr
---
Final Iridium® NEXT satellites launch is a success...
A liftoff and the Iridium-8 mission's 10 satellites are on their way to LEO, courtesy of the SpaceX Falcon 9.
This is the eighth, and final, set of 10 satellites in a series of 75 total satellites that SpaceX has now launched for Iridium's next generation global satellite constellation, Iridium® NEXT.
Separation has been confirmed and the Falcon 9 also successfully touch downed on the "Just Read the Instructions" droneship stationed in the Pacific Ocean.
To mark the cooperative effort of the companies Matthew Desch, CEO and Director of Iridium, gave the 10 second countdown for the liftoff.
---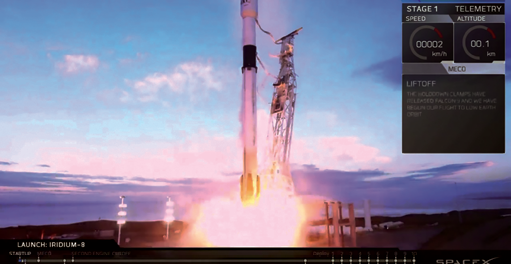 ---
Falcon 9's first stage for the Iridium-8 mission previously supported the Telstar 18 VANTAGE mission in September 2018.
Iridium is deploying 75 satellites to orbit. In total, 81 satellites are being built, with 66 in the operational constellation, nine serving as on-orbit spares and six as ground spares.
Iridium's satellite communications network spans the entire globe and Iridium NEXT is one of the largest "tech upgrades" in space history.
The process of replacing the satellites one by one in a constellation of this size and scale has never been completed before.
The new constellation is enabling innovative new products and services including Iridium CertusSM, the company's next-generation L-band broadband solution for specialized applications, like safety services, remote monitoring, UAV and UAS command and control, tracking, and more.
Also hosted is the AireonSM system, which will — for the first time — deliver real-time, truly global aircraft surveillance and tracking.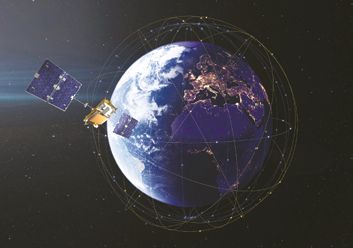 Artistic rendition of the Iridium NEXT constellation. Image is courtesy
of Thales Alenia Space, the manufacturer of the satellites
SpaceX's Space Launch Complex 4E at Vandenberg Air Force Base has a long history of launches, dating back to the early 1960s.
Originally an Atlas launch pad activated in 1962, SLC-4E was in active use until the last Titan IV launch in 2005.
SpaceX's groundbreaking was in July 2011, and extensive modifications and reconstruction of the launch pad were completed just 17 months later.
SLC-4E consists of a concrete launch pad/apron and a flame exhaust duct. Surrounding the pad are RP- 1 and liquid oxygen storage tanks and an integration hangar.
Before launch, Falcon 9's stages, fairing and the mission payload are housed inside the hangar.
A crane/lift system moved Falcon 9 into a transporter erector system and the fairing and its payload were mated to the rocket.
The vehicle rolled from the hangar to the launch pad shortly before launch to minimize exposure to the elements.
---
Thales Alenia Space comments...
The last batch of Iridium® NEXT satellites, built by Thales Alenia Space, the joint company between Thales (67%) and Leonardo (33%), was successfully launched on January 11 from Vandenberg Air Force Base in California.
---
With this successful eighth launch, the Iridium NEXT fleet is now fully deployed to LEO. The operational constellation comprises 66 satellites, at an altitude of about 780 kilometers, organized in six orbital planes, each containing 11 satellites, plus nine spare satellites in a parking orbit and six more ground spares.
The major challenge for Thales Alenia Space, as prime contractor for the Iridium® NEXT program, was to deploy a complex, end-to-end turnkey satellite system, while also ensuring compatibility between the old and new generations of Iridium Block One satellites.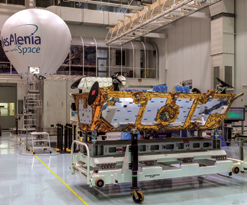 Iridium NEXT satellite at Thales Alenia Space
manufacturing facility. Photo is courtesy of Thales
Alenia Space.
This marks the first time that an operator and a manufacturer have worked hand-in-hand to replace a complete constellation of 66 satellites, one-by-one, without any interruption in user service*.
The Iridium® NEXT constellation, now completely on orbit, represents the current state-of-the-art in terms of technology and flexibility.
The constellation features global coverage and independence from the ground segment, as each satellite is linked to the four closest satellites: in front, behind, to the left and the right. No matter where users are on Earth, they will always be in the line-of-sight of at least one satellite, meaning that they can always establish a connection.
This direct satellite access, whether for transmission or reception, provides communication capability at any given moment, even in the case of natural disasters, conflicts, or in isolated environments.
It also ensures secure communications, with protection against intrusion and piracy**.
Denis Allard, VP Constellation Projects at Thales Alenia Space, said that the company is extremely proud of this successful last launch. The company has now delivered a constellation comprising 81 satellites — a daunting challenge, but one that the company's teams met with panache. The success of this program also confirms Thales Alenia Space's global leadership in the constellation market, and further bolsters the company's unrivaled expertise as prime contractor for end-to-end and turnkey complex telecommunications systems.
* Slot swap
Thales Alenia Space handled satellite positioning and in-orbit testing from Iridium's satellite control center in Leesburg, Virginia, near Washington, D.C. The satellites are launched in clusters of ten and, given their LEO orbit, ground stations have only ten minutes per orbit to send commands while the satellites are visible. This means that all teams had to be exceptionally well prepared and on top of their game to do everything needed during thoseten minutes.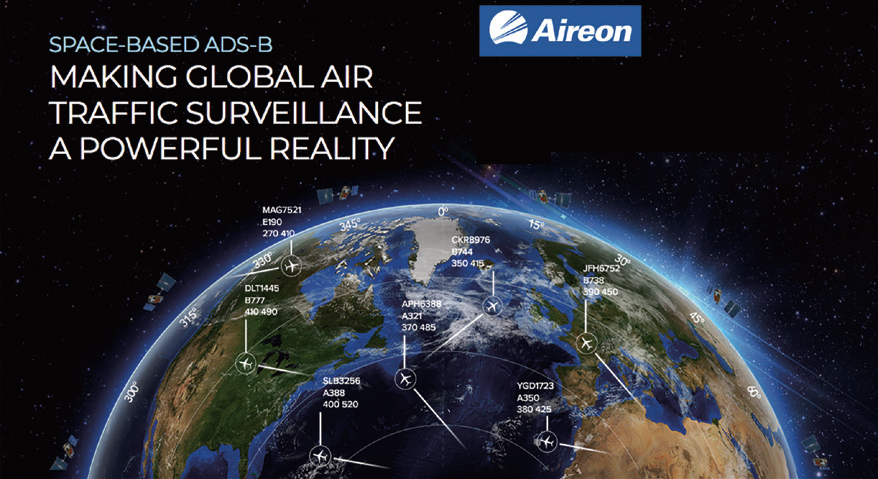 The new satellites are then placed in their final orbital position one by one, before control is handed over to Iridium's teams for the actual "slot swap" operations, handled by Iridium with the support of Thales Alenia Space, based on procedures defined and tested by Thales Alenia Space
Each Iridium® NEXT satellite is fitted with a star sensor from Leonardo that guarantees orbital position-determination and control. The satellites were previously integrated by Northrop Grumman Corporation (the former Orbital ATK), a subcontractor to Thales Alenia Space based in Gilbert, Arizona, supervised by specialized teams from Thales Alenia Space and Iridium.
** Telecom signal routing in orbit
Each satellite has links to the four other closest satellites, in front, behind, left and right, making the service completely independent from ground networks. This in-orbit routing is completely software-driven by an onboard processor (OBP) and a platform computer (PFC). These software programs are the most sophisticated used to date on a constellation of satellites.
They can also be uploaded from the ground, meaning that ground operators can send updates if needed, as well as deploy higher-performance versions, enabling Iridium to expand and enhance its customer services.
---
Aireon's Payload Joins ADS-B Payload Family On Orbit
Aireon's space-based Automatic Dependent Surveillance-Broadcast (ADS-B) payload was successfully deployed during the eighth and final launch and positioning of the Iridium NEXT satellite constellation — at 7:31:33 AM PST (15:31:33 UTC) on January 11, a SpaceX Falcon 9 rocket lifted off from Vandenberg Air Force Base in California and placed the final 10 Iridium NEXT satellites into LEO.
---
This launch brought the total number of Aireon payloads in orbit to 75 (66 operational payloads and 9 spares), completing the historic launch program and passing one of the last remaining milestones before Aireon ushers in a new era of global air traffic surveillance and aircraft tracking.
Aireon is the world's first, 100 percent global air traffic surveillance system and is revolutionizing the way the world travels with space-based technology. Unlike existing aircraft surveillance and tracking infrastructure, the Aireon system uses space-based ADS-B technology, which enables the automatic and real-time collection of aircraft position data.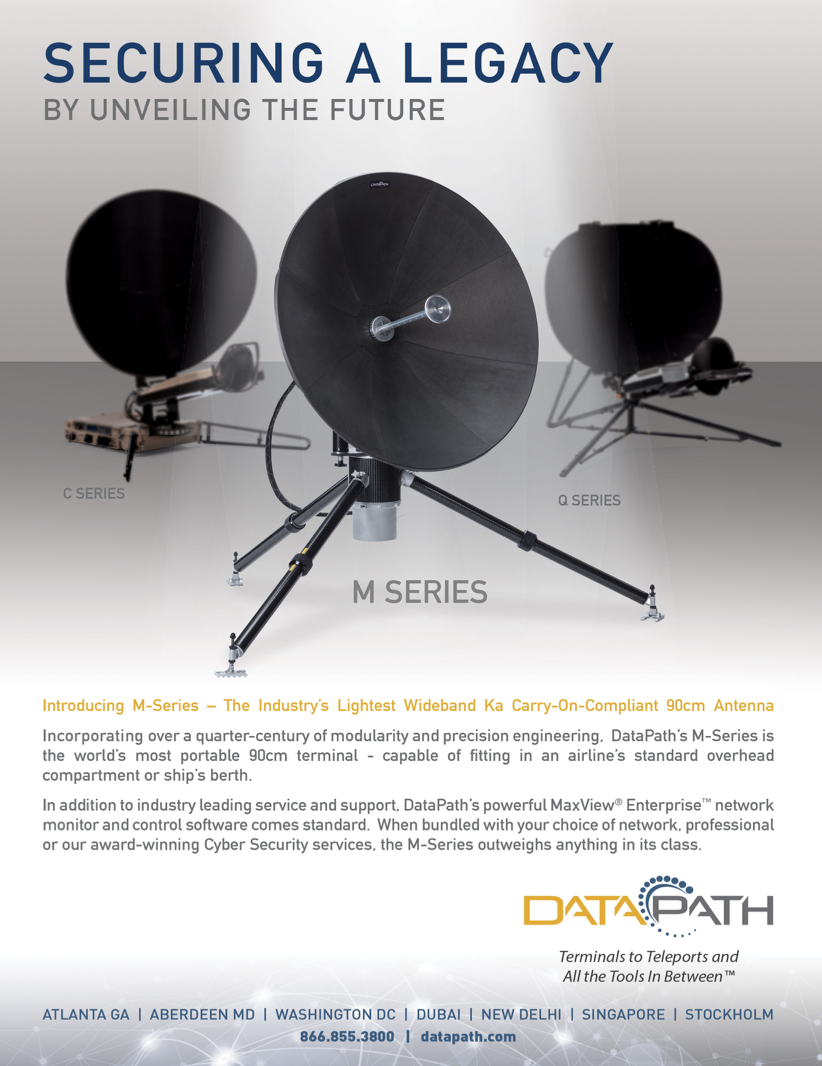 The Aireon technology gives air traffic controllers and airlines a complete and comprehensive view of the entire sky, like never before. With this upgraded insight into the world's flight paths, including those in remote and oceanic airspace, the entire industry will experience significant direct and indirect benefits such as, increased safety, more efficient flight routes, more accurate arrival and departure predictions, faster emergency response times, reduced aircraft separation, a decrease in CO2 emissions and more.
Thus far, the Aireon system has out-performed all predictions and is processing more than 13 billion ADS-B messages per month, with that number expected to grow upon full deployment. Air traffic controllers rely on the best and most accurate surveillance data possible to separate aircraft, which is often achieved through multiple redundant layers.
Aireon's data will provide air traffic controllers with a fully redundant data feed that covers the entire airspace, increasing the availability and reliability of a critical component in air traffic management, with a positive impact on safety and efficiency. This will in turn, help improve flight optimization by eliminating gaps in fleet data reports, and ultimately enhance the overall safety, accuracy and efficiency of worldwide air travel.
This launch marks the completion of the Iridium NEXT launch campaign, successfully deploying the full Aireon system.
Don Thoma, the CEO of Aireon, said that the company has passed a major milestone on the firms journey to revolutionize air traffic surveillance and the company is just weeks away from a fully operational system. Now that the launches are complete, final integration and testing of the recently launched payloads can commence, after which the world's first, real-time, truly global view of air traffic will be a reality. It's difficult to contain the excitement until all is formally operational, especially as from a performance standpoint, the company's technology has far exceeded expectations. Many may think this is the end of a journey, being the last Iridium NEXT launch; however, for Aireon, this is the start of a new way air traffic will be managed.
Marion Blakey, former Administrator at the Federal Aviation Administration (FAA), added that Aireon's space-based ADS-B network is just what the aviation industry needs. During my time at the FAA, extensive work was done to promote ADS-B technology for global air traffic management efforts. Today's successful launch is a victory for Aireon as well as for the aviation industry — one step closer to having a clear, accurate and complete picture of the world's airspace, including over the oceans and remote areas. (Blakey now serves on the Aireon U.S. Advisory Board alongside its Chairman, The Honorable Norman Mineta and Vice-Chairman, Russ Chew.)
www.iridiumNEXT.com
www.spacex.com
www.aireon.com
---
New antenna control system debuts from Radeus Labs
Radeus Labs, Inc. has released a new antenna control system to address the growing smallsat/LEO/MEO market.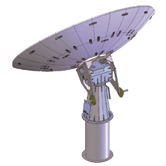 The M2 Antenna Systems AE2000,
AZEL pedestal box frame (SERVO).
The Model 2200 Antenna Control System is designed with a feature set to support full motion, LEO and MEO antenna applications.
With velocity control of smart motors, antenna speeds well beyond ten degrees per second are supported.
When coupled with the 2048 Drive Interface, the 2200 is designed for and interfaces seamlessly with M2 Antenna System's latest full-motion pedestal design, the AE-2000S.
The 2200 covers the smallsat bases to the existing infrastructure of GEOs.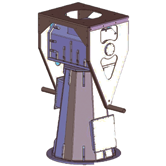 Radeus Labs control system products are designed to be easy to install, easy to use and with an eye to extending the life of mechanical system components.
All Radeus Labs Products are backed with excellent delivery, after sales support and a commitment to serve our customers
best interest.
The 2200 is commercially released and available for delivery.
Ken Cone, CTO of Radeus Labs, said the company is extremely pleased to introduce the 2200 line of antenna control systems. With this product line, Radeus Labs is increasing the firm's technological capabilities to serve the increasing needs of SATCOM customers.
www.radeuslabs.com
www.m2inc.com
---
Thales Alenia Space sees green
Thales Alenia Space has received a vote of confidence with their most recent contract from the European Space Agency (ESA) to lead the Fluorescence Explorer (FLEX) satellite mission.
Thales Alenia Space signed a contract with the European Space Agency (ESA) to lead the Fluorescence Explorer (FLEX) satellite mission, and is scheduled for launch in 2023. It will make use of an innovative instrument, named FLORIS, to map the Earth's vegetation fluorescence to quantify photosynthetic activity.
Thales Alenia Space is program prime contractor and has also signed a novation agreement to integrate the contract that ESA awarded to Leonardo in 2016 concerning the development of the FLORIS instrument. The overall contract is worth approximately 150 million euros.
Thales Alenia Space will be leading a consortium for the FLEX program that includes its own subsidiaries and partners from the space industry.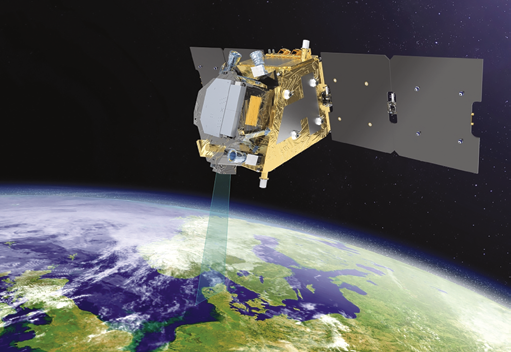 Artistic rendition of the FLEX satellite on orbit. Image is courtesy
of Thales Alenia Space.
Thales Alenia Space in the UK will be in charge of the satellite propulsion system, as well as assembly, integration and testing (AIT).
Thales Alenia Space in Spain will provide the radio-frequency subsystem, including X-band and S-band transponders, and RUAG will contribute to the design and production of the platform.
Leonardo's FLORIS instrument is a high-resolution imaging spectrometer operating in the 500 to 880 nm spectral range. Leonardo is leading a consortium of European companies, including primary partner OHB System AG, to deliver the spectrometer.
Operating from an altitude of 800 kilometers, the FLEX instrument will collect the light emitted by plants and break it down into its constituent colors. The sensor can then identify the faint reddish glow emitted during photosynthesis, normally invisible to the naked eye, and precisely identify the fluorescence of vegetation, allowing researchers to evaluate the health of Earth's ecosystem.
Marc Henri Serre, head of the Observation and Science domain at Thales Alenia Space in France, said that this contract is the culmination of Thales Alenia Space's development strategy in Europe, including their ability to submit the first full consortium offer for ESA that integrates the industry consortium very early in the process.
He noted that the FLEX program is the latest reflection of their strong commitment to environmental programs and a perfect illustration of their company's watchword, 'Space for Life.'
The conversion of atmospheric carbon dioxide and sunlight into energy-rich carbohydrates through photosynthesis is one of the most fundamental processes on Earth — and one on which life depends. Information from FLEX will improve the understanding of how carbon moves between plants and the atmosphere and how photosynthesis affects the carbon and water cycles.
In addition, information from FLEX will give a better insight into plant health. This is especially important today since the Earth's growing population is placing increasing demands on the production of food and animal feed.
The FLEX satellite will orbit in tandem with one of the Sentinel-3 satellites (part of Europe's Copernicus program), also built by Thales Alenia Space. It will take advantage of Sentinel-3's optical and thermal sensors to provide an integrated package of measurements to assess plant health.
FLEX is to be orbited by an Arianespace Vega light launcher and will be placed in a Sun-Synchronous Orbit (SSO) at an altitude of 815 km., with an expected latency of 24 hours for Level-1 products.
www.thalesgroup.com/en/global/activities/space
---