As the economic climate of 2009 was still under the sway of the global economic crisis that started in 2007, the MSS (Mobile Satellite Service) industry was largely stagnant in 2009 — some MSS operators even reported a decline in revenue. Global wholesale revenue stood at $1.27 billion for the six MSS operators currently active, reflecting 2.8 percent industry growth from 2008 — the lowest for the last three years (though still higher than the growth in 2005, when the MSS industry suffered from a post-military conflict effect).
Among MSS operators, situations vary significantly from one to another.
Inmarsat
and
SkyTerra
are the only operators to have maintained revenue growth during the year, while
Iridium
,
Globalstar
and
Orbcomm
all reported a decrease in revenues. Even though
Thuraya
does not report financial information publicly, Euroconsult estimates that their annual revenues did not grow given the unfavorable market situation. In terms of market share Inmarsat and Iridium maintained their leading positions, together accounting for 80 percent of MSS wholesale revenues in 2009 with Inmarsat alone having approximately 55 percent.
Due to system degradation, Globalstar lost ground to competitors and ended the year with only 5 percent market share after reaching 7 percent in 2008. Nevertheless, the company announced that it has slowed the loss of customers for two-way communications, and was successful in acquiring customers for the low cost one-way
SPOT
service. In addition, its management believes that the worst of customer defection is over. Market share distribution among other operators remained roughly the same as in 2008, with Thuraya, SkyTerra and Orbcomm having approximately 10 percent, 3 percent and 2 percent market share, respectively.
Attracting New Customers In A Difficult Economic Environment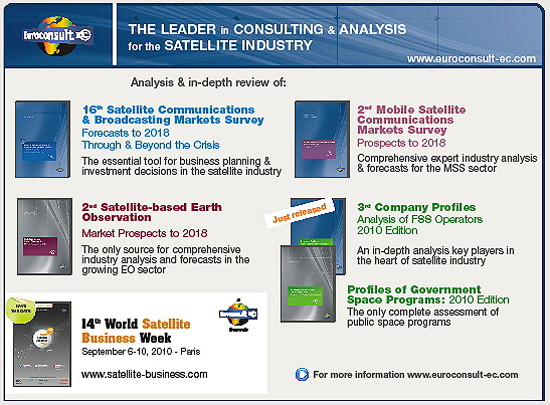 With the turmoil of the global economy, customers in MSS vertical markets have tightened spending on new services. Many previously planned MSS installations were postponed or even cancelled during the year.
Despite the recent release of more capable and lower cost MSS products (for instance, Iridium 9555 and Globalstar SPOT 2.0), new customer acquisition has proven difficult for MSS operators; Iridium, Globalstar, and Orbcomm have all reported significant declines in revenue from their equipment businesses, a key indicator of new customer acquisition. In the case of Iridium, equipment sales fell by 30 percent in 2009, while Orbcomm revenues on equipment sales fell dramatically, representing a mere 7 percent of 2008 equipment sales revenues.
Business from existing customers resisted the economic downturn well. Inmarsat and SkyTerra, who primarily build business around airtime service with limited equipment sales, maintained revenue growth during the year. Inmarsat reported $695 million in revenue for its core business in 2009, a 9.5 percent increase from 2008, while SkyTerra reported 2.3 percent revenue growth, although its total revenue (around $35 million) is still only a small fraction of global MSS wholesale industry revenues. Iridium also reported 11 percent service revenue growth in 2009 despite the decrease in equipment sales. Exceptions to this positive trend are Globalstar and Orbcomm, who suffered from satellite degradation or in-orbit failure; thus it is assumed that the decrease in their service revenue is not directly due to the economic downturn.
Export Credit: Helping MSS Operators Secure Financing For Future Satellite Fleets
Except for Inmarsat and Thuraya, MSS operators are currently in a major satellite replacement phase with high capital expenditures. All three LEO satellite constellation operators — Globalstar, Orbcomm and Iridium — plan to replace their first-generation constellations over the coming years. In spite of the difficult economic environment, they are all on course to acquire financing for their new satellites, largely thanks to export credit agencies.
Iridium has the highest capital expenditure requirements ($2.7 billion as reported by the company) among MSS operators for its
Iridium NEXT
constellation scheduled to launch in 2014. The company is currently in talks with the US
Export-Import Bank
and the French export credit agency
Coface
for low-cost loans to finance the constellation. Globalstar is already in the replacement process with the launch of the first group of its second-generation satellites planned for late 2010 or early 2011; the total cost for the 24 satellites together with the ground segment was reported to reach about $1.29 billion. In June 2009, Globalstar secured $586 million in bank financing from a syndicate of French banks in a deal backed by France's Coface. This export credit has enabled Globalstar to pay its supplier to proceed with satellite construction, and the company expects to restart subscriber growth with the initial launches of its next generation satellites.
Aeronautic + Maritime Markets: Future Revenue Growth Areas
The pending launch of next-generation satellites should introduce a wide range of new products which could drive the MSS industry to a higher growth period. According to
Euroconsult
's
Mobile Satellite Communications Markets Survey, Prospects to 2018
, global wholesale revenues in 2018 will reach nearly $2.46 billion, representing an almost 8 percent CAGR between 2009 and 2018. The current largest market segment, land mobile, is expected to remain in the leading position in 2018, with about $1.41 billion in wholesale revenues. However, as most vertical markets in the land mobile sector are already considered mature, key growth areas for both established MSS players and new entrants will be the maritime and aeronautic sectors.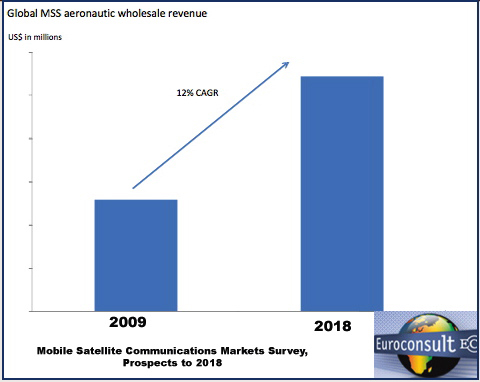 Aeronautics is expected to be the fastest growing MSS market over the next decade with a CAGR of 12 percent in wholesale revenue through 2018. Key addressable markets of the sector are cabin and cockpit communications for business aviation, commercial airlines, and general aviation, as well as cockpit and sensor data transmissions for military aircraft — notably for UAVs (Unmanned Aerial Vehicles). Despite several unsuccessful ventures with commercial airlines (such as the recently reported contract termination between
OnAir
and
RyanAir
), the generally positive MSS usage experience with business jets, airlines (
e.g.
,
Emirates Airline
) and other aeronautic sectors, along with a more favorable economic climate, should help MSS services achieve a greater level of acceptance in the aeronautic industry.
MSS solutions from Iridium and Inmarsat have become factory options for a number of established aircraft manufacturers, and as of year-end 2009 there were more than 37,000 MSS aeronautic terminals in operation. This number is expected to grow to almost 72,000 in 2018, with almost half from the North American market.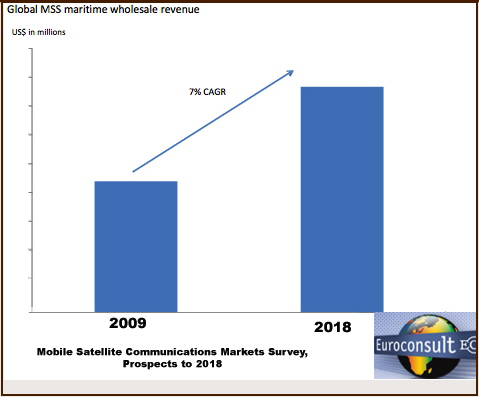 Maritime is expected to remain the most lucrative MSS market over the next 10 years. The sector contributed more than 35 percent of MSS industry wholesale revenues in 2009 and had the highest ARPU (Average Revenue Per User) among all MSS market segments.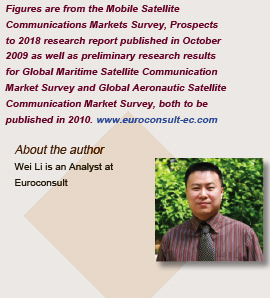 By 2018 it is expected that MSS maritime wholesale revenues will reach $768 million, despite the growing competition from maritime VSAT solutions. This growth will be largely due to expanding ITC requirements from almost all types of maritime applications (such as ship operation, crew calling and safety communication), as well as the expected improvement of MSS market penetration (especially for MSS broadband service) in the world merchant shipping, fishing, cruise ship, leisure vessel and offshore sectors. A number of MSS operators are planning to launch new generation maritime services, and it is reported that the current market leader, Inmarsat, is evaluating the idea of carrying high capability Ka-band payloads on its fifth-generation satellite constellation
Credit: opening photo is courtesy of Telenor