It takes more than rocket science to launch a rocket — and I should know. I work for SpaceX, a company that is revolutionizing rocket and space technology in order to take space exploration to the next level. SpaceX designs, manufactures, and launches rockets and spacecraft. Last year we became the first private company in history ever to launch and recover a spacecraft from orbit. That successful mission took place in December when we launched our Dragon spacecraft from Cape Canaveral and recovered it from the Pacific Ocean after a few hours in orbit.
As our company's 1,300-plus employees work at different locations around the world, an important component of that success was continuous remote monitoring of preparation for the mission and the mission itself. And because we were making history on that day in December, there was enormous interest from the press and the public, with thousands tuning in to our webcast to see the launch. Both parties' needs were met through a sophisticated deployment of streaming video using dozens of video feeds and the
Wowza Media Server
®
2 multiplatform streaming solution.
The Wowza Media Server 2 high-performance video engine delivers our live H.264 video to multiple clients and devices. With their software, our video feeds can be viewed on most popular media platforms, including
Adobe
®
Flash
®,
Microsoft
®
Silverlight
®
,
Apple
®
iOS
,
Android
™
, and
Blackberry
®
, as well as IPTV and even game consoles. This allows our employees to watch wherever they are on the device of their choice.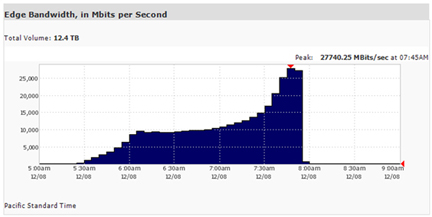 At
SpaceX
, our video system design reduces time delays and maximizes video quality with measures including using lossless HD-SDI source signals and encoding them into H.264 only once. Using Wowza's low-latency servers, we are able to build on the work we have done to deliver optimal image quality with minimal latency — even to engineers at the edge of our network. Our webcast is then provided to the public using the
Wowza Media Server
and the
Akamai
content delivery network.
For the December launch, we had live video delivery using more than 20Gbps of bandwidth to the Internet — streaming video that was viewed by approximately 100,000 people worldwide. Focusing on quality, we worked with Wowza to build a direct connection from our Wowza systems to Akamai's entry point without the unnecessary complexity of re-encoding.
The webcast enabled the public, our customers, and partners to experience the excitement of lift-off live in high definition, reminding people just how thrilling space exploration really is.
We brought in Wowza because we needed a system we could count on. We had encountered difficulties with the video feeds on our June 2010 space flight. At that time, we were using separate discrete software platforms for display, encoding, transcoding, and transmission to specific player technologies. Each of the systems had dynamic buffering, but synchronization and reliability were poor. SpaceX video streams are now delivered over a common IP network infrastructure. Every device on the network is set to deliver voice and video data with top priority so that the complex H.264 decoders receive 100 percent of the data on time. To accomplish this, my team and I used our expertise and dedicated enormous amounts of time to develop a simple, elegant network architecture to ensure packet prioritization at the remote cameras, the video viewers, and every network hop in between.
In spite of our best efforts, three days before the December launch, we discovered that buffering problems encountered by our edge delivery provider were interfering with our video stream. With the tightest of deadlines, we contacted Akamai because they have such a great track record. You can imagine the all-out effort it took for Akamai, Wowza developers, and our team to develop the code required to connect our Wowza system to the Akamai network. With the hard work, knowledge, and expertise from everybody involved, we were able to complete and test the system only a few hours before the webcast began. It was a tremendous success. And with Wowza, we now have a unified system that keeps the video feeds in sync throughout the network without crashing.
SpaceX designs and manufactures our vehicles in Hawthorne, California, tests them in McGregor, Texas, and launches them from Cape Canaveral, Florida. Our internal video feeds stream 24/7 to allow employees to monitor select operations. In the run-up to the December launch, SpaceX team members across the country were tuned into the camera feeds from Florida. Wowza gave employees at each of these locations reliable streaming media pushed to virtually any screen. Wowza cost-effectively enabled key personnel to tune in on their personal devices from work or home to be sure they didn't miss anything, improving the overall efficiency of our team. The new low-latency streaming video system also enables SpaceX employees to remotely pan-tilt-zoom the cameras, to inspect areas of interest more closely.
As we look to future streaming video improvements, we plan to make our software more bandwidth-aware, which will enable the cost-effective addition of new cameras. We also hope to create a user interface for archive retrieval, enabling the individual viewer not only to view the stream live but to view clips on demand. To develop these new features, our software engineers will be taking advantage of Wowza Media Server's open APIs as well as the company's comprehensive tech support.
At SpaceX, we are working every day to bring about significant breakthroughs that will improve the reliability and cost of space transportation. It's an ambitious task, and we need support we can count on. By making our closed-circuit monitoring system more robust, flexible, and functional, Wowza Media Server 2 improved a critical component of our successful mission. In addition, it allowed us to more effectively share Dragon's first flight with hundreds of thousands of viewers around the world.

About the author
Branden Spikes joined SpaceX in 2003 as CIO to develop, maintain and bolster its computing infrastructure. Spikes's expertise is demonstrated by his previous successes as an early employee at startups Zip2, a leading provider of enterprise software and services to the media industry, and PayPal, the world's leading electronic payment system.