Today, more than six billion people around the world can't imagine life without their mobile phones or PDAs. As a matter of fact, there's a whole generation that can't even remember when these devices didn't exist. And the service juggernaut continues to grow rapidly across all nations and demographics, fueled by the seemingly insatiable demand for Internet access.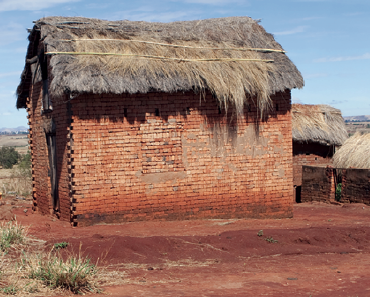 However, in spite of the high penetration of wireless communications around the globe—talking, texting or emailing outside the primarily urban and highway-centric coverage of most mobile networks is either not possible or comes with spotty, unreliable service coverage. Though rural and remote areas represent a large untapped market opportunity, the primary barrier to expanding coverage has, in the past, been the high cost of terrestrial backhaul, whether using microwave, fiber or cable technologies.
Enter today's satellite technology—by carrying cellular traffic over cost-effective, high performance satellite connections, mobile service providers are now discovering new revenue opportunities to expand into rural and remote areas—with the potential of reaching customers roaming in these areas, not to mention the many millions of unserved or underserved residents.
Cellular Communications with a Global Reach
Only satellite provides the reach and flexibility to cost-effectively cover rural areas and low-density populations virtually anywhere. This is becoming of particular interest to operators in the areas of Africa, Asia, Latin America, and the Middle East, where the geography and economy present daunting challenges in justifying expansion of high-quality services.
Hughes Backhaul Solutions in Action
Case in point: In a war-torn region of sub-Saharan Africa, a forward-looking mobile operator was looking for an efficient and cost-effective means to provide very low-cost cellular phone coverage to remote villages. The rugged conditions and lack of infrastructure called for an all-outdoor, lightweight solution that sets up quickly and can be easily transported to even the most remote areas. Plus, the communication solution would also need to be self-contained as well as solar-powered.
To meet these requirements, the operator turned to Hughes for its Satellite Cellular Backhaul Solution. Designed to support a full range of cellular radio access network (RAN) technologies, Hughes backhaul solutions are based on the company's HX System platform, providing high-quality links while optimizing space segment resource use to minimize operating costs. Key features include efficient bypass and real-time, fast-track algorithms on outbound channels, and "just-in-time" TDMA burst forming, which leads to low latency and minimal jitter, essential elements for an excellent end user experience.
To date, the service has been deployed to more than 300 sites, and the operator provides low-cost, prepaid handsets that enable residents use the service to call or text within the village and from one village to another.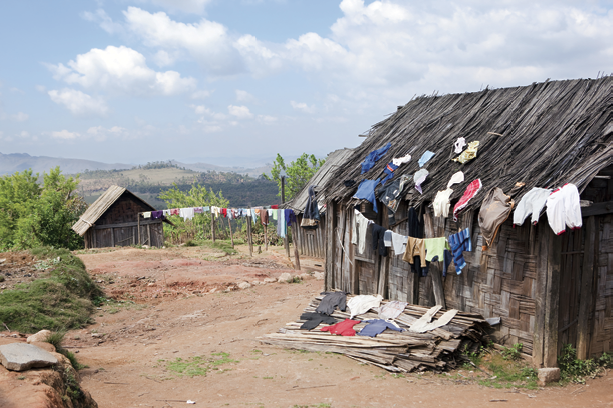 Boosting the Economy
The economies of much of sub-Saharan Africa are agricultural, based on bartering and trade. To ensure the success of the project, the operator partners with local chiefs to obtain buy-in and to help protect the equipment from possible theft or vandalism. The chiefs, in turn, encourage residents to participate and use the service, creating a micro-economic climate of entrepreneurship.
For example, when a local vendor has produce to sell, he can now use the satellite cellular backhaul service to text availability and pricing to other villages and to arrange delivery of the produce when a truck is delivering other goods to the village.
"The service has kick-started micro-economic activity and entrepreneurship, which boost social development—not only to make money, but to empower the people to grow the economy of the village," said Vinay Patel, Hughes regional director for sub-Saharan Africa. "As people become accustomed to the service, they are finding more and more ways to use it, and, as a result, traffic is growing 10 to 20 percent on a monthly basis."
Smaller = Better
A new trend at the heart of the mobile industry is the use of small cells, which are operator-controlled, low-powered radio access nodes, to provide the best user experience to mobile subscribers everywhere. When these small cells are combined with a satellite backhaul solution, they offer enormous potential for providing wireless access to underserved locations at a lower cost.
An active supporter of small cells, Hughes is a member of the Small Cell Forum, an international organization that supports, promotes, and helps drive the wide-scale adoption of small cell technologies to improve coverage, capacity, and services delivered by mobile networks.
Fulfilling the Dream
Ideal not only for rural and difficult-to-reach fixed locations on land, satellite cellular solutions also connect people on-the-move—on airplanes, cruise ships, and trains—and they are ideal for emergency response and special events with Cell on Wheels (COWS) coverage.
According to Euroconsult's 2013 report, Prospects for Cellular Backhaul in Fast-Growing Economies, cellular backhaul sites are expected to grow at a compound annual growth rate of 7.6 percent over the next 10 years, while 3G will experience double digit growth and capacity carried over satellite will increase by 16 percent. Going forward, it's also anticipated that High-Throughput Satellites (HTS) will play a significant role in backhauling the explosive capacity growth expected due to 3G and 4G/LTE requirements.
That means more and more mobile operators will adopt satellite backhaul technology to fill the gaps in their networks and reach untapped markets in previously cost-prohibitive locations.
As the world continues to expect more from cellular technology, satellite backhaul solutions will grow as a key component of a true, high-performance global communications network— fulfilling the dream of connecting people no matter where they live, work, or travel.
About the authors
Vince Onuigbo is a Senior Marketing Director at Hughes, a wholly owned subsidiary of EchoStar Corporation, where he leads the technical marketing and business development for satellite backhaul of radio access networks globally. Among Vince's responsibilities are, liaising with engineering to deliver optimized satellite backhaul solution for various cellular standards 2, 3 & 4G/LTE and scenarios—rural, urban and residential/enterprise deployments. In addition he leads the analysis and validation of prospective customers' backhaul business cases to ensure the most cost-effective systems design, and building of third-party partnerships that facilitate the best overall project delivery experience for operators. In early 2000, Vince played a leading role in the market development of Western Europe, Africa, and Middle East for Hughes Terrestrial Point-to-Multipoint microwave solution, used primarily for cellular backhaul.
Prior to joining Hughes in 1996, Vince held various technical positions at Motorola Cellular Infrastructure Group, including GSM /CDMA systems engineering and consultant to mobile operators for the planning of network roll-out. Vince is a published expert in the field of wireless access. He is a member of the IEEE and holds a BSc with honors in Electrical Engineering from Ahmadu Bello University Zaria, Nigeria and an MBA from Keller Graduate School of Management of DeVry University.

Vinay Patel is the Regional Sales Director for Sub-Saharan Africa, for the International Networks and Products Division of Hughes, a wholly owned subsidiary of EchoStar Corporation. Mr. Patel's role is to promote the Hughes family of VSAT products and services in the region, working with public operators, entrepreneurs, and government entities to bring the benefits of broadband satellite to public, private, enterprise, civil, and government end-users.
During his 20+ years at Hughes, Mr. Patel has been involved in satellite and terrestrial wireless product sales and marketing activities. His experience spans mobile and fixed cellular systems, terrestrial PTP and PTMP microwave, product line management, and business case development. Vinay has geographic experience working in the USA, Latin America, Western and Eastern Europe (including Russia), South Asia (including India), and Sub-Saharan Africa. Vinay holds a Bachelor of Science degree in electrical engineering and a Master's degree in Business Administration from the University of Maryland in College Park, Maryland.
---
Hughes Flagship Broadband Satellite Systems
Hughes HN and HX platforms lead the market in delivering bandwidth-intensive satellite services, including high-speed Internet access, voice (VoIP), interactive distance learning, videoconferencing, and multimedia streaming.
• Large and Medium-Sized Networks The HN System is a robust, flexible platform that takes broadband satellite to a new level for enterprises, medium-sized businesses, and governments. Advanced management features enable operators to allocate satellite bandwidth as a virtual pool among active users, while assuring availability when and where it's needed.
• Versatile Fixed and Mobile Networks— The HX System is a versatile broadband IP platform optimized for smaller networks with high quality of service (QoS) requirements. Building on the features and capabilities of the HN platform, the HX System delivers high QoS while maximizing satellite usage efficiency, and is ideal for both fixed and mobile applications, including cellular backhaul, airborne/maritime/SATCOM On-The-Move (SOTM), and oil/ gas exploration.