Ideas Welcomed
Hughes Network Systems, LLC has received an order from the U.S. Environmental Protection Agency (EPA) to provide satellite broadband services for the agency's "RadNet" program.

Under the order, Hughes will provide 50 sites with 12 months of satellite broadband service.
The RadNet system monitors radiation levels of air, drinking water, pasteurized milk and precipitation across the United States.
The EPA will upgrade its existing network with the addition of Hughes satellite broadband technology during 2013.
The Hughes solution includes its HN9000 broadband satellite terminal and a dedicated Access Gateway, supporting expansion and potential conversion into a private network.
Hughes will install and deliver satellite broadband services at up to five RadNet locations each month.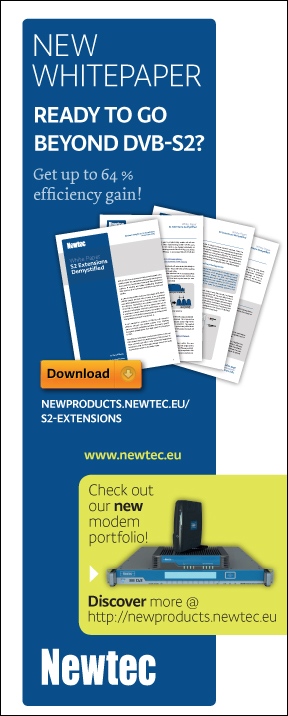 "By providing a dedicated Access Gateway at the Hughes Network Operations Center in Germantown, Maryland, EPA will have improved manageability and visibility into the network about its health, and be able to operate their sites like a private network," said Tony Bardo, assistant vice president of government solutions at Hughes. "We're excited to begin work on this contract with our first order."
* * * * * * * * *

One Gone, Two On Orbit, One Enroute
On Friday, January 11, 2012, commercial operations of SPOT 4 satellite were terminated. The joint decision on the cessation of commercial satellite operations was made by the SPOT 4 owner—CNES (French Space Agency) and the satellite operator—Astrium GEO-Information Services.
The satellite has been operating for almost 15 years (177 months) since its launch in March of 1998. More than 6.8 million images of the Earth have been acquired since operations began.
Nonetheless, the SPOT space program continues to develop. ScanEx Research & Development Center carries on direct reception and processing of SPOT 5 satellite data—satellite operations are estimated to be effective until 2015.
In addition, commercial operation of the new SPOT 6 satellite will start soon—its data was, for the first time in Russia, received and processed by ScanEx's specialists on October 17, 2012, using the UniScan ground station at the Moscow remote sensing center.
Now UniScan ground stations can be supplied to interested organizations for SPOT 6 data reception (and similar SPOT 7 satellite data—this satellite is to be launched in the first half of 2014), whereas already installed stations can be upgraded to support the new satellites. SPOT 6/7 data processing software has been developed by ScanEx RDC within the frames of the international cooperation agreement with Astrium GEO-Information Services company.
ScanEx company has exclusive rights to receive and distribute SPOT series satellites' data on the territory of Russia and Belarus.
In addition to the SPOT program, Astrium GEO-Information Services is the worldwide commercial operator of the very high resolution satellites Pleiades-1A and Pleiades-1B.
* * * * * * * * *

DubaiSat-1's First Glimpses
DubaiSat-1, the UAE-owned and operated Earth observation satellite, has relayed a high-quality image of the area in Dubai that will be developed into the recently announced Mohammed Bin Rashid City.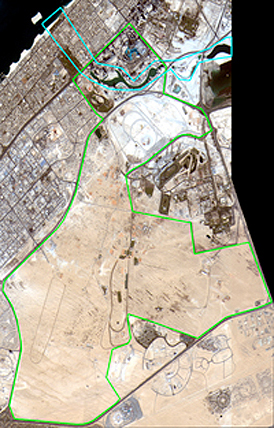 The satellite, which was launched by the Emirates Institution for Advanced Science and Technology (EIAST), will monitor the MBR City project and provide images every month to highlight the project's progress.
The high-resolution images relayed by DubaiSat-1 are a valuable resource for infrastructure planning and development across the country.
These images provide spatial information essential to decision-making on urban and rural planning, transport and utilities development, mapping and environmental conservation initiatives.
EIAST, as part of its mandate of conducting research using satellite data, has been mapping some of the major construction projects in Dubai.
The satellite images also complement existing Geographic Information System (GIS) databases and enable more efficient monitoring of environmental changes and natural hazards in addition to identifying water quality in the Gulf.
"DubaiSat-1 is a key element in the development process taking place in Dubai. The satellite highlights the commitment of EIAST to create a knowledge-based economy by leveraging satellite technology" said Salem Al Marri, Head of Marketing and International Affairs at EIAST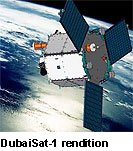 MBR City, announced in November this year, will feature world-class leisure and retail facilities and provide an integrated environment for the development of entrepreneurship and innovation. The landmark project will be located between Emirates Road, Al Khail Road and Sheikh Zayed Road.
DubaiSat-1 was a joint project between the UAE and South Korea, developed with a focus on knowledge transfer to the UAE team that participated in building the satellite.
EIAST had launched DubaiSat-1 in July 2009, and since then, the satellite has been transmitting images that are of great value in several areas.
EIAST is currently working on the final stages of DubaiSat-2, a joint development programme with the Satrec Initiative of South Korea.
Sixteen UAE engineers, currently stationed in South Korea, have been working on the design, development, testing and manufacturing of the satellite.
The participation of UAE engineers in the project has increased by 100 per cent compared to DubaiSat-1 and it is hoped DubaiSat-2 will take EIAST to the next level in space research.
Additionally, The Emirates Institution for Advanced Science and Technology (EIAST) showcased a model of DubaiSat-2 at The Dubai Mall in December of last year as part of the 41st UAE National Day celebrations to highlight the advances made by the nation in the space industry.
EIAST has also launched a competition for students to design a logo for DubaiSat-2, its second satellite mission. The competition is open to students of all ages and nationalities studying at any school, university or college in the UAE. The designer of the winning logo will receive a Mac laptop.
His Excellency Ahmed Al Mansoori, Director General of EIAST, said, "Through our showcase of DubaiSat-2 at The Dubai Mall and the logo design competition, we are further strengthening awareness on the greatest achievements of EIAST, which reflects the significant strides that the UAE has made in space research. Our space initiatives are in line with the vision of the UAE leadership to strengthen knowledge about advanced technology among the UAE youth especially with DubaiSat 2 being developed by Emirati engineers."
The DubaiSat-2 project is a joint development program between EIAST and Satrec Initiative of South Korea.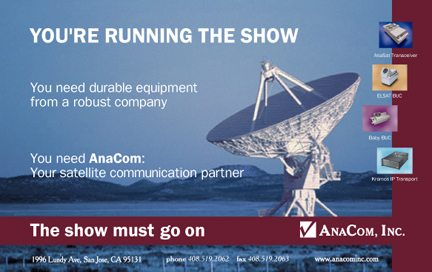 Sixteen UAE engineers have been working on the design, development, testing and manufacturing of the satellite.
* * * * * * * * *

Anomaly Analysis
Roscosmos management has reviewed and approved the report provided by the Russian working group investigating the Proton launch anomaly during the Yamal 402 mission and have provided the report to Khrunichev State Research and Space Production Center (Khrunichev).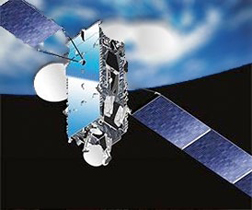 The findings on the identified most probable root cause of the anomaly and the required corrective actions will be released to International Launch Services (ILS) after the report clears Russian security during the week of January 21st.
The Russian working group, convened by Roscosmos, included independent experts from TsNIIMash (Central Scientific Research Institute of Machine Building), the leading institution of Roscosmos to support design, development and research into rocket and space articles, and M.V. Keldysh Research Center, the leading Russian entity for rocket engines.
ILS has formed a Failure Review Oversight Board (FROB) which will review the Commission's final report and corrective action plan, in accordance with U.S. and Russian government export control regulations.
The FROB will begin in Moscow on January 30th and consists of ILS customers, industry subject experts, and insurance industry representatives. The FROB will provide an independent review of the investigation, root cause and corrective actions required prior to return to commercial flight.
After the conclusion of the FROB, the FROB report will be briefed to ILS customers and the launch insurance industry.
The anomaly occurred during the fourth and final burn of the Breeze M engine during a planned 9 hour and 15 minute mission. The fourth burn ended about four minutes early and the spacecraft was subsequently separated.
The spacecraft, built by Thales Alenia Space for Russian satellite operator Gazprom Space Systems, was successfully maneuvered to its orbital position and was declared fully operational on January 8th, 2013, after completing its on orbit tests.

* * * * * * * * *

Taking Leave Of Thor II
Telenor Satellite Broadcasting (TSBc) has successfully de-orbited Thor II to a "graveyard" orbit, after a six-day maneuver which was completed on January 10, 2013.
TSBc chose to de-orbit Thor II, after more than 15 years of successful operation. Thor II completed its final journey to an orbit more than 350 km above geosynchronous orbit where satellites are intentionally placed at the end of their operational life.
Thor II was the first communications satellite that TSBc specified, commissioned and launched and was put into orbit by a Delta II rocket from Cape Canaveral in May 1997.
* * * * * * * * *

Veggie Tracker Testing
The European Space Agency's (ESA) Proba-V microsatellite is now assembled and is midway through testing to ensure it is fully spaceworthy.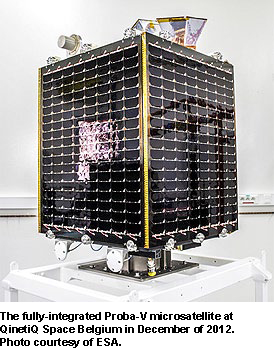 The miniature Earth-observer, designed to chart global vegetation every two days, will be launched in April.
The testing at the specialised Intespace facility in Toulouse, France, includes rigorous simulations of Proba-V's take-off conditions and the hard vacuum and temperature extremes it must endure in orbit.
It comes after Proba-V's assembly was completed by prime contractor QinetiQ Space at its facility in Kruibeke, Belgium last month.
Building the satellite was a complex operation. Although smaller than a cubic metre, the satellites carries a wide-angle telescope for its main Earth-monitoring instrument, a pair of radiation sensors, a fibre optic connector experiment, a prototype radio transmitter based on the semiconductor gallium nitride, and a test receiver to track aircraft in flight all around the globe.
However, Proba-V also marks a departure from previous technology demonstrators Proba-1 in 2001 and Proba-2 in 2009. Both later became operational missions once the outstanding performance of their main instruments became clear.
This time, Proba-V has been conceived as a quasi-operational mission from the start, serving a waiting community of users.
The small satellite is flying a miniaturised version of the Vegetation sensor on France's full-sized Spot-5 satellite, intended to extend its nearly 15-year continuous record of observations—dating back to the previous Spot-4 mission, launched in 1998.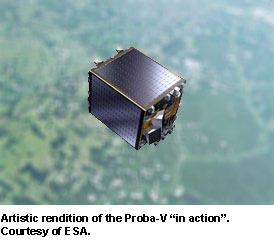 There are more than 10,000 registered users of Vegetation products worldwide, and the data have contributed to hundreds of scientific papers.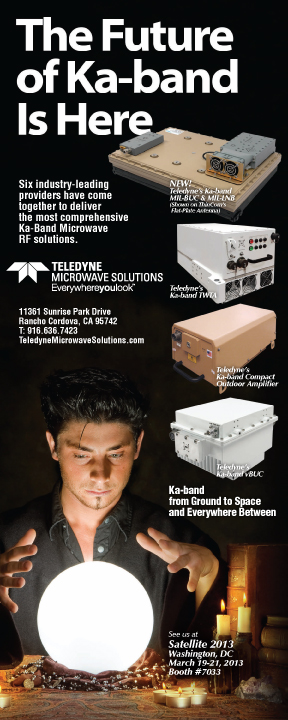 Despite being much smaller than the original Vegetation instrument, Proba-V's version observes compatible spectral bands while delivering a spatial resolution three times sharper.
Among other firsts for the mission, Proba-V will fly a radio amplifier based on gallium nitride. Often described as the most promising semiconductor since silicon, gallium nitride offers higher power levels and radiation resistance.
Proba-V will also be the world's first space mission to detect Automatic Dependent Surveillance Broadcast signals from aircraft, building up a global overview of air traffic.
* * * * * * * * *

Testing A Mirror On A Webb
The telescope is critical for future infrared observations and will serve as the premier observatory of the next decade.
Since May of 2012, the AOS optical system for the James Webb Telescope has undergone a series of tests including thermal and vibration, followed by cryogenic testing to demonstrate that it can withstand the rigorous vibration environment of the rocket launch and remain precisely aligned in order to function at extremely cold temperatures in space.
The AOS will remain at Ball Aerospace to be used during integrated testing with the flight actuator drive unit and AOS source plate assembly. This AOS is the final optical subsystem of the James Webb Optical Telescope Element to complete integration and test activities at Ball Aerospace.
"Each optical element that Ball Aerospace is building for the Webb is extremely sophisticated and the successful completion of another milestone brings us one day closer to the launch of NASA's next major space observatory," said Ball Aerospace President and CEO David L. Taylor.
The AOS is a precision beryllium rectangular optical bench that houses the tertiary and the fine steering mirror installed at the center of Webb's primary mirror. The AOS is surrounded by a shroud that eliminates stray light, and two large radiator panels that keep the assembly cold. This subsystem collects and focuses the light from the secondary mirror and feeds it into the science instruments.
Ball is the principal subcontractor to Northrop Grumman for the optical technology and lightweight mirror system for NASA's Webb Telescope.
In total, Ball has designed and delivered the Webb's 18 beryllium primary mirror segments, secondary and tertiary mirrors, a fine steering mirror, and several engineering development units.
In September 2012, Ball began the process of shipping the finished Webb primary mirrors to Goddard Space Flight Center, Greenbelt, Maryland.
The remaining mirrors will arrive at Goddard this year, awaiting telescope integration in 2015. The Webb is on track for an October 2018 liftoff.
The Webb telescope is critical for future infrared observations and will serve as the premier observatory of the next decade.