The Advice to Nigeria is... Sell Off Nigcomsat-1R
The federal government of Nigeria has been advised to sell off the country's satellite, Nigcomsat-1R, to the private sector.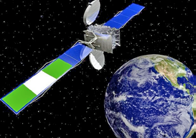 In a report published by The Nation (thenationonlineng.net/) and posted by Ibrahim Apekhade Yusuf, making this appeal recently was Mr. Adebayo Banjo, the Chief Executive Officer of the Disc Group of companies.
Speaking in an interview in Lagos, Nigeria, the technocrat stated that handing over the satellite to the private sector would allow for better management and proper utilization within the country and in Africa.
"Government should sell it to private concerns even if it means a certain per cent of the bandwidth is reserved for government use," he said, and then he queried, "What other option is there? Remember that a satellite has a fixed lifespan, and as the years pass, its value reduces. If the private sector put money into it, they will not only want to get their investment back, but make profit and this can only be done by utilizing the satellite."
According to Mr. Banjo, those managing the satellite have not marketed its services well; hence, the poor patronage. The former president of the Nigeria Internet Group (NIG) said that those managing the satellite forgot that customers had other choices apart from Nigcomsat-1R.
"Perhaps that is why they want to pass a law to force government institutions to patronize them. Why do we always want to force things — business does not work like that — make your services reliable and competitive," Banjo added.
The Nigerian House of Representatives is considering a law to compel patronage of Nigcomsat-1R by Ministries, Departments and Agencies (MDAs).
The House of Representatives in its sitting recently had asked the Committee on Information Communication Technology (ICT) to investigate the cause of non-patronage of the multi-billion satellite. The resolution was reached following a motion moved by Hon. Danasabe Hosea, representing Gashaka, Kurmi and Sardauna Federal Constituency of Taraba state (PDP). His motion was entitled: 'Need to Investigate the Non- Patronage of the Nigerian Communications Satellite Ltd. (NIGCOMSAT).'
The lawmaker recalled how the federal government contracted Kosmo–3m Rocket from Russian Plesetsk Spaceport to launch its first EO satellite, the Nigeria Sat-1, on September 17, 2003, at the cost of 30 million dollars. Hosea noted that Nigcomsat-1 communications satellite was launched in 2007 in China at the cost of N200 million, but failed in orbit in 2008 after running out of power, owing to an anomaly in the craft's solar array.
While Nigcomsat-IR was re-launched in 2011 at no extra cost, Nigeria Sat-2 and Nigeria Sat X satellites, built at a cost of 35 million dollars, were launched the same year.
NigComSat-IR has a service life of at least 15 years and is designed to meet the needs of telecommunications, broadcasting, broadband, security and other communications solutions within the African, European and
Asian markets.
Hosea stated that since 2003, the federal government had spent about N85 billion on the five satellites, which were meant to provide communication, data and satellite images for government agencies and the private sector. He said that this was with the aim of saving billions of foreign exchange and generating revenues estimated at 20 billion dollars for the country.
"However, they were always capable of offering same services as any other offshore service provider. The multi-billion naira communication satellites are under-utilized in space due to low patronage by government agencies and private companies. They continue to spend money running into billions of naira to procure satellite images from other service providers, services which Nigeria's satellite could supply, thereby depleting our foreign reserves," he said.
Hosea argued that government MDAs have a mandate to patronize NigComSat Ltd. and National Space Research and Development Agency (NASRDA), which manages Nigeria's LEOs satellites as a way of conserving the billions of naira being expended unpatriotically.
An informative study is also available for viewing at the VeryNaija online news and community portal that's focused on promoting the Nigerian brand — the report is entitled Why Government Agencies Prefer Foreign Satellites To NIGCOMSAT and may be reached at verynaija.com/2017/09/11/government-agencies-prefer-foreign-satellites-nigcomsat-study/.
---
Eutelsat Procures NOORSAT
Eutelsat Communications (NYSE Euronext Paris: ETL) has acquired NOORSAT, one of the leading satellite service providers in the Middle East, from Bahrain's Orbit Holding Group.
Established in 2004, NOORSAT is a distributor of Eutelsat capacity in the Middle East.
The company serves blue-chip customers and provides services for more than 300 TV channels almost exclusively from Eutelsat's market-leading Middle East and North Africa neighborhoods at 7/8 degrees West and 25.5 degrees East.
The acquisition of NOORSAT fits with Eutelsat's broader strategy of streamlining distribution within selected core video neighborhoods where the company can create value.
This acquisition will allow Eutelsat to strengthen the long term commercial development of the firm's market-leading video positions in the Arabic world and increase its direct access to end-customers, facilitating stimulation of HDTV take-up and the upselling of incremental video services.
Eutelsat has acquired 100 percent of NOORSAT for a consideration of US$75 million, debt free and cash free.
The acquisition will add upwards of US$15 million to Eutelsat's consolidated revenues on an annualized basis after the elimination of the capacity leased by Eutelsat from NOORSAT.
There will be a slightly dilutive impact on Eutelsat's EBITDA margin to be absorbed within the firm's current margin objectives.
Michel Azibert, Eutelsat Chief Commercial and Development Officer, said that NOORSAT's capabilities and market knowledge will further consolidate the firm's longstanding position in the dynamic Middle East video market.
He added that by integrating NOORSAT's service platform and teams, Eutelsat is underlining the company's commitment to serving customers in one of the key markets within in the firm's global footprint.
eutelsat.com/
---
Orbit Communications is Providing a Foundation for EnduroSat
A veteran provider of precision tracking-based communications solutions and airborne communications management systems is providing their expertise with a turnkey solution for new dynamic startup company — the final product will be delivered in 2018.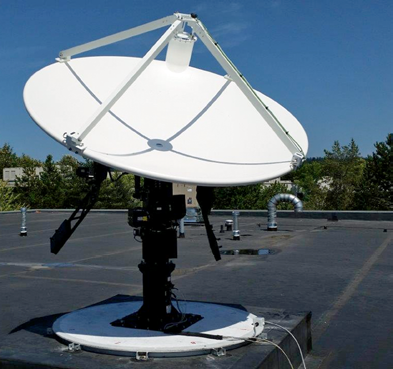 Orbit Communications Systems Ltd. (TASE: ORBI) announced that cubesat developer, EnduroSat, headquartered in Sofia, Bulgaria, placed an initial order for Orbit's 4.5 meter Gaia 100 system to serve as the foundation for its satellite-tracking ground stations.
Delivery of the system, which includes installation and support, is expected in Q1 of 2018.
Established in 2015 in Sofia, Bulgaria, EnduroSat designs, builds and space-qualifies next-generation cubesat modules and platforms for missions ranging from Low Earth Orbit (LEO) to solar system exploration.
With a focus on swarm satellite applications and inter-satellite connectivity, the EnduroSat team's goal is to take CubeSats far beyond LEO.
EnduroSat's business turns satellites into consumer products. The company promises configuration in a matter of minutes and delivery in a matter of days for their full range of 10 cm smallsats and related accessories, along with a full warranty.
EnduroSat Founder and CEO, Raycho Raychev, said his firm is proud to partner with Orbit, whose team showed great professionalism and understanding of their needs.
Orbit's Gaia 100 satellite-tracking ground station system will enable new capabilities for EnduroSat and take them another step forward toward realizing their vision.
Eitan Livneh, CEO of Orbit, added that his company is delighted to be working with a young, dynamic company such as EnduroSat.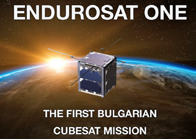 Livneh continued that they are big believers in smallsats and hope to share in their success — due, in part, to visionaries like Raycho — for years to come.
Gaia 100 is a small-footprint, high-performance series of remote-sensing ground stations for real-time data capture from LEO or MEO satellites. Built to withstand harsh environmental conditions, its key features include:
• Real-time data capture without any delay or reliance on third parties
• Significant cost-efficiency over legacy ground stations
• Easy installation and support for 2.4- to 4.5-meter antennas
• Flexible deployment, e.g., on the roof or a building, atop a rig platform or in an open field
---
Yahsat Announces the GITEX Student Winners
Yahsat and Dubai World Trade Centre (DWTC) hosted the Student Lab award ceremony, which was held on the October 12 at GITEX (www.gitex.com/) — the top three winners were announced by
the organizations.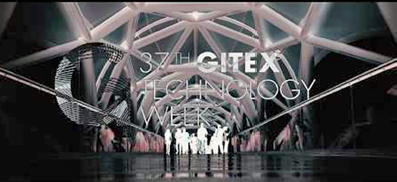 The Student Lab competition is designed to give an opportunity to students from UAE, and across the world, to present their innovative ICT solutions to a VIP expert panel.
The purpose of the Student Lab is to recognize and promote innovation and creativity among students in the fields of communications technology, engineering, science and computing.
The first prize winner, announced on Thursday by Muna Almheiri, Yahsat's Chief Human Capital Officer, is Sarthak Sethi, a young Indian student entrepreneur who received a cash prize of AED 50,000 for winning the competition.
Yahsat will also provide the winner with an all expenses paid trip to Kourou in French Guiana to attend the launch of Al Yah 3.
The winning project was a revolutionary device called ThumbFi that aims to simplify control of various devices by literally bringing control to the fingertips.
ThumbFi eliminates the need to use multiple remote controls to control lights, fans, TVs, cars, mobile phones and other Bluetooth-enabled devices, placing them conveniently into one simple app.
Sarthak Sethi said, "I would like to thank the panel for picking me as the winner of this year's Student Lab competition. I really feel honored that out of 65 submissions, my project has been awarded the first prize. I would like to thank all sponsors of the Student Lab competition, and in particular, Yahsat, for being so generous to invite me to attend the launch of Al Yah 3 in Kourou, which I am very excited about. Today marks a significant milestone in my personal life and professional career, and my motivation is stronger than ever to drive further change in the ICT sector."
The second cash prize of AED 40,000 has been awarded to a young group of Emirati women, Nouf Fadel Alsaedi, Fatima Hareb Alneyadi, and Mouza Nasser Alahbabi, who created a smart robotic arm.
The product is designed with the aim of assisting post-stroke patients with their recovery and to help enhance their ability to perform their usual daily activities.

Fatima Ahmed Alshaali, a young Emirati lady, is the proud third winner, receiving a cash prize of AED 30,000 for designing and developing a one-of-a-kind iOS game. The Silent Fairy game is supported on both iPad and iPhone.
The committee received more than 65 submissions from across the world, including the UAE, USA, Germany and India. In total, 24 projects were shortlisted by a committee comprising high-profile industry leaders, associations and partners and invited to present their projects to technology leaders and professionals at the Student Lab showcase area.
Muna Almheiri, Chief Human Capital Officer at Yahsat, said that human capital is the most valuable asset at Yahsat and the company will continue to look for ways to invest in young talent — these three winners are invited to complete an internship at Yahsat to further develop their skills and shadow experienced Emirati and international engineers and ICT professionals.
www.yahsat.com/
www.dwtc.com/
---
Helicopter SATCOM Delivered by IAI/ELTA
Israel Aerospace Industries (IAI) has been awarded a significant contract by a key customer for delivering an advanced SATCOM network system.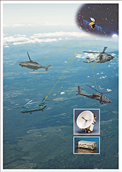 The contract includes several dozens of airborne terminals and ground segments for medium and heavy lift helicopters.
This is a follow on contract from the customer,
which previously bought SATCOM terminals which were successfully installed and operated onboard attack helicopters.
The ELK-1891 SATCOM network is the latest technology developed by ELTA Systems Ltd., a group and subsidiary of IAI (IAI/ELTA).
IAI/ELTA's SATCOM solutions were displayed at the Combat Helicopter Show in Krakow, Poland, in October.
According to the company, the innovative ELK-1891 Ku-band SATCOM network was selected for its exceptional performance on rotary wing platforms. ELTA has developed a unique capability for enabling helicopter rotor penetration by mitigating rotor masking.
Furthermore, the system offers high spectral efficiency and Low Probability of Intercept (LPI) capabilities, as well as relatively minor integration and installation requirements on-board the helicopter.
The system enables Voice and IP data transmission and includes a 30 cm dish antenna, High Power Amplifier (HPA), modem and interface to the aircraft avionics.
Nissim Hadas, IAI Executive VP & ELTA President, reported that ELTA has gained vast experience in designing, integrating and installing ELK-1891 SATCOM systems on board various helicopters. These systems are operational for many years with air forces worldwide.
A few hundred systems are in service and supported by IAI/ELTA — the firm's expertise has been gained through extensive efforts of working together with the platform manufacturers and end users — this is an important contract for ELTA, which proves the maturity and reliability of this SATCOM product.
www.iai.co.il/
---