Satellite transmissions, especially those involved in broadcasting, are increasingly dispersed and dynamic—changing consumer behavior has created demands for compelling content available anytime and anywhere.

Broadcasters are juggling several different versions of their content to support local markets and multiplatform delivery. The need to monitor spectrum and quickly react to problems is of growing importance.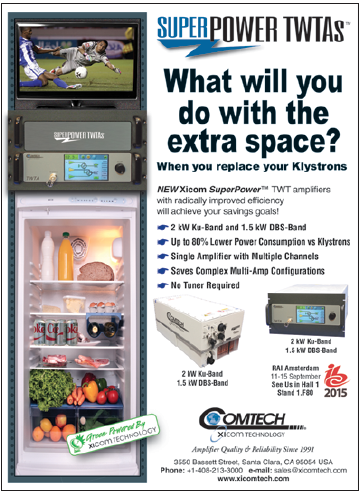 The Changing Broadcaster Landscape
A radical shift is impacting the way content is consumed. Consumers expect the content they want, where they want it, and broadcasters are under increasing pressure to deliver content to multiple platforms in order to stay competitive. As programs' nets are cast wider, the need for local variations and regional advertising creates new challenges and opportunities for broadcasters. The type of programs watched has changed—viewers want news now, sports live and up close from far-flung corners of the globe, and entertainment tailored to their individual preferences.
Responding To Issues
There are many reasons why issues can, and will, occur. As an uplinker, you don't want the first indication of a problem to be a phone call from a disgruntled advertiser whose advertisement did not appear at the scheduled time—such difficulties can often be traced to human error or equipment failure.
One of the biggest challenges is that equipment malfunctions can go unnoticed for long periods of time. If the malfunctioning piece of equipment is normally offline because of its use only as backup device, notice of this problem can take even longer to realize. Other factors out of your control, such as weather, can have a huge impact on all types of systems. The effect of weather is easily overlooked at unmanned sites in particular and is especially problematic for broadcasters with multiple sites. Remaining aware of changing weather conditions, such as a rise in temperature, humidity, or heavy rain is always challenging.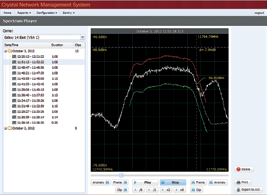 Monitoring
The only way to react quickly and find solutions to issues as they arise is to ensure continual system monitoring. Some diagnostic monitoring systems are extremely expensive, so at times uplinkers will have only one system that must be relocated and reconnected only after they are alerted to a problem. This results in a failure to spot errors until they have already impacted an operation. An error in one part of the chain may filter through and cause further, and often bigger, issues downstream. The number, type, and monitoring requirements for each site will be unique. Relying on software-based decisions means you can cover a multitude of 'what if' cases.
By monitoring multiple spectrum segments simultaneously, you can compare their profiles against one, or more, user defined limits. Recording and archiving sequential spectrum 'snapshots' in a continuous manner is also important, so that lessons can be learned from previous episodes. Effective monitoring allows relatively complex switching rules to be implemented in the case where equipment failures call for switching online redundant transmission chains or disabling transmissions altogether. Responding to issues automatically, even when there isn't a connection between the primary and secondary site, is the key advantage of a modern monitoring system.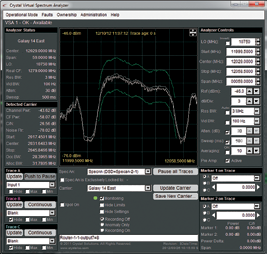 If spectrum is continuously monitored, errors can be spotted, and solved, as soon as they occur. In the world of broadcast, this means you can sort these issues out before they have a negative impact on your transmissions and keep your content flowing to your viewers.
"My primary role is to make sure the Crystal team has what they need so they can properly service our customers. I also focus on methods and solutions that enable our customers to increase the efficiency of resiliency of their video and data networks. I rely on customer observations and communications, as well as the Crystal sales and implementation teams, to understand where operational issues exist and then lead a collaborative group to design solutions.
"I also stay involved with the development team to ensure that the solutions Crystal builds satisfy the needs of our customers. In addition to my day-to-day duties at Crystal, I serve as a member of the board of directors for the World Teleport Association and participate in some of their sub-committees. I also stay involved with some video standards groups of the Society of Cable Telecommunications Engineers (SCTE) and the Interference Reduction Group (IRG)."—Roger Franklin
---