Hellas Sat-4 climbs to orbit
The Hellas Sat 4 satellite was successfully launched by an Ariane 5 launch vehicle from the Guiana Space Center in Kourou, French Guiana, in early February for Hellas Sat.

The Hellas Sat-4 payload launch by Arianespace.
Hellas Sat 4 is a Ku-band satellite positioned at 39 degrees East to provide coverage over Europe, the Middle East and the Southern Africa.
The satellite is expected to commence service in the third quarter of 2019.
The new satellite will extend Hellas Sat's capacity and geographical reach to meet the growing demand for applications that include video, maritime connectivity, cellular backhaul, corporate networks and government services.
Hellas Sat 4 will also serve as a back-up to Hellas Sat 3 satellite, which is located at the same orbital slot and was launched in 2017.
Christodoulos Protopapas, CEO of Hellas Sat, said that the Hellas Sat 4 is a powerful addition to the company's network and a major milestone to the firm's business plan. The satellite brings new capacity that will enable our existing and new customers to unlock new growth opportunities in applications including broadcasting, mobility and private data networks.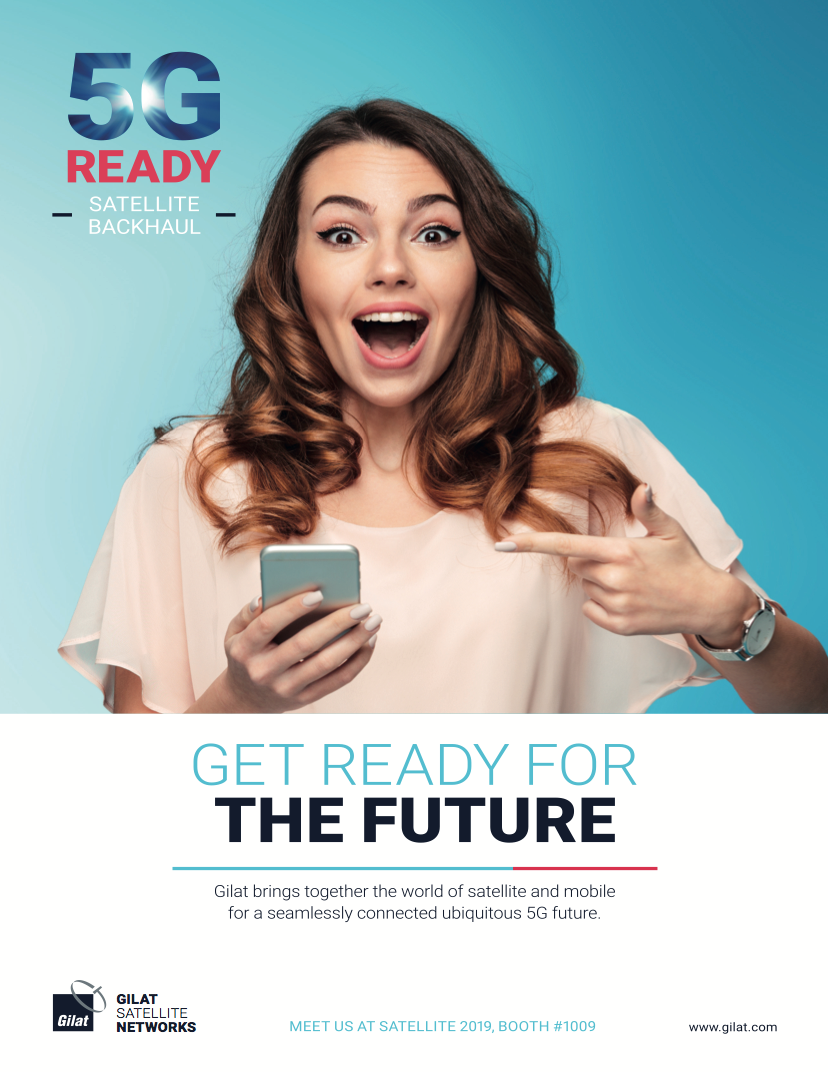 Protopapas continued that, moreover, it will enable the company to deliver high quality services at competitive prices as well as unmatched performance, resiliency and redundancy to customers.
Hellas Sat is a subsidiary of Arabsat.
www.hellas-sat.net
www.arabsat.com
www.arianespace.com
---
Spaceflight reviews their SSO-A mission success
December 3, 2018 was an historic day for Spaceflight and SpaceX — the company successfully launched 64 customer spacecraft to orbit and SpaceX flew a rocket for the third time and landed the booster successfully on a barge in the Pacific Ocean.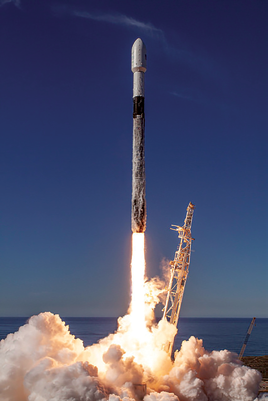 The SpaceX Falcon 9 launch of the Spaceflight
SSO-A mission.
The launch was picture perfect, with the Falcon 9 ascending to space against the back drop of a cloudless California sky.
Ten minutes after liftoff, the Falcon began its six deployments; four Spaceflight customer spacecraft and two Spaceflight satellite carriers.
These carriers began their deployment sequences an hour and a half later and continued over the course of about three hours.
Several of the company's customers contacted their spacecraft before the first telemetry signal was received, which confirmed their separation and as the day wore on, customers reported contact with their spacecraft.
The most common question that the company has received since launch has been "How did it go?"
The short answer is 100 percent mission success since the system did all it was designed to accomplish.
The next question receoved is "How are the customers doing?"
Overall, they seem to be doing extremely well.
One customer was not deployed, as expected, because their payload was sealed inside their dispenser when they could not demonstrate adequate licensing.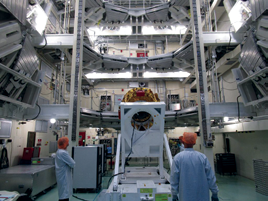 The company strongly suspects that a second spacecraft did not fully deploy from their customer-provided dispenser, which is still under investigation.
Currently, all but six spacecraft have been contacted by their owners and the hope is that the organizations continue to work to contact their spacecraft and will have success in the next few days as all objects are positively identified and labeled by the Combined Space Operations Center (CSpOC) established at Vandenberg Air Force Base.

This mission is the culmination of three years of work by the talented engineers at Spaceflight to enable access to space for more than 35 organizations in 17 countries around the world.
Although the firm's work on this record-setting mission is complete, the customers' work has just begun as they continue their early orbit operations and initiate the transition to operational status.
Spaceflight has more customers to launch, with the first commercial lunar lander mission in a couple of months plus a new contract to launch Brazil's first indigenous spacecraft, Amazonia-1, pictured to the left.
spaceflight.com/
---
New transmission gateway established between PSSI Global Services and Sydney Teleport Services
PSSI Global Services and Sydney Teleport Services (STS) have collaborated to establish a gateway between PSSI International Teleport (PIT) in Pittsburgh, Pennsylvania, and the STS teleport in Sydney, Australia — this connection expands both companies' broadcast footprints to cover the U.S., Europe and Asia-Pacific regions.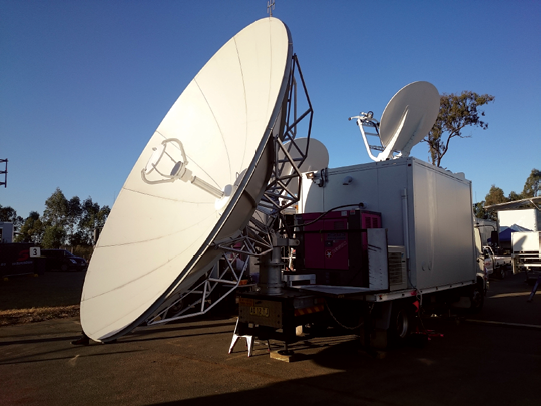 This new bidirectional connection means PSSI Global Services customers now have unique access to Asia-Pacific satellite fleets as well as STS's expansive fiber network, which reaches from the U.S. to Australia and the U.K.
Meanwhile, STS customers gain access to PIT's 50-plus antennas that support transmissions throughout the Americas and the production services at the PSSI Pittsburgh Videotech Center.
The gateway between the two teleports leverages PIT's dual 10 Gbps AT&T Global Video Services connectivity.
This high-capacity fiber network connects PIT to STS's point of presence (POP) in Los Angeles, California — and Nimbra units at both ends allow for fully programmable ASI and data connections.
PSSI Global Services and STS deployed the gateway in time to provide successful transmission services for the UFC 234 pay-per-view on February 10. The broadcast originated in Melbourne, Australia, and several pathways were carried between PIT and STS for distribution to international viewers.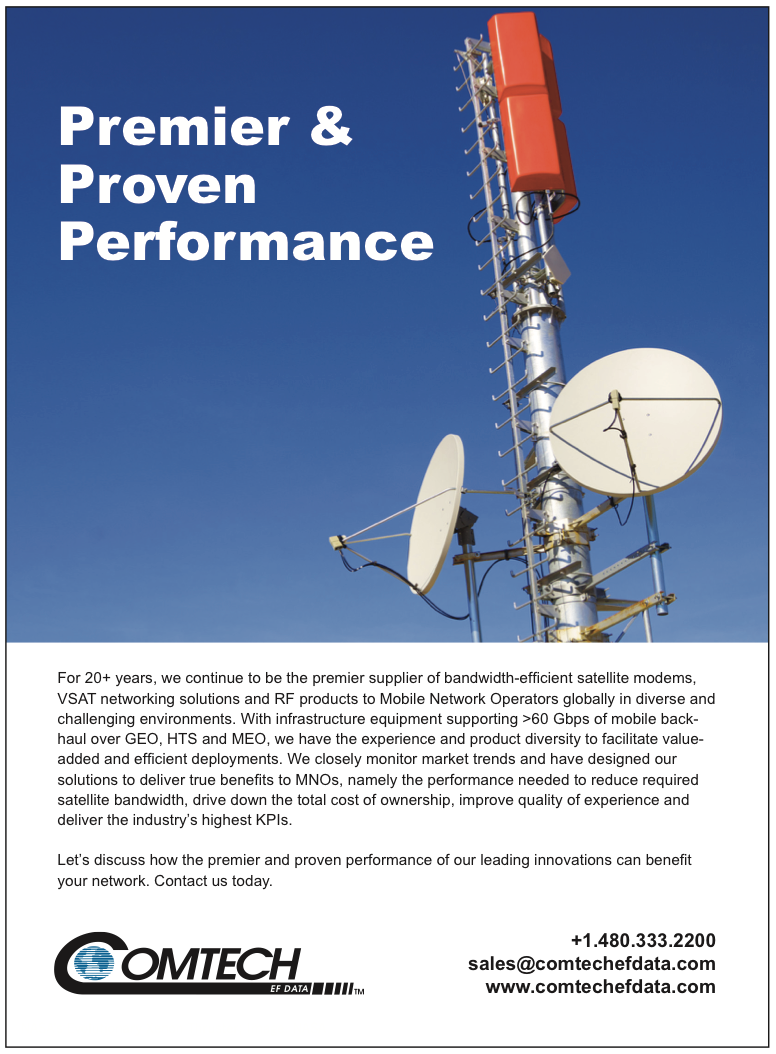 Jason Land, VP of PSSI Global Services' Strategic Television division, said that partnering with top-tier service providers like STS allows PSSI Global Services to deliver even more seamless, efficient, cost-effective solutions for our ever-growing global client base.
This new connectivity gives the company the ability to offer clients instant, scalable solutions for international distribution.
Scott Jenkins, MD at STS, noted that with this new circuit, the company is able to offer clients a breadth of exciting broadcasting options that weren't possible before — STS is proud to be partnering with a trusted industry leader such as PSSI Global Services.
www.pssiglobal.com
www.sydneyteleport.com.au
---
Blue Origin's New Shepard rocket successfully launches... and returns
Blue Origin's New Shepard reusable launch system was launched and landed at Blue Origin's West Texas Launch Site, on January 23, 2019, at 15:05 UTC (09:05 CST).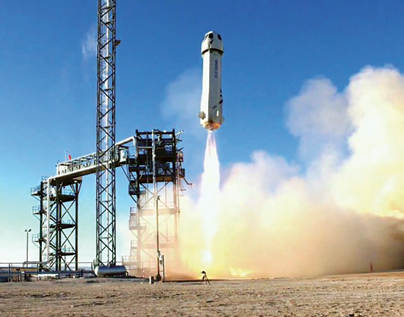 The return of the New Shephard rocket. Photo is
courtesy of Blue Origin.
This was the fourth mission, launch and landing, for this New Shepard launch vehicle. For Blue Origin's mission NS-10, the New Shepard Crew Capsule 2.0 transported nine NASA-sponsored research and technology payloads.
A video of the New Shepard launch is available at www.youtube.com/watch?v=YUzYCDbDlnc.
Blue Origin supports NASA's Flight Opportunities program and the agency's role in perfecting technology for a future human presence in space.
The NS-10 payloads:
• Carthage College Space Sciences Program: The Modal Propellant Gauging experiment led by Dr. Kevin Crosby is a joint effort with the NASA Kennedy Space Center Cryogenics Laboratory. It demonstrates a way to measure fuel levels in microgravity by using sound waves.
• Controlled Dynamics Inc.: The Vibration Isolation Platform (VIP) aims to separate payloads from the normally occurring vibrations experienced during spaceflight. The payload led by Dr. Scott Green allows researchers to have a clear understanding of microgravity's effects on their research results.
• Johns Hopkins University Applied Physics Lab: On its second flight with Blue, the EM Field experiment will observe and collect data on the naturally occurring electromagnetic fields both inside and outside New Shepard during the launch. Principal Investigator Dr. Todd Smith will use success of this experiment to determine how global measurements of the Earth's electromagnetic field can be conducted in the future.
• NASA Goddard Space Flight Center: Cooling tightly-packed electronics onboard a spacecraft can be challenging, and many solutions have not been able to undergo robust testing. Principal Investigator Franklin Robinson will test one of these solutions in his Flow Boiling in Microgap Coolers experiment.
• Purdue University: Dr. Steven Collicott's payload looks at Zero-Gravity Green Propellant Management Technology, which aims to help advance the use of a safer and more environmentally friendly rocket propellant by better understanding the fuel's behavior in microgravity.
• University of Central Florida: Two teams led by Dr. Josh Colwell and Dr. Addie Dove both have planetary science payloads on NS-10. The Collisions Into Dust Experiment (COLLIDE) aims to understand how dust particles react after surface contact during exploration missions to places such as the Moon, Mars and asteroids. The Collection of Regolith Experiment (CORE) addresses the unique challenge of collecting and analyzing material samples in microgravity.
• University of Florida: Dr. Rob Ferl and Dr. Anna-Lisa Paul are adapting technology designed for the ISS to suborbital uses with their experiment, Validating Telemetric Imaging Hardware for Crew-Assisted and Crew-Autonomous Biological Imaging in Suborbital Applications. By recalibrating the way data is collected, the experiment will enable more biological research on suborbital missions.
---
EgyptSat-A launched from the Baikonur Cosmodrome
The EgyptSat-A spacecraft has been launched from Kazakhstan's 'Baikonur Cosmodrome' space port, according to Egypt's
National television.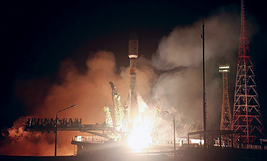 Egypt's third Earth Observation (EO) satellite was launched via a Soyuz-2-1b/Fregat rocket following the EgyptSat-1 spacecraft that was launched in 2007 and EgyptSat-2 launched in 2014.
According to statement issued by the Cabinet's Information Center, the satellite will be replacing the EgyptSat-2 EO satellite, which failed on-orbit in 2015.
The satellite, which cost approximately $100 million, weighs more than a ton, fully fueled.
EgyptSat-A incorporated several improvements over the EgyptSat-2 design, including improved solar batteries and a high-speed radio link with ground stations.
EgyptSat-A, which arrived to its designated orbital slot 11 minutes after launching, is expected to serve the environmental and agricultural sectors in Egypt.
Compared to EgyptSat-2, EgyptSat-A incorporates modernized electrical and flight control systems, an improved imaging payload, a higher-throughput communications system and more efficient solar arrays.
EgyptSat-A also benefits from being launched by a more powerful carrier rocket, that allowed the satellite to be placed into SSO that's more suited to Earth imaging than the lower-inclination orbit into which EgyptSat-2 operated.
The EgyptSat-A Earth's remote sensing satellite was developed by the Russian Energia Space Rocket Corporation along with Egypt's National Authority for Remote Sensing and Space Sciences (NARSS).
www.energia.ru
www.narss.sci.eg
---