SpaceX lands their Falcons after their Arabsat-6A launch
Last year's test with a Tesla sports car aboard a SpaceX heavy lift Falcon was bested on April 11 after the successful launch of the Arabsat-6A communication satellite aboard the new and improved Falcon Heavy, SpaceX's most powerful rocket with 27 engines.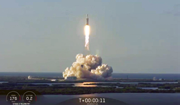 The engines, distributed to nine per booster, provided five million pounds of liftoff thrust and the launch occurred from NASA's Kennedy Space Center using the same pad that shot Apollo astronauts to the moon a half-century ago and, later, the space shuttle crews. The payload, the 13,200 pound Arabsat-6A satellite from the Saudi-led Arabsat consortium, headed into geostationary orbit to provide telecommunications services to the Middle East, Africa and Europe.
Just eight minutes after liftoff, SpaceX successfully landed two of the first stage boosters at Cape Canaveral Air Force Station in a side-by-side form at the company's Landing Zones 1 and 2 (LZ-1 and LZ-2) — the core booster returned two minutes later on the "Of Course I Still Love You" droneship located several hundreds of miles away in the Atlantic Ocean.

In an excited Tweet, Elon Musk sent out his message, "The Falcons have landed," a relief for Musk who cautioned in advance that things might go wrong. Falcon Heavy is designed to launch large commercial payloads into high orbits, take on heavy-duty national security missions and potentially power interplanetary missions as well.
Recently, the rocket has been given greater consideration by NASA for tasks such as sending a NASA probe to Europa, an ice-covered moon of Jupiter, or launching spacecraft with provisions that could eventually make their way to lunar orbit.
Khaled bin Ahmed Balkheyour, the President and CEO of Arabsat, said the company was thankful for the 6A satellite launch success, as this event was challenging for the firm and SpaceX due to this being the first largest and heaviest satellite lifted by SpaceX on the most powerful rocket in operation today, the Falcon Heavy — he added that this launch is considered a momentous leap in the field of commercial satellites manufacturing and launching.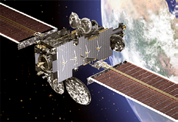 Artistic rendition of the Arabsat-6A
satellite on-orbit.
Arabsat-6A is a high-capacity telecommunications satellite that will deliver television, radio, internet, and mobile communications to customers in the Middle East, Africa, and Europe. Built by Lockheed Martin, Arabsat 6A is the largest and most powerful commercial satellite ever produced. The modernized LM 2100 includes several innovations that make the satellite more powerful, more flexible and more versatile in orbit. Arabsat 6A provides advanced Ka- spot beam communications services and Ku- and Ka-band coverages in addition to other frequency bands. The satellite will be located at Arabsat's exclusive orbital position at 30.5.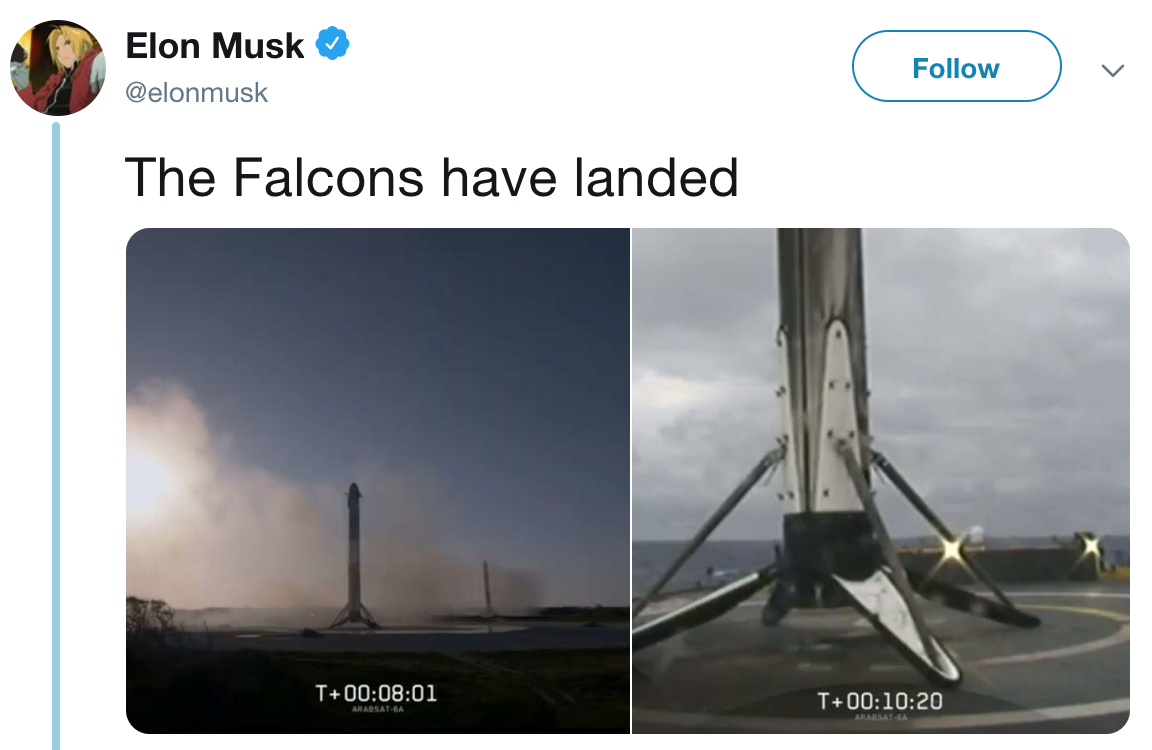 Arabsat's success during the past two months — the launch of HS4 satellite at 39 degrees East for Hellas Sat, an Arabsat subsidiary, last February, and this launch success — would not have been possible without the help of the hard working Arab engineers from Arabsat headquarters and the company's two ground stations in Riyadh and Tunisia, where those satellites are operated and controlled, noted Arabsat's President, who added that the company's engineers were fully involved in the design of these satellites and are owed all of the thanks and praise.
www.arabsat.com
www.spacex.com
---
UAE's Hope Mars Mission nearing build completion
The plan by the UAE Space Agency and Mohammad Bin Rashid Space Center (MBRSC) is to launch their Emirates Mars Mission known as Hope next summer via a Japanese H-2A rocket, with a Mars orbit being reached by December of 2021.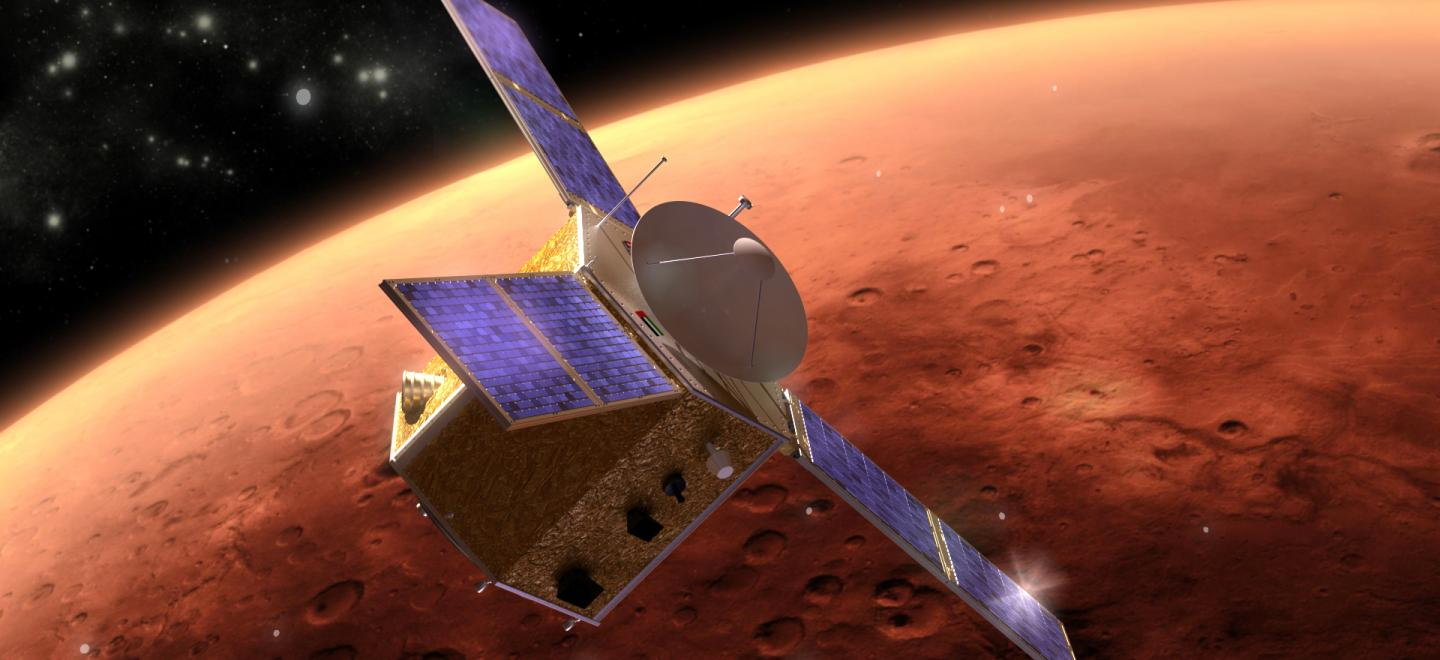 The 1.5 ton Hope Probe build is now 85 percent complete, according to the organizations, with the majority of the parts in place with the unit going through the testing process.
Major milestones that have been met during this process include the ability of the probe's to communicate with ground stations. Next up are the environmental tests, which are hoped to be concluded by December of this year. Aboard the Hope will be the fully completed...
• Emirates eXploration Imager (EXI): capture and delivery of high-resolution color images
• Emirates Mars Ultraviolet Spectrometer (EMUS): examination of temperature patterns, ice water vapor and dust in the atmosphere of Mars
• Emirates Mars Infrared Spectrometer (EMIRS): upper atmosphere analysis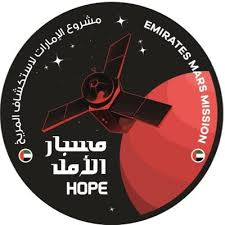 According to Dr. Ahmad Bel Houl Al Falasi, the Minister of State for Higher Education and Advanced Skills as well as the Chairman of the UAE Space Agency, the UAE is on the verge of making history, after turning the nation's dream of becoming the first Arabic and Islamic country to send a spacecraft to Mars into reality.
He added that this monumental endeavor is the culmination of the efforts of a skilled and experienced team of young Emiratis, who with the support of the nation and visionary leadership, will secure the UAE's position at the forefront of space exploration and the international space sector.
emiratesmarsmission.ae/mars-probe
---
Relativity's 3D printed rocket to launch mu Space satellite
Relativity has partnered with mu Space to launch a satellite to Low Earth Orbit (LEO) on Relativity's Terran 1 3D printed rocket.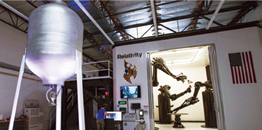 Relativity's patented 3D printing technology platform, together with Terran 1's flexible architecture, provides mu Space a faster and more reliable launch at a lower total mission cost, according to the company, than any other launch services company in the world. With this launch partnership, the two companies will share their expertise, resources and capabilities to transform the satellite launch and services industry across the U.S. and Asia-Pacific (APAC) regions.
Relativity is developing the first and only aerospace platform to integrate machine learning, software and robotics with metal 3D printing technology to build and launch rockets in days, instead of years, and that's disrupting 60 years of global aerospace manufacturing. The company expects to build its Terran 1 rocket from raw material to launch-ready in less than 60 days.
As an innovator in the Asia-Pacific and international arenas, mu Space is developing LEO and GEO satellite and space technologies that will accelerate the adoption of Internet of Things (IoT) devices in smart cities as well as encourage new space investments in the APAC region. mu Space's LEO satellite will be a primary, dedicated payload on Relativity's Terran 1 rocket, launching in 2022.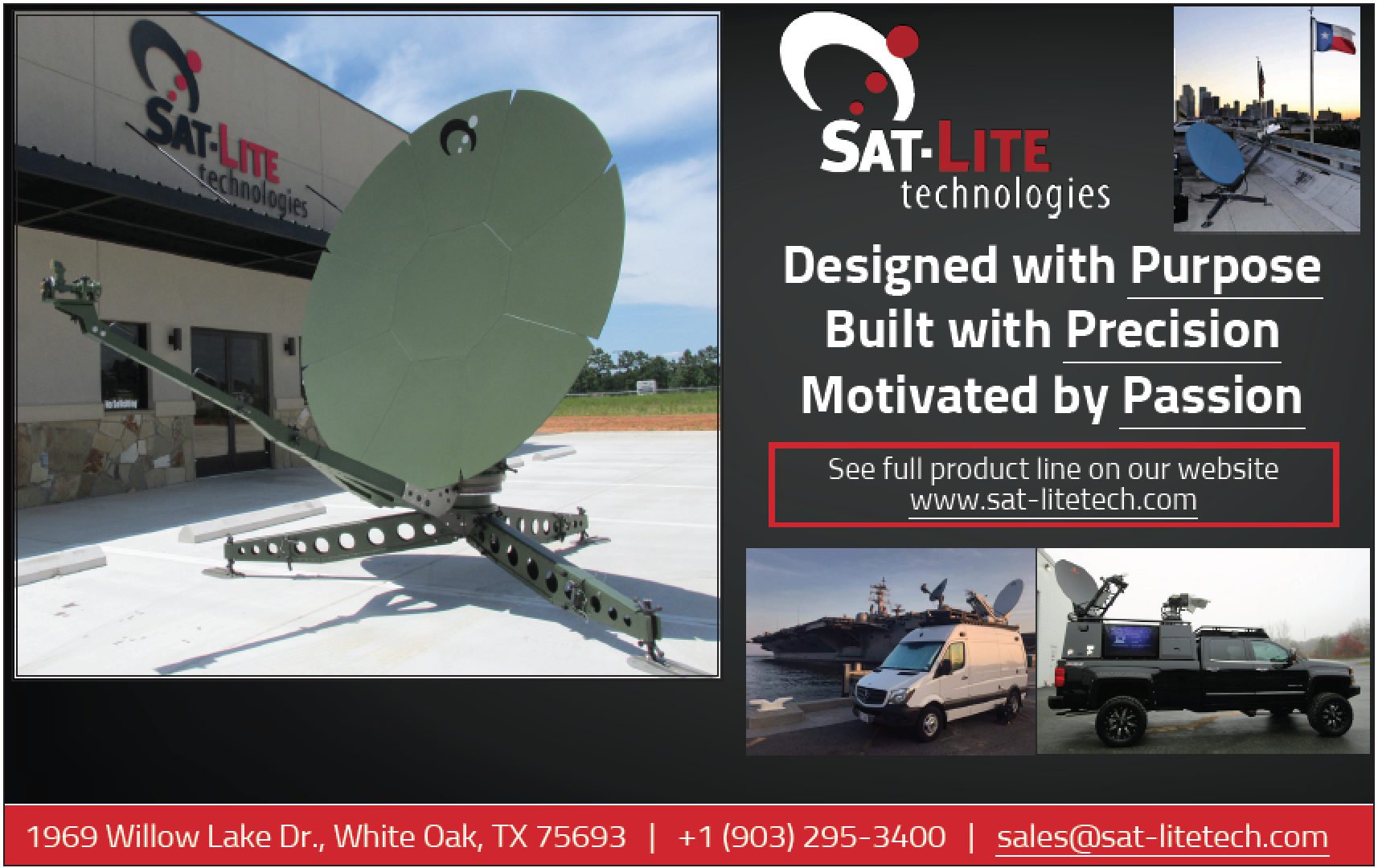 This partnership also progresses a long-term opportunity and shared vision toward building the future of humanity in space. Relativity plans to 3D print the first rocket on Mars and build an interplanetary society to expand the human experience. mu Space has a goal of developing space technologies to ensure safer lunar missions and to enable human settlement on the moon within the next 10 years.
Recently, Relativity announced a multi-launch contract with Telesat to support Telesat's LEO constellation. This was the first time Telesat, or any major global satellite operator, had selected a fully venture-backed aerospace startup for launch services. This partnership with mu Space further establishes Relativity's emerging leadership in the global satellite launch services industry. The company is on track to conduct its first orbital test launch at the end of 2020, and continues to grow a customer manifest of leading global satellite operators, commercial companies, and government payloads.
Relativity recently became the first venture-backed company to secure a launch site Right of Entry at Cape Canaveral Launch Complex-16 from the U.S. Air Force, adding to its portfolio of major government partnerships including a 20-year exclusive-use Commercial Space Launch Act (CSLA) agreement at the NASA Stennis Space Center E4 test complex, and membership on the National Space Council advising the U.S. White House.
The company is expanding its infrastructure this year with a fourfold expansion to over 350,000 square feet of operations, production, testing, and launch facilities, including securing a polar orbit capable launch site. Relativity's team has grown 6x in the past year, from 14 to
83 employees.
www.relativityspace.com
www.muspacecorp.com
---
NSR Communique: The impact of capacity pricing on M&A and investment decisions
The SATCOM industry today relies on five major
elements — Pricing (competition), Supply (indicating Asset worth), Demand (Growth), Break-even pricing (manufacturing innovation) and Ground System (efficiencies).
While the economics of demand growth and ground system efficiencies have been proven to be more linear in the last several years, the same cannot be said for Supply and Break-even pricing.
The latter two parameters have seen an exponential push in the past 10 years, widening the gap between supply-demand, whereas coupled with increased regional competition, pricing has undergone a steep decline in recent years.
The Global Mean Price Index, built from NSR's Proprietary Pricing tool in Satellite Capacity Pricing Index, 5th Edition, describes this rate of decline across key verticals in FSS and HTS.
Notwithstanding, as the 2018 to 2020e price graph dips, the Global HTS supply-demand gap in the next graph climbs from 50 percent in 2019 to 65 percent in 2021, and then closing out linearly until 2027.
Thus, the HTS Supply-Demand Gap, one of the key price pressure points for both FSS and HTS capacity peaks around 2021-22 time-frame, indicating a certain bottom pricing levels for GEO payloads.
Decreasing duration of contracts and further commoditization of capacity decrease the average price of lease capacity in the market as well impacting heavily on lease revenues, even if more demand can be generated through this elasticity.
With an average FSS Break-even price (lowest price for capacity without enduring a loss) of a satellite dropping from $1,500/MHz/month to $600/MHz/month, and with HTS
Break-even prices dipping from $28-60/Mbps/month in 2017 for large Consumer BB payloads to $12/Mbps/month by 2021, this timeframe will prove to be a litmus test for multiple operators.
The key question arises — How does one reduce the impact of pricing, and how does a company future proof growth? Is it through acquisitions?
Answering this necessitates to look at the change in current business models: Most operators are adopting service business lines in broadband, maritime or video, with a late surge coming in data segments as well.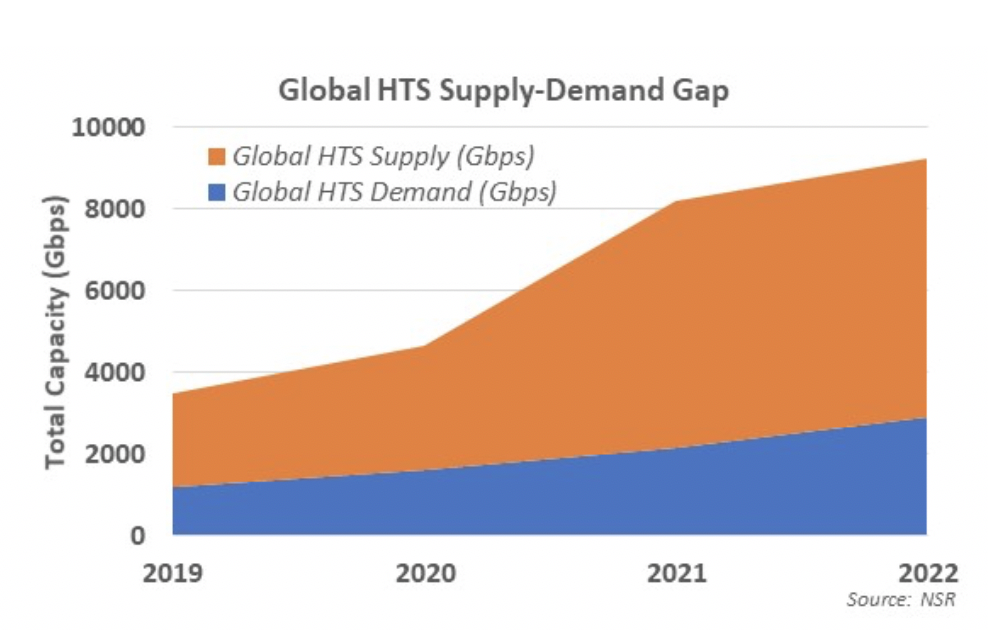 Expectation of 25 to 30 percent managed services revenue by 2021 from the operator industry in not unlikely, thus acting as a shield to accelerating price decline.
Preserving contract value via increased bandwidth consumption (with price reductions) has become a norm in 2018-19, showing partial elasticity in data, backhaul and maritime passenger segments.
Operators look to create captive growth markets undercutting competitors, and with interim CAPEX cycles ending, many operators are also creating favorable Net Debt/EBITDA positions to acquire other companies.
Growth through complementary mergers becomes straightforward, noteworthy with Inmarsat acquisition from PE investors, who unlike operators or service providers can shoulder a large cash burden to facilitate such scale.
Operators will look to invest to grow revenues via newer product lines capitalizing on HTS launches, entering into complementary service business lines, enter new markets via condosats or via incumbent-aided market entry partnerships.
Service Providers will look to invest to stabilize profitability and increase EBITDA via upstream fleet synergies (vertical integration possibilities), or horizontally consolidate to minimize competition in critical data centric growth markets.
Regional operators could most likely resort to down-pricing HTS capacity with expectations of elasticity from markets like South East Asia and Latin America, while strengthening their Mbps centric offerings through tech integration towards large customers.
Operators will look to build telco-like supply and distribution networks that enable recurring subscription retail models to ensure an efficient match between asset and revenue lifecycle, with duration of contracts tending to less than three months.
Non-GEO plans are expected to necessitate such models even further, due to shorter CAPEX cycles. Country-specific segment dominant (video/data/mobility) positions will be vital to stability for both operators and service providers, and coupled with service business line double digit growth, an increased competition may lead to a merger (vertical integration) towards 2021-22 between some companies.
Finally, cross-acquisition of satellites to support a segment specific dominant position for a service provider can't be ruled out, as the industry moves away from niche-lease plays to a more efficient pay-as-you-go business model.
With dynamics changing so fast, stakeholders will keep a close eye on the Pricing Index, complementary fleet synergies and distribution lines for a service provider, EBITDA margin recovery, and finally long-term sustainability of service business lines for semi-nationalized operators.
2021-22 may prove to be a litmus test for many companies, but it would also be an opportunity for a PE firm/Telco/Large Operator or SP to consolidate, streamline assets and build retail models.
Mobility and video services segments in developed regions, and data segments in under-developed regions may witness more such acquisitions or incumbent-aided market entries in the near to medium term.
www.nsr.com/research/satellite-capacity-pricing-index-5th-edition-2019/
Article by Gagan Agrawal, Senior Analyst, NSR
---
Kacific signs agreement to supply broadband via satellite to Tonga
Kacific Broadband Satellites Group (Kacific) has signed a 15 year agreement with Tonga Satellite Limited, a Tongan government company, to provide high speed broadband via satellite to the Pacific Island nation.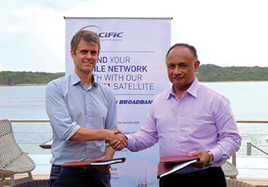 (L-R) Christian Patouraux, Kacific CEO and Honorable
Dr Tevita Tui'Uata.
The bandwidth supplied by Kacific's high throughput satellite, Kacific1, will be used to connect communities in 89 remote outer islands with high-quality internet that is equivalent to that available in the main cities of Tonga.
In the case of a fiber cable outage, similar to the one experienced over 12 days in January 2019, the satellite bandwidth can be redistributed and shared with Tonga's main centers.
The bandwidth supplied by Kacific will be focused on government infrastructure such as hospitals, health clinics and dispensaries, primary and secondary schools, police stations and post offices.
The bandwidth will also be used to support local businesses and foster the creation of new platforms for economic development, such as cooperative marketplaces promoted by Tongan government.
The Kingdom of Tonga is a Pacific Island nation with 36 inhabited islands of its 169 total islands. These stretch across approximately 800 kilometres of water. The population of just over 108,000 people, of which 82,000 are classified as living in rural areas, usually consume around 2.4 Gbps of broadband bandwidth.
The Honorable Dr. Tevita Tui'Uata, Minister for Commerce, Consumer, Trade, Innovation and Labor, said Kacific will provide a formidable platform to develop powerful e-government applications and ensure continuous improvement of these applications. The Kacific system is uniquely designed for the rural and remote areas of Pacific nations and beyond. It precisely meets the needs of Tonga to provide real universal access, finally completing full broadband access to all residents of Tonga, wherever they are located.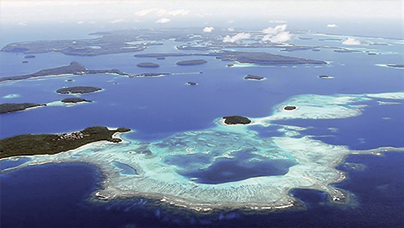 The Kingdom of Tonga is a Pacific Island nation with 36 inhabited islands of its 169 total islands.
He then stated that this system also uniquely provides backup to avoid deep digital disruption as has been observed in the recent fiber cut. The nation has seen, first-hand, the responsiveness and efficiency of the Kacific operations in such an event.
With this agreement, Tonga looks forward to moving these operations to the new powerful and Pacific-focused Kacific1 satellite
Christian Patouraux, CEO and Founder of Kacific said, the company's satellite technology is remarkably effective in providing low cost, accessible broadband to remote areas and fiber back-up for regional towns and cities.
Patouraux added that Kacific is pleased with this partnership with the Tongan Government which showcases how building infrastructure in rural areas can help provide urban areas with back-up connectivity options in case of fiber malfunction or natural disaster.
He noted that, until now, rural areas were depending on urban centers to distribute their bandwidth to them. With Kacific's solution for Tonga, urban centers need rural and remote areas in reciprocal cooperation to complete the urban infrastructure build up.
kacific.com
---