Yau Chyong Lim is Senior Director of Sales and Marketing at MEASAT, an emerging market satellite operator. MEASAT operates a fleet of C- / Ku-Band satellites that provide a range of satellite services to broadcasters, DTH platforms and telecom operators across Asia, the Middle East and Africa.
SatMagazine (SM)
Mr. Yau, would you please take the time to explain to our readers what your Company's presence is within the Asia-Pacific satellite communications and ancillary markets?
Mr. Yau
MEASAT is an emerging market satellite operator. Today we operate a fleet of C- / Ku-Band satellites to provide a range of satellite services to broadcasters, DTH platforms and telecom operators across Asia, the Middle East and most recently Africa. We provide basic satellite capacity and, working with a small number of strategic partners, to provide video and telecommunication solutions to end users.
SM

Why did your Company enter this market?
Mr. Yau
MEASAT has been in the market for more than 15 years. Whilst the company was initially focused on the South East Asian market, supporting the telecommunication requirements of Malaysia, through continued investments we have now expanded our footprint and customer base to evolve into a strong regional player focused on a small number of strategic customers segments.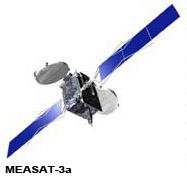 SM
Are you focused on any particular segments, due to their growth potential? (i.e., launch, manufacturing, teleport, security, milsatcom, imagery, satellite broadcast, and others.) What market segments do you believe are the most promising for your Company?
Mr. Yau
MEASAT focuses on a number of key markets where we believe we can provide a distinctive customer solution. A core part of our business is video, both in terms of DTH and video distribution services. We support four DTH customers across India, Indonesia and Malaysia, and a strong C-band video distribution neighborhood. We continue to see significant potential for these segments in the region supported by the growth of pay-TV platforms (DTH, IPTV and cable TV); demand for a broad range of linear and on-demand content; the availability of localized channels; and, the movement from Standard Definition (SD) channels to High Definition (HD) content. DTH is booming in the region. As an example, India is predicted to overtake the U.S. as the largest DTH market in 2012. We also see significant potential in Indonesia.
SM
What have been among your most successful projects for this market, and why?

Mr. Yau
One of the segments we have been particularly focused on over the last three (3) years is the HD distribution segment. Recognizing the potential of the segment in the region, we worked with players across the region to help create the right environment for successful HD adoption. From carrying the first regional HD TV Channel in 2007, we now support the regional distribution of 18 HD channels via our C-band platforms, a number that is growing monthly.
Being a very complex market, fragmented in terms of culture and language, we see more and more international channels in Asia developing country specific HD content to become more relevant for the local market. Local broadcasters are also looking to launch their vernacular channels in HD.
SM
The challenges are numerous for entry into, and for business sustainment within, this area of the world. What do you see as among the most formidable challenges to surmount?
Mr. Yau
As an industry, the satellite industry is incredibly challenging. A single satellite costs anywhere from US$200 to US$400m. It takes two to three three years to build, and includes a business case which stretches more than 15 years. In this type of industry, you need stability in your customer base to support the investment cycles needed. Adopting a very pragmatic approach, starting with a very focused way and then building on the success, MEASAT has managed to develop and build the stability required to allow us to continually support our customers.
As an example, from operating a single satellite at 91.5 degrees East providing four (4) DTH transponders to one market in 2000, we now operate two (2) satellites at the same orbital slot providing 36 DTH transponders to four (4) platforms. With the strength of this customer base, we are able to justify investments to support those customers in terms of both increasing number of transponders and increasing levels of in-orbit redundancy (critical for a DTH operation). We are currently in the process of securing a MEASAT-3b spacecraft to provide additional capacity to 91.5 degrees East. We see a strong demand for capacity on MEASAT-3b and expect it will be predominantly leased out before it is launched. As such, we're also evaluating the need for a MEASAT-3c satellite and will be addressing this possibility over the next six months.
SM
Given the state of the global economy, how do you rate the Asia-Pacific market as far as its viability for income generation and growth over the next year or two?
Mr. Yau
Given the long length of our contracts and the nature of our business, the industry tends to remain isolated from short term issues. Combine this with the continual growth of the Asian economy, the impact of the global credit crisis in the Asian industry has been limited. We have continued seeing very strong growth across all key market segments such as video distribution, DTH and Telco/VSAT in the Asia-Pacific region. We don't think there will be an impact in the short term period.
SM
How do you believe the Asia-Pacific market will impact global, as well as your Company's, business opportunities?
Mr. Yau
The Asian market is an exciting place to be. The long term prospects continue to be encouraging with continued growth of the television and mobile sectors and continuity of telecom/broadcasting deregulation.