WTA sizes the teleport market
The teleport sector has seen consolidation as companies build scale to gain cost efficiencies and improve their competitive position.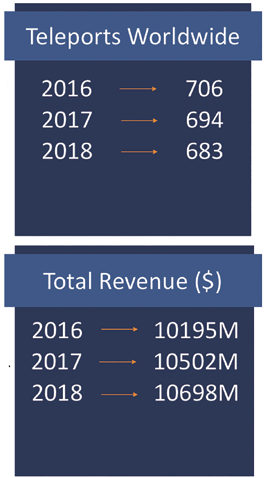 This has produced an industry that is smaller in the number of facilities it operates but larger in total revenues.
The number of commercial teleports worldwide has decreased by 3 percent from 2016 to 2018, for an annual average of 1 percent.
In 2010, WTA reported a worldwide commercial total of 996, representing an average 4 percent annual decline in facilities from 2010 to 2016. In that context, the 2016-2018 period saw a slower pace of consolidation in physical facilities.
Over the same period, however, estimated total revenues of the teleport sector grew 5 percent from $10.2 billion in 2016 to $10.7 billion in 2018. On that basis, average revenue per teleport rose 8 percent from $14.4 million in 2016 to $15.7 million in 2018. For the sector as a whole, consolidation did its job of creating fewer, more productive assets.
Consolidation has not been the whole story. In a mature technology market, mid-size companies become larger and the largest seek further increases in scale.
At the same time, however, new players enter the market to exploit new demand created by technology and market change.
The teleport itself undergoes radical change: packing far more services into fewer antennas, virtualizing operations into software that once required massive hardware investments, and substituting terrestrial networks for satellite distribution where they can.
Regional Overview
Europe and North America are home to the largest number of commercial teleports, with the geographically larger Asia-Pacific region coming in third. The number of teleports in the top three regional markets declined from 2016 to 2018, however, while Latin America and the Middle East/Africa logged corresponding increases.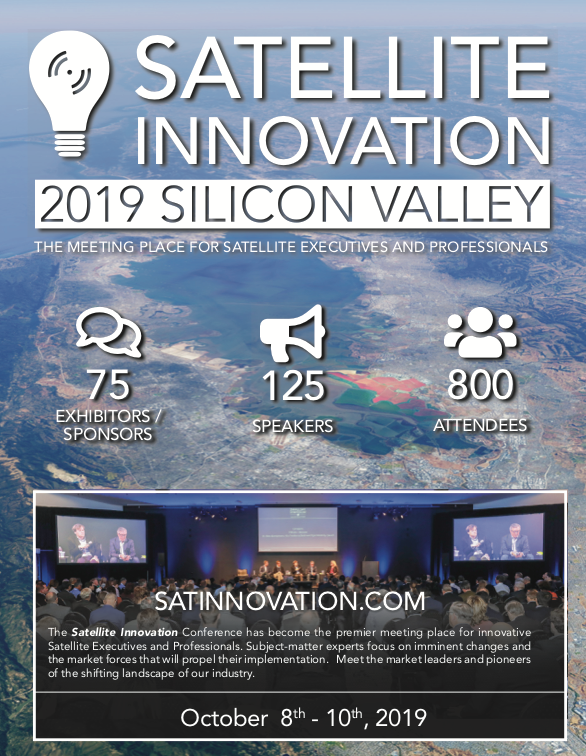 Changes in regional revenues were also in single digits. North American teleport revenues grew 6.6 percent over the period, while Asia-Pacific revenues grew 4.5 percent and European revenues grew 3.9 percent. Latin America grew 3.0 percent while Middle East/Africa achieved a nominal 0.8 percent growth even as the number of facilities increased.
CAPEX and Capacity Spending
Capital expenditures varied among the regions in proportion to the number of facilities. Europe and North America are the two biggest markets for capital equipment purchases, with Asia-Pacific a distant third.
On a global basis in 2017, the teleport industry purchased 222,400 MHz of satellite capacity, with the spending in proportion to teleport counts in the regions. Capacity usage rose an average of 7 percent from 2016 to 2018, as detailed in the infographic.
The global teleport industry spent $4.9 billion on capacity in 2016, rising to an estimate $5.3 billion in 2018. Spending on capacity increased during the period across all regions as teleport operators continued to make satellite a vital part of their network operations. Average spending on capacity grew 6.90 percent from 2016 to 2018.
Download the Report
For the complete report including global and regional breakdowns of teleports, revenues, capex, headcounts and antenna counts, go to...
www.worldteleport.org/store/ViewProduct.aspx?id=13793334.
---
Gilat gains leadership status for cellular backhaul shipments
Gilat Satellite Networks Ltd. (NASDAQ, TASE: GILT) has gained a global leadership position in shipping products for cellular backhaul over satellite, this according to Wireless Backhaul & 5G via Satellite – NSR report, 13 Edition, that was published in April 2019. Gilat achieved a 35 percent market share in modem shipments for cellular backhaul over satellite according to the NSR report.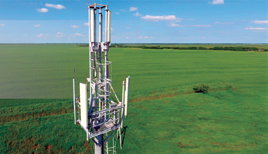 Market analysts are unified on the fast growing 4G/LTE satellite backhaul market. NSR reports the service, equipment, and capacity for this market at $820 million in 2018 with an expected growth to $3,790 million by 2028.
NSR further reports that bandwidth pricing efficiencies will contribute to a growing demand for differentiated managed service solutions in rural areas, providing growing opportunities in the industry.
Gilat's cellular backhaul leadership is most noteworthy with tier-1 MNOs deploying LTE networks throughout the globe. Such deployments include T-Mobile and Sprint in the United States, EE/BT in the UK, SoftBank and KDDI in Japan, Telstra and Optus in Australia, and Globe in the Philippines. Gilat has deployed full turnkey solutions providing managed services in numerous deployments in America and Asia.
Lluc Palerm, Senior Analyst at NSR, reported that with their innovative technology, Gilat has been able to lead the way for 4G over Satellite with deployments for Tier-1 operators of unprecedented sizes in the satellite space. As MNOs continue upgrading its rural networks into 4G, and eventually 5G, Gilat is strongly positioned to continue experiencing growth in Backhaul.
Gilat technology is becoming a key tool for its network of partners to capture growth: MNOs experience extended reach adding new subs economically, satellite operators see growth in capacity leases as 4G services over satellite are enabled, and services integrators can tackle new customers with Gilat's powerful network management tools. This translates into Gilat achieving the first position in modem shipments in Cellular Backhaul with a 35 percent market share in 2018.
Asaf Jivilik, Head of Marketing and Business Development at Gilat, noted that providing end-to-end cellular backhaul solutions over satellite is a strategic focus area for Gilat, and the company is pleased with NSR's recognition of Gilat's global leadership in this important market segment. Gilat's future-ready cellular backhaul solution positions Gilat for further success and supports our vision of providing affordable, plentiful, high quality broadband connectivity.
gilat.com
nsr.com/research/wireless-backhaul-5g-via-satellite-13th-edition/
---
Datum Systems names David Koblinski to lead the company
Datum Systems has appointed David Koblinski as the company's President and General Manager — additionally, the company is on the move to Mesa, Arizona, (in the Phoenix metropolitan area). The founder and former President, Michael Boutte, will continue supporting Datum in the role of technical advisor.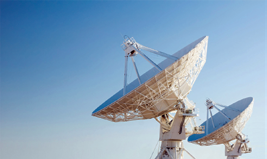 Datum's HQ move follows a decade-long existing R&D presence in the Phoenix area, known for its history as a development hub for SATCOM technology.

David Koblinski served as Datum VP of Business Development for more than 10 years in Phoenix, from where Datum successfully launched the M7 Series modem platform, engineered for carrier efficiency and flexibility to support FSS and High-Throughput Satellite (HTS) networks.
Major players worldwide, including global satellite service providers, fixed/wireless telecom operators, government and MILSATCOM users, connect using M7 proprietary and standard DVB-S2X modem modules to affordably meet needs of high-speed connectivity and network flexibility.
Prior to joining Datum in 2008, David served as General Manager for Radyne Corporation. As a satellite industry veteran with more than 35 years of experience in the business, with strong focus on SCPC technology and markets, David Koblinski will be responsible for leading Datum through the new SATCOM era of multi-orbit, multi-band high-throughput networks (HTS), GEO/MEO/LEO satellite constellations and spectrum management.
David Koblinski said he is excited to take on these new responsibilities in Phoenix, where the company will leverage the area's specialized resources to take Datum to the next level. The role of General Manager is not new ground for him, given the similar responsibilities he has previously held in the industry.
datumsystems.com/
---
Comtech EF Data expands their Heights™ networking platform
Comtech EF Data Corp., a subsidiary within Comtech Telecommunications Corp.'s (NASDAQ: CMTL) Commercial Solutions segment, has expanded their Heights™ Networking Platform product line to add a new, low-cost, high-performance remote gateway, the H-Pico Heights™ Remote Gateway ("H-Pico").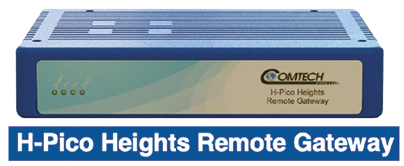 The H-Pico will address CAPEX-sensitive end users while retaining Comtech EF Data's position as the high-performance, Very Small Aperture Terminals ("VSAT") solution.
H-Pico supports multiple remote to hub throughput tiers up to 10 Mbps, which is managed via a centralized licensing capability.
This scheme allows users to standardize on a single remote platform for low to medium capacity sites, simplifying stocking and sparing.
Additionally, H-Pico supports inbound hub to remote symbol rates up to 500 Msps with standards-based DVB-S2X MODCODs supporting up to 256QAM.
H-Pico incorporates a quad-core processor enabling high efficiency and throughput with multi-layer optimization. The increased EIRP and G/T performance of new High Throughput Satellites ("HTS") spacecraft allows for significantly higher user capacity.
This increased capacity cannot be met if the underlying packet processing is not able to keep up with the increased traffic flow.
H-Pico can support demanding user applications in a HTS environment enabling service providers to take full advantage of these new HTS designs and grow service levels as end users' demands grow.

Purpose-built to unleash the potential of these tight spot beams, Heights remote gateways provide the strongest processing performance, maximizing user IP bits per Hz while realizing significant gains in user IP bits per Amplifier Watt.
The Heights™ Networking Platform combines Comtech EF Data's most efficient waveforms, Heights™ Dynamic Network Access ("H-DNA"), header and payload compression engines, WAN optimization, multi-tier Quality of Service, proven dynamic bandwidth and power management along with bi-directional Adaptive Coding & Modulation ("ACM") capability to provide the highest user throughput, highest availability, and most optimal resource utilization available in the industry.
Heights meets the demands of those operating on traditional wide beams while providing distinct advantages for those using or considering migrating to HTS in their future.
Heights can economically scale from tens to thousands of sites.
The platform leverages a single comprehensive user interface teamed with a powerful traffic analytics engine that allows users to easily design, implement, monitor, control and optimize networks. The result is an elevated Quality of Experience for end users.
Louis Dubin, SVP, Product Management and Marketing, Comtech EF Data said that this latest addition to the company's Heights™ Networking Platform product line will provide cost-effective, high throughput capabilities to support increasing end user traffic demands.
Dubin added that the flexibility provided by the multiple transmit throughput tiers combined with the high-performance waveforms and multi-layer optimization makes H-Pico the ideal choice for a range of applications – mobile backhaul, offshore communications, latency sensitive business applications, IP trunking and Internet access, satellite news gathering and content distribution networks.
www.comtechefdata.com/files/ds-H-Pico.pdf
www.comtechefdata.com/products/heights-networking-platform
---
Helical Communications Technology launches their first antenna for Hiber satellite
Helical Communications Technology (HCT) recently achieved the status of "Flight Heritage Status" when their custom-built Quadrifilar Helical Antennas was launched as part of Hiber's smallsat mission.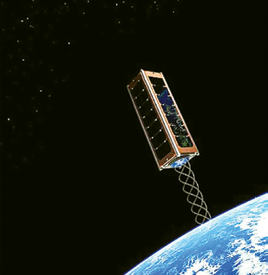 Artistic rendition of the deployed HCT antenna. Image
is courtesy of Helical Communications Technology,.
The first two were launched into space at the end of 2018 from Vandenberg Air Force Base in California and the Satish Dhawan Space Centre in India — few private companies have reached this milestone.
Founded in 2013 by Salvatore Bologna and Gregory O'Neill, HCT began researching and designing a unique omni-directional antenna for smallsats that capture a much larger footprint of geography and topography on the Earth.
Within four years, HCT had developed a design that can be scaled depending on the customer's requirements to have a wide range of circularly polarized antenna patterns.
Hiber, based in Amsterdam, contracted with HCT to send their smallsats on this mission with the objective to offer IoT connectivity to the 90 percent of the world that currently lacks access to a network.
The company expects to launch multiple smallsats within the next year to keep up with customer demand.
The Helios Deployable Antenna is developed for small satellite applications and features a Quadrifilar Antenna with an electrically-powered method of deployment.
HCT designed the custom-built "quadrifilar" helical antennas at their Rockledge-based operations and shipped them to the Netherlands, where Hiber is based.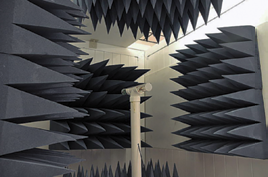 HCT's Anechoic Chamber.
Hiber then shipped the smallsats to their launch destinations in California and India.
In remote regions and developing countries worldwide, subscribers purchase a low-cost modem that is then integrated with existing connected technology devices and allows them to connect to Hiber's IoT network.
The goal is to have a constellation of dozens of satellites to enable customers to send SMS-sized messages in real time from IoT devices, such as sensors on fishing vessels or monitoring devices remote devices in locations such as Antarctica.
In 2017, HCT was selected for the NASA Technology Docking Program, a unique arrangement from the agreement between the Economic Development Commission of Florida's Space Coast (EDC) and NASA that awards select companies the opportunity to work with a NASA subject matter expert to review any technology hurdle they may be encountering. Typically only five companies are selected each year. The EDC is the only EDO in the country that offers this service to their local companies.
HCT's offices in Rockledge, Florida, also contain an anechoic chamber for testing radiation patterns without
echo effects. Manufacturing is strictly completed locally in Brevard County Florida to maintain top quality and frequent inspections.
The company has plans to ramp up production rapidly as customer orders increase.
HCT expects a significant upsurge in sales due to market expansion over the next two years as their patented technology is unique, will be manufactured at a lower cost and can be custom built to scale locally depending on the application in any quantity.
Salvatore Bologna said this flight heritage milestone opens the company's doors for more companies wishing to launch satellites into LEO in the future. The opportunity to offer daily internet access via modems located in remote regions of the world transmitted to Earth-bound, existing satellite stations is remarkable. HCT is proud to have been part of this much needed solution."
Gregory O'Neill added that it t is an honor and privilege to work with a company such as Hiber, who possess strong business ethics. The company anticipates a long and successful relationship with them as they move forward to provide internet connectivity to millions of people who lack that ability in areas where cable connectivity is simply not a realistic option.
www.helicomtech.com/
---
Double debuts from IEC Telecom feature Thuraya comms technologie
IEC Telecom is bringing flexible and cost-effective, high speed connectivity to the fast-growing Asian offshore market using Thuraya's VSAT+ service — the company launched this service in response to growing demand for reliable, higher bandwidth solutions to meet the needs of the offshore oil and gas sector.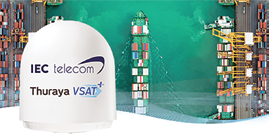 Available for the first time in this region, Thuraya VSAT+ is a comprehensive maritime communications platform for vessel management and crew welfare needs, providing quasi-global coverage for a wide range of vessels and offshore operators. A wealth of value-added services from IEC Telecom enhance this package, while competitive tariffs, flexible contracts and IEC Telecom's back-up services provide the perfect solution for the offshore support sector or for short-term projects.
Thuraya VSAT+ combines the high throughput of Ku bandwidth (up to 4 megabits per second) with the resilience of L-band to provide a fast and secure high bandwidth with a resilient back-up.
In addition, IEC Telecom has developed its own One Gate Solution to provide first-rate cyber security while allowing ease of control of VSAT+ assets. One Gate allows easy internet access for crew members and contractors and helps to maximize workflows while maintaining the highest levels of security.
For offshore companies, IEC Telecom's Thuraya VSAT+ service provides traffic optimization for a better user experience and flexible tariff plans with no yearly lock-in commitment. The company provides the same flexible contracts for its global coverage maritime sector services, as well.
Launching the IEC Telecom Thuraya VSAT+ service to the Asian market during the recent Sea Asia 2019 event, Nabil Ben Soussia, VP, Maritime, at IEC Telecom, noted that recognizing the need for a flexible, high speed solution for the growing offshore sector, the company has worked side-by-side with Thuraya to develop this product tailored for offshore companies. The product has been well-received in the Middle East and IEC Telecom is now delighted to bring this solution to Asia as it offers a real alternative and will transform satellite communications provision for offshore customers.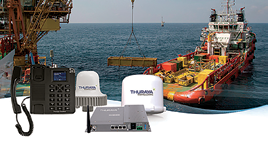 Kenny Koh, Managing Director at IEC Telecom Singapore, further explained that through this partnership, the company is confident that this service will further enable the digital oil and gas revolution. Telecommunications of this level, with unique tariffs and back-up solutions, enable operators to save money by reducing operational costs, through the ability to undertake tasks online such as logistics and maintenance, while also being able to provide crew welfare services such as remote training, telemedicine and internet/messaging abilities.
Nadeem Khan, Director, Maritime M2M & IoT, at Thuraya, added
that by appointing a highly experienced, capable partner with wide geographical reach as this Master Distributor for VSAT+, Thuraya is simplifying the proposition for resellers to offer high-quality services with no investment in the infrastructure. This is a win-win partnership founded on creating new opportunities for the
maritime industry.
Additionally, IEC Telecom has launched their Orion Edge+ satellite voice and data communication solution. Orion Edge+ provides high quality, reliable broadband with the ultimate cost effective operational benefits. It also provides flexible data plans with no long-term commitment. This flexibility makes Orion Edge+ ideal for busy offshore support vessels, tugs, and oil and gas contractors.
Powered by Thuraya's Orion IP broadband and Thuraya's Seastar circuit switched voice terminal, the Orion Edge+ solution offers high quality voice and data services bundled with consumption monitoring tools and controlled welfare applications – all regardless of vessel size.
Orion Edge+ is available through monthly plans with no long-term contractual commitments. Specialized hardware offered by IEC Telecom keeps upfront costs low and provides full visibility for management control, both onboard and onshore. Orion Edge+ is equipped with Wan Optimizer, enabling TCP acceleration and bandwidth optimization.
Crew welfare needs are enhanced by local WiFi management which enables vessel and offshore platform managers to provide crew with access to social media platforms and the internet, with safety maintained by high level security systems. Access is granted via an advanced captive portal and consumption can be managed via vouchers or scratch cards for crew members. Thanks to IEC Telecom's integrated solutions, this is possible even for small vessels that cannot accommodate a VSAT antenna.
Nabil Ben Soussia, VP, Maritime at IEC Telecom, said that this is a brand new, optimized voice and data solution, engineered by IEC Telecom and powered by Thuraya Telecommunications, that enables small boats to enjoy the high bandwidth that was previously available only to VSAT users. This game changer is designed to meet the requirements of short-term projects with flexible data plans, no long-term commitment, and zero upfront cost.
IEC Telecom also recently entered into a win-win partnership with Thuraya Telecommunications to commercially offer Thuraya VSAT+ across Europe, Asia-Pacific (APAC) and Middle East and Africa (MEA). This innovative solution ensures optimum flexibility of satellite service and is scalable to meet global and regional needs for essential communications such as voice calls, email and position reporting, and for high-bandwidth requirements.
iec-telecom.com
thuraya.com
---