The Satellite Industry Association has recently released an updated version of its 2013 comprehensive study of satellite industry data. This 2013 report, performed by The Tauri Group, looked at over 80 key companies worldwide—including all SIA members—and added market analysis and financial reporting to publish an in-depth analysis of the industry.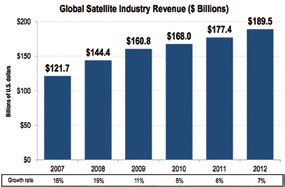 The study is based on year-end 2012 data from major players, representing four satellite industry segments. Here's some data contained in this report.
Overall, the satellite industry revenue was $189.5 billion in 2012, a 7 percent growth that followed a +6 percent in 2011. Forty-four percent of this revenue was earned in the US.
This industry is at the crossroads of both the global telecommunications and space industries. There are more than 1,000 operating satellites, 38 percent being in use for commercial communications and 16 percent used for government communications. Smaller categories range from navigation to remote sensing and military surveillance.
All four segments surveyed posted growth. Satellite services (the largest segment) grew by 5 percent in 2012. Satellite manufacturing grew by 23 percent. Launch industry revenues rose by 35 percent while ground equipment revenues increased by 4 percent.

Looking at the long-term trend, Global satellite industry revenues have tripled since 2001, from $64B to $189B. That's an average 10 percent growth per year, with Satellite Services rising from 50 to 60 percent of all revenues in this period. Satellite manufacturing + launch industry went from 20 to 11 percent. Ground equipment remained stable at 10 percent.
Much can be said regarding each of the four segments.
Satellite Services include different categories: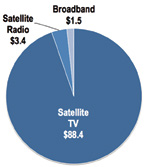 – Consumer Services (satellite television, satellite radio and
satellite broadband)
– Fixed Satellite Services (transponder agreements, managed network services including spaceflight management services)
– Mobile Satellite Services (mobile data + mobile voice)
– Remote Sensing/Imaging Services
Satellite services revenues went up 5 percent in 2012 (following a 6 percent growth in 2011) to $93.3 billion. This is by far the biggest segment of the industry, with almost 50 percent of its revenues. Some key data on consumer services:
Satellite television services account for more than 80 percent of all satellite services revenues, and 95 percent of consumer revenues. Increasing numbers of High Definition Television (HDTV) and cable distribution channels continued to drive revenues for satellite payTV, with subscribers up 4 percent driven by growth in emerging markets in Europe and Asia. The total number of subscribers is now over 160 million worldwide. Forty percent of this revenue is attributed to the U.S.

– Satellite radio revenues grew by 13 percent in 2012 to nearly 24 million subscribers, mainly in the US.
– Satellite broadband service revenues increased from $1.2 billion in 2011 to $1.5 billion in 2012. Customer base grew 10 percent in 2012, with over 1 million subscribers (mostly in the U.S.). Interestingly enough, subscriptions grew for both established services and several new ones which entered operations in 2012.
Fixed satellite services grew 4 percent, with transponder agreements revenues up 3 percent and managed services revenues up 7 percent, slightly slower than last year's 10 percent growth.
Mobile satellite services grew 3 percent, with mobile satellite voice revenues remaining flat while mobile satellite data grew 5 percent (compared to 4 percent in 2011). This confirms that as far as MSS are concerned, the future growth will be driven by data and IP applications such as VoIP and web services. Voice remains strong but is no longer a growth factor. In fact, even if the number of minutes consumed might go up, the associated global revenue will not.
Remote sensing revenues grew 20 percent. This specific segment, while still small, posted a high growth. Hopes are high for the next couple of years with markets ranging from utilities to offshore platforms to name just a few.

U.S. government spending drove growth in 2012, along with better-than-expected performance from industry leaders
Satellite Manufacturing
2012 revenues totaled $14.6 billion (+23 percent vs 2011), with a U.S. market share nearing 60 percent. That's strong growth but it also confirms the lack of global trends in this industry, with ups and downs in the last few years. While revenue grew, fewer satellites were launched in 2012 (81) than in 2011 (90). Revenue growth was driven by a greater number of higher value satellites.
Looking at the number of spacecraft launched, Commercial or Civil/Military communications satellites accounted for 50 percent of all launches. However, by value, communications satellites represented 67 percent of satellites launched in 2012 (37 percent commercial and 30 percent Civil/military).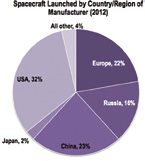 The U.S. had a 67 percent share of the 2012 Commercial Satellite Manufacturing Orders (12 commercial GEO satellites ordered to US-based companies out of a total of 18 ordered worldwide). U.S. satellite manufacturing revenues increased 31 percent in one year. U.S. firms built one-third of the spacecraft launched in 2012 and 61 percent of U.S. satellite manufacturing revenues came from U.S. government orders.
As far as manufacturing trends and innovation are concerned, it is worth mentioning:
– High throughput satellites (HTS) combine the use of several technologies for far greater efficiency, including frequency re-use, spot beams, and on-board processing to maximize available spectrum, primarily in Ku- and Ka-band. 23 HTS have been ordered and/or are being manufactured and 20 of those are already on orbit. This technology is increasingly popular with networks being set up by companies such as Eutelsat, Yahsat or Inmarsat for Ka-band. The next few years will witness a stiff competition in this market and its success on different kinds of applications (maritime, business …) is closely monitored by analysts and the big players, given the heavy investments made.
– All-electric propulsion provides a significant reduction in satellite weight, but requires more transit time to reach final orbit. For the first time, orders were placed for all-electric propulsion commercial GEO communications satellites in 2012

Launch Industry
This industry segment includes Launch Services and Launch Vehicles, for a total of $6.5 billion in revenues in 2012, a 35 percent increase since 2011 that followed a 10 percent growth in the previous year. This is a significant number as we have to go back to 2008 to witness a more that 20 percent growth in this category. The 2009 to 2011 numbers had been rather stable around $4.5 billion, with either positive or negative growth in those complicated times in the global economy in general and in this industry too.
U.S. market share was 35 percent of global revenues, derived almost entirely from launches of U.S. government satellites. Government customers remained the major satellite launch revenue driver in 2012, accounting for 64 percent of commercially-procured satellite launch revenues (up from 59 percent).
Despite fewer satellite launches in 2012, revenues grew due to more launches of larger and more expensive vehicles. The number of commercially-procured satellite launches remained relatively stable, with 52 launches occurring in 2012 as compared to 56 launches in 2011.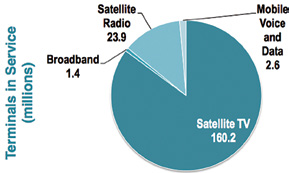 Orders to launch 25 commercial satellites were placed in 2012. Eight satellite launch orders were won by U.S. companies (up from only 3 in 2011). Europe retained the largest share of commercial launch orders.
Ground Equipment
Ground Equipment encompasses Network Equipment and Consumer Equipment.
– Network Equipment is: Gateways, Network Operations Centers (NOCs) and Control stations, Satellite News Gathering (SNG) equipment, flyaway antennas and Very Small Aperture Terminals (VSATs)
– Consumer Equipment is: Satellite TV dishes, Satellite radio equipment, Satellite broadband dishes, Satellite phones and mobile satellite terminals, Satellite navigation stand-alone hardware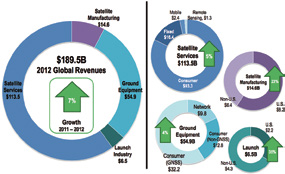 Global satellite ground equipment revenues increased 4 percent overall in 2012. Network equipment revenues grew 17 percent, driven by VSAT sales. Satellite TV, broadband, radio, and mobile voice and data equipment revenues grew 5 percent.
The number of terminals in service grew across all segments in 2012.
Satellite navigation equipment represents nearly 60 percent of overall ground equipment revenue.
A Positive Year
Overall, 2012 has been a positive year for all segments of the satellite industry, paving the way for 2013 and beyond. The main indicators mentioned in this study can be found below in a quick summary of the current state of the satellite industry.
The full report, prepared by the Tauri Group (http://space.taurigroup.com/), is available on the SIA's website (http://www.sia.org/wp-content/uploads/2013/10/2013_SSIR_Final_Oct.pdf).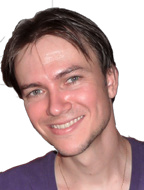 About the author
Alexandre Joint is Group Telecom Billing Manager of the IEC TELECOM GROUP. In this position, he handles projects lifecycle management related to billing, airtime management and prepaid/postpaid service provisioning. This role includes internal and external requirements gathering, solutions implementation and development of techniques to improve engagement productivity, increase efficiencies, mitigate risks, resolve issues and optimize cost savings. An important part of this task is also about building synergies, team management and matching the needs of customers, staff and solution providers.
Prior to IEC TELECOM GROUP, Mr. Joint worked in a variety of positions, from Director, Marketing and Communications of a public shipping company to Support and Help Center Manager of a start-up company he co-founded in the web and GSM industry.During his 6 years with the IEC TELECOM GROUP, he held various positions from marketing to information systems manager for the Paris-based branch, to Telecom Billing Manager for the group.
The author's email address is alexandre.joint@iec-telecom.com