SpaceX sends Israeli lunar lander, the Nusantara Satu satellite and an AFRL smallsat to their destinations
On Thursday, February 21, SpaceX launched the Nusantara Satu satellite from Space Launch Complex 40 (SLC-40) at Cape Canaveral Air Force Station, Florida, at 8:45 p.m. EST, or 1:45 UTC.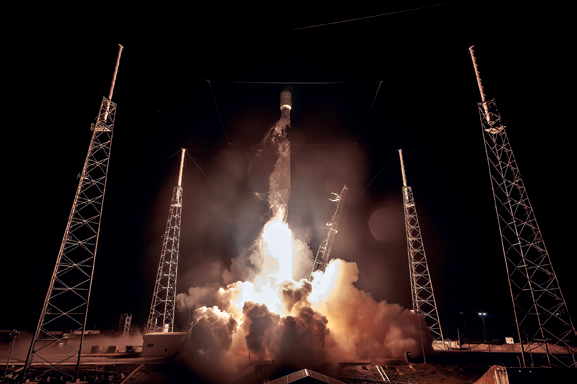 The liftoff of the PSN6, SpaceIL and AFRL payloads aboard
the company's Falcon 9 rocket. Image is courtesy of SpaceX.
The Falcon 9 launch vehicle also delivered the SpaceIL Beresheet craft — the first privately funded lunar lander — to space as well as the experimental U.S. Air Force Research Laboratory (AFRL) S5 smallsat to orbit.
Deployments occurred at approximately 33 and 44 minutes after liftoff.
The Falcon 9 rocket's first stage for this mission had previously supported the Iridium-7 mission in July of 2018 and the SAOCOM 1A mission in October of 2018.
Following stage separation, SpaceX landed Falcon 9's first stage on the "Of Course I Still Love You" droneship, which was stationed in the Atlantic Ocean.

A replay of this important launch may be viewed at: youtu.be/XS0E35aYJcU
The Nusantara Satu satellite was built by SSL using the company's nexgen electric propulsion system for PT Pasifik Satelit Nusantara — PSN — a provider of SATCOM telecom services in Asia.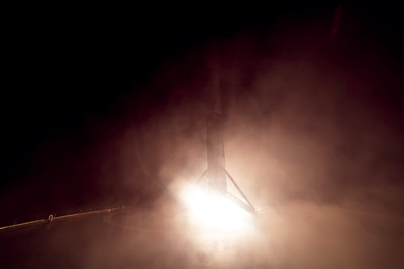 Falcon 9 first stage landing on the "Of Course I Still Love You"
droneship, completing this booster's third launch and landing.
Photo is courtesy of SpaceX.
The C- and Ku-band transponders aboard this satellite will be used for voice, data and video distribution throughout Indonesia.
The U.S. Air Force's Air Force Research Laboratory (AFRL) brought their experimental smallsat to this launch as a rideshare payload. Known as the S5, this smallsat was developer and integrated by Blue Canyon Technologies and is scheduled for a mission lasting one year.
Israeli nonprofit SpaceIL and Israel Aerospace Industries (IAI) announced Beresheet communicated for the first time with the mission's control center in Yehud, Israel, at 9:23 p.m. ET and the spacecraft's legs deployed two minutes later.
Once Beresheet ("in the beginning") completes its lunar mission, Israel will join superpowers China, Russia and the United States in landing a spacecraft on the moon.
The spacecraft successfully disengaged from the SpaceX Falcon 9 at around 60,000 kilometers above Earth's surface, and started, under is own power, a two-month voyage to the Moon's surface.
---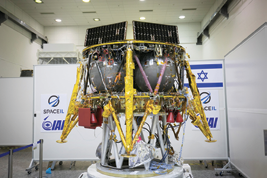 The Beresheet spacecraft in the clean room during its
construction. Photo is courtesy of Alan Polo.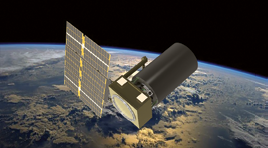 Artistic rendition of the AFRL's S5 smallsat. Image is
courtesy of Blue Canyon Technologies.
---
The engineers at the SpaceIL and IAI control room conduced numerous on-orbit tests and identified high sensitivity to blinding by the sun's rays in the star trackers and that issue is being throughly checked.

Artistic rendition of the Nusantara Satu
satellite, manufactured by SSL.
The spacecraft conducted its first maneuver around Earth two days after the launch.
Morris Kahn, President of SpaceIL, said the successful launch positions Israel on the map. History has been made. The company looks forward to an amazing seven week journey that will mark yet another historic even and the company thanks the amazing teams of SpaceIL and IAI. Israel is now on the space map.
www.spacex.com
www.spaceil.com
www.wpafb.af.mil/afrl/
www.sslmda.com
bluecanyontech.com
---
Beam Budget tools debuts from Integrasys
Integrasys has launched the firm's new, easy-to-use, link budget tool — Beam Budget.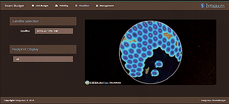 Beam Budget drastically reduces the complexity surrounding link budget calculations and makes it simple for anyone to perform link budget calculations, which are a vital way of accounting for gains and losses on any given satellite link.
The results are displayed in an easy-to-understand format and can be exported as Excel and .pdf reports as required and customized with the user logo and information.
Beam Budget is a highly accurate link budget tool and is able to provide more than 75 results from 25 inputs, where most tools require at least 50 such inputs.
This offering covers every modulation and is available for any frequency band. A web-based tool that can be accessed anywhere, it can be easily scaled for unlimited users, networks, and satellites.
Beam Budget can be used by satellite operators when establishing new satellite networks or quoting for new business. At the same time, it can be used by satellite customers, giving them the peace of mind knowing that the service quoted will be the correct choice.
This tool minimizes time and effort while maximizing return on investment, thanks to new sales generated by a much simpler quoting system.
Alvaro Sanchez, CEO, Integrasys, said that processing and reviewing link budget calculations is extremely complex and requires expert knowledge. This tool is democratizing link budget, making it accessible for anyone within the organization, as well as making it easy for stakeholders to understand the results. This ultimately helps the firm's customers to be efficient and to maximize return on investment and materializing new business with users not in the satellite arena.
www.integrasys-sa.com
---
Comtech expands X/Y antenna product family to the LEO/MEO and HAPS markets
Comtech Command and Control Technologies has introduced a new line of transportable, full motion antennas for tracking Low Earth Orbit (LEO), Medium Earth Orbit (MEO) satellites and High Altitude Pseudo-Satellites (HAPS).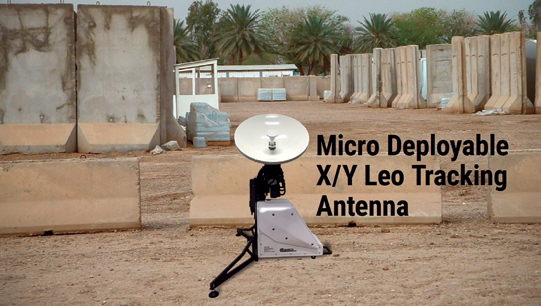 The Micro Deployable X/Y Tracking Antennas use the same two-axis pedestal technology and control software used on Comtech's larger X/Y systems, thereby eliminating the keyhole at zenith, cable wrap, and backlash problems found on traditional El/Az tracking antennas.
These advantages of the X/Y design are now offered in small and lightweight packages.
This cost effective, full hemispheric coverage solution set can be transported on a commercial airliner and can be assembled for operation by one individual in less than 30 minutes — without the need for any special equipment.
The Micro Deployable X/Y Tracking Antennas come in three sizes: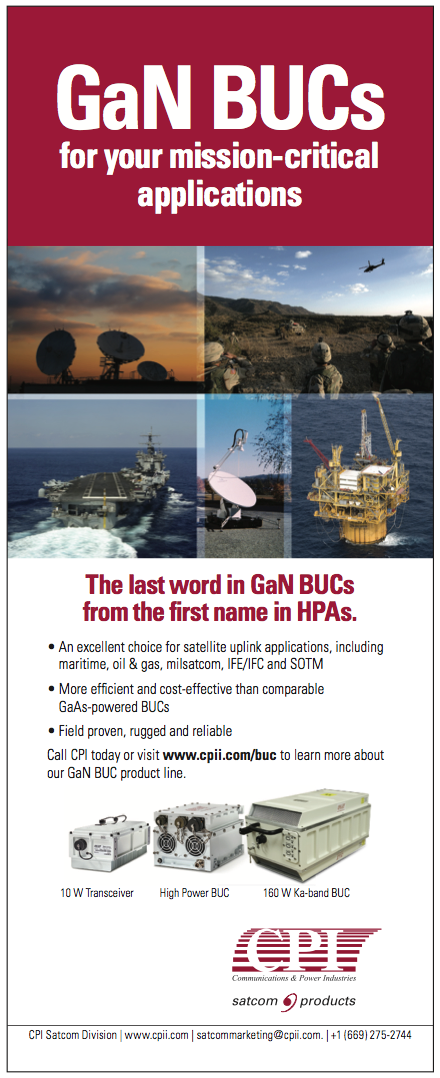 • Series A that can hold 30 to 60cm reflectors
• Series B that can hold 80 to 1.2m reflectors
• Series C that can hold 1.4 to 1.6m reflectors.
Comtech offers the antenna systems in single and multi-band frequencies from L-band to Q-band.
The antenna includes a GPS system that provides precision time and terminal position, and pointing accuracy is better than 0.1 degree.
With a flexible system configuration, low power consumption and high reliability, the Micro Deployable X/Y Tracking Antennas include Ethernet (TCP/IP) remote control for monitoring and control based on a Linux operating system.
Additional features include a TLE-based program track satellite scheduler and precision carbon composites reflectors.
This system does not require significant maintenance.
The introduction of the Micro Deployable X/Y Terminals caps a successful year of market expansion for the industry's most extensive and mature line of X/Y antenna systems, as well as a full range of high wind rated radomes.
Comtech will continue to bring highly reliable and innovative products to the smallsat LEO/MEO and HAPS markets.
Comtech Command and Control Technologies of Annapolis, Maryland, is a wholly owned subsidiary of Comtech Telecommunications Corporation of Melville, New York.
Comtech's Space and Component Technology (SCT) division of Cypress, California, has specialized for 42 years in providing ground system services in the form of turn-key site development, infrastructure, operations and maintenance of several range tracking stations in the South Pacific.
Over the past 16 years, SCT added an extensive line of LEO/MEO X/Y tracking antennas for the industry.
Using the concept of product families and platform-based product development to increase variety, shorten lead-times, and reduce costs without compromising system performance, Comtech is able to offer a product range with generic 'family' features from 30 cm to 13 meter apertures, to include autotracking systems as well as a range of deployable, trailer mounted, or fixed systems.
www.comtech-cct.com
---
Updated Airbus geospatial tool now available
Airbus Defence and Space has released a new version of The OneAtlas Platform, the company's collaborative environment to easily access premium imagery, perform large-scale image processing, extract industry-specific insights and benefit from Airbus assets for solution development.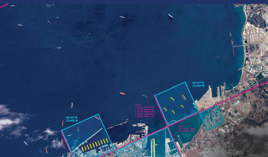 The OneAtlas Platform provides access to data within the Living Library as well as value-added layers, Basemap and WorldDEM. The Living Library contains multi-resolution and premium optical satellite data, updated on a daily basis and immediately available via streaming, download and API.
Basemap is a curated global imagery layer, updated annually and created from 1.5 and 0.5 meter resolution imagery. WorldDEM dataset, for 3D analytics and rendering, is available in streaming format.
The OneAtlas Platform also combines premium imagery and industry-leading expertise to deliver Thematic Services.
There are new change detection capabilities that allow for monitoring and analysis using machine learning to automatically detect and identify infrastructure changes.
Ocean Finder, for maritime-focused applications, allows users to directly order satellite-based maritime detection and identification reports.

Additional Thematic Services include those to help serve environmental needs: Starling, that supports companies monitor their forest impact with unprecedented accuracy and Verde, a new API service that delivers detailed crop analytics with easy-to-use vegetation maps.
OneAtlas is available now at oneatlas.airbus.com and will be soon accessible by mobile app — a free, 30 day trial of OneAtlas is available.
Francois Lombard, Head of the Intelligence Business at Airbus Defence and Space, said the OneAtlas Platform is the cornerstone of disseminating the company's imagery and services and provides immediate access to data and analytics and gets it into the hands of many more users and partners to create new business opportunities.
The OneAtlas Platform is a cutting-edge tool for the geospatial community.
www.airbus.com/space.html
---
GOES-17 now operational to serve as NOAA's primary Pacific weather satellite
GOES-17 is operational as NOAA's GOES West satellite — the satellite will serve as NOAA's primary geostationary satellite for detecting and monitoring Pacific storm systems, fog, wildfires, and other weather phenomena that affect the western United States, Alaska, and Hawaii.
The latest milestone for GOES-17 comes exactly 11 months after the satellite first reached its geostationary orbit 22,000 above Earth.
Launched March 1, 2018, GOES-17 is NOAA's second advanced geostationary weather satellite and the sister satellite to GOES-16 (also known as GOES East). Together, the two satellites provide high-resolution visible and infrared imagery as well as lightning observations of more than half the globe — from the west coast of Africa to New Zealand and from near the Arctic Circle to the Antarctic Circle.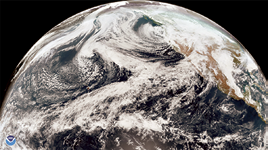 GOES-17 GeoColor view of the Northern Hemisphere,
acquired on Feblruary 9, 2019. Image is courtesy
of NOAA.
GOES-17 has already been helping forecasters track the weather and other environmental hazards in places such as California, Alaska and Hawaii.
The satellite began transmitting its first images from its new orbital position in November of 2018.
Since then, forecasters have been using GOES-17 data to see weather forming over the northeastern Pacific Ocean, where many weather systems that affect the continental U.S. first form.
Until recently, high-quality data coverage of the Pacific Ocean was sparse. Now that GOES-17 data is available, forecasters have access to more detailed views of high-impact weather systems and other environmental hazards such as wildfire smoke and volcanic ash.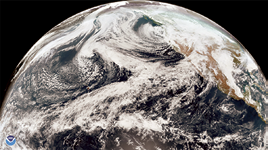 GOES-17 watches a storm nearing California on
February 2, 2019. Image is courtesy of NOAA.
For example, GOES-17 helps forecasters predict the intensity and impact of Pacific storms that hit the West Coast. These include atmospheric river events that bring heavy rain and high-elevation snow to California and the Pacific Northwest, especially during the winter months.
In Hawaii and the central Pacific Ocean, GOES-17's high-resolution visible and infrared imagery will improve hurricane forecasts and allow meteorologists to better predict areas of intense rainfall. In 2018, Hawaii set a new national rainfall record when 49.69 inches of rain fell in 24 hours. The state also faced several tropical weather threats in what became an active hurricane season in the Central and Eastern Pacific.
Forecasters in Hawaii and other remote territories like the Marshall Islands and American Samoa are also now able to track thunderstorms in real-time.
The Geostationary Lightning Mapper (GLM) on-board GOES-17 helps forecasters determine when thunderstorms and convective weather events are intensifying or becoming more dangerous. In 2018, the National Weather Service began using GLM data to issue severe thunderstorm warnings and keep the public out of harm's way.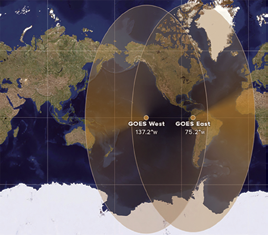 Map showing the geographical coverage of the GOES
East and West satellites. Image is courtesy of NOAA.
Among the benefits of GOES-17's high-resolution and rapid-scan capability is the satellite's ability to detect wildfires and monitor smoke coverage in near real-time.
The dry climate of the western U.S. makes the region especially vulnerable to wildfires. In 2018, for example, California faced one of its deadliest and most destructive wildfire seasons on record.
Providing high-definition images as often as every minute, GOES-17 helps forecasters distribute critical information to firefighters and emergency managers that saves lives.
Additionally, real-time imagery of smoke plumes from fires also improves air quality forecasts.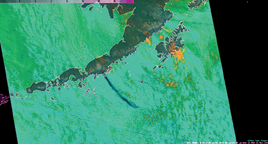 A screenshot capture of a GOES-17 loop from
November 21, 2018, of sulfur dioxide concentrations that
allowed forecasters to track volcanic ash from the
eruption of Alaska's Veniaminof Volcano. The ash clearly
stands out even when other clouds are nearby.
Image is courtesy of NOAA.
GOES-17 has been especially valuable to Alaska, where NOAA's older geostationary satellites provided far less coverage.
The state's vast territory and sparse population mean that Earth-based observations from radar, aircraft and buoys, are limited. The satellite's combinable image channels (known as "multi-spectral imagery") help forecasters distinguish between clouds, snow-covered ground and sea ice around Alaska's coasts.
These advanced imaging capabilities mean safer, more accurate aviation and shipping forecasts, especially during Alaska's long, dark winter months, when visible satellite imagery is less useful.
Fog and icy conditions often cause flight delays and impact airport operations.
At Ted Stevens International Airport in Anchorage, fog occurs almost daily during winter.

GOES-17 watches clouds form around Hawaii's Big
Island on January 15, 2019. Image is courtesy of NOAA.
The airport is the second-busiest cargo airport in the U.S. and fourth-busiest in the world, which makes understanding the timing of fog and low clouds especially important.
Just as GOES-16 data helped airlines mitigate flight delays at San Francisco International Airport in early 2017, GOES-17 data will help forecasters to predict when fog will form and clear with much greater accuracy.
Among GOES-17's many benefits to Alaska is the satellite's ability to track volcanic ash clouds.
Data from GOES-17 makes it easier to determine the site of an eruption, as well as the height and direction in which an ash cloud is moving.
Forecasters share this information with other agencies, such as the Alaska Aviation Weather Unit and the U.S. Geological Survey's Alaska Volcano Observatory to issue volcanic ash advisories and other warnings to keep air travel safe.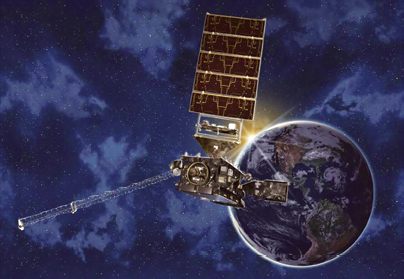 Artistic rendition of NOAA's GOES-17 satellite.
Now that the satellite is operational, GOES-17 replaces GOES-15 as NOAA's GOES West satellite. The latter entered service in December of 2011.
However, due to technical issues with GOES-17's Advanced Baseline Imager — or ABI, the satellite's main instrument — GOES-15 and GOES-17 will operate in unison until early July 2019.
The overlap will allow scientists and engineers to make sure that GOES-17 is performing adequately before the older GOES-15 satellite gets placed in storage as a backup.
According to Dr. Stephen Volz, the Director, NOAA's Satellite and Information Service, the GOES-17 ABI is now projected to deliver more than 97 percent of the data it was designed to provide.
Michael Ottenweller, a National Weather Service forecaster at the Anchorage, Alaska field office, said that in his nearly six years forecasting here, he has never seen a product revolutionize the ability to forecast the way GOES-17 has — the advent of GOES over this domain makes forecasting tangibly easier and better. Now, not only is there reliable data, but that data can be looped. This changes everything. The GOES constellation will continue to meet the needs of forecasters across the country.
www.noaa.gov
---