Astrium Terminals Talking Turkey
Astrium Services Secure Satcom Systems division has delivered the first set of SATCOM equipments to Aselsan for the first of class MILGEM, the prestigious Turkish National corvette program. The Astrium delivery comprises a set of equipment based on Astrium' Mini-SCOT naval terminal. Aselsan, as the prime contractor for the MILGEM SATCOM suite, are responsible for system design and software development of the terminal and the control station, assembly, integration, and test of the terminals as well as the installation, acceptance, and test on board and system delivery. Aselsan and Astrium have previously supplied 16 sets of GEMI shipborne terminals, for the Meko and Perry Class ships, under the Turkish Military Satellite Communications System (TMSCS) project.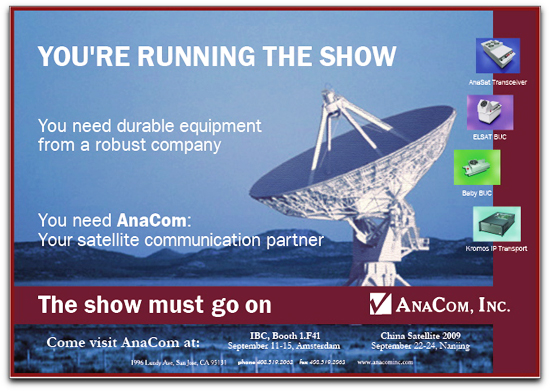 It Takes A CubeSat... Constellation
Clyde Space, among others, fully supports the QB50 Initiative, which is an international network of 50 CubeSats for multi-point, in-situ measures in the lower thermosphere and re-entry. As most are aware, a CubeSat is too small to also carry sensors for significant scientific research. For universities, the main objective of developing, launching and operating a CubeSat is educational. However, when combining a large number of CubeSats with identical sensors into a network, in addition to the educational value, fundamental scientific questions can be addressed which are otherwise inaccessible. Networks of CubeSats have been under discussion in the CubeSat community for several years, but so far, no university, institution, or space agency has taken the initiative to set up and coordinate such a powerful network. For the QB50 network, double CubeSats (10x10x20 cm) are foreseen, with one half providing the usual satellite functions and the other half accommodating a set of identical sensors for lower thermosphere and re-entry research. All 50 CubeSats will be launched together on a single launch vehicle (a Russian Shtil-2.1 or Shtil-2R) into a circular orbit at about 300 km altitude, inclination 79 degrees. A QB50 Workshop will be held on November 17 thorugh 18, 2009, at the Von Karman Institute for Fluid Dynamics in Brussels, followed by a Project Kick-Off Meeting on November 19th.
The DEV Is In The Details
DEV Systemtechnik has thoroughly re-designed its L-band Signal Distribution System DEV 2180, equipping the next appliance generation with a controller and SNMP/Ethernet interface as well as hot-pluggable amplifiers as a standard which can be upgraded without interruption of operations. The space-saving: 16 amplifiers (instead of 12 before) can be housed in one chassis. The existing version of the DEV 2180 may also be obtained as Economy model DEV 2180E at a lower price, which comes without controller and offers a reduced choice of configurations. The new system will be showcased at the IBC2009 in Amsterdam from September 11 to 15 at Stand No. 1.D91.
The CryoSat-2 Ice Mission
ESA's ice mission CryoSat-2 is due to launch on a Dnepr rocket from the Baikonur Cosmodrome in Kazakhstan in December. CryoSat-2 replaces the original CryoSat satellite, which was lost due to a failure in the timing of the launch sequence in October of 2005. Just 3-1/2 years after the decision was taken to rebuild CryoSat, the new satellite is awaiting shipment to the launch site and the ground segment infrastructure is in place for launch. The ground segment mainly comprises the Flight Operations Segment (FOS), through which the satellite is controlled and monitored, and the Payload Data Ground Segment (PDGS), which allows the data from the satellite to be received, processed, archived and distributed to the users. ESA's European Space Operations Centre (ESOC) in Darmstadt, Germany, is responsible for controlling and monitoring the satellite via the ESA/ESTRACK ground station in Kiruna in northern Sweden.
Era To Keep Any Eye On The Azores
NAV Portugal has contracted Era to deliver its wide area multilateration and ADS-B technologies to support surveillance of the Azores archipelago. U.S. company Era was awarded the contract from air traffic services and flight information provider NAV Portugal to deliver its MSS multilateration and ADS-B system. Officials say the Era technologies will support surveillance requirements at Portugal's Horta airport in the central group of islands in the Azores.
FRANCE 24 Via Genesis Networks
New Line TV Company, a telecommunication company headquartered in Miami, Florida, and serving cable systems in the United States, Canada, Central and South America, and Puerto Rico, has selected Genesis Networks for the fiber backhaul and satellite distribution needs of FRANCE 24, a well known 24/7 international news channel. The worldwide video fiber network provided by Genesis Networks allows New Line TV Company to bring FRANCE 24's English and French versions directly from Paris for cable distribution on a Genesis satellite platform that serves the Americas and Hawaii.
BVN Is A RRsat Believer
RRsat Global Communications Network Ltd. (NASDAQ: RRST) has announced BVN-TV has expanded its contract with RRsat. This follows the successful launch of services for Asia, Africa, and Australia in 2007. BVN-TV is a collaboration of Radio Netherlands, Dutch Domestic Public Television, and Flemish Radio and Television and provides Dutch-language programming to Dutch and Flemish communities living outside The Netherlands and Belgium. The BVN-TV Channel is now also broadcast to Europe and the Middle East over the RRsat Global Network, using the Hotbird satellite.
Sun Shines On ND SatCom
ND SatCom, an SES ASTRA company, has received the "Seventh Annual Duke Choice Award" in the category — Java Technology in Network Solution — for its Satellite Communication Management Software. The latest edition of this software is used for the German Armed Forces SATCOMBw Step 2 project. ND SatCom had already developed the forerunner model for SATCOMBw Step 1 and the Dutch Armed Forces. The awards recognize the year's most influential Java technology-based applications submitted by developers and companies from around the world.
InSat Satisfied With SES ASTRA
SES ASTRA, an SES company (Euronext Paris and Luxembourg Stock Exchange: SESG), has signed a new capacity agreement for its 31.5 degrees East orbital position. The German satellite service provider InSat will use one transponder on ASTRA 2C to provide IP backbone services to small and medium sized enterprises in the Middle East and Caucasus region. SES ASTRA will also provide uplink services from its facilities in Luxembourg. InSat is the second customer contracting capacity on ASTRA 2C bringing the total number of contracted transponders to five.
3D Is High For Sky
Sky has announced that the number of customers selecting Sky+HD, the U.K.'s only HD service currently capable of broadcasting 3D services, has increased to 1.313 million following record growth.Customers have responded in record numbers to Sky' HD service and has more than doubled the number of HD customers in the last year alone, with over 90 customers an hour joining Sky+HD. In the next step in the Sky+HD journey, Sky will launch the U.K.'s first 3D channel next year.
TSF Trains for Disasters
The European Commission, through the international NGO Telecoms Sans Frontiéres, is training emergency organizations in Information and Communication Technologies (ICT). This one year program includes an initial course and a refresher course both taking place near the TSF regional bases in Managua and Bangkok. Within the framework of its collaboration with TSF, the European Commission supports the International Emergency ICT Training Program through its Humanitarian Aid Department with the main objective of improving the quality and effectiveness of humanitarian aid actions, by reinforcing emergency responders capacities in telecommunications and information technology.
Telespazio Gains Polish Agreement
The Ministry of Defense of Poland and Telespazio, a Finmeccanica/Thales company, have signed a 10-year contract worth approximately 30 million euros to provide Italian Sicral 1B space capacity in UHF frequency band. Telespazio has acquired the rights of commercialization of the military satellite, which is the property of Italian Ministry of Defense, due to its investment aimed to co-fund the final phase of the Program.
Thuraya's MMP
Thuraya Telecommunications Company has further enhanced their ThurayaIP services by establishing a a Meet Me Point (MMP) based in Telehouse, London as well as a Point Of Presence (POP) in its Sharjah-based gateway. These infrastructures ensure end-to-end data transfer, while using StreamingIP via ThurayaIP's network.