Welcome to SatMagazine's annual YEAR IN REVIEW issue. Dozens of leading companies have offered their insights and an examination of their experiences regarding their operations during 2016.
Offered in alphabetical order, these major representatives of the SATCOM and related industries review the challenges and success many have had to face and deal with during the past year—all to the betterment and success of their companies.
We can certainly report that the commercial SATCOM industry, as a whole, appears to be experiencing some amazing technological advances and business success. The mergers and acquisitions of this year will certainly continue into 2017. Personnel and projects will transition from one company or organization to another, as business models flex to account for new projects, amazing discoveries and thrilling missions.
We earnestly wish the readers of SatMagazine a most prosperous and enjoyable 2017 and that the content presented here will be of interest to you and, most importantly, offer some insight into the world of SATCOM and the bright future ahead.
All our best — the editors.
---
Agilis
By Rajanik Mark Jayuasuriya, Vice President, Satellite Networks Group (SNG) of ST Electronics
2016 was a critical transformation year for Agilis—after more than 20 years in the satellite industry, deeply focused on the development of RF products, Agilis introduced a comprehensive, end-to-end, solutions model.

Current communication networks are diversifying with more and more pieces of equipment being connected to them. Today, these various technologies all must seamlessly work together to provide the service levels that are required by end customers.
To address this reality, Agilis' global customers have told the company they need an agile partner who understands what is happening in the market, and who can integrate new technologies and provide the intelligence to manage them.
End-To-End Solutions Model
Agilis developed an end-to-end model that brings all aspects of communication networks together through an expanded set of integrated offerings.
The goal is to help customers form a complete communication solution backbone—one that is highly engineered to meet all of the requirements that are based upon deep systems intelligence.
Agilis will continue to develop in-house RF equipment and offer best-of-breed integrated products to create complete solutions, fully optimized for the business. Yet, with networks becoming more complicated, there are more applications to run, more access technologies to support, more equipment to monitor and more data to manage.

This is the reason why the Agilis Professional Services team brings the best products together around the world to integrate with the firm's own products to create cutting-edge solutions.
Based upon the company's in-depth knowledge and understanding, Agilis has built solutions to meet unique customer needs. For example, the firm's manpacks use customer furnished modems for rapid deployment in ruggedized terrain. Plus, the mobile Earth stations combine the power of high quality satellite communications with the mobility of a durable trailer.
This year, the company announced a key component of our end-to-end solution—the Agilis RealTime Advisor™—based upon the experience of working with customers to run their networks.
The Agilis RealTime Advisor sits at the heart of the business, containing the intelligence to tie all the pieces together across the network, providing true visibility and predictive analytics.
The Agilis RealTime Advisor is designed to provide true end-to-end visibility across all systems, equipment, and access technologies from a single platform in one central location. This is an intelligent system built on modern web technologies with support for multi-vendor network function virtualization and mobile technologies to help turn network data into business value.
Keeping Pace With Satellite Innovation
With an end-to-end model in place, Agilis focuses ever more on bringing products to market in an effort to meet emerging customer and market requirements.
Another key development for Agilis this year was the introduction of the HAPS (High Altitude Pseudo Satellite) UAV Communication Solution. This solution comprises a fully integrated, highly efficient, low latency ground infrastructure and can be differentiated based on the requirements of an individual HAPS vehicle. This solution supports a broad range of applications for commercial and military applications.
Preparing For Technology Disruption
Today's technology innovations are advancing the satellite industry and many are dramatically disrupting traditional market models. There are three disruptive technologies that Agilis closely watched over the past year. The first disruptive technology is the shift toward phased array antennas, driven by the growth of mobility applications. Phased array antennas allow fast beam switching, which is necessary for spot-beam aero networks, as well as for services that connect to LEO constellations. Their low profile, small footprint and lightweight capabilities enable applications for terrestrial vehicles, aircraft and ships.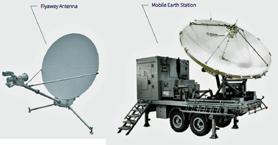 Another disruptive technology making a market impact is the programmable ASIC chip, which satellite ground infrastructure manufacturers are embedding into their next-generation modems. The new models of software-defined modems introduce much greater flexibility, as they can be reprogrammed from the field to add additional throughput and market-specific technologies, when required to do so.
The third market disruption focuses on where to engineer the future of network intelligence. One answer is to put intelligence on the satellite to enable that satellite would to route data directly with the capabilities of demodulation. The satellite would then act like a full mesh system and decrease latency significantly.
Agilis also expects to witness the further development of steerable beams in order for beams to be reconstructed for power reallocation based on the demand from the ground.
At Agilis and across the satellite industry, 2016 proved to be another milestone year. With both business and technology disrupters in play—those who succeed in taking advantage of, or creating, technology disruption will be those who will ultimately succeed.
agilissatcom.com/
---
Airbus Defence and Space
By Arnaud de Rosnay, Senior Vice President, Telecommunications Satellites, and, Michael Menking, Senior Vice President, Earth Observation, Navigation and Science
If there are just three words to define Airbus Defence and Space's satellite business in 2016, they are competitiveness, flexibility and innovation.
With a market share of around 25 percent in value terms worldwide in 2015, Airbus Defence and Space remains the global market leader for commercial geo communications satellites, having booked four contracts so far this year. Some launches that were planned for 2016 have had to be postponed to 2017 due to the unavailability of launchers; however, demand from customers remains buoyant.
The company has approximately 50 geo satellites in operation and the firm's telecommunication satellites have racked up a total of more than 600 years of successful operation—not one has been lost in orbit.
Airbus Defence and Space is now developing Eurostar Neo, a new generation satellite that builds on the success of the highly reliable Eurostar E3000 that has accomplished 43 launches since 2004. Eurostar Neos provide 50 percent more capacity than the previous generation, with 7 to 25 kW of payload power enabling the most powerful missions, including VHTS (Very High Throughput Satellites, typically more than 250 Gbps capacity).
The company is also introducing new design solutions and production processes to increase efficiency and competitiveness. These improvements reduce planning time by up to six months.

Making the industrial processes more competitive and efficient has been a key factor of Airbus Defence and Space' recent success as well as the increasing use of automation, data exchange and digitalization in driving manufacturing technologies, all in line with the Industry 4.0 "smart factory" approach that has been adopted by the parent company, Airbus Group.
Electric propulsion is becoming the norm, rather than the exception—Airbus has six high-power, all-electric satellites in production. The Eurostar Neos are designed with electric propulsion in mind.
Also showcasing a highly innovative technology, the company is manufacturing six flexible satellites with a processed payload or software-defined mission, responding to a need from operators for more adaptable missions. The new generation of digital processors provides even more processing capacity.
Faced with economic constraints, customers are hungry for innovations. However, the market remains fundamentally strong and Airbus wants to maintain the leading market position, as the firm is active in all types of applications and missions, notably broadcast, mobile and HTS.
In the military domain, Airbus is building one of the two satellites for France's Comsat NG program. In the export market, the company has scored several contract wins this year and is currently building a complete satellite communications system for an Asian MoD.
On the non-GEO constellation side, Airbus Defence and Space is designing and building the 900 satellites for the OneWeb constellation. Manufacturing dozens of satellites each month represents a huge, unprecedented industrial challenge. The design must be adapted, the production processes modified, and the supply chain changed, all with a view to maximum efficiency. Developing a new product opens the opportunity to offer the finished product for other LEO applications, enhancing the company's satellite catalog.
Airbus Defence and Space is constantly innovating in the field of optical technology and has successfully developed and demonstrated optical communications for intersatellite links and data relay services. Earlier this year, the first commercial space segment of the European data relay system was launched.
The company has developed new optical terminals for LEO and GEO telecom missions and optronic solutions are increasingly being introducing onboard our satellites.
On orbit build/servicing could soon become a reality. Airbus is working on concepts such as building large satellites that will be telecom stations in space, with servicing/updating managed by exchanging some modules and tugging satellites from one orbit to another. Operators are already starting to think about this possibility and the space tug is a concept that can be used as a Space Utility Vehicle.
There's no question the market is evolving rapidly and there's a huge appetite for innovative solutions. Improving mission flexibility and reducing the cost of ownership are among the main priorities for customers.
In 2017, the work will focus on two main areas: more capable platforms and more flexible payloads. Next year will see the launch of the company's high-power electric satellites—the first in the world with payload power well above 10 kW.
Depending on applications and business needs, Airbus Defence and Space offers payload flexibility in all domains: frequency/bandwidth, power allocation and coverage. Separately or jointly, depending on the applications market needs, solutions will range from simple, connective solutions to software defined payloads. The satellites which are currently under production (Eutelsat Quantum, SES-12/14 and Inmarsat-6 F1 and F2) highlight the operators' needs for flexible payloads.
While products are constantly evolving, systems architecture is too, which is why Airbus Defence and Space is also looking at multi-layer solutions.
On the Earth Observation (EO) front, this has also been a busy year. PerúSAT-1, the first EO satellite based on the AstroBus-S platform, was tested and delivered in less than 24 months after the contract signature, an impressive performance for a sub metric satellite. Now in orbit, the first images from PerúSAT-1 have been delivered and the satellite has become Latin America's most powerful EO satellite.
Also launched this year, the Sentinel-1B radar has joined its twin brother on orbit to complete the Copernicus radar constellation. The first image was sent via EDRS laser, from LEO to GEO and back to Earth and to users in under one minute—that's a new speed record in space. The Payload Data Ground Segment, also developed and operated by Airbus, is now operating with two Sentinels 1 in orbit. Two additional satellites for the Copernicus program are now preparing for launch.
Sentinel-5 Precursor, also based on the Astrobus platform, was completed and fully tested in April and will be launched in 2017. This will be the first satellite dedicated to monitoring atmospheric chemistry. Sentinel-2B has successfully finished its test program and is being readied for lift-off in early March of next year. Offering a "color vision" for the Copernicus program, Sentinel-2B will join its twin in orbit to deliver optical images from the visible to short-wave infrared range of the electromagnetic spectrum.
This has also been an eventful year for on orbit scientific missions. Lisa Pathfinder delivered excellent results, proving that gravitational waves can be measured from space.
The first star catalog from Gaia was released in September, greatly improving upon the results of Hipparcos, ESA's first astrometry mission. Since the launch in 2013, Gaia has mapped more than 1.6 billion stars, thanks to its ultra-stable platform, with data on the positions and intensity of 1.1 billion stars having now been published.
Let's not forget Rosetta which, at the end of September, made a controlled descent onto the surface of the 67P/Churyumov–Gerasimenko comet. Airbus Defence and Space built the Rosetta spacecraft, which is unveiling the secrets of comets and the origin of life.
The new contracts this year include Biomas—the next ESA Earth Explorer contract and the first space-borne, P-band radar. Biomass is due to launch in 2021 and will measure forest biomass to assess terrestrial carbon stocks and fluxes for five years.
The company has also signed the development phase contract for the Second Generation of Meteorological Operational (MetOp-SG) satellites as well as the contracts for two additional satellites for the Sentinel-2 program. These two new models, called "Sentinel-2C" and "Sentinel-2D," will observe the environment and land surfaces and continue from 2021 with the measurements carried out by the first two units as part of Europe's Copernicus program.
Currently, Airbus Defence and Space has 35 satellites in development in the clean rooms, with six planned for launch in 2017. Development activities will also intensify for VHR2020, Airbus Defence and Space's new constellation of very high-resolution optical satellites.
airbusdefenceandspace.com
---
AvL Technologies
By Tony Wilkey, Senior Vice President
This past year has been a great time of growth for AvL Technologies in terms of facilities, a new product line, expanded capabilities and continued product development with MEO antennas—here's the birds-eye review of 2016 from the AvL Technologies perspective.

The Grand Expansion
In 2013, AvL's owner and founder, Jim Oliver, outlined a Big Hairy Audacious Goal, or BHAG. He presented this BHAG to AvL staff as an opportunity for him to invest in AvL and the local community to bring more high-quality jobs to Western North Carolina. In 2016, the BHAG was realized as the AvL Technology Park was opened on August 31st.
AvL's new building is stunning, inside and out. The manufacturing spaces have tons of natural light streaming in through clerestories with a saw tooth roof design as well as well-planned features for power distribution, organized workflows, product testing and ease of receiving and shipping products.

The office spaces also have large windows and are oriented to maximize natural light and the internal cabling and power distribution was designed with technology companies in mind.
AvL's first tenant moved into the 60,000 square feet building in August and they are occupying 40 percent of the space. AvL is moving some current production lines into the new manufacturing space, as well, and has additional technology businesses to take into consideration remaining office and manufacturing space requirements.
New Product Line
For more than 20 years, AvL has been the industry leader in the development and manufacturing of transportable antennas.
In 2016, the company expanded this expertise into fixed Earth stations (FES) with carbon fiber reflectors. There were three main reasons for this move: customer demand, carbon fiber expertise and satellite tracking expertise. In 2016 we designed, built and shipped numerous FES with reflectors that range in size from 85 cm to 1.6 meters, as well as a specialized 5.0 meters.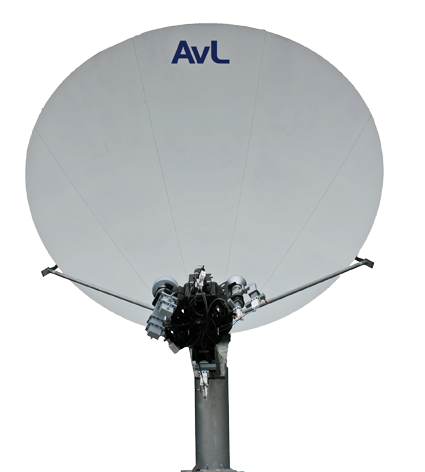 AvL's new fixed Earth stations are unique with carbon fiber reflectors. Though reflectors made of carbon fiber are more expensive than those made of aluminum, carbon fiber has a zero coefficient of thermal expansion and will not change shape in extreme heat or cold.
This is an important factor when operating in Ka-band and higher frequencies as antennas are able to operate in extreme conditions without impacts upon their performance. As AvL has significant carbon fiber expertise, this was a natural growth area—once we had the physical space to build such large reflectors.
AvL's crowning achievement was the new 5.0 meter offset FES with a motorized feed system that offers as many as seven feeds—a huge feed budget. This antenna requires a reflector tool that is so large the device could be used as a swimming pool. Conveniently AvL's new building offers the space needed to store and use the 5.0 meter reflector tooling and enables the company to manufacture this large reflector with extremely high precision.
The 5.0 meter antenna required many resources and lots of expertise. AvL's Department of Defense (DoD) customer for this new antenna encouraged AvL's engineers to push the known boundaries with the design—and they accomplished such, mechanically and with the electronics.
AvL engineers developed a highly specialized antenna control systems for accurate pointing, satellite tracking and motorized control of the multi-feed system. Additionally, the reinforced reflector backing structure, feed boom, struts and monopole for the antenna were built by the large antenna experts at Challenger Communications in Michigan.
New Capabilities
Since its inception in 1994, AvL has focused on quality engineering and manufacturing of antennas and positioner systems. We've been asked many times by customers to integrate our antennas into communications systems, and we've resisted—until this year.
In the Spring of 2016, AvL collaborated with a customer and rolled out its first fully integrated terminal—the Model 824i Fully-Integrated Auto-Acquisition Network Terminal. Featuring an 85cm reflector, this case-based flyaway antenna system operates in Ku-, Ka- or X-Band and is modem agnostic with a customizable I/O bulkhead and a weather-resistant base electronics compartment.
The antenna system can be set-up and operational in 10 minutes, packs into two ATA-checkable cases, and is WiFi, Bluetooth, cellular and fiber-optic ready.
We introduced the Transportable SATCOM Unit, or TSU, this year at OilComm. This self-contained, remote-access hub or Earth station can be used anywhere on Earth and can be transported in the back of a half-ton truck. The TSU supports VoIP, HD full-motion video, data transfer and Internet access with an AvL 85 centimeter, 1.0 meter or 1.2 meter antenna.
Continued Development—MEO Antennas & O3b
In 2015 AvL introduced our first MEO tracking antenna for O3b at the SATELLITE show. This year we introduced the 2.4m MEO tracking antenna at SATELLITE and it gave us the opportunity to do a bit of boasting. When you operate a pair of these precision antennas, and connect them to O3b's "Fiber Speed, Satellite Reach" network, the results are beyond impressive.
The initial speed test, which was performed on prototype antennas at AvL, revealed speeds in excess of 500 Mbps up and down with latency of 131 ms and jitter of 8 ms. What does this mean? High-speed data transfer with enough bandwidth to do nearly anything—including restoring communications after a disaster to a community the size of Asheville, North Carolina.
Throughout 2016, AvL and O3b, as well as SES, continued to collaborate on the 85 centimeter and 2.4 meter antennas as orders have come in. We fine-tuned features and supported O3b and SES during many product demonstrations—all with the same results: end-users who can't wait to add O3b to their communications capabilities.
For 2017, The Magic 8 Ball Says…
If anyone in the satellite industry could predict some element of the future, s/he would still be awed by the magnitude of the innovations we experience on a regular basis. At AvL, we focus on our core capabilities while enabling ourselves to grow dynamically when and where it makes sense. So what does this mean for AvL in 2017?
With our new AvL Technology Park now complete, we are actively working on making the best use of the space. Some will be filled by AvL, some is already filled with a customer, and the remaining space will be filled with local innovators and technology companies. If all goes as planned, Jim Oliver's BHAG will help Western North Carolina grow by another 150 quality jobs over the coming few years.
AvL's venture into integrated systems and fixed Earth stations shows no stopping. In 2017, we will introduce more integration capability and expand into larger FES.
AvL, O3b and SES will continue to collaborate on antennas that engage (perhaps exploit) the full capabilities of the O3b MEO network. In early 2017 we will launch a new O3b antenna that is extraordinarily robust, yet easily transportable.
Last but not least, AvL continues to expand its capabilities and product lines. In early 2017 we will introduce yet another new family of products… stay tuned!
avltech.com
Tony Wilkey is Senior Vice President at AvL Technologies with responsibility for US Sales, Marketing and Customer Service. He earned his Bachelor's degree in Mechanical Engineering from Georgia Tech in 1981 and his Master's degree in Mechanical Engineering from Stanford University in 1983. He has worked his entire career in the satellite industry, most recently with ViaSat, Inc., before joining AvL in 2008.
---