In December of 2012, SkyBitz announced the Falcon Series GXT100, a new global positioning satellite (GPS) asset tracking solution for 3G/4G cellular networks with seamless North American coverage. With this launch, SkyBitz indicated that it is able to provide additional cost-effective solutions for complete asset visibility to its customers.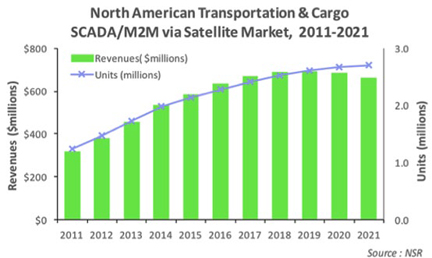 The announcement is noteworthy for two reasons:
• First, SkyBitz participates in the largest market vertical in the SCADA/M2M market (the North American Transportation/Cargo sector), and it is also one of the key players in this vertical.
• Second, it has exclusively used satellite solutions in targeting its customers prior to the December 2012 announcement.
The inclusion of cellular 3G in its portfolio is certainly a strategic move where two (among many) advantages are garnered by SkyBitz:
• Higher bandwidth solutions and offerings using 3G/4G cellular can be achieved.
• Lower costs to support higher bandwidth services will likewise be achieved.

The question raised not only for SkyBitz but for all players serving the North American market is clear: Will satellite SCADA/M2M solutions be replaced or lose substantial market share to cellular 3G/4G?
In NSR's view, cellular offerings will impact the satellite SCADA/M2M proposition over time, particularly in the Transportation/Cargo sector as outlined in the graph on this page, where revenue growth is expected to be flat and then turn negative towards the end of the forecast period despite the increase in in-service units.
The impact will be gradual, however, and not highly disruptive, giving time for the industry to make the necessary adjustments in dealing with the cellular threat. Here's why:
• Orbcomm offered a dual mode solution using satellite and cellular technologies to serve its large customer base, which included the trucking industry. Although cellular traffic is being run by Orbcomm's customers, NSR understands that most of Orbcomm's traffic is still on satellite mode.

• The long haul trucking industry in North America—Canada and the U.S.—is still susceptible to blind spots in cellular coverage within the region, necessitating the continued use of satellite platforms to plug these coverage holes.

• The long haul trucking market extends through the Americas due to trade agreements like NAFTA such that blind spots become even more prevalent.

• Satellite solutions offer simpler billing and coverage advantages compared to cellular networks where roaming agreements, signal handoffs and other technical, regulatory and business aspects have to be taken into account.

• Finally and perhaps most importantly, satellite solution costs are coming down and are also beginning to support higher bandwidth offerings such as BGAN M2M, which offer similar services as cellular 3G.

Moreover, on the horizon are next-generation satellite solutions that include Iridium NEXT and various players in the HTS camp that will offer higher-level bandwidth services for a fraction of today's costs.
The Bottom Line
The SkyBitz move to offer cellular 3G/4G should certainly be lauded. In its latest SCADA/M2M via Satellite, 3rd Edition report, NSR noted that terrestrial integration in order to avert terrestrial competition may be key to continued growth. NSR recommended that the satellite SCADA/M2M industry should incorporate terrestrial wireless solutions to their portfolio in order to gain market competitiveness. However, this does not mean that satellite offerings will be quickly eroded by cellular offerings. Both technologies can, and should, co-exist with each complementing the other in a standalone, hybrid or dual-mode offering.
It should be noted that cellular SCADA/M2M has been around for more than a decade and despite its presence, the satellite-based SCADA/M2M market has continued to grow in all verticals, including Transportation and Cargo. Competition has been posed by cellular technologies, but the customer base of satellite SCADA/M2M has by nature deployed satellite and terrestrial wireless solutions as complementary platforms.
Over time, however, as cellular coverage continues to improve, and other business aspects begin to be resolved, SCADA/M2M customers will likely begin to increasingly deploy cellular solutions and thus erode the satellite value proposition.
About the author
Mr. Del Rosario is a senior member of the consulting team where he focuses his research on quantitative modeling, data verification, and market forecasting for the commercial and government satellite communications sectors. He conducts ongoing research with specialization in policy analysis, economic indicators, regulatory initiatives and end user demand trends. In addition to authoring numerous syndicated reports in his areas of focus, Mr. Del Rosario has been involved in a wide range of strategic consulting projects. He has advised clients on market trends, implications, and strategies on such diverse topics as high throughput satellites (HTS), hosted payloads, wireless backhaul, SCADA/M2M/LDR and multi-mission satellite programs.