A Higher Linkage

STM Group, Inc. delivered a SatLink Hub 9400 LE by NSSLGlobal, Ltd. for their new location in Brewster, which will be used to expand and enhance NSSLGlobal's coverage with DVB-RCS technology.

This fully-redundant hub currently serves the Pacific Ocean Region using multiple Forward Links. NSSLGlobal, with partner Telemar Scandinavia, will also upgrade and expand their Cyprus hub serving the Middle East in the coming months with additional plans to upgrade the Cyprus hub to RCS2 in Q1 of 2012. This will the world's first commercial implementation of the new DVB-RCS2 standard, all implemented by STM using the SatLink product line.
The new hub will serve subscribers of NSSLGlobal's two major VSAT services, Broad-IP for land applications and Cruise-IP for maritime applications. Applications include high-speed Internet access, TV/Video services, VoIP, and GSM backhaul, which can operate all on the same VSAT with excellent QoS. DVB-RCS2 provides for higher order modulation and coding (up to 16QAM 5/6) along with many other significant technical advances contributing to much higher throughput, link availability, and bandwidth efficiency.

Total efficiency gains with RCS2 can be as much as 300 percent on TDMA carriers compared to legacy VSAT networks. SatLink DVB-RCS and RCS2 networks employ DVB-S2 Forward Links with ACM (Adaptive Coding and Modulation) operating up to 45Msps with 16APSK 9/10. The SatLink implementation of RCS2 builds on the standard with "ACM per burst" with dynamic MF-TDMA carrier groups up to 50 Mbps in capacity, plus many value-added IP features. This yields much better QoS and higher Committed Information Rates (CIRs) for subscribers at a significantly lower cost than SCPC services.
* * * * * * * * *
European Space Agency's Key 2012 Events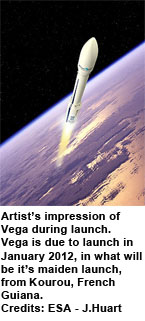 First launch of Vega — Europe's family of launchers will welcome its smallest member, Vega, which is scheduled to launch on February 9th from CSG at Europe's Spaceport in French Guiana.
BepiColombo —
ESA's mission to explore Mercury will undergo extensive testing in 2012. The complete launch stack configuration (Structural and Thermal Model), composed of the European and Japanese orbiters, the Transfer Module and the Sunshield, will be assembled for mechanical testing and presented to the media at ESTEC, Noordwijk, (The Netherlands), also in February.
James Webb Space Telescope —
The successor to the Hubble Space Telescope will feature several major ESA contributions, including the MIRI mid-infrared instrument. This scientific instrument will not only provide stunning astrophotography 'à la Hubble' but also allow the study of distant stellar populations and galaxies, as well as faint comets and the Kuiper Belt.

Swarm Constellation—
The multi-satellite Swarm mission will provide the best survey of Earth's magnetic field and its temporal evolution, and improve our knowledge of Earth's interior and climate. A briefing and a last look at the satellites will be conducted after completion of testing and before shipping to the launch site. Swarm consists of a constellation of three satellites in three different polar orbits between 400 km and 550 km altitude. High-precision and high-resolution measurements of the strength and direction of the magnetic field will be provided by each satellite. This will also occur in February.
Envisat: 10 years in orbit — The largest Earth observation satellite ever built will mark 10 years in orbit on March 1, 2012. Having provided European scientists with enviromental data, the applications are manifold and cover the land surface, the oceans, ice coverage and the atmosphere.
Launch of ATV-3 by Ariane 5 —
Each Automated Transfer Vehicle (ATV) can deliver up to 7 tons of cargo to the International Space Station, including food, drinking water, gases, research and maintenance equipment and around 3 tonnes of propellants. The versatile craft also regularly boosts the Station's orbit and occasionally manoeuvres the complex to avoid collisions with space debris. With it, Europe is contributing in kind towards its share of the operational costs of the Station.
The third ATV (ATV-3) is named Edoardo Amaldi after the Italian physicist and space pioneer. Equipped with its own propulsion and navigation system, ATV is a multifunctional spaceship, combining the fully automatic capabilities of an unmanned vehicle with human spacecraft safety requirements.
ESA astronaut André Kuipers will be the prime operator, monitoring the ATV rendezvous and docking. André and his Russian crewmate Oleg Kononeko will monitor the ATV as it approaches the Station. They are trained to intervene in the event a problem prevents the ATV from docking. A high-precision navigation system guides ATV on a rendezvous trajectory towards the Space Station, where it docks automatically to Russia's Zvezda module.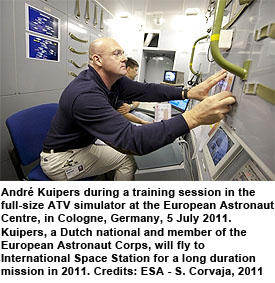 End of in-orbit testing of the two first Galileo satellites —
Since their launch on 21 October, the two Galileo satellites have undergone a detailed checkup from ESA's ground station in Redu (Belgium) to ensure their payloads are performing as specified.
ISS User Symposium —
The ISS User Symposium will discuss research accomplishments on the International Space Station and debate in cooperation with international partners and other space-faring nations how space science should develop after 2020, and even after the Space Station. An open event will allow the general public to share in the fascination of science in space. The symposium will take place in Berlin, Germany, from May 2nd through the 4th, 2012.
Launch of MetOp-B meteorology mission —
MetOp-B has been developed and built by ESA in a joint effort with Eumetsat. MetOp-B will follow MetOp-A, launched in October 2006. The MetOp satellites are a series of polar-orbiting meteorological satellites operated by Eumetsat. They complement the US polar-orbiting weather satellite network operated by NOAA. MetOp-B carries 11 instruments to improve numerical weather prediction and to contribute long-term climate data.
ECSITE Conference, the European Network of Science Centres and Museum —
ESA will be present at the annual conference of ECSITE, which attracts over 1000 science communication professionals. For the first time, space will be the main theme of the conference, and it will be organised by the 'Cité de l'Espace' in Toulouse, one of the few permanent visitor centres dedicated to space in Europe, and a long-standing partner of ESA. Toulouse, France, is the location, from May 25 through June 2, 2012.
Launch: Meteosat Second Generation-3 —
The Meteosat Second Generation satellites have been developed and built by ESA and are exploited by Eumetsat. They are designed to fulfil user requirements for improved weather prediction. MSG-3 will continue the successful series of operational meteorological satellites that started with Meteosat-1 in 1977. The first second-generation (MSG-1) satellite with its improved capabilities was launched in 2004, followed by MSG-2 in December 2005.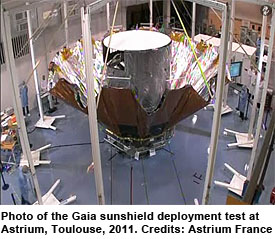 Liftoff of Soyuz flight VS01 with the second satellites pair of the Galileo constellation —
Europe's Galileo satellite navigation system will see the launch of the second two In-Orbit Validation satellites. With the first four satellites of the constellation and their ground network, ESA will be able to validate the overall Galileo concept. The launch should occur within the August/ September timeframe.

Opening of the Deep Space Antenna 3 —
The third Deep Space Antenna will complete the ESA deep space network. It will allow current and future deep space missions to be conducted with three antennas spread around the globe. November is the expected timeframe for this event.
Gaia scientific instrument delivery —
Scheduled for launch in 2013, Gaia is a global space astrometry mission that will make the largest, most precise three-dimensional map of our Galaxy by surveying an unprecedented number of stars — more than a thousand billion. The Gaia scientific instrument assembly will be ready and delivered end of 2012. It features the largest digital camera ever to be flown in space.
James Webb Space Telescope: delivery of NIRSpec —
The successor to the Hubble Space Telescope will feature several major ESA contributions, including the NIRSpec near-infrared spectrograph. This scientific instrument will allow the continuous observation of 100 faint galaxies to determine their chemical composition, and the rate at which stars are forming. It will also allow astronomers for the first time to detect water on planets around other stars. This should occur in December of this year.
The ESA Council at Ministerial Level —
The Ministers in charge of space activities in the Member States and Canada will conduct a two-day Council meeting in Italy at the end of the year, where ESA programs for the years to come will be proposed.
* * * * * * * * *
A Major Blending
O3b Networks has entered into partnerships with a series of industry leading vendors who will enable the company to deliver the benefits of its ground breaking technology to customers worldwide.
General Dynamics' SATCOM Technologies, Comtech EF Data Corporation and Gilat Satellite Networks, along with previously announced partner ViaSat, will provide a comprehensive range of customer access systems for use on the O3b network capable of delivering throughputs from 1Mbps to 1Gbps. This range of O3b VSAT terminals provides O3b customers the flexibility to choose the features and functionality most suited to their needs.
General Dynamics' SATCOM Technologies will manufacture simple, affordable and reliable 1.8m and 2.4m antennas for use with a series of standard transmitter packages.
Comtech EF Data Corporation will offer a line of O3b-ready modems and hub systems based on its popular CDM modem products. The O3b Comtech EF Data solution will include compression and network optimization functionality developed specifically for mobile backhaul and trunking applications. Customers will be able to repurpose existing Comtech EF Data hardware for use with the O3b system.
Gilat Satellite Networks will provide high capability VSAT hubs and modems based on its highly successful SkyEdge II platform. Gilat O3b modems will support standard GEO and O3b MEO operation, and will be customized for cellular backhaul and IP trunking applications. Gilat will also offer value-added services such as integration with other sub-system providers and terminal installations.
* * * * * * * * *
Satmex — A New Beginning
Satmex, a leading satellite services provider in the Americas, offers creative business and technology solutions to improve the customers' profitability.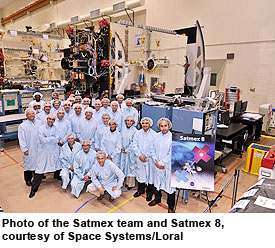 Standing on a firm foundation after the Company's successful 2011 restructuring, Satmex has initiated a new beginning in 2012 as preparations continue for the launch of the new satellite, Satmex 8.
Satmex 8 will be launched in the Q3 of 2012 and will replace the Company's successful Satmex 5 satellite at the 116.8 degrees West orbital slot. Built by Space Systems Loral, Satmex 8 will provide hemispheric and regional coverage throughout the Americas in both C- and Ku-bands.
Satmex 8 will be the most powerful satellite in the fleet and will provide customers with very high power levels and excellent elevation angles from any location within the coverage beams. These benefits will provide optimum performance for any data and video application.
The satellite will also have a broad cable neighborhood in Latin America, supporting Satmex's video expansion.
This satellite provides SatMex the opportunity to expand its service offerings as well as further supports customers as competitive advantages and significant efficiencies are developed for their networks.
Satmex is extremely excited about this new phase of growth and development, celebrating a strong start with the launch of Satmex 8 and anticipating many more exciting ventures.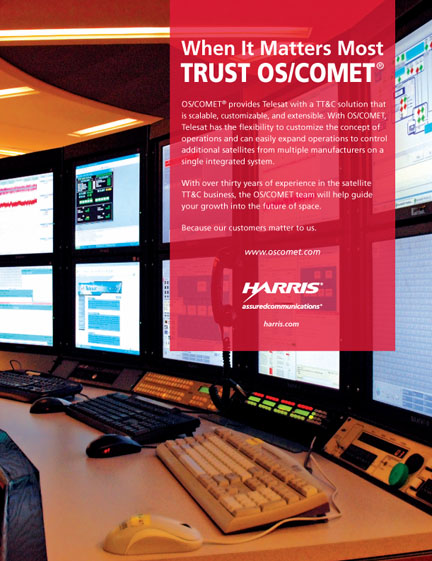 Satmex 2012—Building Futures
article by
Clemente Cabello, V.P.,
Business Development,
Satmex
* * * * * * * * *
The Earth In 3D
After a year in service, the German Earth observation satellite TanDEM-X, together with its twin satellite, TerraSAR-X, have completely mapped the entire land surface of Earth for the first time.
The data is being used to create the world's first single-source, high-precision, 3D digital elevation model of Earth. The German Aerospace Center (Deutsches Zentrum für Luft- und Raumfahrt; DLR) controls both radar satellites, generates the elevation model and is responsible for the scientific use of TanDEM-X data.
It is reminiscent of ballet on ice; throughout the last year, Germany's radar satellites, TanDEM-X and TerraSAR-X, have been moving through space in close formation, at times just a few hundred metres apart. Strip by strip, they have recorded Earth from different angles and transmitted high-resolution radar data from their orbit at an altitude of 514 kilometres down to the three ground stations — Kiruna (Sweden), Inuvik (Canada) and O'Higgins (Antarctica).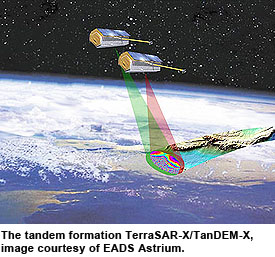 "The mission is running better than expected and there have been no unscheduled interruptions in the programmed formation flight of the two satellites. All safety mechanisms are functioning robustly and in a stable manner," said Manfred Zink, project manager for the TanDEM-X ground segment at DLR. Over the course of 2011, the distance between the satellites was progressively reduced down to the minimum permitted value of 150 metres.
This satellite mission is the first of its kind; it remains unique and is highly complex, even for experienced engineers.
"Following the launch of TanDEM-X on June 21, 2010, there was a six-month test phase, during which we subjected the satellite and its behaviour in near-Earth orbit to intense scrutiny and carried out our calibration work," Zink said. During this time, TanDEM-X commenced formation flying with its identical partner satellite, TerraSAR-X, which was launched in 2007. On 14 December 2010, the operational part of its mission began, collecting data for the high-precision elevation model.
The radar system views the ground from two different points in space, achieving 'depth perception' in a manner similar to binocular vision in humans. "The generation of accurate elevation data calls for precise coordination of data from, and between, both satellites," said Gerhard Krieger, systems engineer for the TanDEM-X mission. Differences, for example in the cable lengths on the two radar instruments, as well as the distance between the two satellites, need to be calibrated very precisely. "This is a truly enormous challenge when you consider that a millimetre of variation can cause up to one metre of elevation error," he added.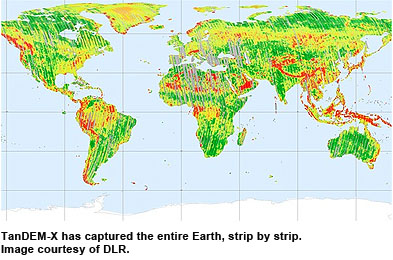 The strips of terrain recorded by the satellites are processed into elevation models measuring 50 by 30 kilometres. Due to the ultra-precise calibration, when this 'basic data' is compiled at the end of the process to generate a global 3D map, it is already of very high quality. By mid-2013, TanDEM-X and TerraSAR-X will have imaged the complete land surface area of Earth — roughly 150 million square kilometres — several times. The intention is to create an exceptionally accurate, global and homogeneous 3D elevation model that promises to be of equal interest for commercial and scientific purposes.
Initially, at least two complete coverage cycles of Earth's land surface were planned. Some parts, one example being the vast majority of Australia's landmass, were recorded by the satellite duo with sufficient quality during the first overflight.
"The level of precision depends on how well the ground reflects the radar pulses transmitted — and subsequently received — by the satellites," said Manfred Zink. For example, the Sahara is more difficult to image because the signal literally 'sinks into the sand' and is lost. For regions of dense vegetation, such as rain forests, additional imagery and careful adjustment of the distance between the satellites are necessary. "We are going to be left with a few blank areas on the map, but we do of course seek to minimise these gaps," states Zink as he thinks about the coming months.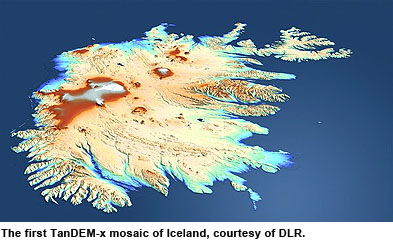 "We want to gain a better understanding of Earth as a system and to employ the data for climate and traffic research, for example," says Irena Hajnsek, scientific coordinator for the TanDEM-X mission. In 2011, she gave the 'green light' for 166 of the research applications submitted to DLR.
"Most of these originated in the USA and Germany. The TanDEM-X capabilities are to be used to address questions of land usage and vegetation, hydrology, geology and glaciology," said Hajnsek.
The two Earth observation satellites can also generate information about the height of the snowline or the change in ice masses of the two polar regions, as well as provide geological maps of regions subject to volcanic and/or earthquake activity. The speed of ships or road vehicles can be measured, as can changes in the natural world.
The work performed by these two radar satellites is also valuable for agriculture. "Based on the height and structure of a plant — such as rapeseed, for example — it is possible to draw conclusions about its quality and biomass," said Hajnsek.
About the mission
TanDEM-X is operated by the German Aerospace Center (DLR) with funds from the German Ministry of Economics and Technology in the form of a public-private partnership with Astrium GmbH. DLR is responsible for the scientific use of TanDEM-X data, planning and implementation of the mission as well as controlling the two satellites and generating the digital elevation model. Astrium built the satellite and shares the costs for the development and use. Commercial marketing of TanDEM-X data is managed by Astrium Services' GEO-Information Division (formerly Infoterra GmbH), a subsidiary of Astrium.
* * * * * * * * *
Outback Solar Challenge
Students from the University of New South Wales (UNSW) put their solar-powered vehicle — plus BGAN and IsatPhone Pro — to the test when they drove 1,864 miles (3,000 km) across Australia's Outback.


The World Solar Challenge saw 36 teams from 20 countries pitted against each other in the race from Darwin to Adelaide.
UNSW's Sunswift Team from Sydney had the support of Addcom Contact Solutions, an Inmarsat service provider to resellers, businesses and end-users across Australia.
Addcom Contact Solutions supplied Sunswift with two IsatPhone Pro satellite phones and an Addvalue Wideye SAFARI land vehicular BGAN terminal for their three-wheeled, carbon fibre vehicle, called Sunswift IV.

The equipment gave the team reliable and race-critical access to the internet and voice calls, even in the middle of the Australian desert where 3G networks are practically non-existent.
Thanks to the vehicular terminal, they were able to stay connected even when travelling at speeds of up to 62mph (100km/h). Sunswift used BGAN to:
– Download customised hourly weather data and information from a supercomputer located at UNSW that helped them calculate optimum travel speeds without completely draining the vehicle's battery
– Keep followers informed via social media, with real-time updates, photos and technical data
– Transmit updates to the web-based Sunswift Live map that allowed those who were following the adventure to pinpoint their progress
In addition, IsatPhone Pro allowed them to keep in touch with race HQ and the support the Sunswift team.
During the race the competitors battled bush fires, dust storms and extreme temperature changes.
In the end, just seven teams made it over the finishing line, with UNSW Sunswift coming in a creditable sixth.
"It was obviously a mission to finish against all the odds, with such cloudy skies and temperature changes," said Robert Lewis, national channel manager at Addcom Contact Solutions.
"Thanks to satellite communications, the Sunswift team were able to download data to help its strategist calculate the best driving techniques and avoid disaster zones."
* * * * * * * * *
Platinum Pride
Marlink has been certified as a 'Platinum Partner' by Inmarsat.
The Platinum status is the highest level of Inmarsat's Partner Accreditation Programme, confirming Marlink's strength in the MSS market with its 8,000 seagoing vessels with Inmarsat equipment.