When SES-4 reaches its coveted orbital slot, it will be the 50th satellite in the growing SES fleet. The largest and most advanced of all SES spacecraft will bridge four continents, a clear illustration of the satellite operator's partnership strategy aimed at helping its customers grow and expand around the world. SES-4 offers seamless coverage over the Americas, Africa, Europe and the Middle East.
SES is investing in the capacity and people to greatly enhance customer capabilities and opportunities in established and emerging markets. More than a dozen satellites are being launched in a two-and-a-half year span to meet global demand for content and connectivity. And SES' new regional leadership structure is firmly in place, including the newly appointed sales leader in the Americas, Elias Zaccack.
"SES has the right capacity, the best coverage, people and operational structure to help our customers reach new levels of success," said Zaccack, Senior Vice President of Commercial Sales for SES in the Americas. Zaccack is a seasoned SES executive and industry veteran with extensive experience in North America and Asia-Pacific.
He will be working closely with the North America, Latin America and Occasional Use sales and support teams, as part of a global strategy focused on driving growth and building customer alliances. "Our customers rely on our regional and global expertise and financial stability as much as they do our satellite capacity, big competitive advantages for SES," noted Zaccack. "And with a record fleet investment program well underway, our regional and global customers can grow with us virtually anywhere they want to go."
New Possibilities
SES' customer base throughout the Americas features some of the biggest names and most innovative startups in the worlds of media and entertainment and enterprise. Many are reaching into new markets and exploring new possibilities using SES' capacity.
Turner Broadcasting System, Inc., for example, is using capacity on at least four SES satellites to distribute news and entertainment programming to millions of viewers throughout North America and Europe. Once operational, the high-powered SES-4 will enable CNN to deliver breaking news from North America to European affiliates. Much of CNN's satellite news gathering (SNG) across the U.S. and Canada relies on SES satellites. And DTH audiences across the UK and Germany receive a variety of Turner programming, ranging from CNN to the Cartoon Network, from SES spacecraft.
"SES has the satellites, personnel and expertise that Turner Broadcasting System needs in order to reach audiences around the world," said John Ball, Vice President of International Distribution Technology for Turner Broadcasting System. "Our long-term distribution partnership with SES is an important component of our global content delivery strategy."
SES' occasional use capacity, which enables much of the world's breaking news coverage, is bound to be in high demand over what will be an eventful 2012. "This will absolutely be an eventful year for Occasional use," said Samantha McCloskey, Vice President of Global Occasional Use Services for SES. "The U.S. Presidential election in November and the 2012 London Olympics headline an impressive list of world events and broadcasts that will require major capacity on our fleet."
"We have the fleet in space, the feet on the street and the proven expertise and leadership throughout the Americas region, at a time when our customers are looking to expand into new opportunities," noted Steve Bunke, SES' Vice President of North America Sales.
Microspace is another good example of an innovator leveraging the SES fleet to reach new markets. The digital content distributor will utilize SES-4 to allow major North American retailers to extend their digital signage campaigns globally. One major brand's in-store promotional videos will reach flat screen TVs positioned throughout its outlets and shopping center locations across Europe. Microspace uses significant transponder capacity on multiple SES satellites to enable much of its growing content delivery network, currently serving more than 250,000 remote links worldwide.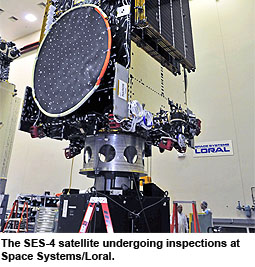 Emerging Markets
SES' heritage in cable television distribution throughout the U.S. has led to a leadership position in cable and DTH growth across Latin America. The NSS-806 satellite is the region's leading video neighborhood, with the advanced SES-6 satellite poised to take over that desired title once it's operational next year. Increasingly, AMC-9 is positioned to become a popular video neighborhood over Mexico, demonstrating the nimble nature of the SES fleet. AMC-9 is able to serve most of the U.S. and Mexico.
"Latin America has been, and will continue to be the hottest market for SES in the foreseeable future," added Dolores Martos, Vice President of Latin America Sales for SES. "SES continues to add capacity into this important market, and we will continue to remain closely aligned with our media, enterprise and government customers and to provide the best solutions possible to drive growth and profitability," Martos said.
HD is on the verge of driving capacity demand across Latin America. And SES' HD leadership in the U.S. and Canada will provide much of the necessary expertise to ensure a successful rollout in the emerging markets of Brazil and beyond. SES delivers 6,000 TV and radio channels globally. It has the world's leading HD platform with more than 1,100 high-def channels. The operator reaches more than 245 million cable, DTH and IPTV homes. SES is the undisputed leading DTH satellite operator, carrying 43 DTH platforms over its fleet of 50 satellites. SES is adding capacity over Asia to meet increasing demand for quality TV programming. Relying on SES' unsurpassed DTH know-how across Europe, new DTH providers in places like Vietnam and the Philippines are driving a wave of extensive channel lineups capable of satisfying the region's appetite for popular content.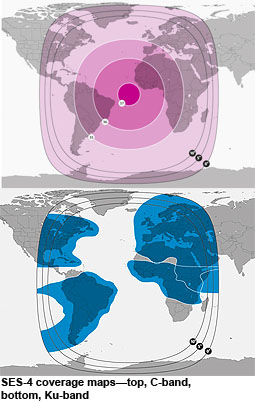 VSAT demand is on the rise across remote and isolated countries and communities, especially in places like the inland nations of Africa and the Middle East where terrain is rough and fiber is out of reach and often unreliable. SES is extending the capabilities of mobile data and broadband — life-changing technologies that are opening the door to education, jobs and economic development in many underserved regions.
SES is the lead investor in O3b Networks, a first-of-its-kind Ka-band operator set to launch an initial Medium Earth Orbit fleet of 12 satellites aimed at connecting the unconnected around the world. SES and O3b fleets will play a complementary role in closing the bandwidth gap in remote and rural markets.
Oil and gas companies and maritime service providers are also tapping the global SES fleet to offer VSAT-delivered broadband to isolated rigs and deep ocean platforms and ships drilling and searching for reserves in distant seas. The maritime and oil and gas industries are increasingly using SES bandwidth to expand into emerging markets and to keep remote crews connected with colleagues at headquarters and family at home. SES satellites are also enabling shipping and drilling firms to monitor their mission-critical operations in some of the remotest locations on Earth.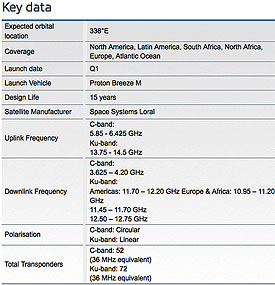 "It's an exciting time to be part of SES, working with the industry's best people and most advanced fleet to help our customers reach and exceed their global ambitions," noted Zaccack. "Everything we do at SES revolves around our customers' global success."
Global Showcase
SES will showcase its new global brand and latest solutions next month at the Satellite 2012 Conference and Exhibition in Washington, DC. More than a dozen SES executives will be featured speakers during key panels and roundtable presentations covering everything from next generation satellite technologies and military communications initiatives to exciting opportunities in Latin America, Africa and Asia. For more information about SES or the growing SES fleet, upcoming launches and more, visit www.ses.com.
About the author
Paul Sims, a freelance writer based in Atlanta, covers the satellite and telecommunications industries. You can reach him at paul@simscomm.com.