Yen-Wu Chen is the Vice President of Asian Operations at Integral Systems, Inc. of Columbia, Maryland U.S.A. He is responsible for developing Integral Systems' Asian business. Mr. Chen has more than 30 years IT experience and has worked at Integral Systems for over 20 years. He can be reached at yen@integ.com.
SatMagazine (SM)
Would you please explain to our readers what your Company's presence is within the Asia-Pacific satellite communications and ancillary markets?
Yen Chen
For nearly two decades, Integral Systems has been working closely with satellite operators and service providers in Asia-Pacific. We consistently hear the same thing from them in terms of what they are looking for from companies such as Integral Systems who provides complete ground segment solutions.
Satellite operators are working hard to consolidate operations across
Telemetry Tracking and Control
(TT&C) sites for their satellites by centralizing the management and control of their space and ground assets into a single system. Previously, the satellite manufacturer provided the
Satellite Control Systems
(SCS) and antenna vendors provided the
Monitor and Control
(M&C) software for the ground equipment. Far too often, operators have been left to deal with a number of different proprietary systems that are overly complex, difficult to manage and costly or impossible to maintain.
Today, satellite operators are gaining efficiencies and reducing training costs by standardizing on a single, integrated, commercial-based solution like the ones we provide to many customers worldwide. Our solution is based on the
EPOCH Integrated Product Suite
(IPS) from Integral Systems for the SCS and satellite fleet management,
Monics
®
with SAT-DSP for carrier monitoring and interference detection from SAT Corporation,
satID
®
geolocation system to quickly and accurately locate ground-to-satellite transmission sources from RT Logic, and
COMPASS Network Management System
(NMS) for M&C from Newpoint Technologies. (SAT Corporation, RT Logic and Newpoint Technologies are all wholly-owned subsidiary of Integral Systems.)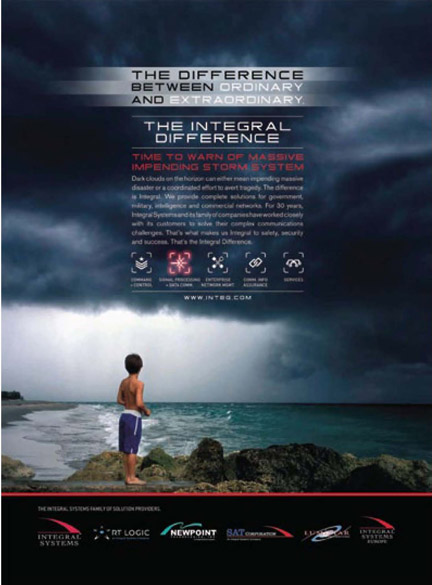 Service providers have a similar problem. They need to remain competitive in a fast growing, hotly contested market that is demanding better
Quality of Service
(QoS). They face the additional challenge of providing coverage over a large geographical area where many sites are expensive and difficult to access. Unlike satellite operators who have one or two teleports that have a large number of antennas to manage, service providers have 50 to 500 remote sites that are geographically dispersed often times in extremely remote locations. Clearly, it's cost prohibitive to man them all. Network management solutions like COMPASS and remote site management systems like Mercury are being used to centrally monitor the network and provide important alarm information on the sites. In many cases, sites can be recovered without having to send a technician, which is costly and time consuming. Worst case, network administrators are able to identify the problem at the site, so the technician dispatched has the right equipment to recover the site the first time without having to make potentially expensive return trips.
SM
Are you focused on any particular segments, due to their growth potential? (i.e., launch, manufacturing, teleport, security, MilSatCom, imagery, satellite broadcast, and others.) What market segments do you believe are the most promising for your Company?
Yen Chen
The growing problem of satellite and signal interference will continue to plague the industry on a global scale. The number of satellites and ground transmitters are growing rapidly, increasing the number of interference events and the effects of interference. Euroconsult recently reported that roughly 1,185 satellites will be built and launched from 2009 to 2018, a roughly 50 percent increase from the previous decade. Another leading industry group estimates that satellite operators with small-to-large fleets of geostationary satellites positioned in the Atlantic, Pacific and Indian Ocean regions lose hundreds of thousands, if not millions, of dollars in revenue per year due to RF interference. The financial impact manifests itself in lost revenue from the actual outage time and the man-hour costs spent locating the source of the interference and mitigating the issue. The secondary impact of RF interference is potential damage to the reputation of the service provider. It is difficult to place a dollar value on this secondary impact, but given the competitiveness of the market, customer satisfaction is critical.
To combat interference issues, vendors are providing products that automatically detect interference and geolocate the source. Integral Systems has been at the forefront of developing and offering innovative signal interference detection and Geolocation products and services. In fact, our Monics interference detection and satID geolocation systems are the most widely used products in the industry, providing accurate detection within minutes and the ability to locate the source of interference within a few kilometers. In addition to providing these industry-leading, product-based solutions to our customers to own and operate, we have recently launched our services organization, Integral Systems Service Solutions (IS3). IS3 gives us the ability to provide these same capabilities on a subscription service basis. The service based model is attractive to many of our customers who do not wish to own and operate their own infrastructure, or are looking for a means to augment their infrastructure with coverage in areas where they do not have their own systems.
Another issue facing Asia-Pacific is the major increase in the use of mobile devices. Industry groups project that the number of smartphones and PDAs in the region now exceed the number of laptops and will be five to 12 times more prevalent in three to four years. Furthermore, these devices push 50 to 100 times the amount of data as mobile phones. Since many carriers in Asia-Pacific use satellite as backhaul to cell towers, this exponential growth of data will strain the capacity of satellite networks. This is especially true in emerging economies where terrestrial backhaul is not an option.
The insatiable demand for bandwidth will force operators to more efficiently use the assets that they have. Integral Systems' commercial-based Command and Control, RF mitigation, signal processing and network management products, solutions and services, enables operators to optimize their network.
SM
What have been among your most successful projects for this market? And why?

Yen Chen
Integral Systems has provided hundreds of ground segment systems to satellite operators and service providers worldwide. For many of the reasons mentioned earlier, we have been successful in Asia with our integrated solutions. We have recently deployed three integrated solutions for satellite command and control, are in the process of deploying two others, and anticipate several other by the end of the year. Our EPOCH IPS Command and Control and Satellite Fleet Management solution has been selected by many leading broadcasters and providers in the region, including, but not limited to, AsiaSat, B-SAT, Chunghwa Telecom, Indovision, KT Corporation, SingTel/Optus, SKY Perfect JSAT and Vietnam Posts and Telecommunications Group (VNPT). China SatCom, SingTel, Chunghwa Telecom and several other regional satellite operators are using Monics to automatically detect, characterize and display interfering signals. Two major satellite operators in Asia rely on COMPASS NMS to centrally manage all ground segment antennas from a single system. In addition, COMPASS NMS is being used as a part of to major military programs in Asia and Australia to manage multiple, large teleports from a number of geographically-diverse
Network Operations Centers
(NOCs).
Our success is directly related to the partnerships we build with our customers. The Integral Systems' culture — something we call "The Integral Difference" — focuses on listening to our customers and delivering innovative products that solve their most complex problems. The approach ensures that we will continue to develop and provide commercial product-based solutions that are open and flexible, incorporating both new technologies and the ability to integrate with legacy systems that is required to provide longevity and return on investment and lower total cost of ownership.
SM
Given the state of the global economy, what is Integral Systems doing to meet the challenges of the satellite industry in the Asia-Pacific market?
Yen Chen
While Asia has weathered the global recession better than some of the other regions in the world, satellite operators and service providers are still faced with the challenge of offering services that are cheaper, faster and more reliable than their competitors. As margins shrink due to the hyper-competitive environment, operators — especially mid-sized and small providers — are finding it difficult to secure reasonable financing, or find the cash, to invest in new systems. For many of these companies, SatCom Systems are cost prohibitive, so they try to live without them. However, the need for these systems is more critical to maximize revenue, increase Quality of Service (QoS) and to meet Service Level Agreements (SLAs). Our commercial product-based approach is particularly relevant here as satellite operators, service providers and broadcasters are able to lower costs, increase margins, enforce SLAs, enhance QoS and quickly and easily upgrade their systems with the latest technology.
As I mentioned earlier, we are also able to meet the needs of smaller organizations and others, who choose to outsource their NetOps requirements with our services organization IS3. As IS3 can realize significant economies of scale by serving many customers, we are able to pass those savings along to our customers in the way of a cost-effective subscription service.
SM
Looking forward, how do future prospects appear for Integral Systems Asia? Are there any new projects in the pipeline you are able to discuss? What are the most significant challenges to overcome?
Yen Chen
We, of course, see Asia as a major growth area for the company, especially as the region continues to expand as an economic power. History has taught us that with growth comes greater complexity. From the ground segment perspective, Integral Systems, as a provider of commercial, product-based systems and solutions, is uniquely positioned to help satellite operators and service providers manage the transition.
As satellite operators increase the number of satellites in their fleet, we will be able to provide them with a standards-based ground segment architecture that reduces development and ongoing management costs, increases operational efficiencies, enables access to real-time, actionable data and facilitates interoperability across multiple systems. Integral Systems' new web-based integrated client Webic™ provides instant access to critical, real-time data from multiple sources in a single integrated operations environment.
Webic
™ provides comprehensive
Situational Awareness
(SA) offering real-time insight into both ground segment and space components, not just for the products and systems that we provide, but across the customer's entire enterprise through the inherent interoperability of this new product. Our integrated architecture also reduces acquisition development costs by eliminating multiple independent and disparate systems, enabling operationally responsive integration of new missions and facilitating modernization of outdated components and systems.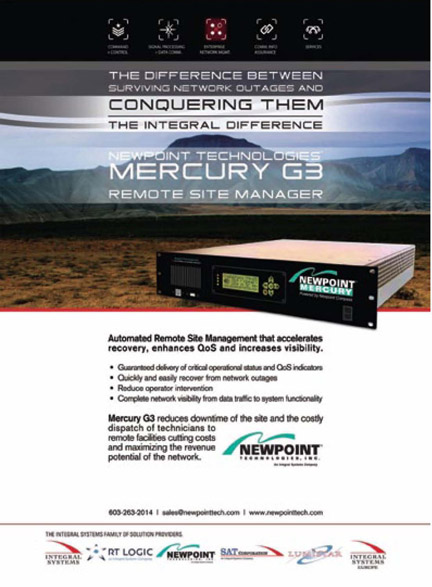 We are also seeing an increase in cooperative relationships among satellite operators. Commercial satellites are so large and powerful these days that the condo-sat approach is very attractive because it can offer the partners plenty of bandwidth to serve their customers, but their costs are defrayed through the partnership. In these partnership arrangements, Integral Systems can offer significant benefits to our customers. As our ground system solutions are so widely used, the chances are that one or both of the partners will have our system and that can make the integration of the ground systems much easier for our customers.
Another area we are focusing on is the RF Amplifier market. Integral Systems has significantly expanded our line of
Solid State Power Amplifiers
(SSPA) to include 200 and 100 Watt systems. The new SSPAs are a significant step forward in size, weight, power and cost, and match the efficiency and power of vacuum-based
Traveling Wave Tube Amplifiers
(TWTA). The compact size, low weight, high efficiency and low cost make them the ideal choice for customers looking to replace or retrofit Traveling Wave Tube Amplifiers (TWTA). In addition, our SSPAs reduce initial capital costs — as much as 40 percent, depending on system requirements — as well as ongoing operating costs by eliminating expensive tube replacements.
SM
Given your years of IT experience, you have witnessed a great many changes in the world of communications. How did you decide to become involved in the SatCom environment? Looking back, what would you say are the projects you've completed that bring you the most satisfaction?
Yen Chen
You are correct, communications has revolutionized the way we live and do business, and we have only scratched the surface. Advances in technology and the proliferation of communications to remote regions of the world will increase collaboration and productivity. It's an exciting time to be in the satellite communications business.
More than 20 years ago, I joined Integral Systems as an engineer. In fact, I was part of the original design team that produced the first version of EPOCH IPS. Later, I migrated to a management and business development role and immersed myself in the SatCom world. Things have changed quite a bit since then. I can still remember how happy I was to hook up a 9600 baud modem to my computer to connect to the office and Internet. Now people just take for granted instant access to the massive amounts of information available at their fingertips.
In looking back at the projects we have done over the years, we have successfully provided our Command and Control, satellite fleet management and ground segment solutions to numerous customers in the region. I'm extremely proud that we have been able to meet and often exceed our customer's expectations. It's a direct result of our customer-focused culture we live by at Integral Systems.
An overwhelming majority of operators in Asia-Pacific have adopted our systems and have seen the benefit and value we bring to them. The trust and the long-term relationships we have built, gives me the greatest satisfaction. We value those relationships very much and appreciate our customers viewing us as a partner and a friend there to help solve their problems, not just a vendor trying to earn a profit.