Caius M. Reza is part of the Business Development team at Alba Orbital. The company is based in Glasgow, Scotland. Alba Orbital wants to get more people building and launching their own satellites. The company builds the world's most advanced PocketQubes and aims to democratize access to space

What smallsat services and products does your company provide to the commercial market segments and why are these offerings important to users?
Caius M. Reza (CR)
Alba Orbital's mission statement is to democratize access to space and to advance PocketQube technology. We believe that this goal can be achieved firstly by miniaturizing satellite technologies into a picosatellite format known as 'PocketQubes' and secondly, by building a launch infrastructure which can provide frequent, affordable and reliant flight opportunities for PocketQube teams.
PocketQubes are smallsats that are even smaller than cubesats, with an edge length of only 5 cm and weighing under one kilogram. The reduced weight and size of PocketQubes means that you could build and launch your own satellite for a fraction of the price that you would have to pay for a cubesat. This enables new space applications and a means for any organisation or person to have their own space program.
Alba Orbital provides affordable turn-key solutions for startups, university teams and space agencies who are looking to get access to space. We provide everything from groundbreaking pico-satellite platforms, low-cost launch opportunities to ground station services, testing and consulting.
As leaders in the pico-satellite field, we are proud to state that we provide the lowest-cost launch opportunities on a flight proven system which has deployed the most PocketQubes in history. Our Unicorn-2 is also the most advanced picosatellite platform in it's class, allowing organizations to complete their missions at a fraction of the capital required to launch a 3U cubesat, with all the same performance standards.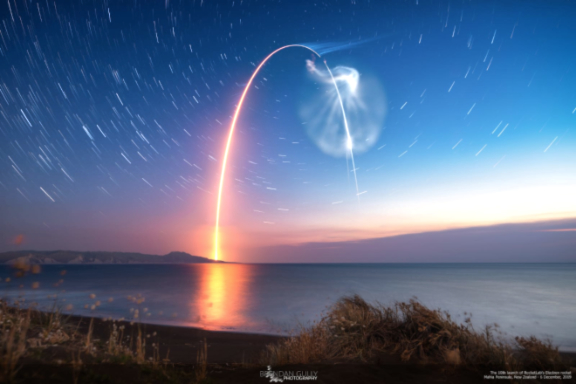 RocketLab's December 6, 2019, Electron launch with six Alba
Orbital smallsats aboard.
What do you believe are the most significant challenges that need to be addressed within the satellite environs?
CR
Historically there have been significant barriers to space access, which is a problem for many satellite developers. At Alba Orbital, we aim to remove as many of those barriers as we can to democratise access to space, so that we can improve life on earth by enabling novel space applications to tackle more of the issues we have on earth. PocketQube technologies are key to removing a significant number of these barriers, as the reduced form factor synonymous with picosatellites will lower the economic hurdles associated with getting to orbit.
There are a number of obstacles in the road ahead for us in regard to making space more accessible for all. The main issue at the moment in terms of getting satellite teams to orbit is the lack of awareness surrounding PocketQube technologies within the space industry, as well as the industry's doubts as to whether picosats can compete with cubesats in regard to size and performance.
The sentiment echoed within the PocketQube Community is that 'PocketQubes are to Cubesats what Cubesats were to satellites over a decade ago', and this is a statement which strongly resonates with us and other early adopters like our notable clients worldwide such as Stanford University, TU Delft and Carnegie Mellon University, among others.
To help solve this problem, we run annual PocketQube Workshops, where satellite developers share a forum to raise awareness of PocketQubes and to share ideas on how we can collectively improve the technologies needed to optimise picosats. The 4th Annual Pocket Qube Workshop will be running from 8th to 9th October 8 to 9, 2020 in Glasgow, UK, and we are very excited to attend this event.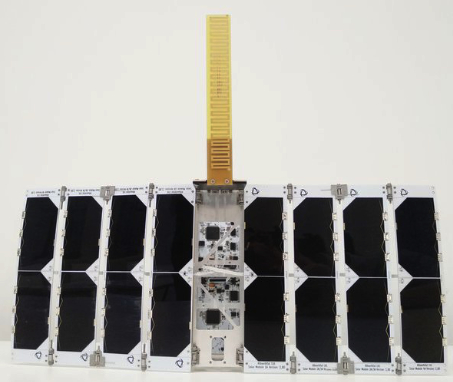 The Alba Orbital Unicorn-2 platform.
As a result of the lack of knowledge surrounding PocketQubes, this makes it hard to procure a launch for picosat developers who would like to launch their PocketQubes as there is a lack of sufficient launch infrastructure that is affordable, frequent and reliable. 'Alba Launch' is one of our services that provides a solution to this issue for our clients, as we provide regular launch opportunities tailored to PocketQube standards. We aim to launch a cluster at least once per year so that our customers can have a regular bus schedule which they can depend on.
Why should a prospective client consider Alba Orbital as their preferred smallsat solutions provider?
CR
Alba Orbital is the global leader in pico-satellite technology, with a world class team who possess more cumulative man decades than any other company building PocketQube spacecraft worldwide.We provide a hub of support for the fledgling class of PocketQube satellites by not only building our own platforms but providing launch opportunities and other services to companies, universities and space agencies around the world.
For prospective clients who are looking to procure a launch for their PocketQube, Alba Orbital provides the lowest-cost launch opportunities on a flight proven system in the space industry, with prices starting from as low as 25,000 euros. Alba Orbital boasts an unrivaled flight heritage record in the picosatellite field, having launched the largest number of PocketQubes in history, with six PocketQubes currently on orbit after our first launch on December 6, 2019, via the Rocketlab Electron Launch Vehicle.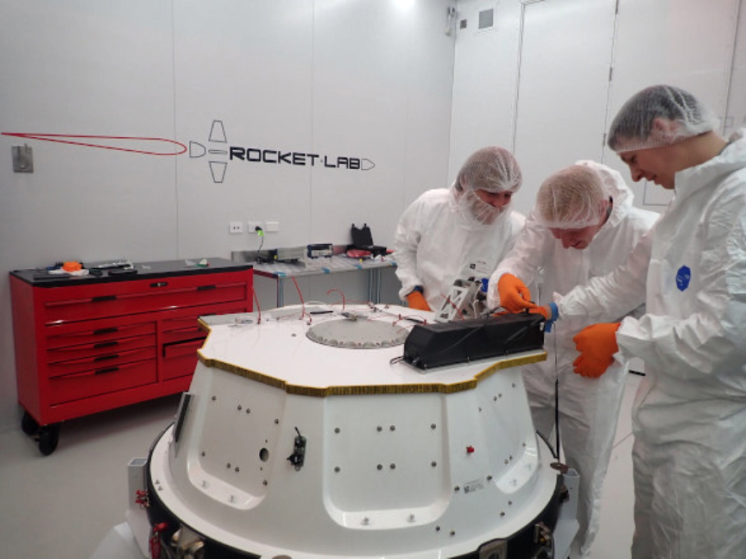 Alba Orbital integrating their payload for the RocketLab launch.
We have developed strong partnerships with several launch companies and brokers to ensure that our aims of launching a PocketQube cluster at least once per year are realized. This enables us to offer prospective clients frequent, affordable and reliable launch opportunities, so that they can confidently plan their missions on a timely scale at low-cost; democratizing space access in the process.
Please tell us about your company's Unicorn-2 platform.
CR
Unicorn-2 is Alba Orbital's second generation 3P PocketQube platform developed with support from the European Space Agency (ESA). It is the world's most advanced picosatellite by an order of magnitude on all specifications and subsystems. The goal of the Unicorn-2 is to get a 3U cubesat performance onto a PocketQube platform, and in the process, we have redefined what a PocketQube is capable of. Unicorn-2 'packs a lot of punch' for its size as it boasts a 20 watt, quadruple, deployable solar panel, the world's smallest active pointing system (ADCS) and key electronics integrated into one board (backplane), packaged into a small spacecraft weighing 750 grams and measuring 5x5x15 cm.
The Unicorn-2 platform has an unrivaled cost to deploy on-orbit. On average, the platform can expect to save satellite operators over 50 percent of their costs on hardware and launch when compared to a 3U cubesat, while retaining all of the same performance standards. Unicorn-2 is a versatile satellite platform that can service a wide range of mission types, including Earth Observation (EO), Internet of Things (IOT) / Communications and RF sensing missions. As a testament to the versatility of the Unicorn-2, we enjoy finding new ways of meeting user requirements for novel applications, allowing our clients to take advantage of this breakthrough technology platform.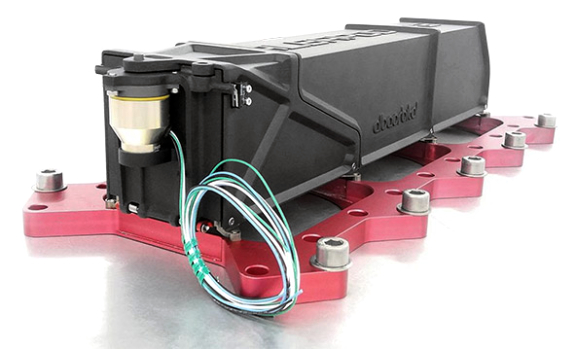 The Alba Orbital 3D printed deployer.
We are pleased to have recently announced the end of the mission and re-entry of Unicorn-2C (NOOR 1B), Alba's first Unicorn spacecraft to make orbit. The spacecraft successfully deployed its quadruple deployable solar panel and the customer operator confirmed reception of spacecraft signal. This is a great first step in space for Alba's Unicorn-2, which is the first operational 3P PocketQube in history, moving the system to TRL-9.
What may we expect Alba Orbital to reveal over the next few months?
CR
Our aim is to democratize access to space, so we are constantly striving to research the barriers to space entry and how we can implement cost-effective methods to break them down. We are always aiming to strengthen our commercial bonds, by improving our products and services, and tailoring them to the needs and wants of our clients. In that respect our customer feedback is essential for us in advancing our mission aims. A major barrier for smaller organisations looking to get in orbit, is satellite licensing. In response, we intend to provide satellite licensing as a service within the near future, as we have identified this to be a significant hurdle to our customer base.
With the recent mission success of Unicorn-2C, we are thrilled to announce that we will be launching Unicorn-2A for an Earth Observation mission with Alba Cluster 3, our rideshare launch via SpaceX's Falcon 9 launch vehicle. A provisional launch date of Q4 2020 has been scheduled for Alba Cluster 3 and we are pleased to such high demand for PocketQube launch, with only a couple of launch slots remaining! Joining Unicorn-2A on the Alba Cluster launch are PocketQubes developed by Stanford, Carnegie Mellon, AMSAT-EA, TRSI Club and Zonguldak Bulent Ecevit University to name a few.
We also plan to make further progress with 'AlbaConnect', our recently unveiled rapidly deployable UHF/S-Band ground station service. AlbaConnect was conceived as a solution for satellite teams who have launched their PocketQubes, but who do not have the capital to communicate with it.. Alba Connect offers satellite teams the ability to communicate with their satellite up to six times per day in Polar Orbit, without the time and hassle of deploying their own capex intensive capital.
To sum up, Alba Orbital is open to working with anyone or any organization who requires a satellite and needs a PocketQube to complete their mission.
www.albaorbital.com