Andrew Matlock has a work history that spans 25 years across the telecommunications and technology sectors. He has worked as Regional Manager for Calcomp Inc, (a division of Lockheed Martin), was CEO and co-founder of Inspar Pty Ltd and co-founded successful start-up ventures in the United States of America and in Australia.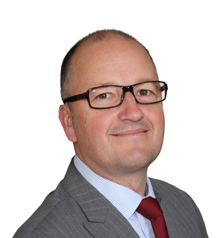 Andrew joined NewSat in 2007, becoming Vice President of Sales in June of 2008. Through strong leadership, effective communications and genuine interpersonal skills, Andrew has built a successful, process-driven and scalable global sales team to support NewSat's future growth.
SatMagazine (SM)
You have been involved in telecommunications and technology sectors for over 25 years and have spent the last seven years working in the satellite industry. What do you think the biggest change in the industry has been so far?
Andrew Matlock
Over the last decade, I have seen how global demand for satellite capacity has grown exponentially, far outstripping supply. The market is currently experiencing a transformation, similar to what happened 20 years ago when C-band spectrum filled up and the industry needed to move on to Ku-band. For this reason, demand for next generation Ka-band satellite capacity is expected to grow, especially across high demand regions, such as the Middle East, Asia and Africa.
SM
How did you decide that NewSat was where you wished to develop your career?
Andrew Matlock
NewSat
is such a dynamic, growth-driven organisation and its Founder and CEO,
Adrian Ballintine
, is a visionary entrepreneur who is dedicated to growing and transforming NewSat into a global satellite operator.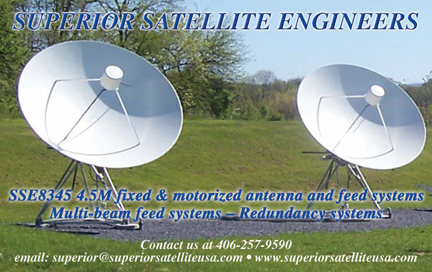 I joined NewSat because I saw an opportunity to become involved in the development of its teleport business and, later, in the
Jabiru Satellite Program
. Upon the acquisition of its teleports in
Perth
,
Western Australia
and
Adelaide
, South Australia, NewSat had two great assets which needed to be developed. I wanted to progress the teleport business and build a successful team which understood the products we were dealing with inside out.
Now, NewSat is expanding its satellite capabilities with the Jabiru Satellite Program, starting with the launch and operation of
Jabiru-1
, Australia's first Ka-band satellite. This has given me the opportunity to work on and grow this new and very exciting side of the business. NewSat is a truly customer-focused business, which I enjoy. I expect to work at NewSat for many years to come.
SM
Looking over your career at NewSat, what would be some projects that have brought you the most satisfaction?
Andrew Matlock
One of the projects which has brought me great satisfaction was the redevelopment of our sales team and building an understanding of our services and products in the market in order to develop NewSat's business. Our journey spans from acquiring teleports in Adelaide and Perth to establishing a reputation as the partner of choice for governments, corporations and private enterprise. NewSat's teleport business has recorded year-on-year record growth over the last several years and it has been fantastic to be an integral part of it.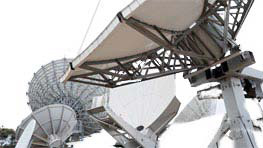 Being involved in the development of the Jabiru Satellite Program is another great aspect of my job. Taking it from a concept into now having sold US$601 million of pre-launch customer contracts has been a very exciting and rewarding journey.
SM
2012 has been an exciting year for NewSat—can you tell us a bit about what has been happening?
Andrew Matlock
Throughout 2012, NewSat's core teleport business continued to grow, starting with the signing of new "blue chip" customers across the Middle East, Asia, Australia and the USA, which were incremental to NewSat's existing revenue base. Focusing on customers across resources, construction, maritime, military and government verticals, combined with high levels of customer retention, NewSat's world acclaimed teleport business has been very profitable.
The teleport business kick-started the 2013 financial year with the signing of its largest individual contract, US$8.59 million, for the Wheatstone Project, one of the world's largest liquid natural gas (LNG) projects located off the North West coast of Western Australia. In addition, NewSat's Adelaide and Perth teleports were rated Top 3 in the world at the
2012 World Teleport Association
's
Awards for Excellence
.
NewSat experienced 29 percent revenue growth and high customer retention rates, with 100 percent of the top 30 customers remaining with the company. We have also acquired the rights to an additional orbital slot, taking the total to eight premium orbital slot assets.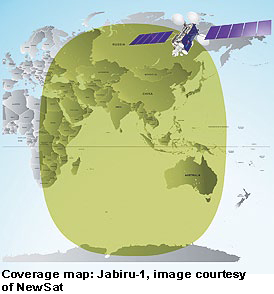 SM
Jabiru-1 is Australia's first Ka-band satellite—how is the project progressing?
Andrew Matlock
NewSat's strategic growth project, the Jabiru Satellite Program, continued to achieve key milestones towards the launch of Jabiru-1. To date, NewSat has signed US$601 million pre-launch customer contracts for Jabiru satellite capacity across enterprise and government customers, including a US$180 million contract with leading Asian satellite operator,
MEASAT
.
NewSat also secured the services of
Lockheed Martin
and
Arianespace
to construct and launch the Jabiru-1 satellite. Lockheed Martin completed
Preliminary Design Review
(
PDR
,) confirming that Jabiru-1 is on track for its end of 2014 launch. NewSat also received final approval from Ex-Im Bank for a ~US$280 million direct loan and received a promesse de garantie of ~US$102 million from COFACE for Jabiru-1.
Jabiru-1, a large next generation Ka-band satellite, will provide superior coverage over North Africa, the Middle East and South Asia. The satellite will provide much needed "new" capacity to these high demand regions, through a range of multi-spot, regional and steerable beams.
SM
What is the current Americas market like for NewSat? What will be the growth drivers for the future?
Andrew Matlock
Clients in the Americas continue to be strong contributors to NewSat's business. In particular, the re-alignment of U.S. troops to the Pacific fits in perfectly with our position in the Asia Pacific market. Specifically, our two teleports are well situated geographically to continue supporting requirements in Africa, Europe and the Middle East and support the upcoming communications needs within PACOM's area of responsibility We are also experiencing a surge in
Communications-On-The-Move
(
COTM
) requirements and our clients continue to expand their existing networks by leveraging our teleport infrastructure.
Jabiru-1's steerable beams are also drawing a great deal of interest from users in the maritime and aeronautical communities, particularly to augment capabilities in high areas of interest. NewSat's access to satellites with coverage that spans from Europe to the USA's West coast in Ku- and C- band allows us to support growing needs in various regions and markets. Additionally, we are seeing an increase in requirements from the video community. The wide reach of our teleports allows us to help clients redistribute content across a variety of markets and regions.
SM
How will Jabiru-1 assist the Americas market?
Andrew Matlock
Jabiru-1's Ka-band payload is ideally suited to support the expansion of U.S. clients in the commercial and military sectors. The fixed beams are over areas demonstrating increased bandwidth needs from enterprise clients and will allow the growth of existing networks restricted today by the lack of clean Ku-band. The U.S.
Department of Defense
(
DoD
)'s satellite bandwidth consumption continues to grow and the launch of the WGS fleet certainly assists in meeting this demand.
However, even with this expansion, predictions are that a shortfall in the next few years will allow Ka-band capacity providers such as NewSat to complement the WGS fleet with commercial capacity. Jabiru-1 was designed with tremendous flexibility, with regard to beam connectivity which will allow NewSat to configure bandwidth as needed by various user communities.
There is already a significant amount of pre-launch commitments which will position certain clients to have significant advantages to compete for the Ka-band requirements that cannot be met by WGS. Australia's position as a strong U.S. ally puts us in a better position than other providers of Ka-band capacity in the region.
SM
What do you believe are three growth areas in the global satellite industry?
Andrew Matlock
A major growth area is Ka-band. The increased spectrum available at Ka-band when compared to C-and Ku-band makes the move to Ka-band a natural decision given the strong demand for connectivity.
As mentioned earlier, mobile VSATs with high capacity requirements will be a huge growth area in the next decade. The volume of HD Video required for the growing number of UAVs alone is expected to greatly outstrip demand.
We have also seen an increase in customer demand for content distribution over satellite. This is because satellite has a competitive advantage over point to point terrestrial distribution, specifically due to its ability to distribute content from one point to many.
SM
What is in store for NewSat in 2013?
Andrew Matlock
2013 will revolve around realizing NewSat's vision of becoming a global satellite operator. We will continue to work closely with Lockheed Martin every day as the Jabiru-1 satellite is being built and will focus on achieving further key milestones for the Jabiru Satellite Program.
The launch of NewSat's Jabiru-2 at the end of 2013 will provide some much needed Ku-band capacity over Australia, Timor Leste and Papua New Guinea. We will continue to grow our teleport business and reach out to high demand markets around the world across oil and gas, mining, maritime, aeronautical, military, government and enterprise. Our sales team is constantly expanding and we have a strong sales pipeline for 2013.
More info at the NewSat website:
http://www.newsat.com.au/