As natural resource exploration across the globe has consistently experienced drastic changes over the past years, one subject remains at the forefront of the race for the next big find — the allocation and availability of new energy sources. Whether it's delving into some of the deepest waters or charging into untapped terrains, the oil and gas drilling market requires robust communications now more than ever before to ensure mission success.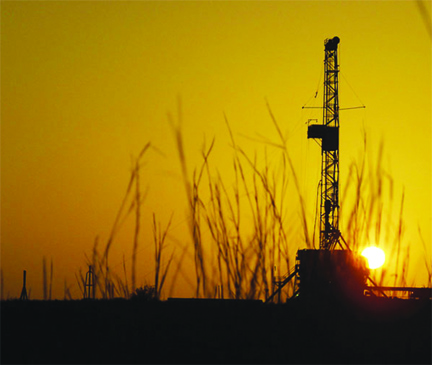 It is often a given that maritime markets depend upon satellite communications for operations, as drill ships and commercial shipping vessels are mobile and cannot be tethered to fiber networks. For land drillers, however, communications infrastructures can often be an afterthought. When on land, it's become an assumption that anyone can just pull out a smartphone and gain access to all the connections and information needed at any point in time. The truth is, for drill sites, this is not always the case. A company may have rigs in the middle of a well-networked city, but much of the drilling market exists in remote areas where cellular signals cannot accommodate data transmission and communications needs.
At the heart of each drilling company's operations is its need to communicate. As land drilling sites are constantly being constructed, relocated and exhausted, the right communications solution requires rapid deployment and must be able to adapt to suit the ever-changing needs of the company.
Why SATCOM?
Drilling companies can manage any number of drill sites, ranging from just a few placed around a small deposit to hundreds across multiple countries and continents — each equipped with a skilled field team. In addition, corporate headquarters and field offices house teams of specialists, administrative staff and corporate personnel. As all personnel are required to work together seamlessly to manage drilling operations, it's important that each site be treated as an extension of the home office, with comprehensive communications capabilities. This generally requires cellular, WiMAX and Wi-Fi signals to connect between offices and drill sites, as well as to utilize technology within each site.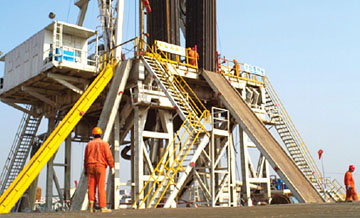 Of course, the location of a drilling site is not always convenient for the physical networks already established by carriers. Internet and cellphone coverage may not be available for each field crew, limiting their ability to communicate with other sites and team members, as well as conduct off-the-clock activities. Therein lies the true value of satellite communications — the strategic placement of a fully contained communications solution allows for consistent, flexible coverage across a wide geographic area without building a local, physical infrastructure.
This type of flexibility is what makes a SATCOM service provider the ideal solution for the communication needs of land drilling operations. Not only does it meet the demands of drilling contractors, exploration and production operators and service companies, but SATCOM services will also save countless dollars by eliminating hardware and maintenance costs for what can often turn out to be extensive network requirements.
Needs
Without the proper communications infrastructure in place, a land drilling network can easily become a logistical nightmare. A dependable network allows for real-time transmission of critical drill site data, voice connectivity and corporate networking so that company resources can immediately be distributed where they're needed most.
In addition to corporate functions, crew morale is extremely important in the land drilling arena. As teams are often subjected to remote environments for weeks on end, it's important to provide them with outlets to remain close to families and friends. Satellite services allow drilling companies to easily allocate enough bandwidth to provide broadband Internet access and voice connectivity for drill site teams to connect with families and attend to matters unrelated to work. This makes for more efficient crews and may even reduce costs associated with human resources.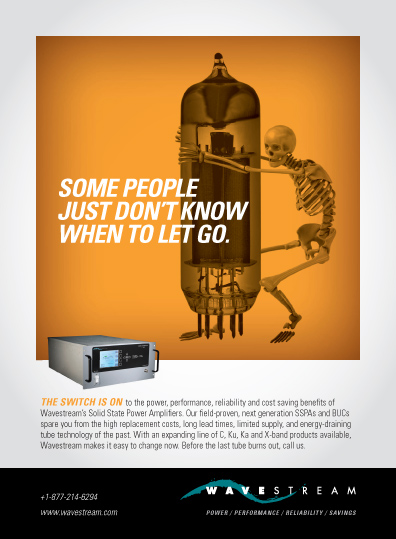 Of course, every drilling company's needs are different. They operate in different geographic areas, and as new fuel deposits are discovered or exhausted, they are constantly expanding, contracting and relocating to new locations. In many cases, this may limit the company's choices when it comes to a SATCOM service provider. Overcoming these challenges requires only that the drilling company select a service provider already invested in its own global infrastructure. Partnering with a global service provider that owns and operates the network ensures that, regardless of how remote the site, drilling companies can trust that they have reliable communications support for their missions.
Capabilities
For an industry in which profit is directly dependent upon the amount of materials allocated in a certain period, time is money. For every hour of network downtime, maintenance, setup and deconstruction, the drilling company is losing money. This is why a company's communications partner must be able to produce network components that are ready to deploy at a moment's notice. In addition, it pays to choose a provider with the resources to not only meet the company's immediate coverage and capability needs, but to manage unforeseen issues as well.
With drilling sites going up and coming down within a matter of hours or days, often without a predetermined lifespan or timeline, communications equipment must be easily portable and capable of going online without delay. That means site data can begin transmission as soon as it's installed and commissioned by the site crew, and can therefore provide more accurate numbers for the drilling headquarters. These requirements have led to Very Small Aperture Terminal (VSAT) technology becoming a major player in SATCOM services for land drilling operations, as these terminals are easy to transport and can go online quickly.
Deployment, flexibility and network maintenance procedures may look different for every provider, depending on its size, so it's important to take these components into consideration before signing a contract. More specifically, a provider should be able to offer coverage beyond a company's current area of operations to allow for expansion. In addition, the provider's customer service program should offer the ability to proactively diagnose and remotely troubleshoot communications issues as they arise, preferably with 24/7 support so customers can stay focused on their core mission.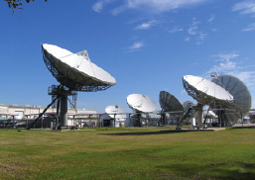 Availability
It's not enough for a service provider to have a wide variety of communications products and services; it must also have the network resources and infrastructure in place to accommodate clients' changing needs. For companies with a global presence, it's not cost-effective to sign contracts with local service providers in each country because that often means having to manage multiple vendors and invoices, not to mention the headaches associated with identifying the source of accountability for certain issues. Rather, larger, more established service providers may have the resources to offer connectivity for multiple countries or continents, saving the driller time and money.
In addition, wider networks generally come with multiple, local field offices and service centers, as opposed to a single headquarter location. This will save valuable time during deployment and maintenance, as site managers will be able to maintain more efficient relationships with hardware and network maintenance crews on a localized basis.
However, it may not always be necessary for service providers to have a service center or office near every drill site, as many of them offer remote capabilities. Since satellite networks are not static, network components may be adjusted remotely via the provider's Network Operations Centers (NOCs) to repair coverage issues or redistribute signals to new areas. This is an added benefit over stationary wireless networks, which have very limited flexibility to compensate for coverage needs.
Selecting A Provider
An efficient provider will offer a different combination of technology, services and packages, generally in a tailored combination to fit the specific needs of a client. Again, while this may have a larger price than those offered by a smaller company, it will save money in the long run when it comes to expanding capabilities across new regions and will save time and money in deployment and maintenance. Plus, the partnership will extend beyond the two companies' headquarters and will allow site managers to maintain communication with local technicians and other valuable stakeholders to make sure a site doesn't lose connectivity.
Of course, the success and reliability of a SATCOM network depends upon the quality of technology and service of the provider as well as of the enablement of drill site crews to operate and maintain network components. That is why it is important to choose a provider with the resources to help site managers keep a close watch on the network and react quickly when problems arise.

About the Author
Keith Johnson is president of Energy Solutions at Harris CapRock Communications, a premier global provider of managed satellite and terrestrial communications solutions, specifically for remote and harsh environments including the energy, government and maritime markets. Harris CapRock owns and operates a robust global infrastructure that includes teleports on six continents, five 24/7 customer service centers, AssuredCare customer service and network management program, local presence in 23 countries and more than 275 global field service personnel supporting customer locations across North America, Central and South America, Europe, West Africa and Asia-Pacific regions. To better serve the energy market, Harris CapRock launched a new solution, FieldAccess, in August 2010, which serves land drilling operations with broadband Internet, voice connectivity, corporate networking and real-time data to remote sites. Delivered via a managed service, FieldAccess includes equipment, service and support with in-region technicians and strategically located equipment depots near major oil and gas plays.