EXOLAUNCH to lift four Spire Global smallsats to orbit via an Indian PSLV rocket
During the SmallSat Symposium now in session in Mountain View, California, EXOLAUNCH announced their intention to lift four, Spire Global cubesats into LEO via an Indian Polar Satellite Launch Vehicle (PSLV) later this year.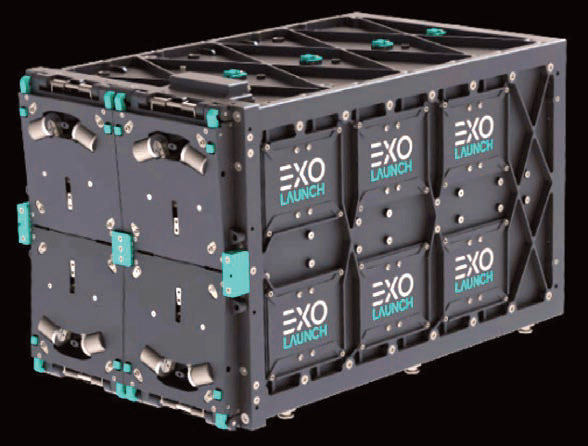 EXOLAUNCH's EXOpod deployer.
EXOLAUNCH is integrating the Spire smallsats into EXOpod, which is a deployer that is large enough to contain 12 single cubesats. Plus, EXOLAUNCH is providing launch services and technical support for the Spire mission. Exolaunch has helped to deploy about one-third of Spire's on-orbit constellation and has launched more than 100 cubesats, with some 80 spacecraft now on-orbit.
This mission will also serve as a cooperation conduit between the company and Indian launch services provider, New Space India Ltd. (NSIL)—the commercial arm of the Indian Space Research Organization (ISRO). NSIL was established in 2019 to provide commercial customers with access to Indian launch vehicles.
Robert Sproles, Spire director of Ground Stations and Launch, said that the company first launched to an equatorial orbit on a Polar Satellite Launch Vehicle mission in 2015. The firm is excited to again be launching to a low inclination orbit with NSIL, this time through EXOLAUNCH. EXOLAUNCH has been a long-standing consistent launch partner for Spire.
Jeanne Medvedeva, EXOLAUNCH Commercial Director, added that Spire is the firm's long-time, valued customer and they ensure their satellites can reach a variety of orbits.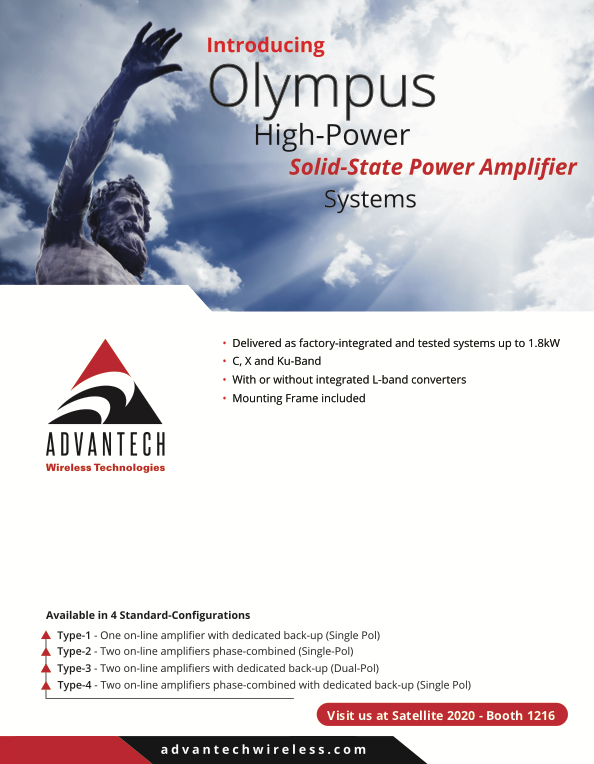 For this launch, EXOLAUNCH improved the firm's EXOpod deployer by reducing its mass while also increasing its available satellite mass. The company is also looking forward to the start of an important cooperation with the NSIL team, who broadens the commercial horizons for PSLV launches.
Radhakrishnan Durairaj, NSIL's Executive Director, noted that the company thrives to make space access affordable to commercial satellites using ISRO's launch vehicles, including the PSLV, Geosynchronous Satellite Launch Vehicle, Geosynchronous Satellite Launch Vehicle Mark 3 and the launch on-demand Small Satellite Launch Vehicle for meeting smallsat launch needs.
---
Virgin Galactic makes a vital move to commercial HQ
Virgin Galactic Holdings, Inc. (NYSE: SPCE) ("Virgin Galactic" or "the Company") has successfully completed another vital step on their path to commercial service, relocating SpaceShipTwo, VSS Unity, to its commercial headquarters at Spaceport America's Gateway to Space building.
VSS Unity, attached to the carrier aircraft, VMS Eve, made the journey from Mojave, California, where the company's manufacturing facilities are based. The vehicle landed at 15:49 MT, where it was greeted by an enthusiastic group of teammates who will operate the spaceship in New Mexico.
This captive carry flight provided an opportunity for engineers to evaluate VSS Unity for more than three hours at high altitude and cold temperatures, a longer period of time than is experienced during missions to space. These environmental evaluations of system performance are difficult to replicate at ground level, making captive carry missions a vital component of VSS Unity's flight test plan.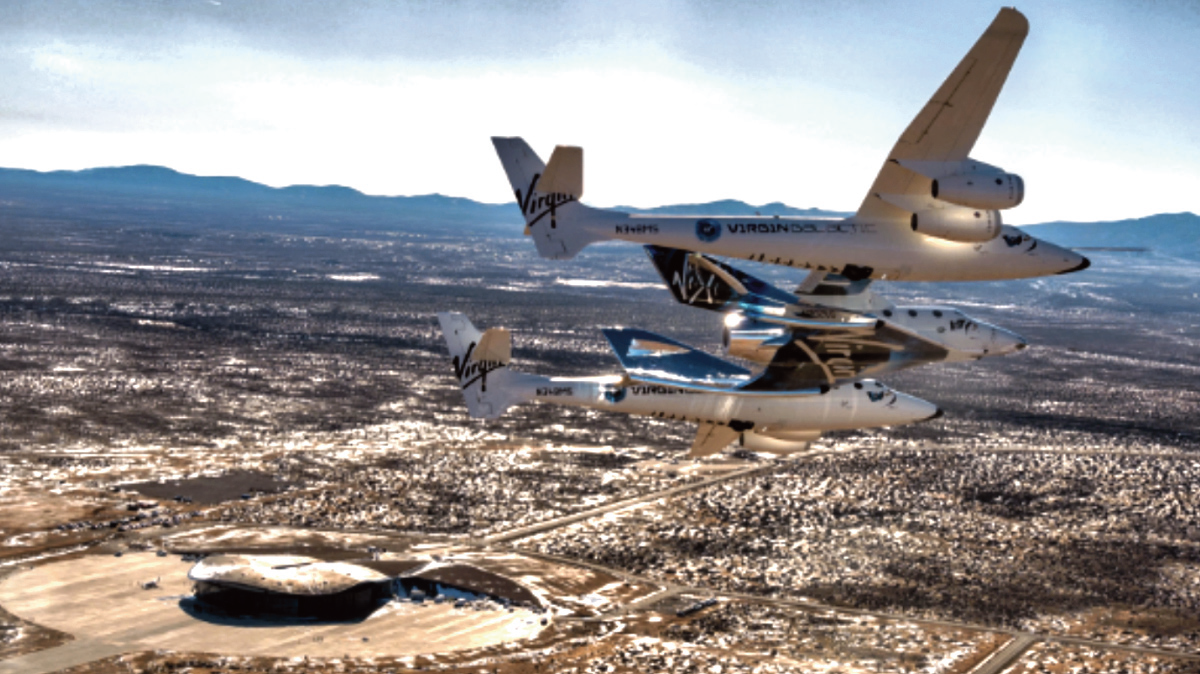 Unity arriving at Spaceport America in New Mexico.
Photo is courtesy of Virgin Galactic.
The flight also provided a valuable opportunity to conduct pilot training and familiarization, with veteran Italian Air Force Test Pilot Nicola 'Stick' Pecile joining Chief Pilot Dave 'Mac' Mackay in the cockpit of the spaceship for the first time. Nicola is the fifth pilot to complete a flight in VSS Unity. VMS Eve was piloted by Mike 'Sooch' Masucci and Frederick 'CJ' Sturckow.
The move of the spaceship to Spaceport America marks a key step in the relocation of Virgin Galactic's to the state of New Mexico. In May 2019, Virgin Galactic announced that as part of this move, approximately 100 teammates would move to New Mexico from Mojave, California, Spaceport America would become operational and the vehicles would be transferred to the Gateway to Space.
Nearly all of those team members have now been relocated, the spaceport is operationally ready and both VMS Eve and VSS Unity have now arrived. Of Virgin Galactic's total current New Mexico work force, more than 70 team members have been hired locally, the result of a conscious effort to attract New Mexico-based talent.
The relocation of VSS Unity to Spaceport America enables the company to engage in the final stages of its flight test program. This will begin with a number of initial captive carry and glide flights from the new operating base in New Mexico, allowing the spaceflight operations team to familiarize themselves with the airspace and ground control.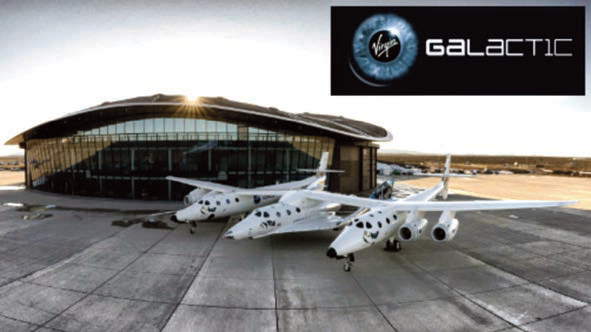 Once these tests are complete, the team will carry out a number of rocket-powered test flights from Spaceport America to continue the evaluation of VSS Unity's performance. During this phase, the final spaceship cabin and customer experience evaluations will also be concluded in preparation for the start of commercial spaceflight operations.
The Spaceship Company, Virgin Galactic's design, testing and manufacturing arm, remains firmly rooted in Mojave, California. While VMS Eve and VSS Unity are now based in New Mexico, they will make periodic journeys back to Mojave to support ground and flight tests of new spaceships, as well as for vehicle maintenance and upgrade activities.
There is significant progress being made on the next two spaceships, including achieving the Weight on Wheels milestone for the second spaceship and completing over 50 percent of the structural and system part fabrication for the third spaceship, which were announced in January.
New Mexico Governor Michelle Lujan Grisham said New Mexico is going to be the world's launchpad for commercial spaceflight. This relocation marks another step closer for the state, which will have a genuine Space Valley in Southern New Mexico, a hotbed of innovation and achievement and space tourism development. The governor congratulated Virgin Galactic's workers, George Whitesides and Sir Richard Branson on this successful flight – and she welcomed all to New Mexico.
George Whitesides, the CEO of Virgin Galactic, added when Virgin Galactic started moving to New Mexico last year, the sheer magnitude of the task ahead was felt by all, but the company was encouraged and excited by the team's confidence and strong vision for the future. This is the realization of the next step in that dream by bringing this beautiful spaceship to New Mexico. There remains significant work ahead; however, the company is grateful to all of the firm's teammates who have made this day a reality.
Dan Hicks, Spaceport America's Executive Director, congratulated the Virgin Galactic team, saying that this truly is the dawn of a new era for the commercial space sector. They are tremendously proud of their foundational partner Virgin Galactic — as they see and support their historic progress in making human space flight a reality for their beautiful world. The New Mexico and Spaceport America leadership will continue their strong support for their visionary Virgin Galactic teammates; and they are looking forward to an exciting 2020!
---
Accion Systems raises $11 million in Series B funding for space propulsion tech
Accion Systems has raised $11 million in Series B funding — the round is being co-led by Boeing HorizonX Ventures and Shasta Ventures.
The TILE product family features four systems.
The Series B round brings Accion's total funding to date to $36 million, which includes $14 million in U.S. Deptartment of Defense (DoD) and NASA contracts. The new capital will be used to ramp up production of Accion's next-generation propulsion product and to expand hiring.
Spun out of Massachusetts Institute of Technology (MIT) in 2014, Accion is redefining in-space propulsion. Accion's TILE (Tiled Ionic Liquid Electrospray) propulsion system aims to increase the lifespan and maneuverability of satellites and other vehicles in space. Leveraging a non-toxic, ionic liquid propellant and postage stamp-size thrusters, the TILE system is smaller, lighter and more cost-effective than traditional ion engines.
Boeing HorizonX, an innovation and venture organization within Boeing, discovers, shapes and accelerates the next generation of game-changing ideas, products and markets through ventures investments, partnerships and trend discovery.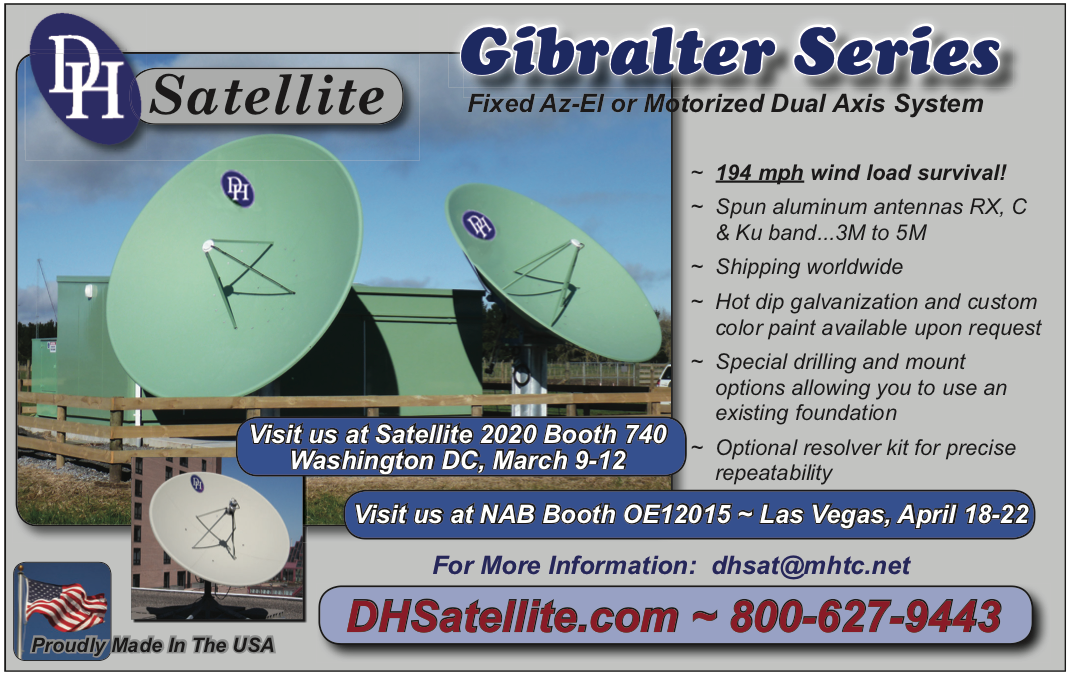 Accion Systems has a number of launches already scheduled for 2020, including collaborations with student organizations at the Irvine CubeSat STEM Program in Irvine, CA and BeaverCube, an educational mission led by MIT to introduce University students to aerospace science and technology through designing a 3U CubeSat.
Accion also was recently one of fourteen companies selected by NASA as part of its Tipping Point partnership for Moon and Mars technologies. Accion's in-space propulsion system will be used on replicas of the MarCO CubeSats, NASA's first cubesats that traveled on an interplanetary mission. Accion will work with NASA's Jet Propulsion Laboratory (JPL) to replace the cold gas propulsion system that was used on the MarCO cubesats with a more efficient ion electrospray propulsion system. Accion received $3.9 million for the project, which was successfully kicked off in January 2020 and will launch in the summer of 2021.
Natalya Bailey, CEO of Accion Systems, said that at the size of a postage stamp, the company's propulsion system is re-writing the rules of smallsat navigation and maneuverability, The firm is excited to ramp up production and offer clients benefits such as extending mission lifetime, station-keeping, and de-orbiting capabilities.
Brian Schettler, Senior Managing Director of Boeing HorizonX Venture, noted that Accion's propulsion system brings new capabilities to satellites, space vehicles and ultimately, customers. This support of Accion supports Boeing's leadership in adopting next-generation technologies to advance satellite capabilities.
Shasta Ventures led Accion's Series A funding round and Rob Coneybeer sits on Accion's Board of Directors.
Coneybeer is the Managing Director at Shasta Ventures and added that only 60 satellites were launched during the first nine years of space exploration, but now there are that many smallsats launched in a single mission. A new approach to in-space propulsion and smallsat mobility is in order, and the company believes Accion has the solution.
---
Rocket Lab selected by NASA to launch Pathfinder Mission to the Moon
Rocket Lab, a space technology company and global leader in dedicated small satellite launch, has been selected by NASA as the launch provider for a small satellite mission to the same lunar orbit targeted for Gateway – an orbiting outpost astronauts will visit before descending to the surface of the Moon in a landing system as part of NASA's Artemis program.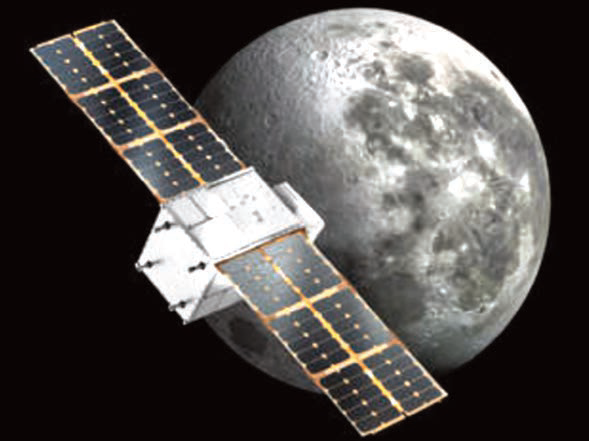 Updated illustration of NASA's CAPSTONE CubeSat.
The spacecraft design has changed since the mission contract
award in September 2019. Credits: NASA
The Cislunar Autonomous Positioning System Technology Operations and Navigation Experiment (CAPSTONE) is expected to be the first spacecraft to operate in a near rectilinear halo orbit around the Moon. In this unique orbit, CAPSTONE will rotate together with the Moon as it orbits Earth and will pass as close as 1,000 miles and as far as 43,500 miles from the lunar surface.
CAPSTONE will demonstrate how to enter into and operate in this orbit as well as test a new navigation capability. This data will help to reduce navigation uncertainties ahead of future missions for Gateway, as NASA and international partners work to ensure astronauts have safe access to the Moon's surface.
The satellite will be launched on Rocket Lab's Electron launch vehicle from Launch Complex 2, located within the NASA Wallops Flight Facility in Virginia, USA. After launch, Rocket Lab's high performance configurable satellite bus platform, Photon, will deliver CAPSTONE on a ballistic lunar transfer. Photon's Curie propulsion system will allow the satellite to break free of Earth's gravity and head to the Moon. After launch, CAPSTONE take approximately three months to enter its target orbit and begin a six-month primary demonstration phase to understand operations in this unique orbit. The mission is targeted for launch in early 2021.
Rocket Lab founder and chief executive Peter Beck said that smallsats such as CAPSTONE will play a crucial role in supporting the return of human missions to the Moon and they're proud to be supporting NASA in this unique and pivotal mission. As a dedicated mission on Electron, they're able to provide NASA with complete control over every aspect of launch and mission design for CAPSTONE, something typically only available to much larger spacecraft on larger launch vehicles. In the same way we opened access to LEOfor smallsats, we're proud to be bringing the Moon within reach to enable research and exploration. Supporting the mission on Electron is Space Exploration Engineering, who will contribute to mission planning, trajectory analysis, orbit determination, as well as KSAT who will provide global ground station coverage for the mission.
---