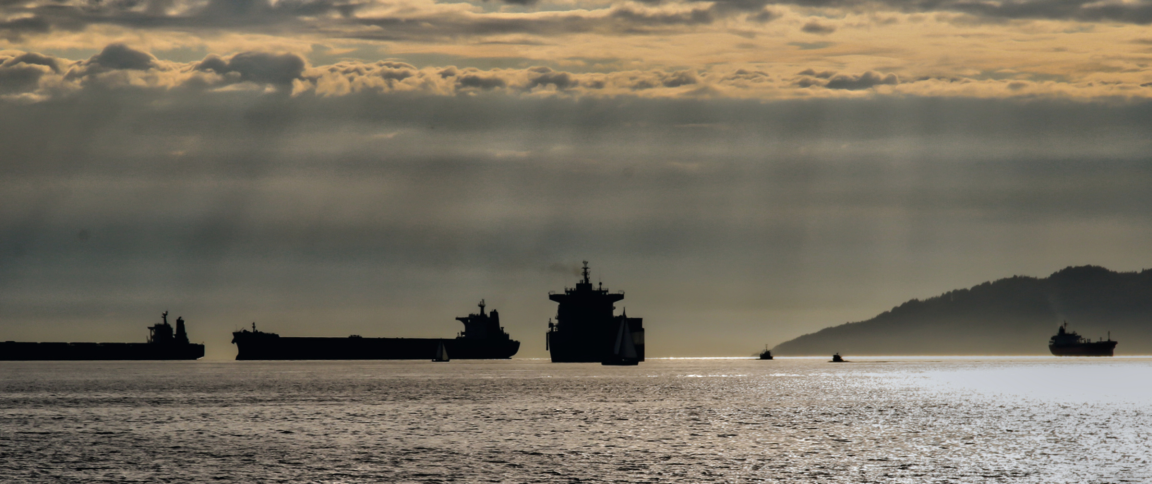 ---
Sanctions enforcement and counter-smuggling operations are among the most challenging missions facing global navies. Sanctioned countries such as Iran regularly seek to evade United States sanctions, relying heavily on oil for funding.
To investigate these activities, HawkEye 360 collaborated with TankerTrackers.com to examine how Iran might be using its tanker fleet to smuggle large amounts of crude oil through the Mediterranean into Syria for sale.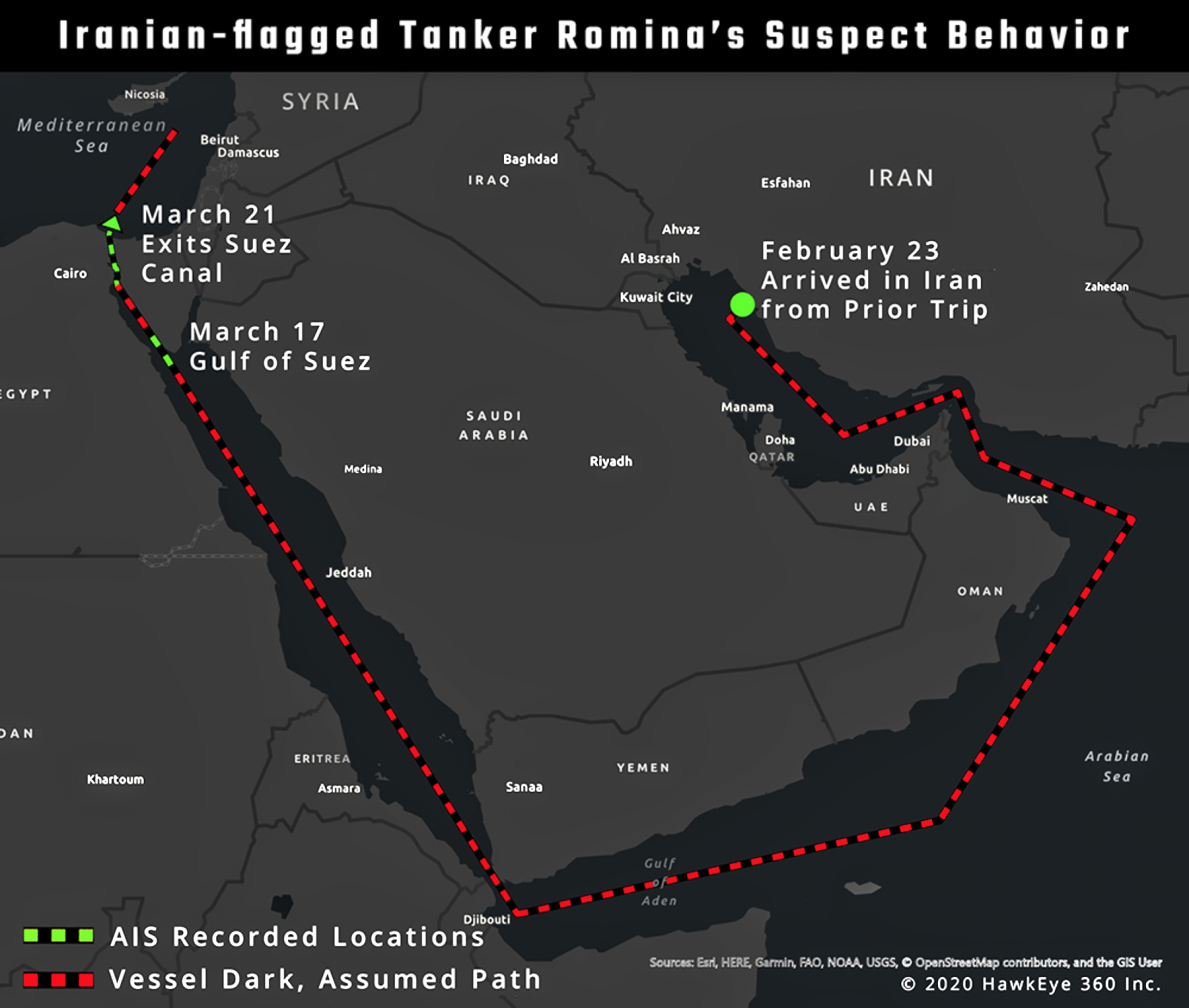 HawkEye 360's unique analytics supported this first-of-its-kind multiple intelligence (Multi-INT) report combining commercial RF signal data with TankerTrackers.com's analysis of commercial electro-optical imagery and open source data. HawkEye 360's SEAker® product traced the path of suspect tankers, showing signal gaps in the voyage, while the company's RFGeo™ product identified tanker marine radio signals at an active Syrian port for the Baniyas Refinery. Using imagery intelligence (IMINT), TankerTrackers.com examined Planet's imagery and identified several newly arrived Iranian-flagged tankers at that port.
HawkEye 360's data reinforced TankerTrackers.com's findings that Iran has increased tanker activity to Syria to evade crude oil sanctions. This fusion of multiple commercial modalities produces an unclassified and sharable assessment of Iranian tanker activities.
Background
In May of 2019, the U.S. announced that it would no longer grant sanction exemptions for buyers of Iranian oil. At the time, the U.S. asserted that Iranian militias with ties to the Iranian Revolutionary Guard Corps had been smuggling crude oil from western Iraq to Syria. A December 2019 report by S&P Global Platts, a reporting agency for oil, placed estimates for the cross-border flow of crude oil facilitated by the militias as high as 10,000 barrels per day.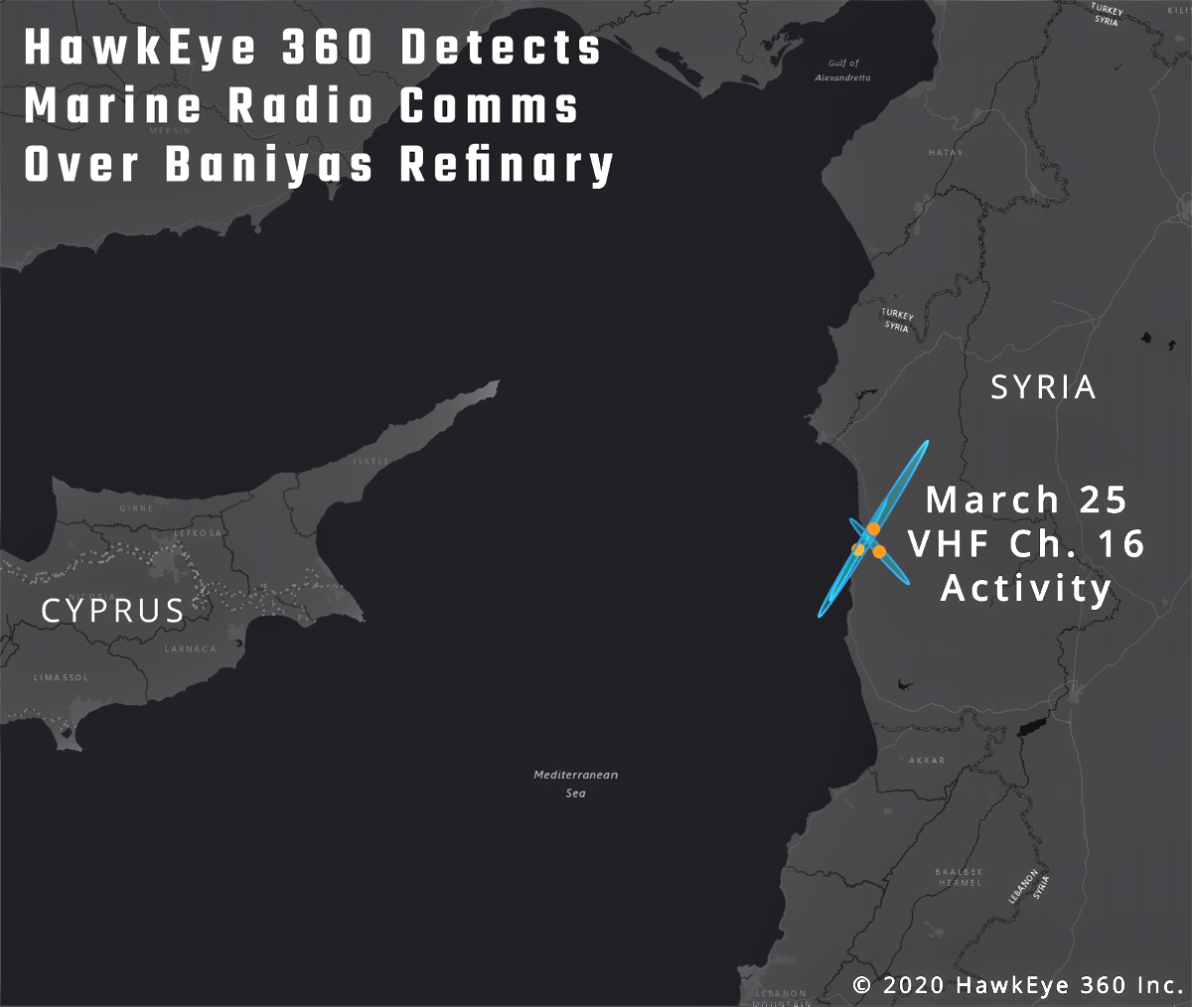 At the head of Iraq's Iranian-backed militias was Jamal Jafaar Mohammed Ali Ebrahimi, better known as Abu Mahdi al-Muhandis. In January 2020, U.S. airstrikes killed Abu Mahdi, whom sources say directed oil smuggling operations across Iraq's Anbar Province. Given ongoing airstrikes against the militias, experts wondered if this additional pressure could force Iran to compensate by shipping more crude by sea, instead of by land.
The Blind Spot
Vessels engaged in smuggling can stop transmitting the maritime Automatic Identification System (AIS) broadcast to avoid identification and location during a voyage. Deactivating AIS largely makes a vessel invisible to traditional law enforcement and intelligence capabilities. This was seen with Iran's Adrian Darya-1 tanker, which arrived at Syria to off-load oil without broadcasting any notices over AIS.
HawkEye 360 partnered with TankerTrackers.com, a commercial crude oil watchdog, to determine if there were any indications Iran was increasing crude exports through maritime channels into Syria.
Revealing New Insights
In the maritime domain, HawkEye 360 uses a satellite constellation to independently geolocate VHF marine communications, L-band mobile satellite devices, X-band navigation radar, S-band navigation radar, AIS signals, and emergency position indicating radio beacons (EPIRBs).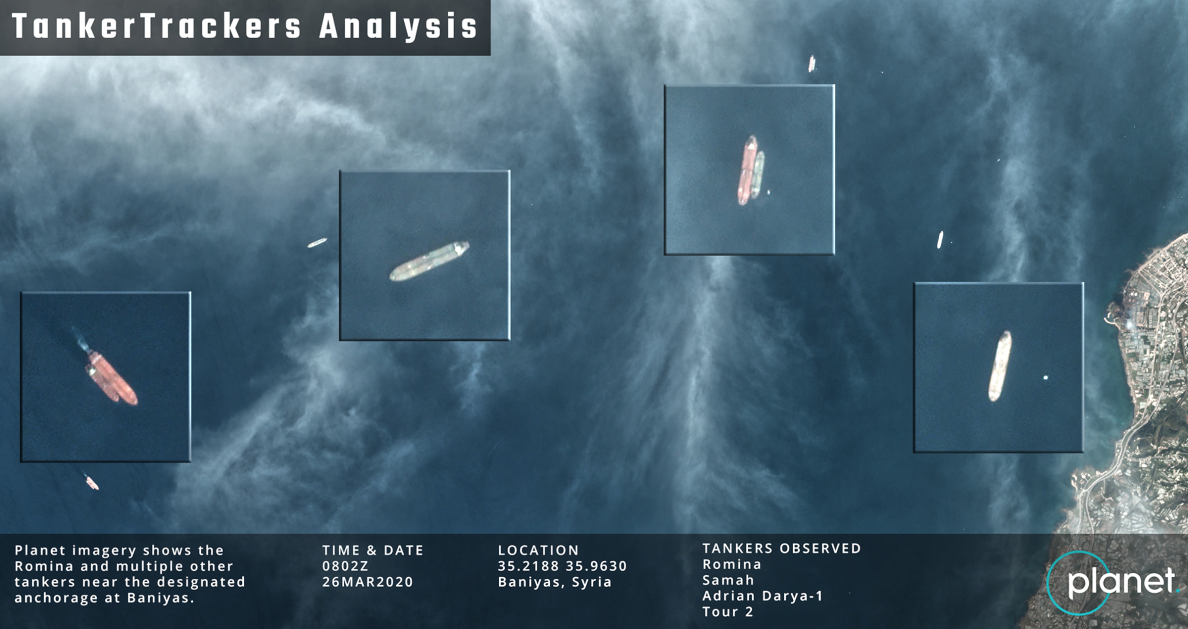 This data is useful to detect the presence of vessels or provide tip-offs to activities of interest, particularly when vessels "go dark" and stop transmitting AIS.
In mid-March of 2020, HawkEye 360 started monitoring Iranian crude oil tankers that might be traveling to Syria. One such vessel, Romina, was last known to have returned to Iranian waters from a trip on February 23. Romina then remained completely dark until it appeared in the Gulf of Suez on March 17.
HawkEye 360's SEAker product flagged suspicious AIS gaps in the vessel's recorded travel. When the vessel exited the Suez into the Mediterranean on March 21, the vessel again went dark, leaving observers without any indicator as to the vessel's position.
When AIS is not able to supply enough knowledge, other data sources are critical for developing comprehensive maritime awareness.
On the evening of March 25, HawkEye 360's RFGeo product geolocated VHF channel 16 maritime signals at Syria's Baniyas Refinery. VHF channel 16 is the international hailing frequency to establish initial contact between two vessels or a vessel and land, such as for port activity. When the signal was captured, AIS records showed no vessels in the vicinity.
The detected VHF signal potentially indicated newly arriving tankers that were coordinating the off-loading of crude oil, but this required more information to validate.
This is where TankerTrackers.com's imagery intelligence (IMINT) and open source intelligence (OSINT) expertise was essential for corroborating vessel activity at the Syrian Baniyas Refinery.


Photo of the Pathfinder smallsat is courtesy of the company.
On March 26, TankerTrackers.com analyzed Planet Labs' 3-meter electro-optical satellite imagery of the sea near the refinery.
The satellite imagery showed several vessels near the refinery's designated anchorage.
TankerTrackers.com used its library of 3 meter imagery signatures for the Iranian crude-carrying fleet and associated assets to identify four Iranian-flagged vessels (Romina, Samah, Adrian Darya-1, and Tour-2).
Although Adrian Darya-1 was already known to be at the port, the recent arrival of Romina and additional tankers to Syria's Baniyas Refinery without AIS notification was consistent with the behavior anticipated from vessels being used to evade Iranian sanctions.
The Takeaway
As seen in this analysis, AIS offers limited ability to monitor crude oil smuggling activities. Combining the best commercial data sources available from HawkEye 360 and TankerTrackers.com offers richer maritime awareness.
HawkEye 360's unique RF data can help identify maritime activity of interest for further investigation, allowing enforcement organizations to focus resources accordingly. As demonstrated by this first-of-its-kind commercial Multi-INT reporting, a robust ecosystem of commercial data sources provides invaluable insights to help make the world a safer place.
www.he360.com
---