Future EGNOS navigation system upgrades contract from ESA goes to Thales Alenia Space
The European Space Agency (ESA) has awarded two contracts to Thales Alenia Space, the joint company between Thales (67%) and Leonardo (33%), concerning EGNOS (European Geostationary Navigation Overlay Service).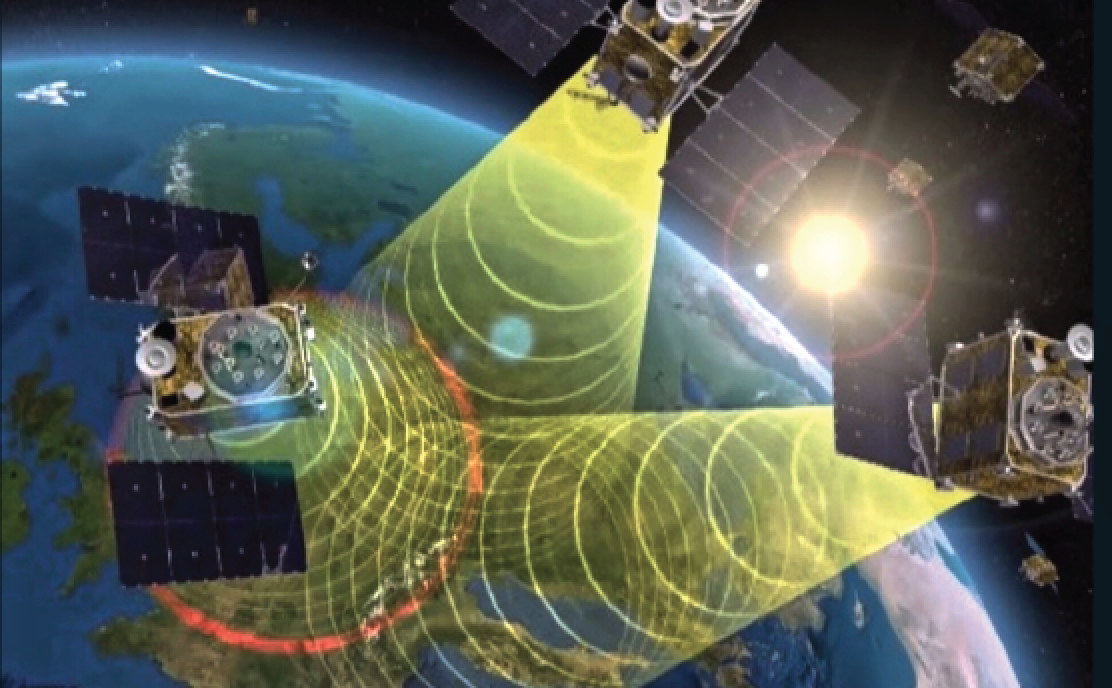 These contracts, fully financed under the European Commission H2020 programme concern study phases on the system evolution. They will call on Thales Alenia Space's expertise as program prime contractor for over 25 years to study and develop upgrades for the EGNOS satellite navigation system.
The first contract concerns possible upgrades for EGNOS aeronautical services, designed to improve performances in order to increase landing safety under limited visibility conditions (from current CAT-I to CAT-II), over the current EGNOS footprint, focused on Europe.
The second contract will study changes required to extend its aeronautical services worldwide. Based on state-of-the-art technologies, this upgrade will call on the A-RAIM (Advanced Receiver Autonomous Integrity Monitoring) concept and the global coverage of the Galileo satnav constellation.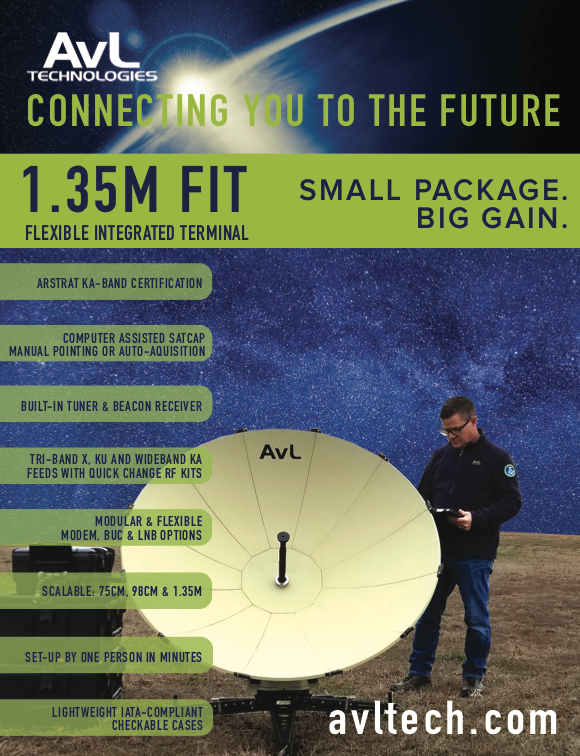 RAIM is an already deployed technology that assesses the integrity of signals in the receivers that are part of a global positioning system, mainly GPS. Galileo will now be incorporated in the advanced version of this concept, A-RAIM, to provide enhanced horizontal guidance performance, not possible with RAIM using only GPS.
The new concept would thus provide "safety of life" aeronautical services, including approaches with vertical guidance, thanks to inputs from GPS and Galileo via EGNOS.
"Today's contracts are key for satellite navigation in Europe and bolster Thales Alenia Space's European leadership in state of art satellite navigation systems, including Safety of Life services", said Benoit Broudy, head of the Navigation business at Thales Alenia Space in France. He added,"Our successes on export markets, as in South Korea, validate our innovative approach that allows us to offer increasingly powerful and agile solutions to meet the evolving requirements of customers from around the world."
EGNOS, a European Union flagship program, is a satellite navigation system designed to improve positioning signals delivered by GPS. Developed by Thales Alenia Space as prime contractor, EGNOS was first deployed in 2005, began operating in open service mode in 2009 and provided Safety of Life service starting in 2011. The GNSS R&D activities are financed by the European Commission H2020 programme. They are managed by the European Space Agency through a delegation agreement from the European Commission.
www.esa.int/ESA_Multimedia/Images/2014/09/EGNOS_covering_Europe
www.thalesgroup.com
---
Euroconsult notes A COVID-19 setback for the maritime connectivity market
In its latest research titled, "Prospects for Maritime Satellite Communications," Euroconsult projects that the previously growing maritime connectivity market will experience a significant setback due to the Covid-19 pandemic.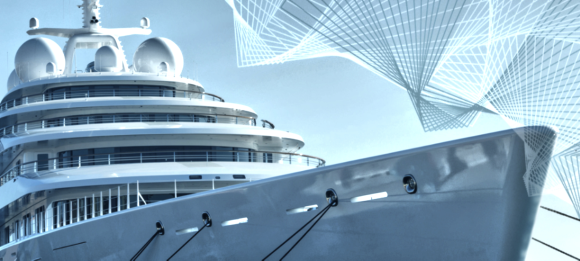 Maritime VSAT connectivity reached an all-time high of 28,200 connected vessels at the end of 2019 but because of the current health crisis, the previous projection of 49,300 terminals by 2023 has been reduced to 40,600 units.
In 2019, the Maritime satellite VSAT communications market experienced high growth with the total number of terminals increasing by 17.5 percent year over year.
VSAT services revenue grew by 11 percent to approach $1.3 billion. Increasing demand from passengers, as well as regulatory pressure on communications and crew welfare were major factors pushing maritime operators to install new generation satellite systems on their vessels.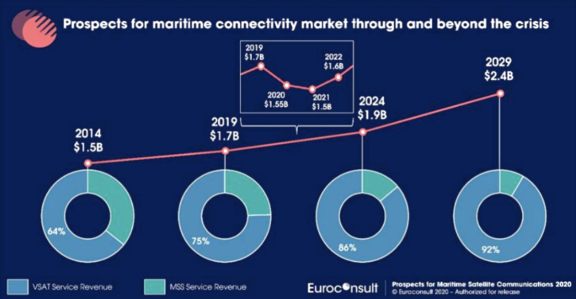 Pacôme Révillon, CEO of Euroconsult, said that despite the current setback, the fundamentals of maritime connectivity should continue to apply, with strong demand from the shipping industry as well as for leisure and business connectivity and operational applications. In light of technology advances and the appetite for applications and bandwidth, the company expects the industry to return to growth in two years' time.
He continued that the research provides detailed analysis of five market segments including merchant shipping, the cruise industry, offshore energy production, fishing, and private yachting, all of which are expected to reflect some slowing in the current environment. Merchant shipping is the largest market segment for VSAT with 17,700 connected vessels and revenues of $565 million in 2019.
Xavier Lansel, Senior Consultant at Euroconsult and Editor of the "Prospects for Maritime Satellite Communications" research, noted that because of the current limits on international trade and the economic downturn resulting from the pandemic, new ship deliveries and the subsequent VSAT installations they entail are forecast to slow.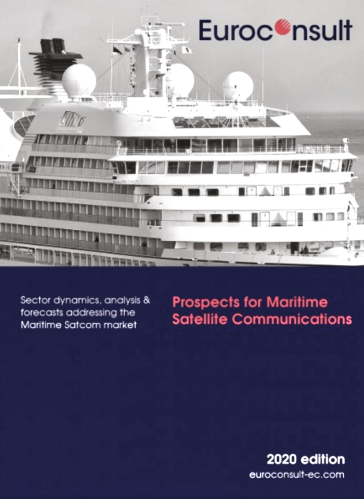 Xavier noted that despite the presence of fixed contracts, docked vessels will likely result in a lower average revenue per user for connectivity services.
The cruise industry was also a major demand driver for maritime satellite connectivity. In some cases, service provider revenues reached $110,000 per month for the largest cruise ships. This is expected to be the market segment most impacted by the current health environment, with most ships temporarily docked.
Euroconsult forecasts that the cruise industry slowdown will continue for several years, prompting cost-reductions and delaying demand for new vessels.
Even as fast internet connectivity has become a requirement for cruise ship passengers, there will be a sharp decrease in VSAT services revenue in 2020 and projections are that it will take until 2025 for revenues to reach 2019 levels again.
www.euroconsult-ec.com/shop/index.php?id_product=130&controller=product
---
New SPOTX™ Jeep® Edition drives In from Globalstar
Globalstar Canada Satellite Co., a wholly owned subsidiary of Globalstar Inc. (NYSE MKT: GSAT), has launched an exclusive SPOT X™ Jeep® Edition 2-way satellite messenger — this newest product launch comes after SPOT recently entered a licensing deal with the Jeep brand.
The SPOT X Jeep Edition offers 2-way message capabilities with an on-board backlit display and Qwerty keyboard, GPS location tracking, and direct communication with emergency services in one portable, lightweight device. The new Jeep Edition combines the previous SPOT's capabilities with Jeep's branding.
The SPOT X Jeep Edition is the latest product introduction to the SPOT family of devices, providing affordable, off-the-grid messaging and tracking. Through a direct connection to the GEOS International Emergency Coordination Center, SPOT has triggered over 7,000 rescues around the globe. Key Features of the SPOT X Jeep Edition include...
• Bluetooth wireless technology allows pairing option to perform device functions using the SPOT X app
• Send and receive messages with family and friends when beyond cellular range
• S.O.S. emergency notification and direct 2-way messaging with 24/7 Search and Rescue services
• Check-In "OK" with the push of a single button directly to pre-set contacts
• Navigation: Built-in compass and programmable waypoints
• Rechargeable lithium battery averaging a life of 10 days when tracking in 10-minute intervals
• GPS Tracking and SPOT Mapping interface to Share Your Adventures
The SPOT X Jeep Edition will be available online at www.findmespot.com/en-ca/
---
Endangered Species Tracking To Use eSAT Global's SATCOM Modules
eSAT Global, Inc. ("eSAT") is partnering with IoT device company G8Way Technologies — that firm is one of South Africa's leading IoT device makers and is an active participant and proponent in the protection of endangered species across the African continent.
G8Way is an IoT pioneer in South Africa and has developed a host of sensor solutions, which have been implemented in a range of applications from high value asset tracking, animal traceability, cold chain and other security related solutions. One of G8way's proudest achievements has been to play an active role in the counter poaching movement, helping to protect and preserve endangered wildlife.
The initial phase of the project will result in field trials of eSAT's direct-to-GEO-satellite communication modules integrated with G8Ways.
G8Way Technologies CEO, Mischa Slabbert, said that the company has been in the IOT industry for a long time now and have had the opportunity to look at, and access, many different connectivity solutions in that time. The firm had never been quite able to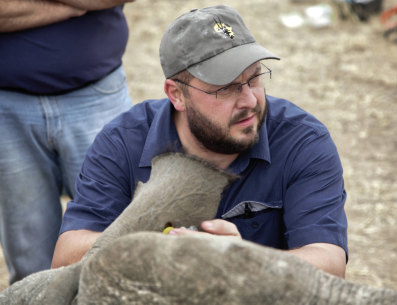 effectively crack some of the difficult issues we have had with animal tracking, whether it be livestock or endangered species.
Mischa came across eSAT doing a web search and after talking to them, he realized just how useful they could be as a partner. Not only will they provide low cost connectivity, he said, but the planned device size is so small it will easily be accommodated into G8Way devices and the battery life will be extended by years. When dealing with large animals, such as rhinos that must be anesthetized, even something as simple as changing a battery can be a risk for the animal. There are a myriad of opportunities to work with eSAT directly across Africa.
Rick Somerton, eSAT's Regional Director ANZ, remarked that when Mischa reached out to the firm looking for a solution, the company thought it was just a simple commercial enquiry; however, the opportunity for eSAT is much greater than that. It will be gratifying for the firm's entire team if the technology is able to play a small role in protecting endangered species. eSAT is engaging in this partnership with G8Way and this is a priority, due to the obvious benefits that go well beyond the commercial opportunities the firm already possesses.
esatglobal.com
eSAT Global's mission is to bring disruptive direct-to-satellite connectivity to low cost IoT devices. eSAT is led by satellite industry veterans with a track record of bringing successful multi-billion dollar communications products and services to market. eSAT is working with ecosystem partners to deploy solutions to millions of devices in vertical markets including power distribution, border and perimeter security, oil and gas, smart agriculture, transportation, and maritime.
---