Maxar to build SPIDER on the Restore-L spacecraft for NASA
Maxar Technologies (NYSE:MAXR) (TSX:MAXR) has been selected by NASA to perform an in-space assembly demonstration using a lightweight robotic arm.

Maxar will integrate robotics for on-orbit assembly with NASA's
Restore-L spacecraft. Image: Maxar Technologies.
The arm, called SPIDER (Space Infrastructure Dexterous Robot), will be integrated with the spacecraft bus Maxar is building for NASA's Restore-L project, which plans to refuel a satellite in LEO. The award is valued at $142 million and follows a successful ground demonstration in 2017 and a review in August 2018 that validated Maxar's first-generation, end-to-end system architecture and detailed robotic arm design. Maxar is identifying roughly $2 million of work to be performed by West Virginia University through its West Virginia Robotic Technology Center, including independent verification of SPIDER's capabilities through multiple performance studies to increase the reliability of in-space assembly tasks. The program was called Dragonfly during the design and ground demonstration phase.
SPIDER will be built by Maxar's team in Pasadena, California, which has previously delivered six robotic arms for NASA's Mars rovers and landers, including the arm currently operating on InSight Lander and an arm for the upcoming Mars 2020 Rover. SPIDER will enable spacecraft components to be robotically assembled and reconfigured while on-orbit. For Restore-L, SPIDER will assemble multiple antenna reflector elements into one large antenna reflector. This revolutionary process allows satellites, telescopes and other systems to use larger and more powerful components that might not fit into a standard rocket fairing when fully assembled. The technologies developed under SPIDER could ultimately enable entirely new architectures and space infrastructure for a wide range of government and commercial missions, including commercial satellites, human space exploration to the Moon and Mars under the Artemis program and in-space telescope assembly.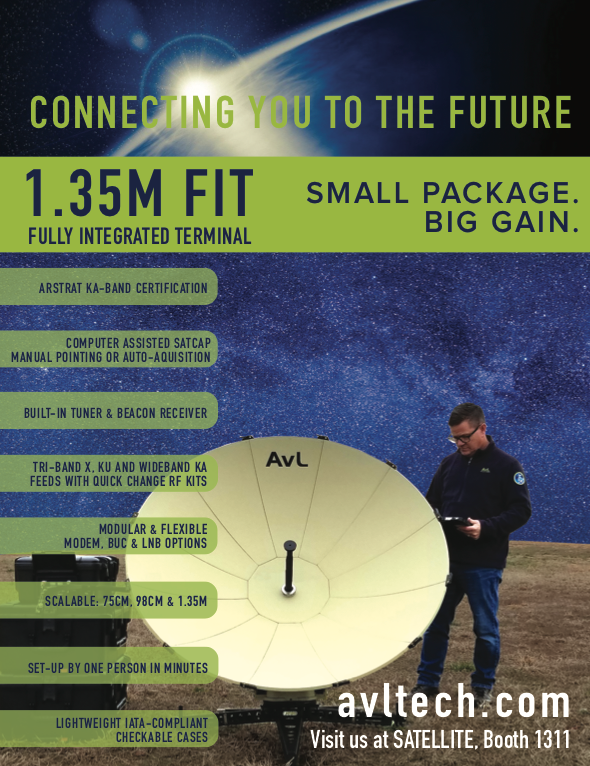 SPIDER will also demonstrate in-space manufacturing using Tethers Unlimited's MakerSat. MakerSat will manufacture a 10-meter lightweight composite beam, verifying its capability to form large spacecraft truss structures for future missions. As it manufactures the beam, MakerSat will characterize the beam's shape and structural performance to determine if a structure built in space performs differently than one made here on Earth. Megan Fitzgerald, Maxar's SVP and GM, Space Infrastructure, said the company has always led innovation in space infrastructure, transforming the commercial satellite industry with advances such as high-throughput satellite technologies for high-speed internet and powerful electric propulsion for next-generation space transportation. SPIDER, in combination with the company's 1300-class spacecraft bus and technologies for in-space operations, will enable new applications in communications and remote sensing satellites, large in-space assembled telescopes and future exploration missions that support a sustained human presence beyond Earth orbit.
---
NewSpace Networks raises $200 million for edge computing via space connectivity
NewSpace Networks has raised $200 million to transform the industry from being hardware-focused to software-centric — the company will accomplish this through a combination of acquisition, investment and internal product development and already has products under development that will be available later this year, along with key acquisition targets identified and in process.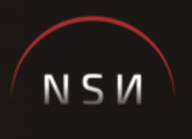 Deploying aerospace infrastructure is currently slow, costly and highly proprietary, which limits its use to a small segment of the commercial and government market, stifling innovation and adoption.
NewSpace is focused on changing this by addressing four areas: affordability, efficiency, scalability, and adaptability to multiple market segments. The founding team has unique acquisition and operational experience from aerospace and enterprise software companies such as Lockheed Martin, VMware, Citrix, RSA Security and Akamai.
According to some estimates in the press, $48 billion will be spent deploying more than 10,000 next-generation communication satellites which will connect to more than 15 million remote locations around the globe. These require a wide-ranging set of advanced two-way communication solutions in order to maximize network efficiency. Additionally, the explosion of remotely-generated data by a variety of devices will produce over 175 Zettabytes annually by 2025, stressing current Cloud connectivity and necessitating data reduction at the source (IDC, 2019). These two market dynamics will create significant new opportunities and the need for a more holistic approach to the way solutions are designed and built.
NewSpace has developed a targeted list of integrated innovations and investment areas. The company's initial products will address the unique challenges of edge computing via space connectivity. Additional technologies will include:
• Data analytics and analysis
• Cloud integration
• Network optimization
• Virtualization and Hyperconvergence
• Space and air integration
• Security and encryption
• Application lifecycle management
• IoT enablement
NewSpace founders bring decades of experience across aerospace, cloud, information security, and networking. The company was co-founded by Shaun Coleman, John Metzger and Robert Cleave, who have collectively founded multiple startups resulting in acquisitions by Ungermann-Bass Networks, McAfee, and VMware. Coleman was the first investor and co-founder of space access company Vector Launch, Inc., and led its GalacticSky satellite division, which created the world's first intelligent software-defined satellite. He co-authored, with Cleave and Metzger, more than 20 issued U.S. and international patents that Lockheed Martin is currently seeking to acquire.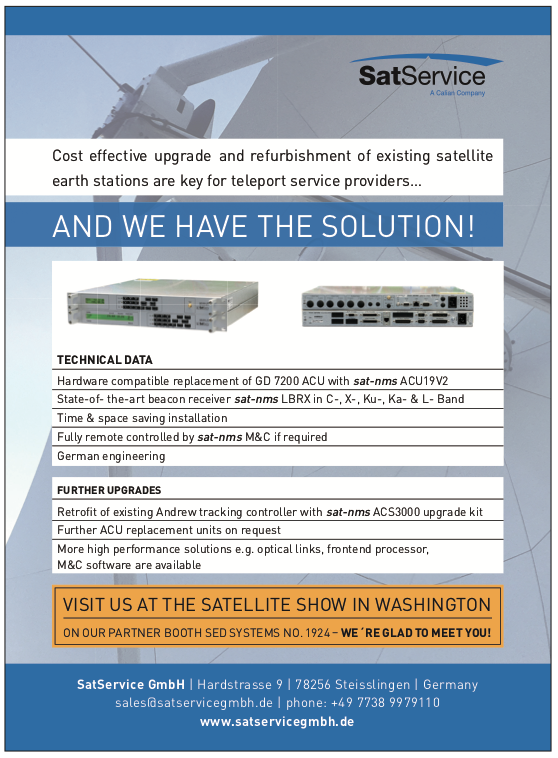 NewSpace has partnered with GlobalView Strategic Advisors, a member of GlobalView Group, to assist with strategy, capital raising and M&A. GlobalView's principals, David Orner and Ryan Orner, bring years of experience developed across top-tier finance and investment banking firms, including Merrill Lynch, CIBC World Markets, CIT Aerospace and Defense and ING Group.
Jim Simon, a former senior government official and industry executive, said NewSpace is applying modern enterprise software technology to the aerospace industry to horizontally integrate diverse air and space systems. This strategy positions it well to fundamentally change the industry. Quick and less expensive innovation is absolutely critical to not only commercial but government customers as well.
---
ResponsiveAcess' "One-Stop Shop" for smallsat launches
Following an award for funding provided as part of an initiative to help Britain's small businesses achieve their exporting ambitions, Edinburgh, Scotland, based ResponsiveAccess attended the recent SmallSat Symposium 2020 event California in search of partnerships and customers.

Under the banner of the Department for International Trade's 'Exporting is GREAT' campaign, Heathrow Airport awarded a total of £40,000 in seed money to firms seeking funding for international trade missions and foreign market research.
Responsive Access, part of a growing number of space sector start-up firms emerging throughout Scotland and the rest of the UK, is focused on simplifying access to space for smallsat customers looking to reach orbit in the near future.
The company, based at Edinburgh's Royal Observatory building, is a participant in the ESA BIC UK, a prestigious business incubation program funded by the European Space Agency and UK Science and Technology Facilities Council.
As well as attending this major event, the company is understood to have lined up visits to the facilities of a number of launch vehicle developers to discuss the formalization of partnerships that will allow their customers to select the most suitable ride to orbit for their payloads.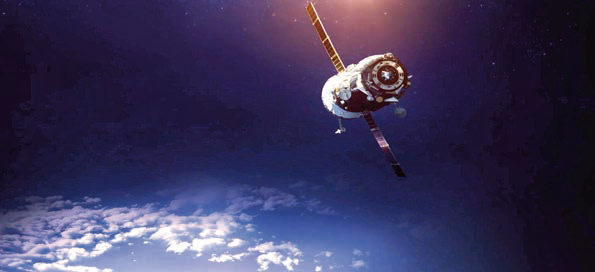 On the business' most recent award, CEO Andrew Paliwoda said the company is really excited to have the opportunity to travel to this event as it holds enormous potential for the firm to raise awareness about this project and to source potential customers.
Paliwoda added that Heathrow Airport and the DIT's support, such as the ESA funding previously received, is something the company immensely proud of obtaining. We can't wait to show potential partners the results of the team's hard work to date and the firm's message to anyone looking to launch a payload into space is simple – let's set up a meeting
Ross Baker, Heathrow's CCO, said that Britain's small businesses are the backbone of our economy and Heathrow is proud to stand behind them. Whether it's a Scottish company looking to cut the cost of space travel or a premium chocolate company from Yorkshire, this year's winners set a new mark and Heathrow is proud to be helping take their products to markets around the world.
---
C-COM and Isotropic complete iDirect iQ 200 Integration
A successful venture was conducted when C-COM used Isotropic's teleport facilities on Lake Geneva to test auto-pointing satellite acquisitions and data transfers.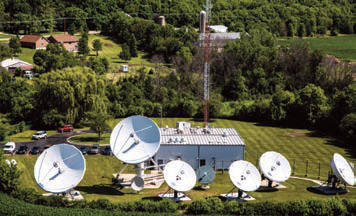 Isotropic Networks headquarters in Lake Geneva, Wisconsin
The results determined the compatibility of the iNetVu® Controllers with the iQ 200 satellite router that provides an advantage to C-COM partners who are currently using, or considering using the latest iDirect modem.
This latest test furthered the number of C-COM's 'Best-in-Class' antenna controllers that offer interoperability with 14 different modem manufacturers and over 35 different modems.
The C-COM mobile antennas with iNetVu® controllers, compatible with the iDirect iQ 200 modems, are now available.
Drew Klein, Vice President for C-COM Satellite Systems, Inc. said that combining good quality hardware products, especially high-performance products like the iQ series, with the robust services offered by Isotropic, should create new markets for C-COM Driveaway, Flyaway and Manpack antenna products in many different verticals.
C-COM is also developing a Comms-on-the-Move, electronically steered Ka-band phased array antenna in conjunction with the University of Waterloo. Klein continued that once this flat panel technology has been commercialized, they hope to test it with Isotropic Networks.
The iDirect iQ 200 modem can deliver aggregate data transmission rates over 200Mbps with network configurations based on DVB-S2/S2X/ACM.
Hank Zbierski, CEO, Isotropic commented that they are delighted to reinforce their longstanding partnership with C-COM. As a premier iDirect Host Network Operator, it is great to see the combination of such innovative technology that will enable customers to go further and to do more than ever before. Isotropic is proud to enable these advancements with the highly reliable service that they deliver through their network.
Toni Kousiafes, Vice President, Product Management, ST Engineering iDirect, offered that their iQ 200 modem is ideally suited to the mobility requirements of C-COM's antenna series and they are pleased to offer their technologies that will help to enhance flexibility and performance, and enable C-COM's customers to make headway in new markets and applications. They also look forward to building further on their strong partnership with Isotropic Networks, which has been their valued partner for many years.
---
Financial inflow of 3.4 million euros for Kleos Space S.A.
Kleos Space S.A. (ASX: KSS, Frankfurt: KS1) has secured a €3.1 million loan agreement with Dubai-based family office Winance to progress its commercialization plans and repay the extant convertible note— Winance will further provide optional €6.0 million through a convertible note agreement, subject to final documentation.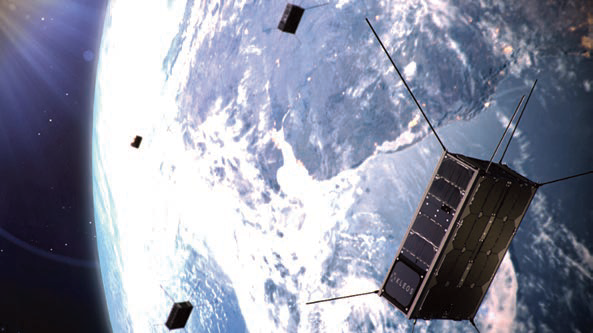 Artistic rendition of Kleos Space' Scouting Mission smallsat.
Image is courtesy of the company.
Dubai-based Winance reached out to Kleos Space during the trade mission organized in Dubai by the Chamber of Commerce of the Grand Duchy of Luxembourg, in cooperation with the Ministry of the Economy, the Luxembourg Embassy and the Luxembourg Trade and Investment Office in Abu Dhabi at the end of January.
These funds will allow Kleos to repay extant Evolution Equities convertible notes for the development and launch of the firm's second cluster of satellites and increase its presence within the US defence sector. The Loan Agreement ensures
Kleos is well-funded to execute its commercialization plans while awaiting revenues from early adopter contracts. Kleos will commence generating first revenues after the launch of its Scouting Mission satellites from Chennai, India, in the coming weeks. This initial satellite cluster is the foundation of a larger constellation which will geolocate radio frequency transmissions to provide global activity-based intelligence irrespective of the presence of positioning systems, unclear imagery and targets out of patrol range.
CEO of Kleos Space, Andy Bowyer, said that the Loan Agreement provides Kleos with working capital to progress the development of the company's second cluster of satellites while awaiting revenues from the Scouting Mission satellites. Luxembourg has a successful economic partnership with the UAE, developed over the past decades. This collaboration provides Luxembourg-based organizations operating in the space sector, such as Kleos Space, with access to investment and financing opportunities.
Waqas Ibrahim, Director & CFO of Winance, added that this new partnership is in line with Winance's vision of investing in proficient and progressive thinking management teams. The firm is convinced that this collaboration can serve as a springboard for both our companies in the GCC, Australian and Luxembourg markets.
Marc Serres, CEO of the Luxemboug Space Agency, noted that Luxembourg and the UAE share the same commitment to support the economic development of the commercial space industry. The agreement between a Luxembourg-based company and a Dubai family office shows that bilateral cooperation with the UAE is successful when it comes to developing space products and services through financing instruments tailored to meet the needs of private companies.
---
Exotrail's propulsion tech the focus of new contract
Exotrail has signed a contract with AAC Clyde Space to equip that firm with propulsion solutions for their customers, including Eutelsat for their ELO 3 and ELO 4 spacecraft.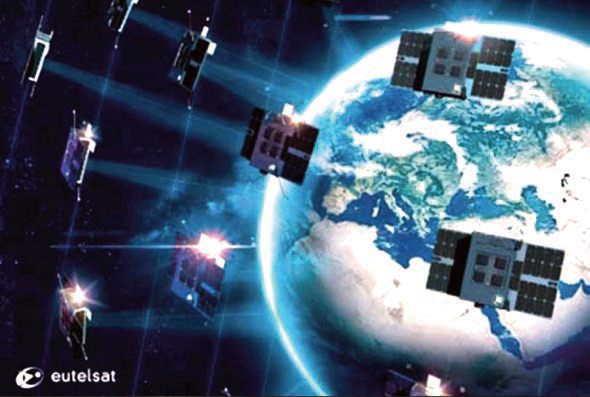 Artistic rendition of Eutelsat's ELO constellation on-orbit.
Image is courtesy of the company.
Exotrail will provide propulsion systems for the two 6U cubesats that will be manufactured and delivered to orbit by AAC Clyde Space. The Eutelsat mission is a precursor to a potential constellation called ELO (Eutelsat LEO for Objects). The contract is to be delivered before the end of the year, both satellites will be launched in 2021.
Exotrail started its propulsion system development with a flight demonstrator project that was designed, built, qualified and delivered in only 10 months. The launch of the flight system demonstrator, initially scheduled to fly in November of 2019 on board a PSLV, is now planned for March of 2020 (due to a launcher delay).
The resulting heritage acquired with this project, along with the expertise and innovation put forward in Exotrail's product development, has allowed the company to secure their first customers.
According to the company, these customer contracts demonstrate that Exotrail's strategy is paying off and that the company has moved quickly from vision to reality, a vision to provide a propulsion system as well as a set of software, hardware and services and to change the way satellites are launched and operated on orbit. This vision is now translating into revenue and success.
AAC Clyde Space CEO Luis Gomes said the company is looking forward to working with Exotrail. Their product is a perfect fit for both the firm's needs and the customer's requirements. Their modular ExoMG™ product has a highly compact and flexible form factor with industry leading performance levels, in particular with respect to thrust levels.
David Henri, Co-founder and CEO of Exotrail, added that the firm is an established specialist in advanced smallsat missions and provides market-leading New Space solutions. Exotrail is delighted to be able to assist AAC Clyde Space for this mission with the ExoMG™ - smallsat. This underlines the relevance of the company's solutions for optimizing global constellations and the firm's expertise in this growing sector.
---