Over the past year, I have caught myself talking about Carrier ID (CID) again and again—the time has come to change the record.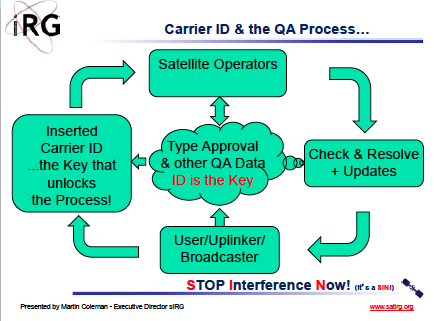 So much has happened, as pointed out by Crystal Solution's Roger Franklin, and a small part of me feels that perhaps the job is done. However, this need is far from completed.
Yes, we have the standard and a number of important resolutions, we have equipment available and that is growing in number, but now we need to make certain that the technology and the products lead to widespread implementation. And, as we have requested in the past, the need continues for industry-wide support, especially now from those who transmit services to a satellite.
Education, Education, Education
One of the most significant challenges we face in regard to implementation of CID is imparting the knowledge and understanding of our industry regarding this crucial technology. Those who are involved with, or have been part of, bringing global initiatives to the table need to continue this push with us and other organizations. This must be a continuous process in order for satellite operators, manufacturers and uplinkers that have yet to make the move to see that they are equipped with the correct facts and industry support to meet CID deadlines.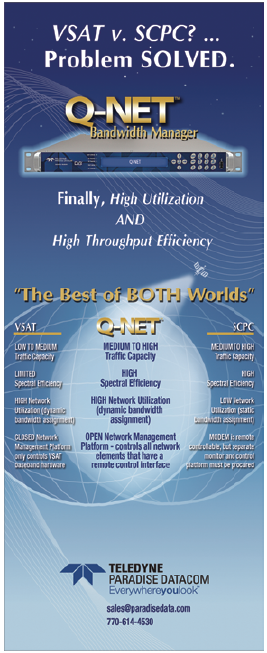 At IRG, of course, we have started that activity. As an example, last year we ran a series of Carrier ID tours at major trade shows, walking participants through the process, from transmission, through detection, to resolution. The tours were well received by all participants. They learned from the experts at each of the stops on the tour and asked questions that mattered to them. We also produced postcards to hand out trade events that showed exactly what is involved for users to ensure they are CID ready which, in most cases, is very little. These cards are still available should anyone need some to pass on to their customers.
With our End User Initiative (EUI) Advisory Committee, we have also written a number of articles that have been aimed at educating broadcasters on how to ensure they are CID ready.
Educating Satellite Operators
All of the major satellite operators have been heavily involved and have initiated CID implementation. The passed resolutions mean that all satellite operators should have begun this process. However, some smaller operators may still need our support to finish the job and to understand the processes; how to use and populate the CID database; and how to detect CID once implemented. This will be a major priority for IRG over the coming months, producing material and guides to continue to help the industry understand exactly what is involved. IRG is planning a series of webinars with the same intention.
Educating Manufacturers
The manufacturers are, for the most part, on board with CID implementation. 2014 saw a number of new products enter the market, each one assisting with some part of the CID process. We also witnessed the launch of the first CID encoder from Harmonic and we worked with them to setup tests with satellite operators prior to that product's official launch.
We have a list of CID ready encoders and modulators on our infosite (http://satirg.org/resources/cid-ready-products/) which is being updated to included detection systems. For the most part, we are in close collaboration with the manufacturers—if you are producing products that are not listed at the aforementioned infosite, please let us know so we can include them right away.
There are a few manufacturers still to come on board and I would urge them to contact us so we can help them make CID happen. The approved ETSI standard details are readily available and will give them something to follow to ensure the correct technical implementation.
Educating Users
This is, by far, the biggest area of need. As an entire industry, we must work on this fact. We already know that satellite interference has a detrimental impact on services, so no matter which part of the chain you are involved in, your best interest is to solve the interference problem.
At IRG, our CID and EUI advisory committees will be focusing much of their efforts on educating the users, through practical guides, webinars, and workshops across the globe. As mentioned, this activity started last year, but was specifically focused at the broadcast industry. We need to extend that reach to other verticals and maintain the flow of information to help them understand how to be CID ready. We will be starting this process in March with an Oil & Gas masterclass, which we are running in conjunction with SMi, alongside its Oil & Gas Telecommunications event in London.
That is also where the rest of the industry comes in, and I know a lot of that has already started, with manufacturers educating their customers on which products have CID and how to enable it in those products. Satellite operators are also communicating with their customers, explaining what CID is, how it helps, and how to check if their products are CID compliant.
The Road Ahead
While we are in the process of prioritizing other technology to reduce satellite interference, such as VSAT services and geolocation processes, it is clear that we must still extend a great deal of effort into the CID initiative. By working together to educate the industry and users, let's see if we can obtain widespread implementation throughout 2015.

Additional information regarding IRG is available at: http://www.satirg.org/
Martin Coleman started his company, Colem, as an engineering services and design consultancy. Using his experience in management systems, Colem now supplies a unique satellite and broadcast control system design based on the industry standard GE Proficy iFIX Process Control platforms. Martin has worked with numerous broadcasters and satellite operators, improving their process control, including BSkyB, Reuters and YLE. Prior to setting up Colem, Martin was involved in the engineering and operations of various BT satellite projects for Madley and Goonhilly ground stations in the U.K. His background is in satellite and international telecommunications.
---