---
Tracking MEO Constellations With A Single Antenna

Thanks to a new transportable antenna.
---
As the world's population explodes, data generation never ceases and the need for real-time communication and data sharing continues to increase.
Kevin McMahon, a former U.S. Marine and now the Senior Director of Sales for Government and Defense Solutions at Cobham Satcom, said, "Access to faster and reliable communication infrastructures has become a must to ensure our continued prosperity. We need trusted networks that enable developing countries to grow, help fight climate change, and keep us safe and connected to each other, wherever we are."
---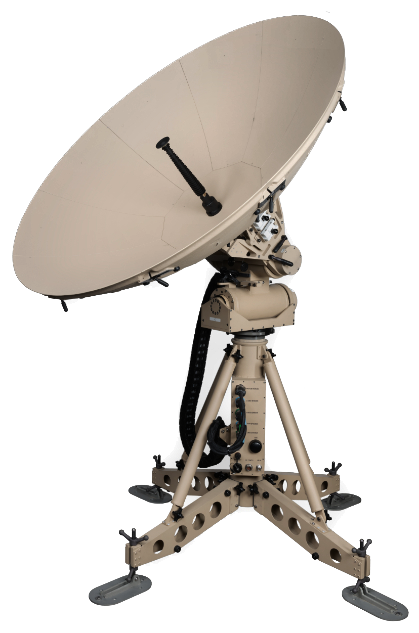 ---
Satellite communication (SATCOM) plays a major role, McMahon said, especially in remote locations. Increasingly affordable, it is also becoming a true alternative and back-up in more densely populated areas.
To address these critical needs, Cobham Satcom has released a new range of multi-orbit tracking terminals that are capable of rapid switching between LEO, MEO, GEO, and HEO satellite constellations, all via a single antenna.
The tactical TRACKER range is an evolution of the company's existing TRACKER systems that is already in wide use by search and rescue organizations, Earth Observation (EO) and imagery companies, as well as emerging satellite Internet of Things (IoT) and Machine-to-Machine (M2M) providers, all market segments of major interest to players in the commercial services arenas.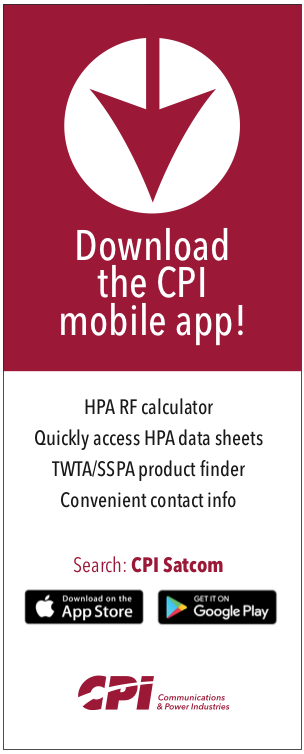 From a military perspective, forward command posts are vital to the relay of real-time data and decisions between the front line and operational command centers. However, says McMahon, existing systems have limited flexibility and can potentially lead to less successful operations. "Our new Tactical TRACKER range of transportable terminals expands flexibility and ensures real- time information is always available to decision makers whether they are physically located in a forward command center or further back from the front line in regional centers."
The benefits extend to unmanned aerial vehicles (UAVs), he said. "Modern UAVs generate increasing amounts of data through higher resolution imagers and a growing range of sensors. High speed, resilient data relays are critical, and the ability to use multi-band connections and lower latency constellations offers more control loops and more time on target. In short, the better the satellite relay, the greater the advantages."
The new Tactical TRACKER series is easy to deploy. "They are battlefield ready and tool-free to setup and operate: 30 minutes from box to bird," said McMahon. "And now, finally, thanks to Cobham Satcom ingenuity, there is a single tactical tracking antenna for MEO, GEO, and HEO networks. Why would anyone take two antennas to the field when the Cobham Tactical Tracker can track satellites with just one? The rapid deployment and connection time of our Tactical Tracker series allows users to be prepared in mission-critical scenarios where every second counts."
The new terminals provide unmatched deployment flexibility, he said, by combining highly accurate multi-orbit tracking with a rugged but lightweight design. The baseline Tactical TRACKER systems comprise 1.3 meter, 1.5 meter and 2.4 meter antennas. Each antenna is easily broken down into several elements, sized for two-person carry in customized, rugged transport cases.
Feedback from the U.S. Army has so far been positive, particularly because the systems meets Future Advanced Satcom Terminals (FAST) requirements. FAST is a U.S. Army initiative to boost digital resilience by taking advantage of LEO and MEO constellations to reduce latency and reliance on single GEO connections.
"Our terminals are FAST-ready today, and we are seeing this requirement increasingly appear in tenders. New LEO and MEO constellations will transform tactical operations, so it's vital to have future-ready terminals that can leverage these constellations and help our users maintain their communications advantage. Governments and defense do their due diligence to determine which gateways are best. They understand the technology, and that's good news for Cobham Satcom," said McMahon.
Counting military and civilian time, McMahon has more than 25 years of experience with SATCOM technology and he believes the constellations coming onboard now are a gamechanger and is the type of technology jump that only comes around every few decades. Cobham Satcom has been a developer of radio and satellite communication equipment for land and maritime sectors for more than 40 years and is part of a history of more than 80 years of innovation.
---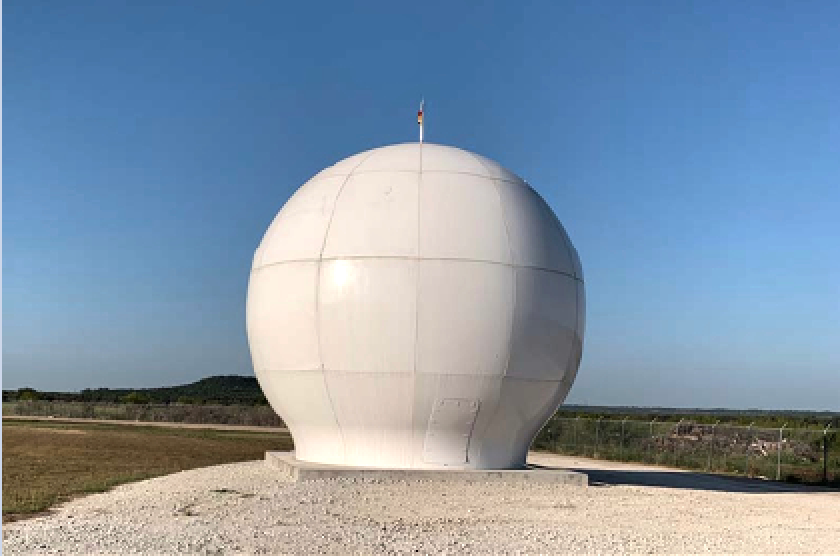 TRACKER radomes provide complete protection in extreme conditions, ensuring high up-time while mitigating repair costs.
---
"Our Government and Defense Solutions team offers broad experience across government and defense programs and procurement vehicles, and we work closely with prime contractors, integrators, and end users to supply optimized solutions – whether established products, system level solutions, or new technology developments," said McMahon.
His newly created role reflects Cobham Satcom's overarching strategy to focus and accelerate value for those working in the world's harshest conditions. "We help boost the speed and reliability with which the world communicates. We are the enablers of connection across land and sea, influencing the future of connectivity by making communication seamless, affordable, accessible and safe, anywhere, anytime on any device."
The new Tactical TRACKER series leverages Cobham Satcom's prior experience with government and enterprise solutions. "We are already doing low-latency, multi-orbit tracking in the maritime environment – now we're now bringing that technology to land. Our maritime antennas track at 90 degrees per second over three axes (x, y and z), and we can track in less than six seconds with our new Tactical Tracking Antennas. We have the fastest retrace speed for a single tactical antenna, giving the warfighter a tactical advantage.
"Fast, decisive, and digital, we tap into the perspectives offered by a global presence. We engage with our industry partners, pooling resources, collaborating with major operators, channel partners and end users to achieve the best results. Our open-source mindset thrives on collaboration and trust. Our ability to find and share synergies across different businesses helps us play a major role in the entire communication ecosystem."
The Tactical TRACKER series is modular and easily configured to support different missions across a range of GEO, MEO, and LEO satellites and constellations. All TRACKER antennas are delivered ready to go with antenna controller, feeds and customer specific RF (BUC and LNB) as well as built-in auto-tracking. The systems are available in several apertures and can be configured with different RF packages as required. They can also be modified later to add or change performance.
"With our TRACKER technology you have reliability across any orbit, any band, anywhere," said McMahon.
Cobham Satcom also has other Land Tracking solutions that feature radomes. They offer a 3-axis inertial balanced technology stabilizing the system for effortless tracking and very low power consumption compared to more traditional X/Y platforms. It is a solution where the center of gravity is co-located with the center of rotation, resulting in an effortless track that consumes almost no power. This solution requires minimal maintenance, affords high reliability and outperforms the competition.
These antennas range in size from 65 centimeters to 7.3 meters, all with built-in auto-tracking functionality and all capable of withstanding hurricane force winds. The antenna and radome are robust and resilient in all environmental conditions and yields higher tracking accuracy and throughput, with high reliability.
Cobham Satcom claims that capital outlay on infrastructure can be reduced by nearly 90%. Traditional X/Y land tracking antennas require substantial foundations (up to 15 feet deep) to support the operational wind loading requirements. Reducing costs dramatically, Cobham Satcom's inertial balanced technology allows TRACKER antennas to be installed on a rebar reinforced, concrete pad that is typically only 12 inches deep. Smaller systems will even deliver flawless operation on a simple, compacted, gravel footing.
Power consumption is typically reduced by 90% compared to more traditional platforms. Cobham Satcom land TRACKER antennas consume just 200 Watts of power (excluding RF) regardless of size (from 65 to 6 millimeters). McMahon points out that other gateway antennas in the market can consume as much as 5,000 Watts.
"While focused investment and innovation is enabling a new era of global communication based on lower-cost spacecrafts and launch vehicles, the overall system economics of a contemporary satellite network is highly dependent on efficiencies in the ground segment. The level of reduced power consumption achieved by Cobham Satcom Land Tracking Antennas is a game changer for satellite constellation owners, as it significantly reduces the total cost of ownership over the life of satellite constellation owners, as it significantly re the network operation which can span decades."
McMahon notes the company's broad legacy of technical innovation with software intellectual property and hardware patents mean it is difficult for competitors to keep up with them. "We have a durable advantage in an industry that has high barriers to entry. We already have the software when others are struggling to find their software solutions for accurate tracking requirements.
"Every step change we empower is the result of a series of incremental disciplined, hard-core mathematics and engineering, inspired by a working environment based on years of experience, a mindset of constant learning and a genuine sense of excitement of doing something that has never been done before. These competencies lay the perfect foundation for us to take on every new challenge that a changing satellite communication landscape brings, and we are proud to be a mission-critical part of the game. Constantly delivering on tracking and pointing accuracies and innovation, our contribution to the entire communication ecosystem is of paramount importance to us."

Cobham Satcom has scaled its global manufacturing and logistics capabilities to meet the needs of the thousands of new satellites ready for launch and ensure that orders can be produced and delivered according to demand. The company claims industry-leading Mean Time Between Failures and therefore fewer service visits are required. The simplified overall system architecture streamlines many standard maintenance tasks so that they can be completed in less than an hour, while service issues can be handled remotely to boost lifetime cost savings.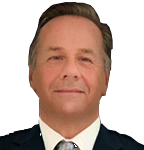 Kevin McMahon
"Satellite communications are an increasingly important part of modern operations, whether military, maritime, or other sectors. Military operations are often asymmetric, mobile and focused around advanced platforms. Cobham Satcom is proud to be leading in this time of significant transformation where connectivity is dramatically changing the global communication landscape. We always have one foot in the future."
cobham-satcom.com
Author Kevin McMahon, Senior Director of Sales for Government and Defense Solutions, Cobham Satcom
---