Marcus Fisher, Justin Morris, Scott Zemerick, Matt Grub, and Mark Suder; a few names from a list of 15 whose childhood dreams to propel their beloved Mountain State — West Virginia — into space came true.
West Virginia's first spacecraft, Simulation to Flight-1 (STF-1), launched into orbit on December 16, 2018, on the first ever NASA Venture Class Launch Services mission via the Rocket Lab Electron rocket. The launch occurred from New Zealand's Mahia Peninsula and STF-1 was one of 10 smallsats deployed as part of NASA's Educational Launch of Nanosatellites (ELaNa-19) mission. First contact was achieved a few days later.
---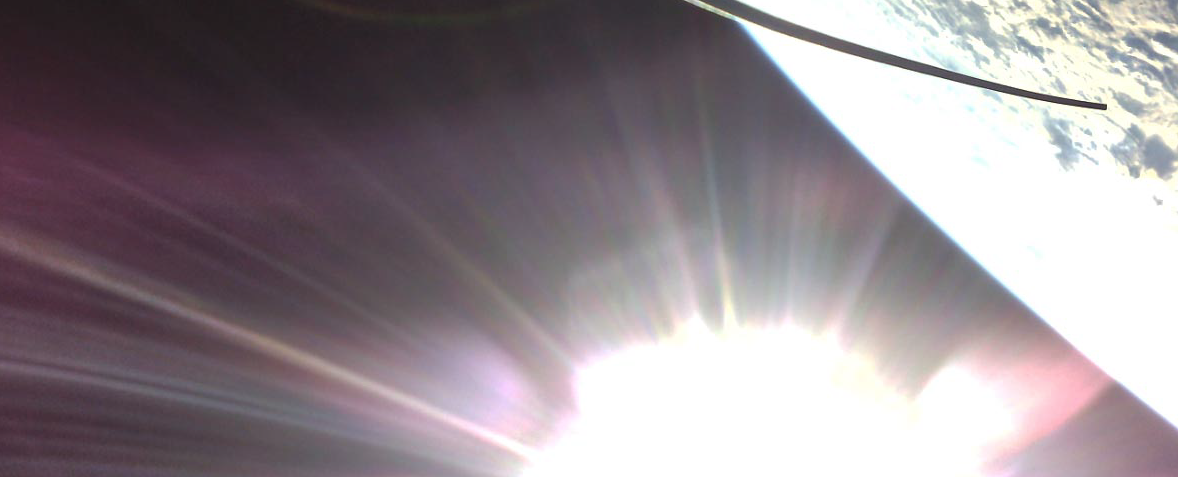 Sunrise over the Caribbean, image captured by the STF-1 smallsat
---
"I don't think words can express the amount of happiness and sense of accomplishment that came across the team during the first successful communications," NASA Computer Engineer Justin Morris said as he reflected back to the early days of the mission.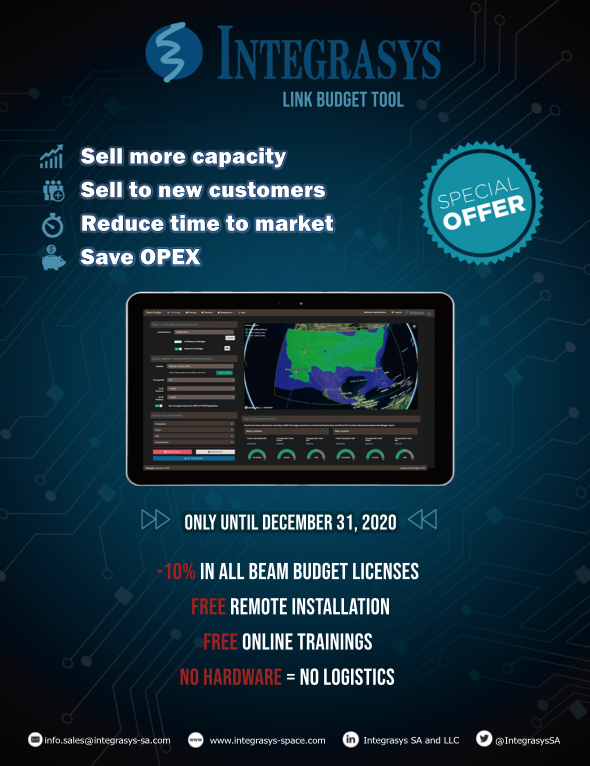 STF-1 Lead Engineer Matt Grubb was equally relieved. "…it meant all of our work up to that point was a success. With 10 satellites launching on the same vehicle, the ground station took a best guess on each pass of which satellite was STF-1. If I recall correctly, we got it on the third try."
Today, more than 600 days and more than 9,200 orbits around the globe, STF-1 continues to exceed mission expectations. "We far surpassed our estimates for length of the mission," Grubb said, referring to the typical three-month average for most smallsat/cubesat missions. However, for NASA Independent Verification and Validation (IV&V) Program Director Gregory Blaney, beating the odds and going beyond expectations is typical for a NASA program.
"In this case, it means to me that West Virginia entities have the skills and capability to build and test SmallSats in addition to advancing the development processes."
Like most members of the STF-1 team, Blaney has strong ties to the Mountain State. He was born in Morgantown but grew up on a farm a few miles over the state line in southwestern, Pennsylvania. He worked at the NASA Goddard Space Flight Center in Maryland as a
Network Director, providing services for missions such as the Space Shuttle, the Hubble Space Telescope and classified operations before transferring to NASA's IV&V Program in West Virginia where he held numerous positions leading up being named director in late 2009. In 2019, it was renamed the Katherine Johnson IV&V Facility, home of NASA's IV&V Program.
West Virginia's First Spacecraft
The spacecraft is no bigger than a standard breadbox, measuring a meager 34cm x 10cm x 10cm and weighing under 4kg. The team that dreamed it up evolved from a unique public, private, and academic partnership involving the NASA IV&V Program, West Virginia University (WVU), the NASA West Virginia Space Grant Consortium, West Virginia High Tech Foundation and a small, West Virginia-based private company named TMC Technologies.
---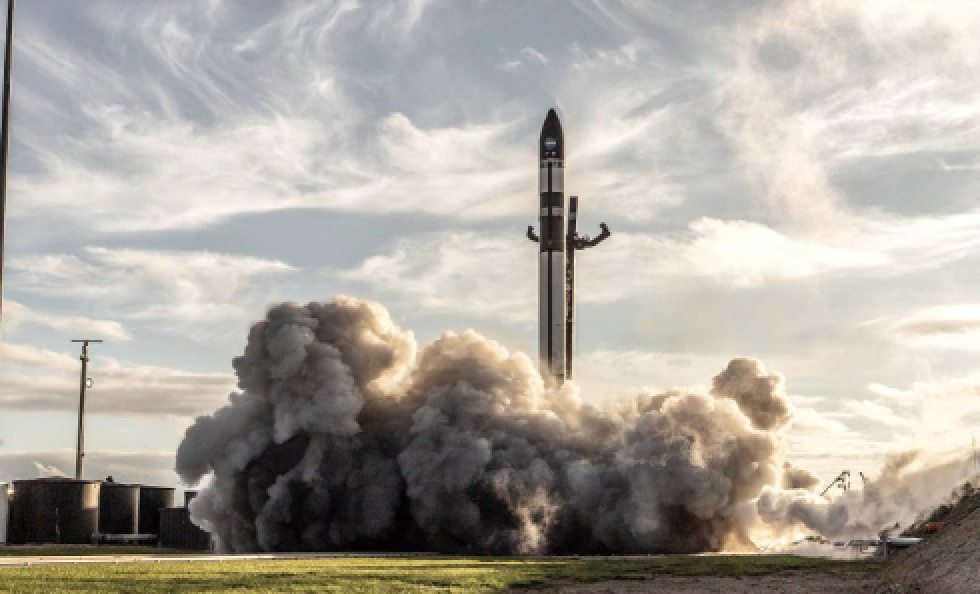 ---
"Marcus Fisher was one of the earliest proponents of developing West Virginia's first spacecraft," STF-1 Engineer Scott Zemerick explained. But Fisher, a NASA IV&V Program Chief Engineer and Goddard Space Flight Center Senior Technical Fellow, said the idea originated from NASA West Virginia Space Grant Consortium Director Dr. Majid Jaridi.
"Knowing that West Virginia was one of the states that had never launched any assets into space, it was easy to decide that we need to act fast and make use of this opportunity," Jaridi recalled.
A handful of meetings with NASA and other potential partners later, Fisher told Jaridi he was ready to pull the trigger. What followed next was an effort to build a coalition of partners and win the dollars needed to launch a smallsat mission from NASA's CubeSat Launch Initiative.
According to Zemerick, the project became real when their proposal was selected in early 2015. WVU would provide the four experiments and the team at NASA IV&V's Jon McBride Software Testing and Research Lab would perform the spacecraft engineering, which included hardware, software, integration, testing, and operations.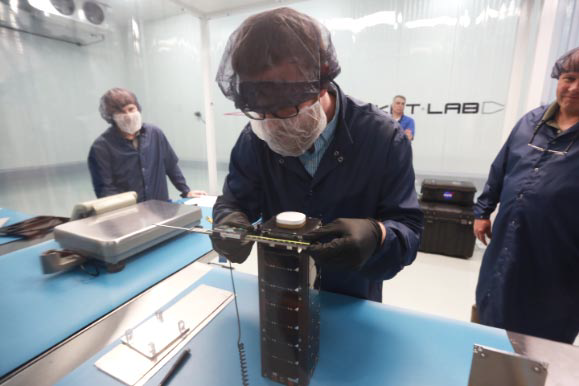 Matt Grub measuring STG-1 at Rocket Lab.
According to Blaney, STF-1's primary mission and technological driver was to test a very unique simulation and modeling software called NASA Operational Simulator for Small Satellites, or NOS3.
"NOS3 is a one-of-a-kind test and simulation capability because it is a 'software-only' system, which makes it extremely efficient, effective, and cost advantageous – once created, you can make copies for almost free," he said.
Proof of Concept?
According to Dr. Michael Swartwout, a leading authority on why cubesat missions fail, STF-1's success for a first time effort is very uncommon. "I can tell you that 600 days of operations is a big deal for most programs, and especially for first-time universities," he said referring to the number of days STF-1 has been operating at near-perfect levels in Lower Earth Orbit (LEO). "If they (the STF-1 team) were using a suite of tools to model the spacecraft's design/behavior, and they used those models throughout the process. If those tools helped them find/correct problems before launch, and especially if they were able to prove out complex things like the flight software – well, that would be a Very Big Deal."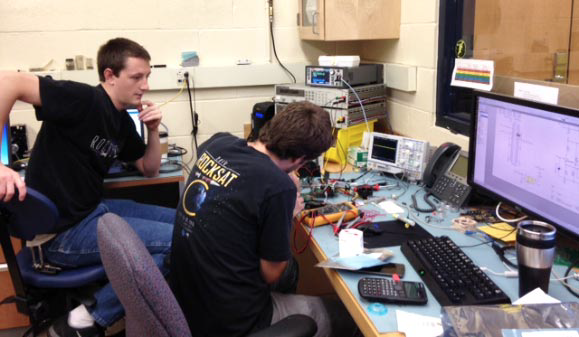 West Virginia University's research team.
His research in cubesat mission assurance has become a life-long pursuit, going back to the mid-1990s when he attended Stanford University as a graduate student. The younger Swartwout was at a conference and ran into a speaker who was summarizing the results of a multi-spacecraft launch, claiming most of the student-built spacecraft failed.
"As a recently-graduated student with a functional spacecraft, I took that personally," Swartwout remembered. "I wasn't offended that the speaker said that those particular spacecraft failed — he was correct, after all. What bothered me is that he assumed that 'most' student satellites failed, and that's what I could prove. So I gathered all the data and decided to present it at the next year's conference."
Two decades and scores of published papers later, Swartwout is routinely asked to present his research on cubesat mission assurance. The most recent was in June 2020 at the NASA Goddard Space Flight Center's Electronics Technology Workshop. Those attending included representatives from NASA as well as both the European and Japanese Space Agencies. Today, he works at Saint Louis University as an Associate Professor and Program Coordinator of Aerospace and Mechanical Engineering at the Parks College of Aviation, Engineering and Technology. He's earned a Ph.D. in Aeronautics and Astronautics from Stanford University and an M.S. and B.S. in Aerospace Engineering from the University of Illinois at Urbana-Champaign. Over the years, he's compiled the only known cubesat mission assurance database from the year 2000 through 2019.
"From the first proto-cubesats launched in the year 2000 until the end of 2019, there were 1,184 cubesats flown by 287 organizations from all over the world," Swartwout explained. "Out of those numbers, 2/3rds, or 54 of 80 first-time professional organizations, were successful."
However, the numbers are a little different during the same period for U.S. university cubesat missions. According to Swartwout, "19 of 50 U.S. university CubeSat first-time-missions were successful." His research also found that the success rate improved to 44 percent, or eight-out-of-18, for first time missions from 2016 through 2019.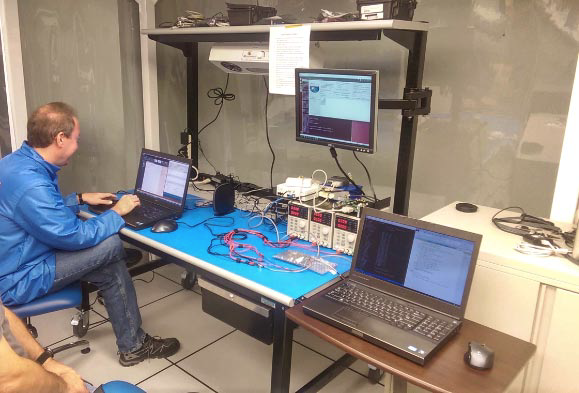 Scott Zemerick working on STF-1
STF-1 is a U.S. university first-time mission. Swartwout's conclusions appear to match-up with the latest data on STF-1 and the nine other cubesat's that made-up the ELaNa-19 mission.
"After launch, we typically don't track the operation of the CubeSats or their status. However, we have heard from some of the teams," NASA Launch Services Program Public Affairs Specialist Mary MacLaughlin explained, referring to the four out of 10 cubesat missions still in operation today. According to MacLaughlin, even though 10 survived the launch, two were unable to establish two-way communication and four were reported, "Have not heard from."
"The 'Have not heard from' means that the developer hasn't heard from the spacecraft," she clarified. "That means that four of those are operating and the developer was able to establish communication."
STF-1, barring hardware failure or an unknown space anomaly, could continue to operate for many years to come. The successfully demonstrated NOS3 software was recognized by NASA's Inventions and Contributions Board who named the modeling and simulation technology the NASA 2019 Software of the Year Runner-Up. Today, it is being used by government agencies and universities across the country.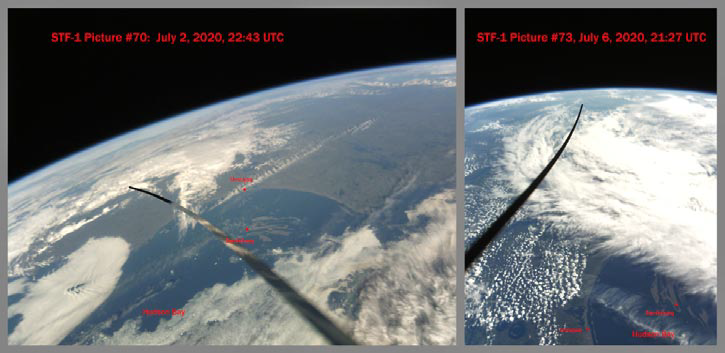 STF-1 captured imagery, composite rendering, July 2020.
"We've proven it from launch to orbit and we can say, without a doubt, it has increased reliability and reduced cost," Grubb said.
The Mountain State's Race to Space
The success of STF-1 could easily be added to the list of West Virginia space pioneers who faced incredible obstacles achieving remarkable results. One such person is American author and former NASA engineer Homer Hickam, Jr. His 1998 memoir Rocket Boys (also published as October Sky) was a New York Times Best Seller and was the basis for the 1999 film October Sky.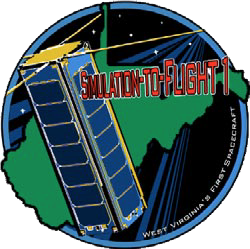 Like Hickam, Zemerick grew up in the shadow of the southern West Virginia coalfields in a town called Oak Hill, about 70 miles from where Hickam and the other "Rocket Boys" made history.
"His mining and coal stories were familiar to my mother, father, and myself," Zemerick said. "I see the work that we did on STF-1 as a type of extension or continuation of his West Virginia stories that are the embodiment of excellent people solving real-world, practical problems."
Naturally, the team is hungry to build upon the success of STF-1, proving it was not a chance occurrence or, perhaps, beginners luck. Jaridi, whose NASA West Virginia Space Grant Consortium is dedicated to building research infrastructure and promoting STEM education, believes STF-1 has set the foundation for the establishment of a nascent industry in West Virginia.
"We have demonstrated that by putting together the right combination of software engineers, scientists, and hardware engineers, West Virginia is able to engage in cutting edge research and development projects," he said. "Our vision is to become fully engaged in building SmallSats for our own scientific and commercial purposes."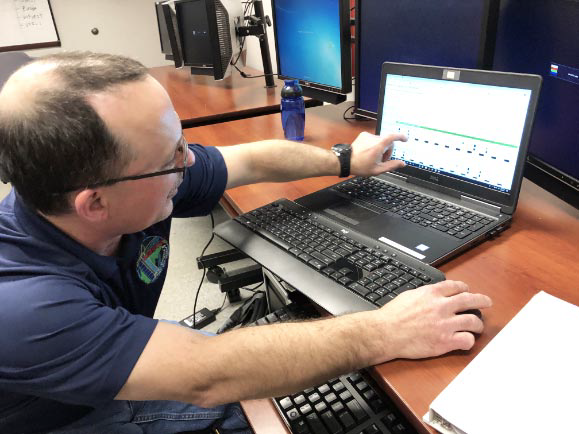 Mark Suder during STF-1's downlink process.
Zemerick also believes the Mountain State can have a future in the fast-growing smallsat industry. "The plan for the second mission is to develop a capability for the state and showcase how West Virginia can lead the nation and world in developing cutting-edge space industry technologies," he said.
But before the next mission can move forward, STF-1 Systems Engineer Mark Suder said a coalition of support pushing the Mountain State into space is necessary.
"There has to be that value proposition in the small satellite industry in West Virginia," he added. "That idea of what the industry can do for the world, for it to be successful. And that is going to take some sacrifice, dedication, and selflessness by a whole lot of folks to make it happen here. But I know West Virginia can shine!"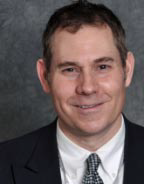 John Dahlia has nearly 30 years of experience as an accomplished journalist in all aspects of new and traditional media. He began his career as a reporter/anchor/producer and eventually, news director for CBS Affiliate WDTV-TV in Bridgeport, West Virgina. As news director, he helped lead his news team to numerous Associated Press and WV Broadcasters Association awards including "Best News Operation." In 2004 , he become the director of corporate communications for Global Science & Technology and he now works at TMC Technologies of West Virginia as their Director of Communications.
---