The Soyuz Push By Arianespace For O3b Networks' Four Satellites
With the 11th launch of the year, Arianespace has established a new, all-time record since the introduction of its family of launchers, and HAS PASSED the cumulated mark of 500 satellites orbited.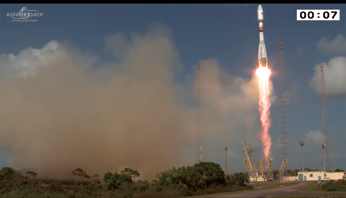 This 10th Soyuz launch from the Guiana Space Center, Europe's Spaceport in French Guiana, occurred on Thursday, December 18 at
3:37 p.m., local time.
Arianespace continues to deploy the O3b satellite constellation into an equatorial circular orbit, to provide high-speed, low-cost, low-latency Internet access to emerging markets in Asia, Africa, Latin America, Australia and the Middle East. The coverage zone includes nearly 180 countries and the "Other 3 billion" (O3b) inhabitants of the planet who do not yet enjoy broadband Internet connectivity.
By adding these new satellites, the O3b constellation can increase capacity to address rising demand. O3b Networks initiated full commercial service on September 1, 2014.
This launch also marked the resumption of Soyuz launches from the Guiana Space Center, four months after an orbital injection anomaly occurred on the previous Soyuz mission.
The European independent Inquiry Board named by Arianespace, and the Russian Inquiry Board named by Russian space agency Roscosmos, submitted converging conclusions concerning the cause of the previous anomaly. Both boards issued a series of recommendations, which were implemented to ensure a fast, secure resumption of launches.
The four O3b satellite constellation was successfully acquired on their targeted orbit by the O3b Networks team.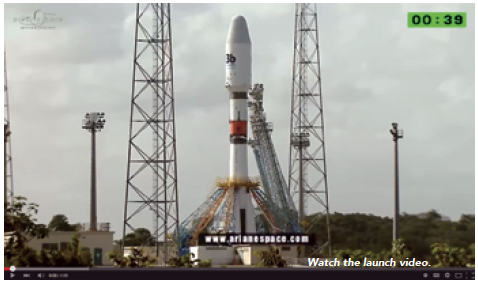 As predicted earlier this year, Arianespace has set a new record for annual operations since the introduction of its complete family of launchers, logging a total of 11 launches in 2014. This impressive performance was made possible by the unflagging effort of the Arianespace teams and its partners at the Guiana Space Center to reduce the time between two missions and optimize preparations for the launches.
• 11 launches (6 Ariane 5, 4 Soyuz, 1 Vega) in 2014: a record for the Arianespace family
• 78.3 metric tons orbited from French Guiana in 2014 (versus 74.1 in 2012), setting an all-time record
• >500 satellites launched since 1980 (23 in 2014)
After the official announcement of the orbital injection of the four O3b satellites, Stéphane Israël, Chairman and CEO of Arianespace, said: "We are very proud of our role in continuing to support the growth of our customer O3b, following the start of commercial service on September 1st."
The Arianespace infosite: http://www.arianespace.com/
The O3b Networks infosite: http://www.o3bnetworks.com/
---
International Launch Services (ILS) Drives SES' ASTRA 2G Into Orbit
The SES ASTRA 2G satellite roared into space on board an ILS Proton Breeze M booster at 03:37:49 Baikonur time, 22:37:49 CET and 16:37:49 EST, on December 27, 2014.
After a 9-hour, 12-minute mission, the Breeze M upper stage of the Proton rocket successfully released the ASTRA 2G satellite into geostationary transfer orbit.
ASTRA 2G will be deployed at the 28.2/28.5 degrees orbital arc.
The satellite was built for SES by Airbus Defence and Space. Based on the highly reliable Eurostar E3000 platform, the spacecraft carries 62 Ku-band transponders, as well as 4 Ka-band transponders. It will enable the delivery of next generation broadcast and broadband services in Europe, the Middle East and Africa.
ASTRA 2G, which had a launch mass of 6 tons, will feature a wingspan of 40 meters once its solar arrays are deployed in orbit, generating 13 kW of spacecraft power at the end of its 15-year design lifetime.
With the launch of ASTRA 2G, SES also supports SATMED, an e-health platform aimed to improve public health in emerging and developing countries, most significantly in isolated areas with poor connectivity. SATMED enables communication between doctors, thus enabling the transfer and exchange of medical knowledge and supporting tools for medical e-learning and e-teaching. The satellite-based solution is developed by SES and supported by the Luxembourg Government and the Ministry for Cooperation and Humanitarian Action.
Martin Halliwell, Chief Technology Officer of SES, said, "We would like to congratulate Airbus Defence and Space and ILS for the successful ASTRA 2G mission, a launch that marks the 24th SES satellite to be launched by ILS Proton, and the ninth Eurostar satellite in the SES fleet. The ASTRA 2G satellite completes our significant replacement investments at a strategic orbital neighborhood over Europe and provides 10 incremental transponders for expansion while cementing our unique co-positioning satellite back-up-scheme."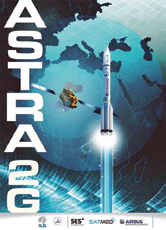 Detailing the program, Halliwell added, "The spacecraft furthermore includes the capability to connect West Africa to Europe via Ka-band. In combination with ASTRA 2E and ASTRA
2F which were launched in September 2012 and 2013 respectively, ASTRA 2G is the culmination of our fleet renewal program at the 28.2/28.5 degrees orbital arc. The new state-of-the-art SES satellites provide more focused and higher power to our broadcast customers, while the Ka-band on board supports the delivery of next-generation satellite broadband services as well as intercontinental connectivity between Africa and Europe."
Three additional E3000s by Airbus Defence and Space are currently in production for SES (SES-10, SES-11 and SES-12).
The SES infosite may be reached at http://www.ses.com/
For further information regarding ILS, please visit http://www.ilslaunch.com/
---
Improvement Of A Riyadh Hub Accomplished By Arabsat
As part of a long term partnership, ARABSAT has announced the successful accomplishment of its project with STC—
a leading GSM operator in MENA region—to renew and upgrade their satellite hub in Riyadh (Dirab).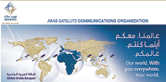 The upgraded satellite hub will eventually support STC in providing premium satellite communication and broadband services to private and governmental sectors.
Khalid Balkhayour, President and CEO of ARABSAT, said "The multi-million dollars renewal allows reliable communications throughout Arabsat Badr-5, the new state-of-the-art satellite at 26 degrees East, with an extensive footprint that will facilitate the operations of STC with high throughput links. ARABSAT and STC continue to work very closely to enhance their presence in domestic and international markets."
Abdul Aziz AlSugair, Chairman of the Board of STC, said, "The establishment of the station, in partnership with Arabsat, will endorse the depth of experience in both organizations, in the field of developing communications services provided via satellite throughout the Middle East."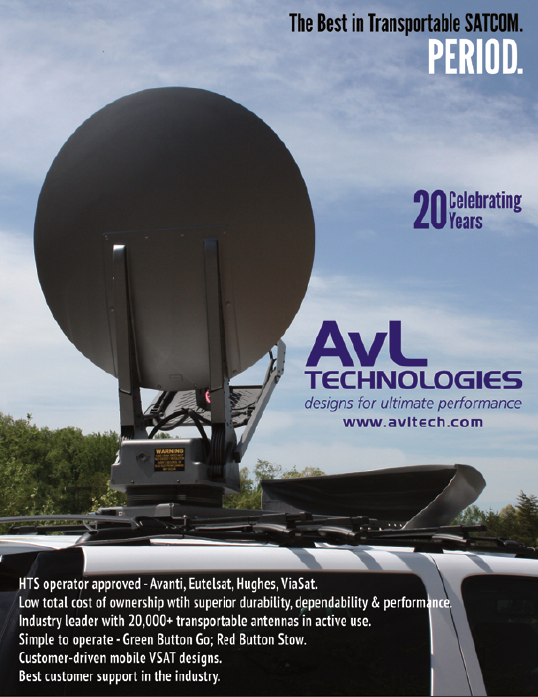 The Arabsat infosite may be accessed at http://www.arabsat.com/
---
A Hub Happening For Gilat Satellite Networks In LATAM
A Telecommunications Service Provider (TSP) in Latin America has selected the High-Throughput Satellite (HTS) Multi-Spot Beam solution from Gilat Satellite Networks (Nasdaq:GILT) to provide Ka-band broadband services.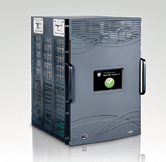 The TSP, which recently acquired five spot beams totaling 2.3GHz of capacity, intends to use its new HTS network to provide high-speed Internet service for multiple applications such as consumer, enterprise, mobility and airborne.
According to the terms of the agreement, Gilat will provide a SkyEdge II-c hub with multiple network segments, VSAT terminals and related equipment. Additionally, Gilat will provide cloud-based Network Operation Center (NOC) management services.
Roll-out of this project commenced during Q4 of 2014.
"Our technology supports multiple applications over the same platform very effectively," said Russell Ribeiro, Gilat's Regional Vice President in Latin America. "We believe that our strong local presence and support, combined with our knowledge and experience in network management, will provide our partner with a strong competitive advantage over the long term."
Please head over to http://www.gilat.com/SkyEdge-II-c for additional information.
---
Twenty-Five Year HISPASAT Anniversary Could Earn Award Winners Thousands Of Euros
HISPASAT has extended the deadline for submitting work for entry into the company's prize for Best Innovation Project in the satellite communication field, which will mark the firm's 25th anniversary—the new deadline is February 28, 2015.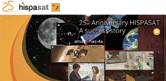 Requests were received from companies and research groups requesting that the deadline for submitting work be extended. In order to prevent unfair advantage, and to enable all entrants to benefit from the extended call, HISPASAT will invite all those who have already submitted their work prior to the publication of these amended conditions, ratified before a notary, to make any changes or improvements they deem appropriate to their entries.
The prize is open to all submissions from academic and industrial backgrounds that offer a solid, innovative, satellite telecommunications project, which may be applied to, and constitutes a useful improvement in, any satellite communications related field. The projects, for example, could concern carrying capacity, flight systems or technologies dealing with on ground sector, and so on. The winning entrant will be awarded 12,000 euros, while finalist will receive 5,000 euros. Both will also be awarded with an accrediting certificate.
The HISPASAT infosite may be accessed at http://www.hispasat.com/
---
Fengyun—II 08 Satellite Sent Spacewards By China
China has successfully launched a new meteorological satellite named Fengyun-II 08 from the Xichang Satellite Launch Center in the Sichuan province, which is located in the southwest of the country.
China's previous weather satellite, Fengyun-II 07, took off in January 2012 and currently remains orbit.
A Long March 3A rocket delivered the satellite to near-Earth orbit. Both the satellite and the rocket were developed by China Aerospace Science and Technology Corporation (CASC), Xinhua reported.
The newly launched satellite is expected to collect meteorological, maritime and hydrological data, while also transmitting information that will be useful to forecast weather and monitor environmental changes.
According to a report from Xinhua, this was the 203rd time a Long March rocket has been used for a launch.
In November, CASC announced that it was planning to launch some 120 satellites in preparation for a national space infrastructure in the future.
RIA Novosti has reported that, according to the contractor, the space program will include 70 satellites for environmental monitoring, 20 communications satellites and 30 navigation satellites.
China is also planning to start operating its own space station in 2020.
---