Eli Naffah is the Formulation Manager for the Communications Services Project (CSP) at the NASA John H. Glenn Research Center in Cleveland Ohio. Mr. Naffah is a native of the Northeast Ohio Area. He earned a Bachelor of Science Degree in Aerospace Engineering from the University of Central Florida and a Juris Doctor from Cleveland Marshall College of Law.
Mr. Naffah started his career with NASA at the John F. Kennedy Space Center in Florida, where he integrated Space Lab experiments for launch on the Space Shuttle.
---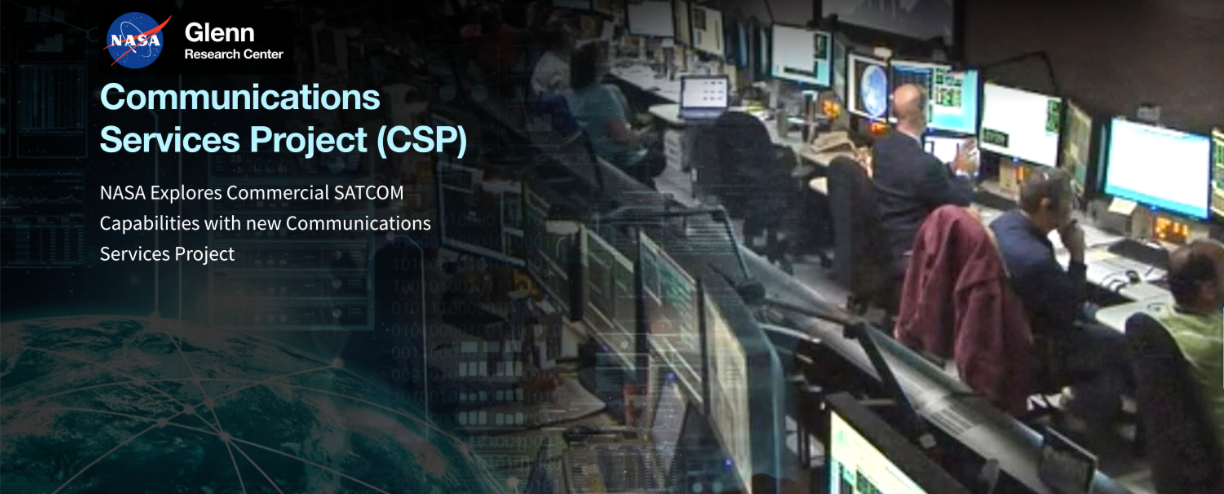 ---
Mr. Naffah moved back to Cleveland to work on the Space Station Power System, with responsibility for integration and processing of the Power System at the launch site. Mr. Naffah later joined the NASA Glenn Office of Chief Counsel, serving as lead counsel on significant matters over a 12 year period.
Mr. Naffah moved to the Space Flight Systems Directorate to lead the Orion Project Office at GRC with responsibility for development of the Orion Service Module, Orion Requirements and Orion Space Environmental Testing. He went to NASA Headquarters to serve as Deputy Chief Engineer for the Science Mission Directorate (SMD) where he was responsible for assessing SMD Programs and Projects and a number of technical excellence initiatives.
He returned to GRC to serve as the Deputy Chief for the Avionics and Electrical Systems Division responsible for Avionics, Power Systems, Diagnostics/Data Systems, Electrical and Electromagnetic Systems, Flight Communications and Flight Software Engineering. In 2011, Mr. Naffah moved to establish the Glenn Space Communications and Spectrum Management Office. The Office supported the NASA Space Communications and Navigation (SCaN) Program providing leadership in the areas of Spectrum Management, Architecture, Standards and Technology Development.
In 2020, Mr. Naffah moved to lead the formulation of CSP, a major element of NASA's plan to transition to commercially provided communications and navigation (C&N) services for near-Earth space and terrestrial users. Such user's include launch vehicles, human spaceflight, and science missions in a variety of locations from Low Earth Orbit (LEO) up to geostationary orbit (GEO) and highly elliptical orbits, as well as terrestrial users such as aeronautical, balloon missions, and scientific research outposts such as McMurdo Station in Antarctica.
Good day, Mr. Naffah. Please give our readers a brief overview of the NASA Communications Services Project (CSP) — what it is, why it's needed, what are the division's goals?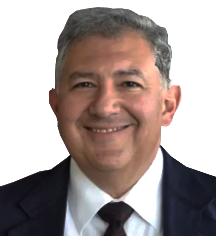 Elias Naffah
Elias Naffah
The NASA Communications Services Project (CSP) is committed to pioneering the future of NASA's near-Earth space communications. As the legacy Tracking and Data Relay Satellite System (TDRSS) approaches decommissioning, CSP is tapping into extensive industry innovation and evaluating the feasibility of commercial satellite communication (SATCOM) networks to reliably support future NASA missions.
Adopting commercial services will empower those missions to leverage private sector investment and development that far exceeds what the government could ever do – and to save money that can be refocused on scientific work. Seeding a new kind of SATCOM market, CSP will benefit NASA, industry and taxpayers, increasing jobs and economic opportunity while enabling space missions for the long term.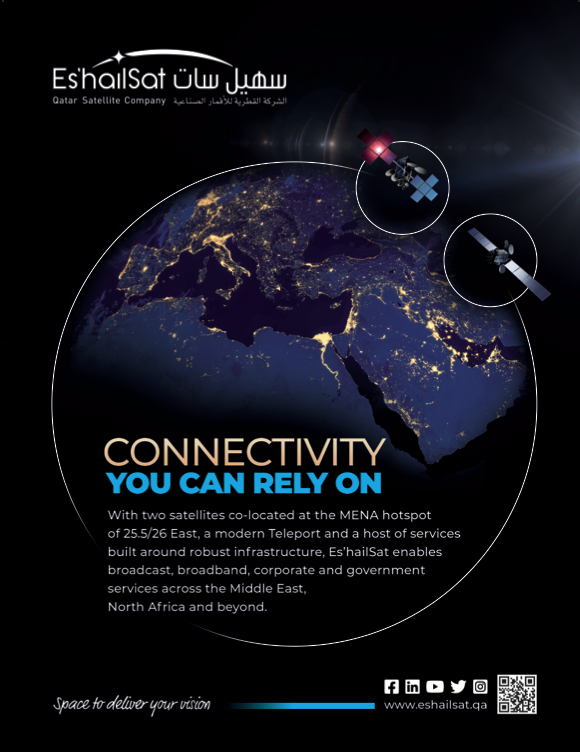 What does CSP mean for NASA?
Elias Naffah
The Project seeks to provide a sustainable path for NASA to transition its use of SATCOM services from NASA-owned and contractor-operated to commercially provided services, seizing the opportunity to leverage the rising innovation in the commercial space industry. The private sector can and does innovate SATCOM technology faster and far beyond what NASA could or should do. NASA's future must be about exploration and science, not competing with industry to build and maintain unique equipment and facilities. CSP will enable NASA's scientific missions through cost-effective commercial space communications. CSP enables NASA to leverage industry's extensive investment in SATCOM innovation. NASA will enjoy industry's economies of scale and competitive pricing, driving down SATCOM costs and freeing up funding that can be redirected to scientific work. Ongoing commercial SATCOM networks will continually provide more capability, thereby enabling new science and entirely new missions.
Importantly, the commercial services that CSP is exploring must also be made available to other entities, so that NASA does not bear the full responsibility and cost burden for any commercially owned and operated satellite network, and so that those providers can enjoy the opportunities of a broader marketplace.
Why is CSP valuable to the commercial SATCOM provider market?
Elias Naffah
CSP is determining options for future space communications and is seeding the backbone of a new space network. Timing is optimal as the commercial space market is poised to explode. Content generated from space and data sent to spacecraft is ever increasing, which creates demand for new two-way higher capacity data transfer models. CSP will shape industry's support for NASA mission requirements while leaving room for industry to serve other customers requiring expanded SATCOM services. NASA anticipates that its evolving mission needs will spur SATCOM providers to improve the availability and quality of services they can deliver. Providers can use NASA as a safe foundation for broadening their service offerings to other customers — such as leading-edge commercial space flight companies and other government organizations, worldwide. They can instill their own solutions into future space communications infrastructure, magnify their presence, and align with and support the space industry by incorporating the most exciting technologies of our time.
What is the anticipated timeline for CSP? How and when will this shift happen?
Elias Naffah
Having successfully completed mission needs and requirements scoping, the first of three Project phases, CSP is now moving into phase two — commercial capability development and demonstrations. Engaging industry and other key stakeholders in this phase will be a major undertaking that will require substantial industry participation, and will involve public awareness and education.
Thankfully, many in industry have enthusiastically responded to this opportunity, with CSP having received numerous proposals for capability demonstrations. We will award contracts for Funded Space Act agreements to selected vendors in the spring of 2022.
---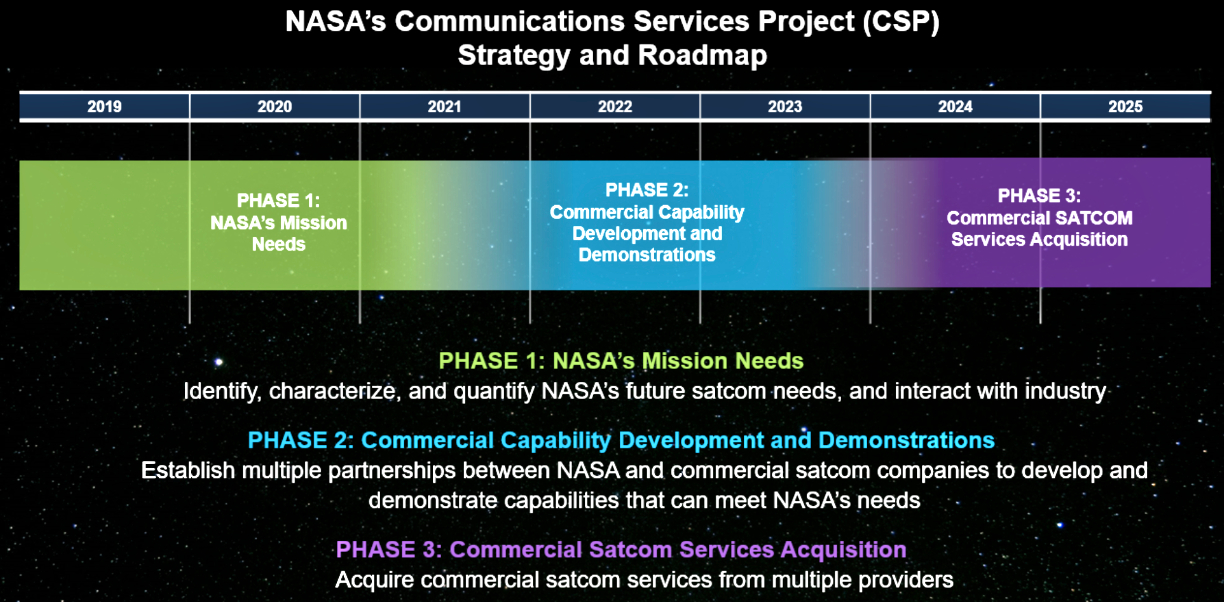 ---
The demonstration phase will last three years, to be followed by a two-year period of acquisition preparation, with the goal of initial commercial service acquisitions being made as early as 2027.
What can the SATCOM industry expect from CSP in the coming months?
Elias Naffah
Partnership agreements for commercial SATCOM capability demonstrations will be awarded in the Spring of 2022. NASA will use Funded Space Act Agreements to stimulate industry partners to demonstrate end-to-end capability leading to an operational service.
The flight demonstrations will provide operational constructs, performance validation and acquisition models. Data generated during the demonstrations will be used by NASA to plan the acquisition of commercial services and their transition to NASA missions. Following the announcement, CSP will kick off multiple demonstrations to be completed in 2025 representing a portfolio of end-to-end commercial capabilities that may meet future NASA mission needs. The approach seeks to minimize the need for NASA-unique capabilities.
These are risk reduction activities to develop multiple capabilities that are also extensible for a class of missions. After the demonstrations, any provider will have the opportunity to bid during the Phase 3 acquisition of services to offer competitive solutions that suit NASA's needs.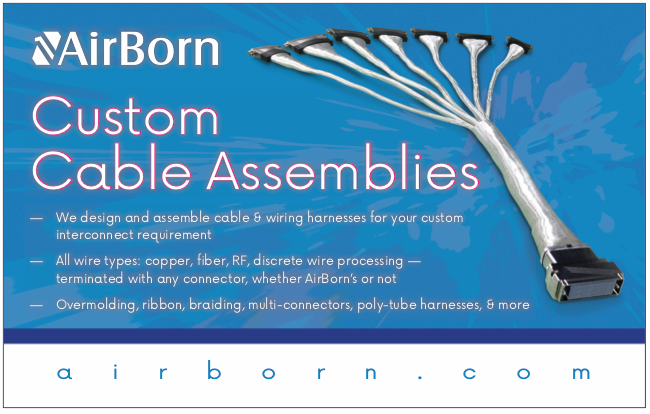 How will CSP help encourage new innovations within the industry?
Elias Naffah
CSP is the first step toward endless new opportunities. Just as NASA initiatives have repeatedly done (e.g., opened initial spectrum for television, satellite radio, spot beam, and phone communications), CSP will help encourage new innovations derived from the capabilities developed during the demonstration phase.
The demonstrations will be based on the capabilities and interests of commercial service providers including adaptation of existing commercial infrastructure and terrestrial capabilities. Each agreement will feature substantial cost and risk sharing. Industry partners will retain maximum rights to intellectual property developed during the demonstrations. NASA will not specify system requirements or system concepts in the demonstration phase in order to open up the trade space, and encourage innovations and efficiencies in system solutions.
The objectives of the space flight demonstrations are broadly targeted for a general SATCOM market serving spacecraft. Each participant will determine the system requirements for its proposed concept that best serves its target markets. Industry partners will select the technologies, orbits, and data pathways essential to their approach.
In this new era of public-private partnership, CSP is also leading a new kind of private sector engagement for NASA. CSP will foster an innovative model for acquisition and consumption of commercially provided near-Earth space communications services. Focused on maximizing interoperability between government and industry, CSP will provide a model for other government agencies to learn from, and seed further innovation and market opportunity.
What are you most excited about in terms of CSP?
Elias Naffah
The interest and enthusiasm we have encountered from industry is very encouraging. The ability to leverage the innovation and substantial investment of the private sector to benefit future NASA missions is exciting. This is a tremendous opportunity for our team to shape a new SATCOM market and bolster the burgeoning commercial space sector.
As an industry leader, how do you work with your team to execute a years-long project?
Elias Naffah
CSP began formulating in 2020. However, NASA began laying the ground work with Industry several years earlier to build relationships and to understand their capabilities and interests. The CSP three-phase strategy considers this industry feedback and lessons learned from earlier NASA success involving commercial cargo and commercial crew. The demonstrations will have defined fixed price performance based milestones to measure progress. CSP will support the demonstration milestones conducted by the industry partners and provide funding upon successful completion of each milestone.
CSP will also collaborate with industry through unfunded space act agreements to address additional needs such as additional capabilities, interoperability and standards. CSP will work with NASA's Spectrum Policy and Planning Team to address regulatory changes needed to leverage Fixed Satellite Service and Mobile Satellite Service infrastructure for space based users. CSP will also coordinate planning for commercial services with the existing Space Communications and Navigation (SCaN) Near Space Network (NSN) to ensure a seamless transition to NASA missions. In addition to the demonstrations, CSP will conduct an analysis of alternatives to determine the most effective approaches for acquiring and transitioning commercial services for NASA missions. CSP will identify architectures for enterprise service management of commercial service portfolios informed by the demonstration activity.
The alternatives will be evaluated based on figures of merit reflecting mission and agency needs, goals and objectives for the SATCOM services. Performance, cost and risk associated with each alternative will be generated and traded to develop a suitable transition plan. The demonstration and analysis data will be communicated regularly through CSP established forums to NASA missions and other stakeholders to build confidence in commercial services.
www1.grc.nasa.gov/space/communications-services-program/
---