Spaceflight's SXRS-3 Mission Takes 16 Smallsat Payloads To Orbit Via The SpaceX Transporter-1 Flight
Spaceflight Inc. successfully launched and deployed 16 payloads, including 15 from its nextgeneration orbital transfer vehicle (OTV), SherpaFX1, aboard the SpaceX Transporter1 mission.
Dubbed SXRS3 by Spaceflight, the mission launched January 24 from Space Launch Complex 40 at Cape Canaveral Space Force Station and delivered Spaceflight's SherpaFX1 to Sun Synchronous Low Earth Orbit (525 km alt), where it deployed payloads for more than 10 organizations.
Spaceflight managed the endtoend launch experience for 10 cubesats, four microsats and two hosted payloads. Customers onboard the launch represented commercial and government entities from four countries, and included organizations such as HawkEye 360, iQPS, Astrocast, Celestis, and the University of South Florida Institute of Applied Engineering.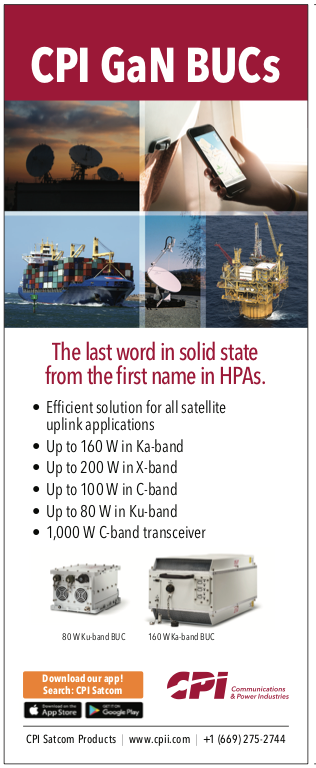 Spaceflight's years of experience providing mission management and integration services gives companies a lowrisk option to remanifest to another launch quickly if delays occur — which is rapidly becoming a musthave for smallsat developers. Further, Spaceflight ensures all complex details and requirements, from planning to licensing and up to lift off, are taken care of by an experienced and knowledgeable team to successfully support a mission from beginning to end.
The successful Transporter1 mission was Spaceflight's first mission of 2021 as well as the debut flight of the SherpaFX vehicle. Building on the success of its SSOA mission, which delivered 64 spacecraft to orbit from a freeflyer vehicle, Spaceflight pioneered a new SherpaNG program in mid2020.
The SherpaNG (next generation) program is a family of ESPAclass space vehicles designed to minimize development timelines while maximizing flight and schedule reliability and mission assurance. Sherpa vehicles provide more orbital diversification, including flexible manifest changes, deployment to multiple altitudes and orbital planes, and rapid launch solutions.
While SherpaFX is the first vehicle in the program to launch, two additional versions, SherpaLTC and SherpaLTE with gas propellant and electrical propulsion respectively, are preparing to launch later this year. The vehicles will all offer quickly configurable systems, multiple deployment capabilities, and tracking and identification abilities. With propulsive systems and inspace transportation capabilities, SherpaLTC and SherpaLTE vehicles will enable delivery of spacecraft to orbit faster and beyond LEO.
In 2021, Spaceflight is celebrating its tenth anniversary. Over the last 10 years, the company has launched more than 30 missions and 300 satellites. Spaceflight works with a portfolio of global launch vehicles, including Falcon 9, Antares, Electron, Vega, and PSLV, to provide a variety of launch options to its customers.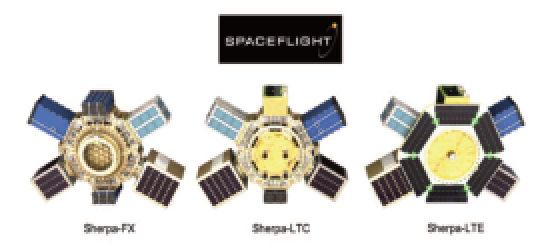 Finally, the company has executed noteworthy and industrydefining launches over the last 10 years, including its first dedicated rideshare mission, SSOA, which launched the largest number of satellites from a U.S.based rocket, and the firstever rideshare mission to GTO, which carried the first privately funded lunar lander.
This year, Spaceflight plans to launch multiple Sherpa vehicles in addition to many other rideshare missions, totaling more than 10 missions across its global launch vehicle portfolio.

"This successful launch and deployment of spacecraft from the SherpaFX vehicle is a significant milestone in delivering flexible launch options for customers," said Grant Bonin, SVP of business development at Spaceflight. "Our Sherpa vehicles, coupled with the large variety of launches available to us through our global network of partners, enable us to offer a more customized launch experience to smallsat companies and get customer spacecraft on orbit exactly where they need to be, when they need to be there. We're excited to kick off the year with this SpaceX launch, and are well positioned to execute several more Sherpa missions in the coming months."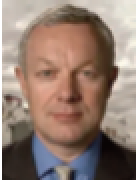 "This is our third launch with Spaceflight and the most critical to date," added Kjell Karlsen, CFO of Astrocast. "With this launch, our nanosatellite IoT Network goes live. Spaceflight's reliable rideshare service has made the team a trusted partner as we strive to accomplish our mission. Additionally, the flexibility the company provides has been incredibly valuable as we plan for the many launches required to build an operational constellation."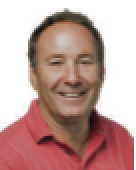 "It's been exciting and gratifying to see the evolution of our Sherpa vehicle from a freeflyer on SSOA to a strategic and diverse program designed to meet the various needs of smallsat customers," said Curt Blake, CEO and President of Spaceflight. "Our goal is to make the process of getting to space easier, more efficient and more accessible and the nextgen Sherpa vehicles will enable us to deliver this in a new, innovative manner. After 10 years of business, we have extensive experience, partner relationships, and a variety of learnings that we were able to leverage as we expand our offering to now include inspace transportation services."
---
Space Flight Laboratory Launches 12 Smallsats Aboard the SpaceX Transporter-1 Mission
Space Flight Laboratory (SFL) successfully deployed 12 satellites on January 24, 2021. The SpaceX Falcon 9 ridesharing mission carried three different, SFLdesigned smallsat platforms into orbit for three separate commercial constellations. The January 24,2021, launch included: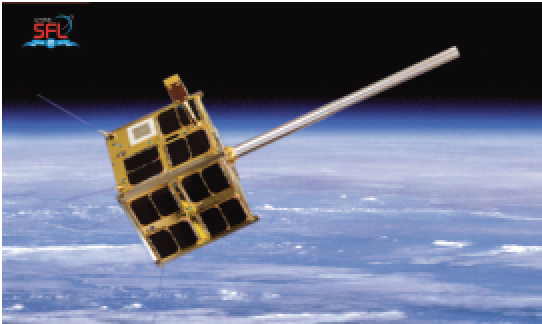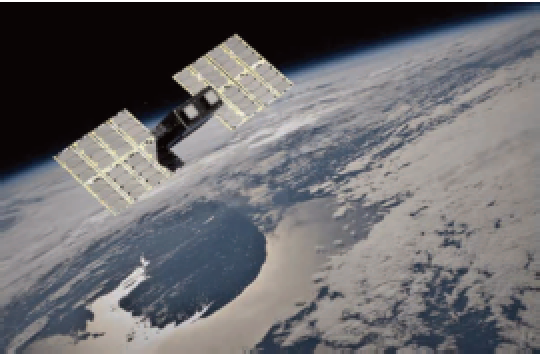 Artistic rendition of a communications
cubesat developed on theSFL 6UXL
platform. Image is courtesy of SFL.
• Three formation-flying, radio frequency geolocating microsatellites built upon SFL's 30-kg DEFIANT platform for HawkEye 360 Inc. of Herndon, Virgina.
• One next-generation greenhouse gas monitoring microsatellite, known as GHGSat-C2 or "Hugo", built by SFL on its 15 kg NEMO platform for GHGSat Inc. of Montreal, Canada.
• Eight commercial communications cubesats developed using the SFL 6U-XL SPARTAN design.
The deployment of the DEFIANT smallsat also marked the third entirely new smallsat platform developed by SFL to reach orbit in just the past five months. SFL's SPARTAN bus was introduced for the first time on September 28, 2020, with the launch of two communications cubesats. Plus, SFL's NAUTILUS smallsat platform made its debut on September 2, 2020, with the launch of the NEMOHD Earth Observation (EO) mission for Slovenia.

Artistic rendition of the SFLbuilt GHGSatC2
("Hugo") greenhouse gas monitoring
smallsat. Image is courtesy
of GHGSat Inc.
Dating from 1998, SFL's heritage of onorbit successes includes 65 distinct missions related to Earth observation, atmospheric monitoring, ship tracking, communication, radio frequency (RF) geolocation, technology demonstration, space astronomy, solar physics, space plasma, and other scientific research.
GHGSat Inc. awarded SFL the development contract for GHGSatC1 ("Iris") and C2 ("Hugo") after SFL built and launched the pathfinding GHGSatD ("Claire") atmospheric monitoring smallsat in 2016. Successful detection of groundbased methane emissions from space is due in part to the precise attitude control and target tracking capability of the SFL NEMO bus. In November of 2020, SFL was awarded a contract by GHGSat to build an additional three smallsats for the firm's commercial, greenhouse gas monitoring constellation.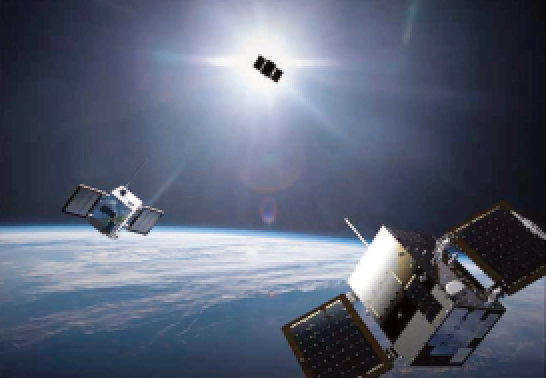 Artistic rendition of the HawkEye 360 RF geolocating
microsatellite constellation. Image is courtesy of SFL.
For HawkEye 360 Inc., SFL built platforms and integrated the HawkEye 360 Pathfinder cluster which was launched into LEO in December of 2018. Based on this success, SFL's satellite technology was selected for the HawkEye 360 Constellation mission due to the importance of formation flying by multiple satellites for successful RF geolocation and analysis used in maritime situational awareness, national security operations, and many other applications. For the 2021 launch, the larger DEFIANT bus was developed by SFL to accommodate advanced onboard technologies.
In its 22 year history, SFL has developed smallsats that have achieved more than 135 cumulative years of operation onorbit. These smallsat missions have included SFL's trusted attitude control and, in some cases, formationflying capabilities. Other core SFLdeveloped components include modular (scalable) power systems, onboard radios, flight computers, and control software.
"These launches demonstrate SFL's unmatched ability to innovate and deliver quality at any size on short schedules," said SFL Director, Dr. Robert E. Zee. "SFL is a unique microspace provider that offers a complete suite of nano-, micro- and small satellites – including high-performance, low-cost cubesats – that satisfy the needs of a broad range of mission types from 3 to 500 kilograms."
---
KSF Space Foundation Now Offering Their "World's Cheapest Cubesat"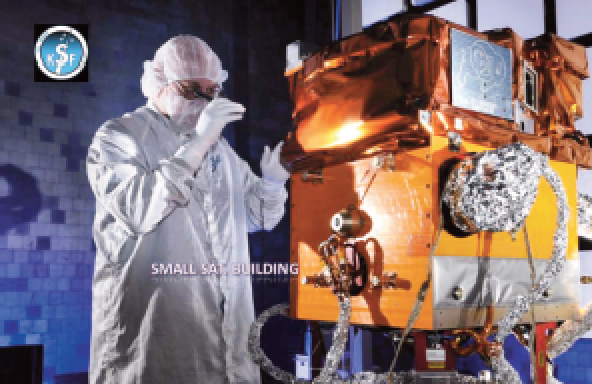 KSF Space Foundation has revealed what they describe as the world's cheapest cubesat in the history of smallsat industry — this cubesat model is designed to facilitate the creation of lowcost, cubesatclass smallsats.
Reducing the cost of spacecraft development in this form factor allows spacecraft development efforts to be funded from teaching funds, instead of requiring faculty to seek research funds to conduct this activity. Using teaching funds (instead of research funds) facilitates greater student leadership and involvement, as it reduces the risk of mission failure to the responsible faculty member.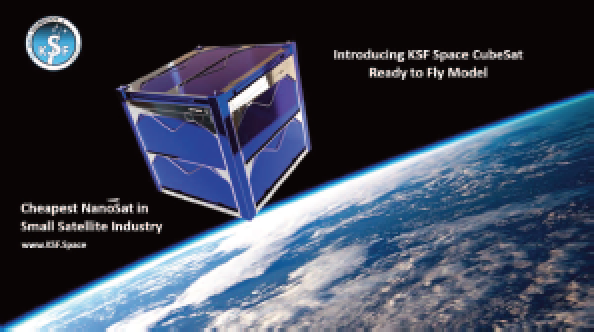 Additionally, as teaching funds are generally recurring, this approach facilitates incorporation of the smallsat program in curriculum on a yearuponyear basis.
The model is tested and ready to fly, easy to integrate and post integrate with any extra payload needed. The basic model comes with major cubesat instruments; however, KSF Space Foundation is offering other advanced models depending upon mission task and mission requests.
KSF Space Foundation was initially founded to enable costefficient access to LEO with zeroenvironmental impact flying solutions. The foundation offers access to nearspace and LEO for research and scientific experiments in many fields, as Earth or Space Observation, biological testing, satellite positioning detection, Earth magnetic field measurement, radio transmit, atmosphere science and technology experiments.
Dr. Kayyali, Chairman of KSF Space Foundation, said, "This model will allow universities and schools with a small budget to develop their space project easily, there is no need to secure funding."
---
ISISPACE Successfully Launches 53 Smallsats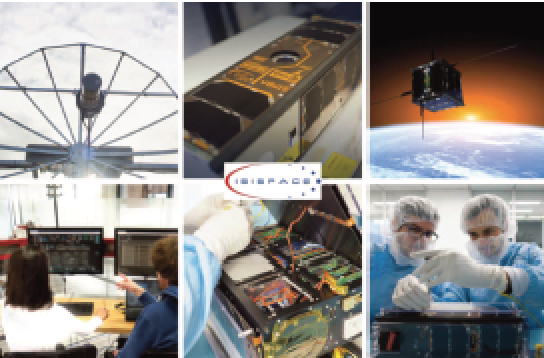 ISISPACE deployers accommodated 53 smallsats as part of a successful ISILAUNCH34 launch campaign completed aboard a SpaceX Falcon 9 rocket on January 24 from SLC-40 at Cape Canaveral AFS as part of the SpaceX SmallSat Rideshare Program.
For this mission, Kepler Communications had contracted ISISPACE and ISILAUNCH to manage the integration of their smallsats on board the Transporter-1 mission, including interface design and development, deployers, sequencer, and full-service integration support to get all satellites and equipment to the launch site at Cape Canaveral and mated with Falcon 9.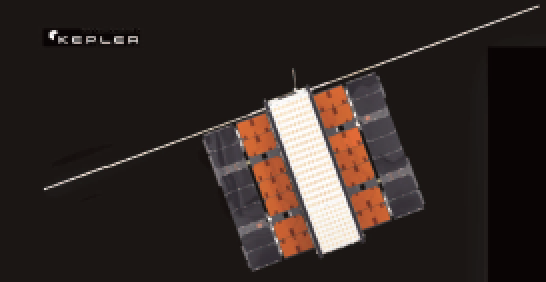 To optimize the number of satellites that can be integrated within the available volume and mass constraints, ISISPACE developed the CubeSat MultiPack (CSMP) and partnered with SkyEnergy to develop a special MultiPack Adapter Plate (MPAP) for that purpose.

The MPAP is designed to accommodate as many as 9 QuadPack deployers as well as the company's iMDC (Modular Deployment Controller) sequencer to provide a single point interface between the launch vehicle control and telemetry system and the deployers.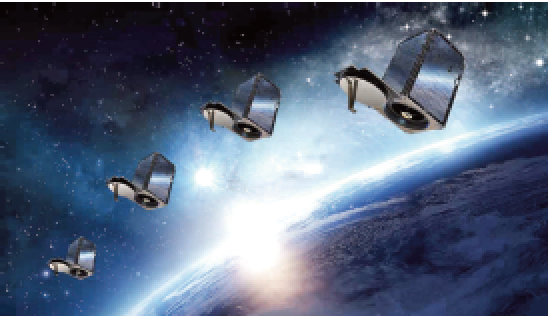 Artistic rendition of Planet smallsats onorbit.
ISISPACE's launch service integration team at ISILAUNCH managed and executed the launch campaign on Kepler's behalf. With excess capacity for more deployers available on the MPAP, several other customer satellites were integrated on the Transporter-1 mission by ISILAUNCH.
The development of the CubeSat MultiPack also made it possible to support the firm's long-term customer Planet, with the inclusion of 36 Planet Type 3.XL+ SuperDove smallsats.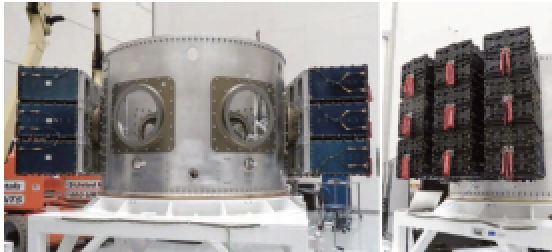 The SuperDove smallsats were all integrated into 9 QuadPacks that comprised a very full plate and an amazing sight after integration to the launch vehicle. Another QuadPack with SuperDoves could be included on the other plate, bringing the total number of Planet satellites to the 40 they required to be launched.
Achieving such a milestone directly after celebrating ISISPACE's 15th anniversary earlier this month stands as another record milestone in the company's history.
---
A Half Century Connecting the World
This year marks the 50th year for Hughes Network Systems. Like every great startup story, this one begins in a humble, suburban garage, where seven young engineers started a business designing telecom circuit boards. That was 1971.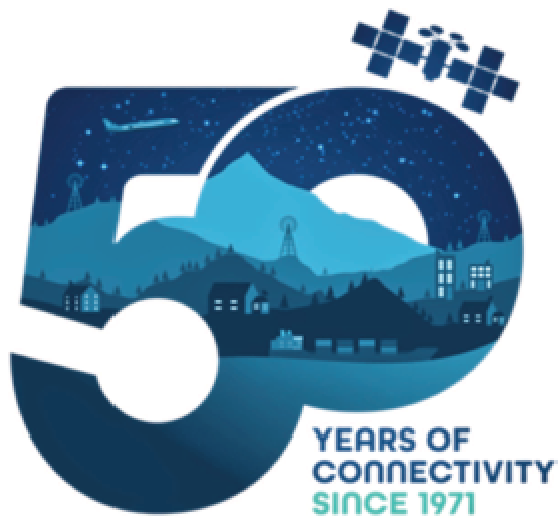 Today, Hughes powers satellite and multitransport solutions for millions of people, businesses, governments, and communities around the world.
Hughes' Top 5 Innovations
To commemorate the company's 50 years, Hughes surveyed their employees about their thoughts on key achievements, impacts, and predictions. After all, who better to provide the detail for any Top 5, Top 10 or Top 50 list than the Hughes employees involved in connecting and orchestrating the networks on which people everywhere depend?
As many of the employees have worked for Hughes for decades, they have industryleading perspectives to share. Here's how they weighed in on the question: What are the most important innovations developed at Hughes?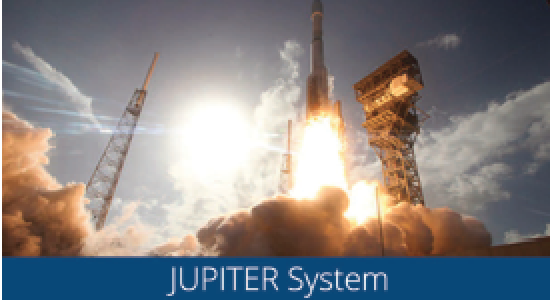 1. Satellite Broadband — Driven to connect the unconnected, Hughes invented satellite internet, bringing the benefits of broadband to millions of families that other ISPs wouldn't serve.
2. VSAT (Very Small Aperture Terminals) — Comprised of an antenna (the "dish"), an outdoor unit and an indoor unit, these convenient, twoway ground stations made it possible to transmit and receive satellite data from anywhere.
3. JUPITER™ Platform — The most widely used VSAT system in the world, the JUPITER platform is the system of choice for network operators, governments, mobile networks, and aeronautical and maritime service providers, operating on more than 40 satellites around the globe.
4. HughesON™ Portfolio — This nextgeneration portfolio of network and digital media solutions, including industryleading Software Defined Wide Area Network (SDWAN) solutions, meets a range of distributed enterprise needs. In our survey, the HughesON Portal also got several shoutouts for its ability to provide customers with an interactive, easy to use dashboard and a view into network activities, installs, trouble reporting, and ticketing.
5. OneWeb — Hughes is building the gateways and core modules for this constellation of Low Earth Orbit (LEO) satellites which will enable low latency service worldwide, a complement to the capacity density of the Hughes JUPITER fleet of highthroughput geostationary satellites.
These five innovations barely scratch the surface of the technological advances that were developed at Hughes over the years. From innovating Terminal Management Agent technology that leverages Artificial Intelligence (AI) and Flexible Modem/Terminal Interfaces, to enabling satellite transmissions through the blades of a helicopter, to using AI for a selfhealing capability to improve network performance, Hughes continues to push the limits of what's possible — and, as the company stated, "We are just getting started."
---
Leaf Space announces Series A financing —10 million Euros funding achievement and other ground segment service developments
Leaf Space has completed their Series A financing round of 5 million euros, bringing the firm's total funding to 10 million euros. A contribution of 2 million euros came from Primo Space, the investment fund of Primomiglio SGR that is focused on investments in the space industry. Whysol Investments led the other 3 million euros investment with RedSeed Ventures, an earlystage investor in the company.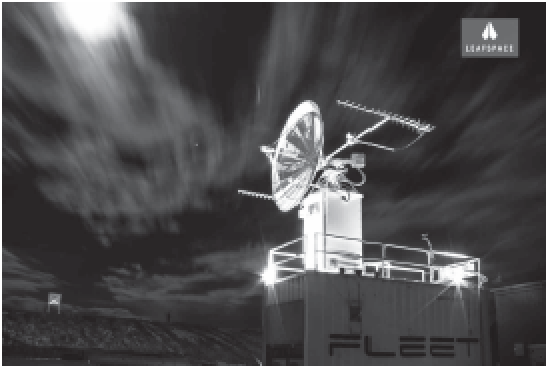 Leaf Space will use the funding to further develop its ground segment services for smallsat operators, launch vehicles and globally scale up the company's business. During the first trimester of 2021, the company plans to grow its operational ground stations from eight to 11 by deploying and activating ground stations in Sri Lanka, Canada and Australia. By the end of 2021, the company expects to activate a total of 15 operational ground stations for its shared, multicustomer Leaf Line service. In addition, the company will provide several other ground stations to its swiss client Astrocast, using the dedicated Leaf Key ground segment service.
Other developments in 2021 will include implementing services to further improve and simplify operational for customers and expanding our library of supported protocols and communications schemes currently in use in the New Space market. This in turn will increase Leaf Space's performance and capabilities to support more complex future missions.
The first half of the funding secured in Spring 2020 allowed Leaf Space to kickstart the expansion of its infrastructure and service portfolio with new ground stations in New Zealand, the Azores, North America and Bulgaria, in addition to extending the hardware and infrastructure already present in Spain and Italy. This expansion enabled support of new missions and applications in the smallsat sector.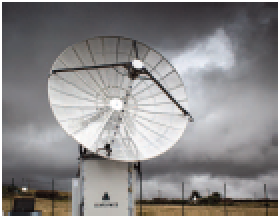 In December of 2020, the company activated its latest GS at Awarua, New Zealand, implementing a state of the art 3.7 meter antenna paired with high performance baseband processing hardware. Leaf Space will be continuing the expansion and upgrade of its infrastructure with COTS elements to increase performance of its ground stations, meeting always more demanding requirements in the New Space market.
Leaf Space supports more than 15 commercial customers such as Astrocast, Pixxel, Virgin Orbit, DOrbit and institutional customers such as the European Space Agency (ESA), TelespazioLeonardo and the Indian Space Agency (ISRO). Leaf Space's globally distributed infrastructure utilizes both 3.7meter and 3meter parabolic antenna dishes for SBand uplink/downlink and XBand downlink operations, while Yagi antenna are used for UHF and VHF respectively, implementing commercial offtheshelf transceivers in combination with Leaf Space inhouse developed SoftwareDefined baseband processing radios. The ongoing network expansion aims to minimize satellite data reception latency, and provide telemetry, tracking, and control (TT&C).
The New Space industry fastpaced development is constantly requiring higher levels of protection and risk mitigation towards cybersecurity threats. Leaf Space is in an active partnership with swissbased company CYSEC providing space cybersecurity services applied to the Leaf Line and Leaf Key ground segment services. In addition to cybersecurity risk mitigation, the latest cuttingedge innovations Leaf Space is pursuing are higher frequency (Ku/KaBand) support, a hybrid high datarate RF/optical ground station network and cislunar ground segment support opportunities.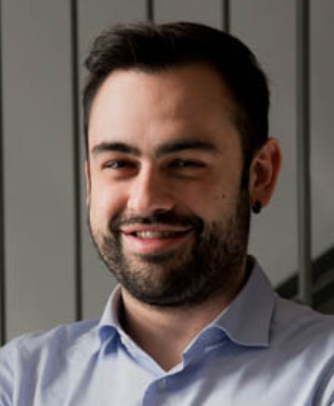 Jonata Puglia, CEO and cofounder of Leaf Space, said, "This is a fantastic achievement for Leaf Space. In a short span of time, Leaf Space has become an industry name and a key player in the New Space economy. Our company has demonstrated the capability of providing dependable, resilient and secure ground segment services to satellite operators, from launch and early orbit phase (LEOP) all the way to decommissioning, and also supporting launch vehicle operators, tracking launch vehicles from the groundup through complete launch trajectory. Having concluded this successful investment round shows the relative resilience of the sector, despite the ongoing pandemic, and allows the company to continue with its strong and swift development plan."
NOTE: Leaf Space is speaking and exhibiting at the upcoming SmallSat Symposium in February. Please get in touch with the company during the conference to discuss any needs.
---
SpaceLink Adds SATCOM Leaders To The Firm's Executive Team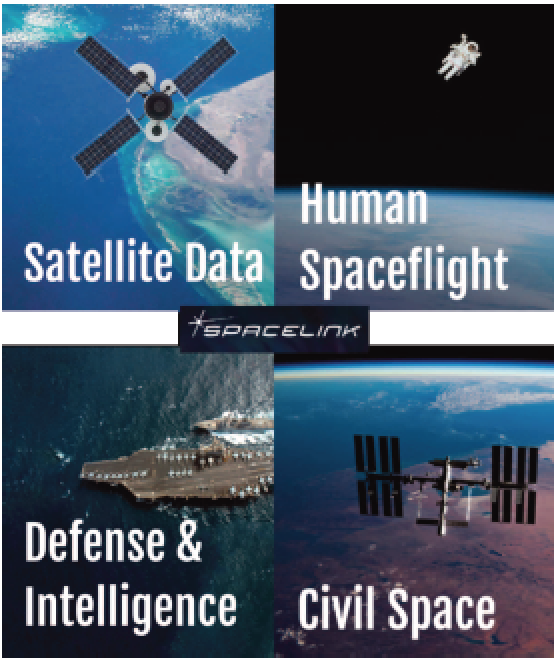 SpaceLink continues to grow a highly accomplished team to implement its business strategy for a game changing satellite relay service.
Following a previous announcement of its top executives, SpaceLink added seven more industry leaders to its team. They bring deep expertise in technical and business operations to drive forward the space relay service that provides secure, continuous, highcapacity service between LEO spacecraft and the ground.
The names of those joining the company will be familiar to many in the satellite and telecommunications industry…

Dr. Larry Alder joins the team as Senior Vice President of Products & Services following more than a decade at Google and more recently several years as Chief Operating Officer at OneWeb. Dr. Alder will be instrumental in developing and defining the SpaceLink service offerings. At Google, he focused on global internet access and he was a member of the board of directors of O3B Networks until it was acquired by SES in 2016. At OneWeb, he managed the engineering and operations organizations and he was cochairman of the U.S. Department of Commerce Spectrum Management Advisory Committee from 20142018. He has a Ph.D. in Aerospace Engineering from Stanford University and a bachelor's degree in Engineering from UCLA.

David Nemeth, who was previously at OneWeb, was named Senior Vice President of Systems Engineering. He is an expert at developing and modeling systems architectures for satellite communications. Before joining SpaceLink, he was Senior Director of System Modeling at OneWeb and he was Vice President of Ground Systems Architecture at iDirect, where he played an instrumental role in rearchitecting the overtheair interface and system design to better serve customer requirements. He has a Bachelor's degree in physics from Cornell University and a Masters degree in physics from the University of California, Berkeley. He holds three patents related to secure communications, MEMS, and VSAT communications.

Craig Moll, who was the Founder and President of PATHFINDER Space Advisors, which helped emerging space companies enter new markets, is now SpaceLink's Vice President of Commercial Business Development. He helps spacecraft operators maximize the use of their assets with the SpaceLink relay system. Before joining SpaceLink, he was Founder and President of PATHFINDER Space Advisors, LLC. Previously, he was Vice President of Sales and Marketing at Space Systems Loral and he was Managing Director of PanAmSat Europe. He began his career as a telecom policy specialist handling the satellite portfolio at the U.S. National Telecommunications and Information Administration (NTIA). Mr. Moll holds a bachelor's degree from Texas State University, a master's degree from the University of Texas, Austin, and he studied French at the Université Paris – Sorbonne.

Lenny Low is the Vice President of Space Segment and he possesses eight patents and he is an expert in spacecraft platform architectures. He spent 27 years at Space Systems Loral (now Maxar Technologies), where he was Vice President of Business Development, responsible for business strategy and development of LEO, MEO and GEO platform solutions. Previously, he was Executive Director of the Spacecraft Platform Operations Directorate, where he managed an organization of 600 engineers and technicians. He also worked at both Lockheed and TRW. He has a BS in Mechanical Engineering from UC Berkeley, and an MS in Mechanical Engineering from Stanford.

Tom Leisgang is the Vice President of Ground Segment and he is a multidisciplinary expert who brings unique perspectives and outofthebox solutions to satellite and spacerelated missions. Before joining SpaceLink, he was Technical Director for Ground Systems Mission Engineering and Operations at Space Systems Loral (now Maxar Technologies). He was Ground Segment Program Manager for the satellite segment of Australia's national broadband network, and established satellite control infrastructure from greenfield to operational readiness. He began his career at Lockheed Martin where he managed the Bus Functional Test Facility that supported production of 70+ LEO satellite bus units.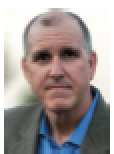 David Pattillo is named as the Vice President of Spectrum Management and he will oversee SpaceLink's spectrum and regulatory management and leads the company's efforts with the ITU, FCC, and other regulatory bodies. Before joining SpaceLink, he worked with SpaceX to manage international and domestic coordination of that firm's StarLink constellation of more than 4,000 NGSO satellites. He spent more than 20 years at DIRECTV where he was Director of the Space & Communications Group. He holds a Bachelor of Science degree in Electrical Engineering.

Doug Kotval, the new Vice President of Supplier Management, will provide strategic sourcing leadership and also manage supplier and partner relationships for the company. Prior to joining SpaceLink, he spent 24 years at Maxar Technologies and its predecessor company, Space Systems Loral. There he was Senior Manager, Strategic Sourcing for Space Infrastructure and Lead Supply Chain Manager for major R&D projects including digital payload processor development, phased array antenna technologies, and advanced photonics.

"SpaceLink has attracted some of the industry's top professionals who are inspired by our business strategy and the opportunity to contribute to this game changing data relay service," said David Bettinger, Chief Executive Officer at SpaceLink. "We've put together a dream team with the perfect blend of backgrounds and experience to drive our vision forward. Demand for fast access to data in near Earth orbit will continue to grow and SpaceLink will be ready with the capacity needed to serve nextgeneration systems."
---