As Space Foundation CEO, Tom Zelibor leads one of world's premier nonprofit organizations solely dedicated to supporting space activities, space professionals and education initiatives that open space access and opportunity for all. Headquartered in Colorado Springs, CO, Zelibor manages a national staff with a worldwide reach and impact across the civil, commercial, military and government space enterprise. In consultation with its Board of Directors, he has expanded the scope, resources and direction of the organization while developing new programs and sources of revenue to further advance the Space Foundation's vision of inspiring, educating, connecting and advocating on behalf of the global space community.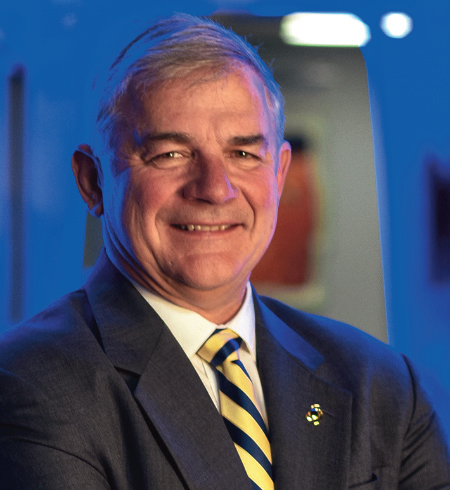 Before joining the Space Foundation in April 2017, Zelibor was Chairman and Chief Executive Officer for Lightwave Logic Inc. His wide-ranging leadership and entrepreneurial background includes serving as President and CEO of Flatiron's Solutions; Vice President for Science Applications International Corporation (SAIC); and, Director, eSpace Incubator at the Center for Space Entrepreneurship, among other commercial affiliations.
Prior to his leadership tenure in the private sector, Zelibor had a distinguished 30 year career in the United States Navy, retiring as a Rear Admiral in 2006. Other highlights of his extensive career in space-related positions include Director of Global Operations, U.S. Strategic Command, Deputy for C4 Integration and Policy/Department of the Navy Deputy CIO; Director, Space Information Warfare, Command and Control Division, and as Commander, Naval Space Command. He also held the position of Dean, College of Operational and Strategic Leadership at the Naval War College in Newport, Rhode Island.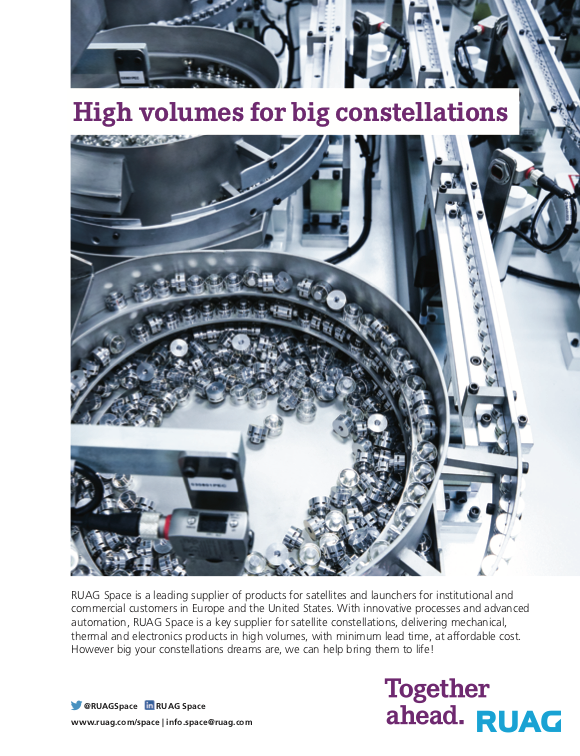 He received his Bachelor of Science degree in Oceanography from the United States Naval Academy in 1976. He was a Naval Aviator early in his Navy career before branching out into space and information technology assignments. The highlight of his military career was as Commander, Task Force Fifty, where he led three U.S. carrier battle groups, two NATO carriers, nearly 60 other U.S. and coalition ships, 300 aircraft and thousands of personnel in the North Arabian Sea conducting combat operations in Afghanistan after the attacks of 9/11.
Good day, Mr. Zeibor. Would you please explain to the readers is why the Space Foundation an important entity for the space and satellite industry? What does Space Foundation offer that assists the industries' various market segments in ensuring their success?
Tom Zelibor (TZ)
For nearly four decades, the Space Foundation has been the center of gravity for bringing all facets of the space community together — civil, commercial, military, international, academia and any other stakeholder with an interest in space. Whether gathering at the annual Space Symposium or any of our regional, national or even international programs, the Space Foundation is all about driving a continual conversation with a community that is always changing and doing something new.
The satellite industry, domestically and internationally, is a huge benefactor of our efforts because of the exchanges and relationships the Space Foundation is able to facilitate.
However, that's only part of the value we've brought to this community.
At every juncture possible, the Space Foundation consistently works to bring new voices, insights and capabilities to the table while making sure we clearly capture the impacts and stories of how these industry and community members are changing the landscape, capabilities and infrastructures of the world's economy.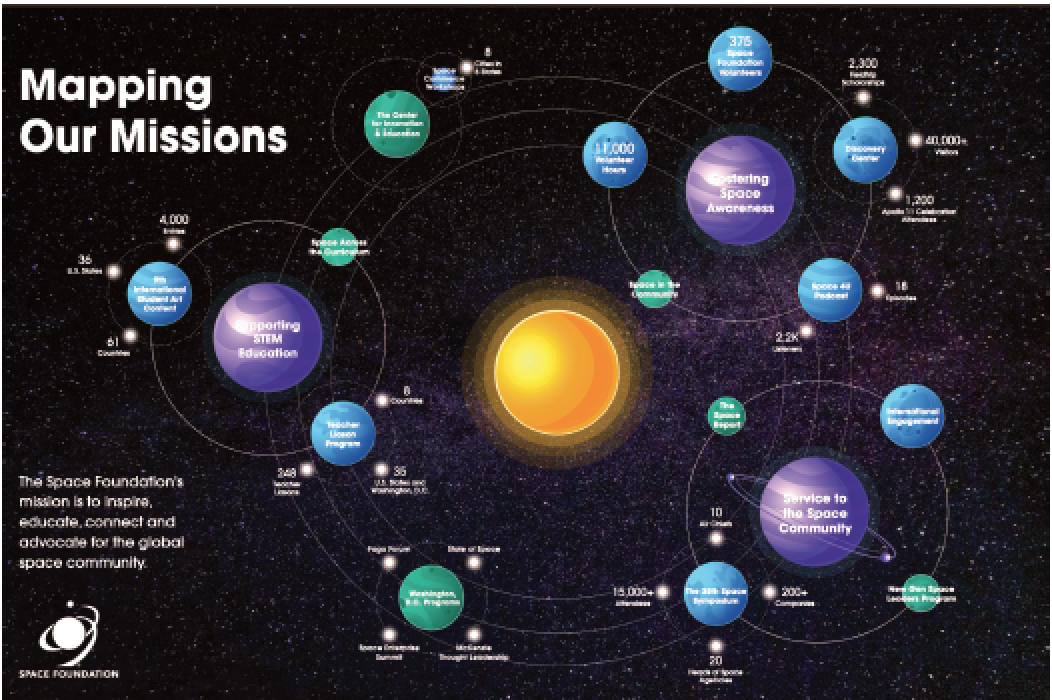 We take great pride in our role and responsibility as the conveyer of that dynamic group of people and we are always looking for new ways, people and contributors that can help us tell those next stories and make those impacts.
All you have to do is pick up any issue of The Space Report— or any of the other content we put forward — and you'll see that very clearly. It's just one of the many reasons our work is cited by so many different parties, from the Commerce Department and Congress to the media and business groups.
They trust us and know us to be a fair player to all, and that's a place we always want to be.
Please tell our readers about your events that support the industry, especially the Space Symposium... why is this proceeding so important to military, government and commercial actors within our various market segments and what can attendees expect should they attend this event?
TZ
There is nothing else in the world like the Space Symposium, and nowhere else can you find a greater assembly of diverse space interests in one location for several consecutive days. In 2019, we had more than 15,000 people from around the globe come and participate.
Those weren't just exhibitors and sales teams but an entire array of interests looking for partners for new ventures, new companies, and entrepreneurs seeking capital as well as technologies and other collaborators to help them get to the next level of performance. Attendees also included people, companies and organizations who want to know and see what is going to happen next in the space landscape.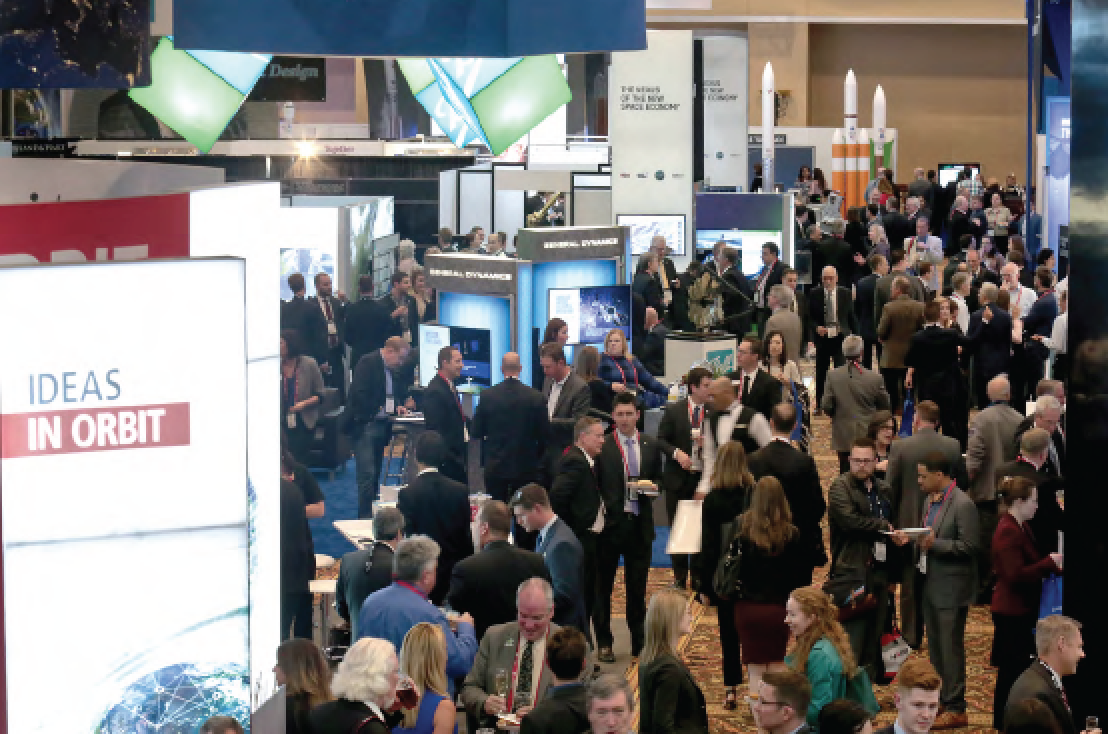 One of the Space Symposium's exhibitor areas
If you look at all the changes that have occurred in the space community over the past decade, we've gone from recession conditions and legacy government approaches to boomtowns, with new providers offering capabilities and exponential growth in areas that weren't even imagined 10 years ago.
If you're looking to understand and engage the people, products and factors that are driving the changes and conditions in today's space environment, time at the Space Symposium will do that for you. It's an investment worth making.
Certainly, you can read about it in any of the news reports that come out from what happens and what is said during the program, but nothing will ever compare with the first-person experience of being able to go up and talk with the leaders and innovators that are making today's and tomorrow's space operating environment possible.
That capability is one of the things we are looking to deliver. It's also the reason that after every Symposium we poll our attendees to understand how we can do better and increase our value to them.
We ask them point blank, "What is the greatest value that the Symposium can offer you?" Every year, they tell us the same thing: "You put me in the room with the people I needed to connect with so I can take my next big step." Many of the industry's CEOs tell me this is the single most important event of each year for their company and that they accomplish more business in that week than any other time.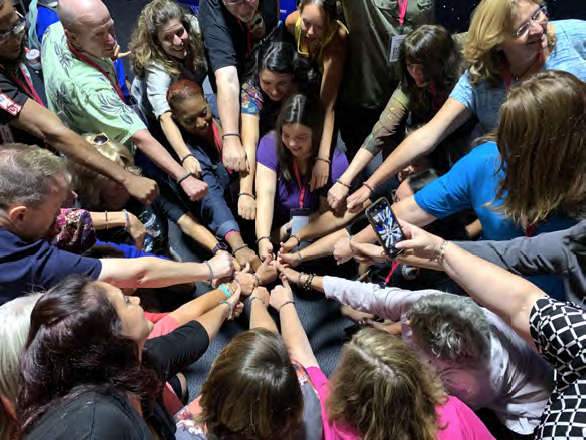 Why should a firm become a Corporate Member of the Space Foundation? What are the benefits of such an inclusion?
TZ
There are four pillars to the Space Foundation mission: Space/STEM Education, Service to the Space Community, Space Awareness, all performed as a World Class Organization. It's our members that drive our approaches to serve each of those pillars better than anyone else. Without our members, we could not do the Space Symposium, our other outreach programs, The Space Report, our Discovery Program, or serve the countless teachers and students who benefit from our education programs.
Everything we do for our members is about creating access and opportunity. That includes helping to build the future of the space economy to do more, share more and deliver more impact that will change them and the world for the better.
One of the many things you will hear about at this year's Symposium is a number of new initiatives to spur greater investment in workforce development, encourage lifelong learning, and building greater capacity for the entire space community to have a more sustainable future.
As part of our commitment to the space economy, we will be asking our members to join us as participants and partners in programming and investments that will create a more ready, able and capable space workforce of the future.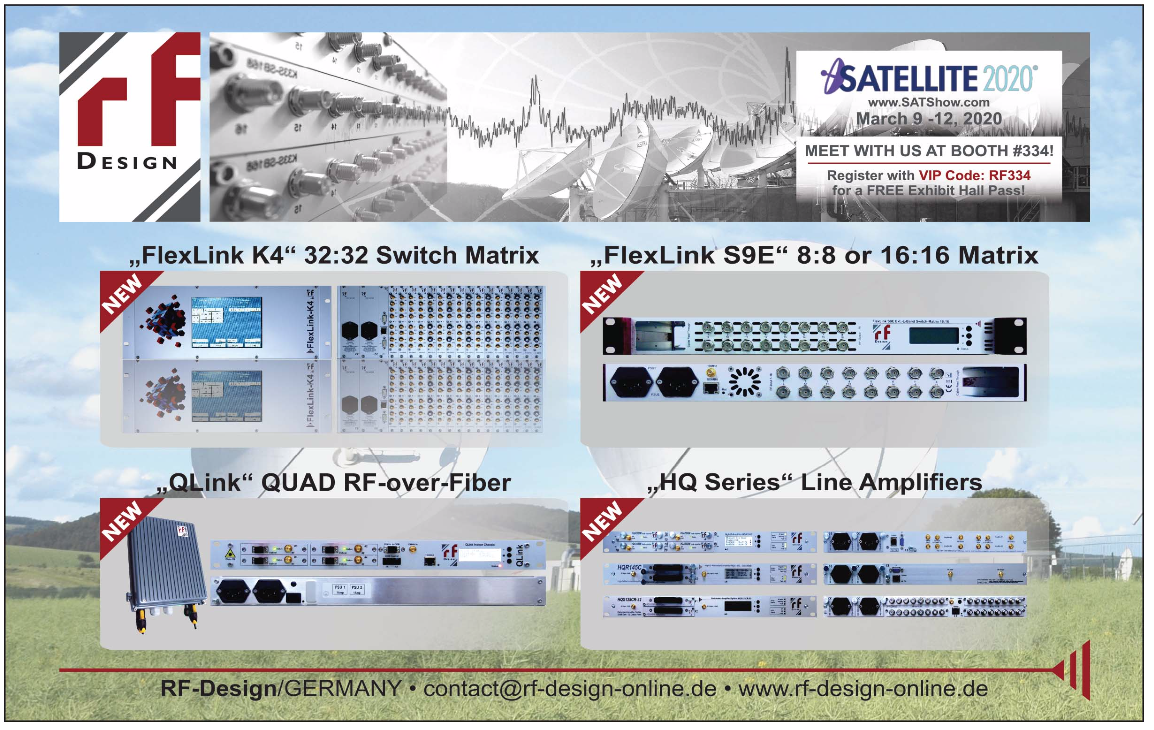 It's not just America where we're looking to develop this new generation of workforce talent. Every nation working in space today is competing for the same set of people and skills because without them any country, economy and opportunity on this planet will be severely limited. No one wants to be in that position.
Today's Sputnik moment is creating the conditions and opportunities to build the people, resources and skills we need to achieve not only ambitious missions to the Moon, Mars and beyond but also to bring more access, opportunity and benefit to people here on Earth. We're going to give our members and stakeholders the ability to shape those activities in ways they have never had before.
How does Space Foundation support and assist with crucial STEM learning throughout the nation and the world to ensure our industries have a wealth of professionals to fill their important employment ranks, now and in the future?
TZ
Education is core to what we do as an organization. You can see that on full display when you walk into our headquarters and see our Discovery Center in operation. Every week, we have school buses of students and teachers coming in here to understand not just what space is but, more importantly, how they can be a part of that space opportunity.
We're putting them through hands-on experiences that allow them to simulate missions on Mars by driving rovers in our Mars Robotics Laboratory. We want to expose them to programming so that they understand how they can make machines perform essential functions — all the while, developing their own creative problem solving skills that any mission team needs to have.
We recently started a new initiative called Junior Space Entrepreneur Program (JSEP) which is specifically tailored to high school students. It's a weeklong team exercise where the students have to create a business plan for a mission to Mars and then pitch it to a group of potential "investors." The effort is designed to bring students of various disciplines to work together — just like future Moon and Mars crews will have to do.
Each of these teams will have to address not only the operational and technical challenges of their mission but also the factors of risk, economics and the return on investment aspect that will be a part of their operating environment.
Thanks to the support of our member Lockheed Martin, we just completed our first pilot in a high school outside of Denver and received phenomenal feedback from the students and teachers.
You'll be seeing more of that program in the coming months since we see it as an interdisciplinary approach that again brings entrepreneurship, science, engineering, communications and other core skills together to complete a mission. It's building a team that can work problems and deliver solutions for the future. That's what we need more of in the future.
Then there is our Teacher Liason program, which is literally bringing K-12 teachers from around the world to train them in best practices along with providing lesson plans and other tools to get students excited and engaged in STEM disciplines and careers. Space is a hook to get them interested, and we want to do everything we can to help teachers bring these students into this community of opportunity.
We've been doing this program for almost 20 years with teachers from nearly all 50 states. It's become a phenomenal network of people who are personally vested and deeply committed to making sure every child, regardless of who they are, can see themselves as part of the space community and more.
We have more efforts like these as well as space commerce initiatives that will allow the Space Foundation to do its part in building a dynamic and comprehensive space community where everyone has a seat at the table. That's our goal.
Please tell us about the organization's Discovery Center and the Yuri's Night event.
TZ
We started the Discovery Center seven years ago as a place where we could actively share, teach and engage the public —in particular, students and teachers — about space and STEM education in our home base of Colorado Springs. With displays, artifacts, models, exhibits, laboratories and other hands-on programming, we've been able to create an inviting place that allows the surrounding region to become better connected to the space community. Not a week goes by when we don't have school buses lined up in our parking lot with students and teachers coming in to explore their own future opportunities in space.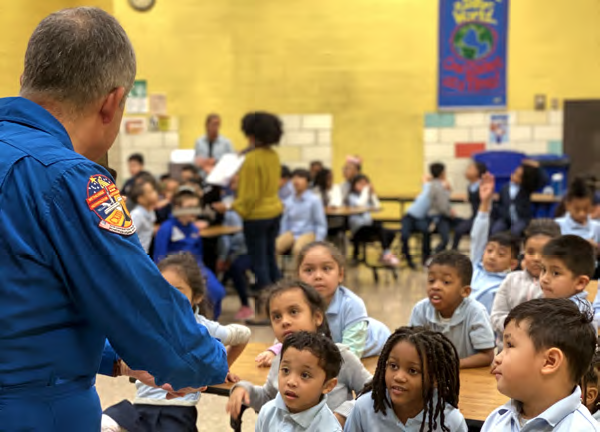 When school is out, our Summer of Discovery programming provides a great place for kids to come and have fun while continuing to learn about Space STEM disciplines. Everything we do at the Discovery Center is centered around being an engaging place to excite, inform and inspire opportunities about space. We also want to make it a whole family experience where anyone can better understand what space does for them and the roles they could play in space in the coming years. We don't want to leave anyone out.
Currently, we're in the midst of planning an expansion of our Discovery Center facility as the demand for these types of activities is increasing locally with all of the growing space assets and activity throughout Colorado. But it's not just about serving the local demand. There is also a growing national and international need for leadership, initiatives and programming, and the expansion will allow us to address those demands as well. It's also why we provide remote access to the Discovery Center — to allow programming and access for those that can't be there in person.
As to our annual Yuri's Night event, that gathering coincides with the kickoff of the Space Symposium. We host it at the Discovery Center the Sunday evening before everything gets started at The Broadmoor on Monday. It's a great way for us to invite our friends, supporters and community members into the Discovery Center and share the great community resource that we are, and it also helps to raise funds for our education mission and all that it does to keep the spirit of space exploration and learning moving forward in Colorado Springs and around the world.
Every space community leader I hear from tells me about their concerns in finding qualified and capable STEM talent, particularly in engineering disciplines to satisfy their current and future requirements. That is everything from software engineers and data modelers to satellite designers and new propulsion systems innovators. Across the board, there are unfilled talent requirements.
For any of these organizations, it is both a challenge and an opportunity.
It's a challenge because you have to find the people who can take on these demanding roles and get the job done right the first time. But it is also an opportunity as it can spur you to think and act creatively to meet those requirements in ways you've never done before.
---
---
The commercial industry has certainly pioneered those innovations and breakthrough approaches, and it's on full display in today's small sat marketplace. Look at any of the approaches offered by these small sat companies, and you'll see those challenges and opportunities being met and addressed.
But with demand growing exponentially for the range of services that the satellite industry provides, every company and country is competing for the same finite talent pool. Those conditions cannot afford to be ignored by anyone.
Beyond having the hands-on STEM skills, employers are also telling me they want creative problem solvers who aren't afraid to challenge conventional approaches or the way things have always been done. Here again, the satellite community has been a leader in the space community.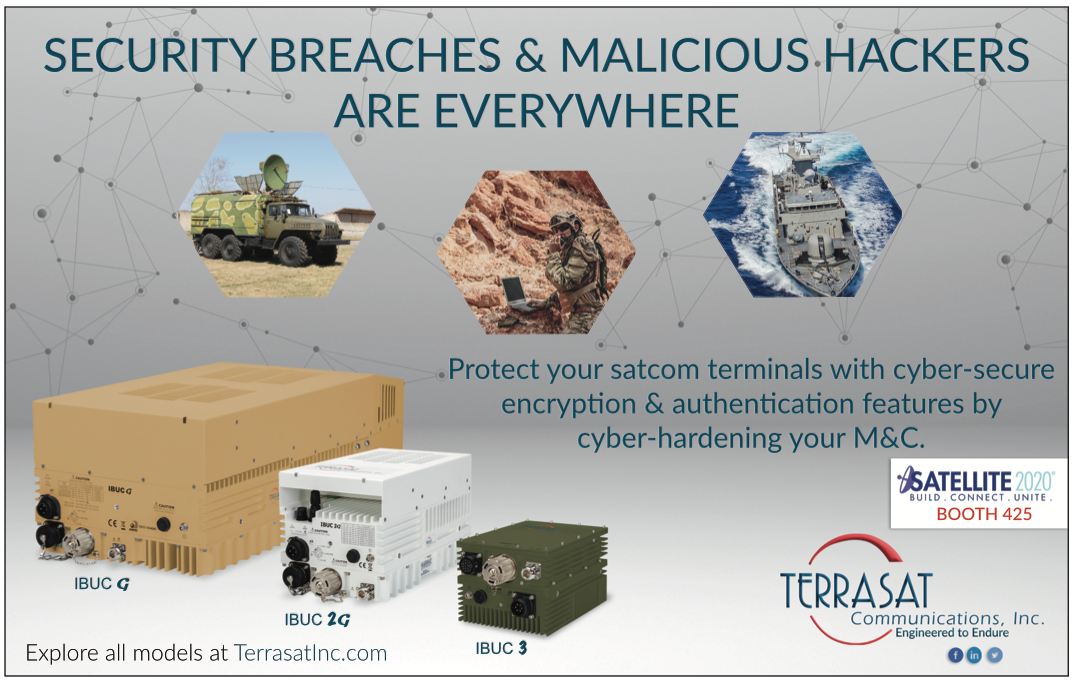 Satellites that have long provided us with great coverage and connectivity were once the size of a midsize car and had significant costs to go along with them.
But today, we can launch something the size of a basketball at a fraction of the cost and have just as many capabilities, if not more. Creative problem-solving makes things like that possible but so does the one skill I hear employers are looking for — and that is entrepreneurship.
Nowhere will you find a more creative lot of people than entrepreneurs willing to put their name, capital and ideas at risk. They look at the world through a different lens and have the guts to make a go of it.
When you think of a growing space economy that most analysts expect to surpass a trillion dollars by the end of the decade, that's the kind of talent companies as well as investors are looking to have in their reach.
You previously served as the Navy's CIO helping to secure and use those critical assets to serve the national security mission. Since serving in that post, how have you seen those threats and challenges evolve, and what guidance do you have for the satellite community as they operate in today's complex and demanding environment?
TZ
Those threats have become even more complex and cumbersome, and that is not just because there are more bad actors that are out there that want to thwart American interests; it's primarily because our international, commercial, civil and military networks are so much more interconnected than ever before. Those connections create systemic interdependencies, meaning whatever move or action one party takes will have ripples of impact that the others will undoubtedly feel.
In that environment, relationships, communications and collaborations are just as important as technical prowess and competencies. If you don't have them, you don't have full awareness of the threats and operating conditions.
You want to have levels of expertise, capabilities and resilience to keep you informed so you can make smart decisions. And it's not only your life that is dependent upon your next move. It's thousands, if not millions, of others that have a stake in the decisions you have to make. Without help, you have no way of managing or mitigating those risks, and that is an unacceptable position for any leader to be put in.
It's just one of the reasons the emergence of the Space Information Sharing and Analysis Center (ISAC) is so important. It offers the satellite community the critical networks for the relationships, communications and collaborations its members need to have to be prepared for the worst of days and operating environments.
Today, every infrastructure is connected to what the satellite industry provides, be it imagery, data, GPS locations, etc. That connectivity is only going to increase as will the demands and capabilities that every consumer interest is going to be asking for.
That rise in demand is certainly good for business, but it also expands and increases the risks and threats that can be experienced. That is something the satellite community has to be prepared to address 24/7. Too much is riding on them and no one can afford to ignore the threats.
You recently joined the board of the National Cyber Center and the Space ISAC. What roles(s) will this organization offer to the satellite and space community?
TZ
This is a great step by the National Cybersecurity Center (NCC) to take on the leadership role of standing this group up. The truth is we're overdue in starting this organization and having the conversations we need to have in the space community to address our overall risk as well as our resilience.
Since its start, the ISAC has been a tremendous network for collaboration and keeping each other in the loop on the range of current and evolving threats and conditions each infrastructure community faces. Adding a Space ISAC creates a cross collaborative and coordinated environment that we need to have to address national, as well as international conditions.
We often say at the Space Foundation, "No one goes to space alone." The same goes for protecting space assets and infrastructures. No one in the satellite industry or any sector of the space community should ever feel alone or be isolated in trying to address the risks, threats and conditions that could adversely impact their operations.
I expect that the Space ISAC will play an essential role in creating the relationships and networks we need to have working on our best days, but most certainly those really tough days when threats and risks are at their worst. That's when we need information sharing, analysis and partners the most.
Can you describe the recruitment and skill challenges as well as the innovation gap that you see for the space community in bringing new talent into the fold?
TZ
For all of the innovation and technology achievement that the space community inspires and creates across the globe, none of that is possible without the people talent that can make it happen. Our biggest challenge as a community is that every country operating in space today and every country working to gain entry into the global space marketplace are all competing for the same set of finite talent.
If you have the talent in hand and can continue to grow generation after generation of it, that puts you in a fairly safe and secure spot in terms of capturing market share and growing more talent. No country working in today's space can afford to sit back and expect that they're going to have all the talent they need to fulfill the growing demand for space access as well as all of the products and services that it provides.
When you have projections from the U.S. Department of Commerce, Morgan Stanley and even our own Space Report team forecasting a more than trillion-dollar economy within the next decade, you have to take a good, hard look at the talent you are producing to see if you can satisfy those obligations.
Companies and government agencies in this country and around the world are all looking for the same high-caliber, skilled STEM talent, and today, most of them can't fulfill their current hiring requirements.
That's not just an American challenge. It's a global challenge, and we all have to be proactive for our own security and place in this dynamic atmosphere — because without it, we're going nowhere.
What is the Space Foundation doing to address these needs?
TZ
In the coming weeks, you will be seeing and hearing more from the Space Foundation on a number of new initiatives we will be leading to create greater access, opportunity and investments in the people and methods to make our space economy grow for everyone. Our mission to turn around the workforce shortage, skills deficit and innovation gap will be a comprehensive approach to instill a culture of lifelong learning to shape, share and expand the reach and impact of the space economy.
Building off of our already successful Space STEM education portfolio and networks, we will be putting forward programs and tactics designed to not only engage traditional K-12 education in promoting STEM disciplines but also go beyond them to connect trades, entrepreneurs, students and other enterprises to the roles and opportunities that they can play in the space industry. We're talking about space for all.
That's not a slogan for our approach. In fact, it's an invitation to join with us to make a bigger, more diverse and more capable space economy for everyone.
Does the creation of the Space Force help with attracting new talent and capabilities into the space community, or does it just distribute the existing talent that much further?
TZ
The addition of the Space Force is just one more reason for the Space Foundation, our members and the entire space community to push for investments in creating more skilled STEM talent. For us, Space Force begins in the classroom because if we are not giving teachers and education infrastructures the resources and opportunities to grow and shape the prospective talent in front of them to fill these incredibly important roles, we will not have the forces to protect the space assets and capabilities we presently hold, let alone pursue the missions we all want to take to the Moon, Mars and beyond.
It's incredibly important that we look to new approaches to grow STEM talent but also the ways that we can prepare every level of the workforce to be ready for their place in the space economy.
As the Space Force grows over time, I anticipate it will play an inspirational role for young people, just as the other military forces have attracted young people to serve their country. That's why it is critical for them to work proactively and across sectors with educators, industry, government agencies and other partners to make investments and opportunities that will grow their force members organically as well as sustainably.
What is the role of public private partnerships, and how are they changing the economics of the space community?
TZ
Space will always be a technically and economically challenging environment, and to be successful in it requires you to look to others to help you fulfill the missions and goals you have. When you share in those areas, everyone wins. You're not just producing time and cost savings but rather you're mitigating risk, and that is a factor everyone in the space community also wants to address effectively.
No one, not even the Cold War superpowers of the Space Race, can afford to bear the costs and challenges of space alone, which is why the lessons learned from the past 20 years of the International Space Station offer us a great foundation to build upon.
Think about it. Despite all of the differences we have on planet Earth, for the past 20 years, we've had international crews continually living, learning and working in orbit — peacefully, effectively and cooperatively.
Has it been easy? No. Every one of those crews has encountered their fair share of problems in orbit, as well as with those of us on the ground, but they've made things work and have been a model of how large engineering feats and other missions can be tackled.
I believe the same holds true for future public-private partnerships for space. We need to be looking for new models and approaches, and this is something we're going to explore. The Space Foundation is a convener of talent in any environment it enters, and I expect we'll be doing the same in this arena as well.
Founded in 1983, the Space Foundation is a 501(c)(3) nonprofit and the world's premier organization to inspire, educate, connect and advocate on behalf of the global space community. It is a leader in space awareness activities, educational programs, and major industry events, including the annual Space Symposium. Space Foundation headquarters is in Colorado Springs, Colorado, USA, and has a public Discovery Center, including El Pomar Space Gallery, Northrop Grumman Science Center featuring Science On a Sphere®, and the Lockheed Martin Space Education Center. The Space Foundation has a Washington, D.C. office as well as field representatives in Houston and on the Florida Space Coast. It publishes The Space Report: The Authoritative Guide to Global Space Activity, and through its Space Certification ™ and Space Technology Hall of Fame® programs, recognizes space-based innovations that have been adapted to improve life on Earth. Visit both websites — www.SpaceFoundation.org and www.DiscoverSpace.org.
---