On February 24, 2022, the day of the Russian invasion of Ukraine, commercial satellite internet provider, Viasat, experienced a mass outage of "tens of thousands of satellite modems" across the Ukraine and Europe.
---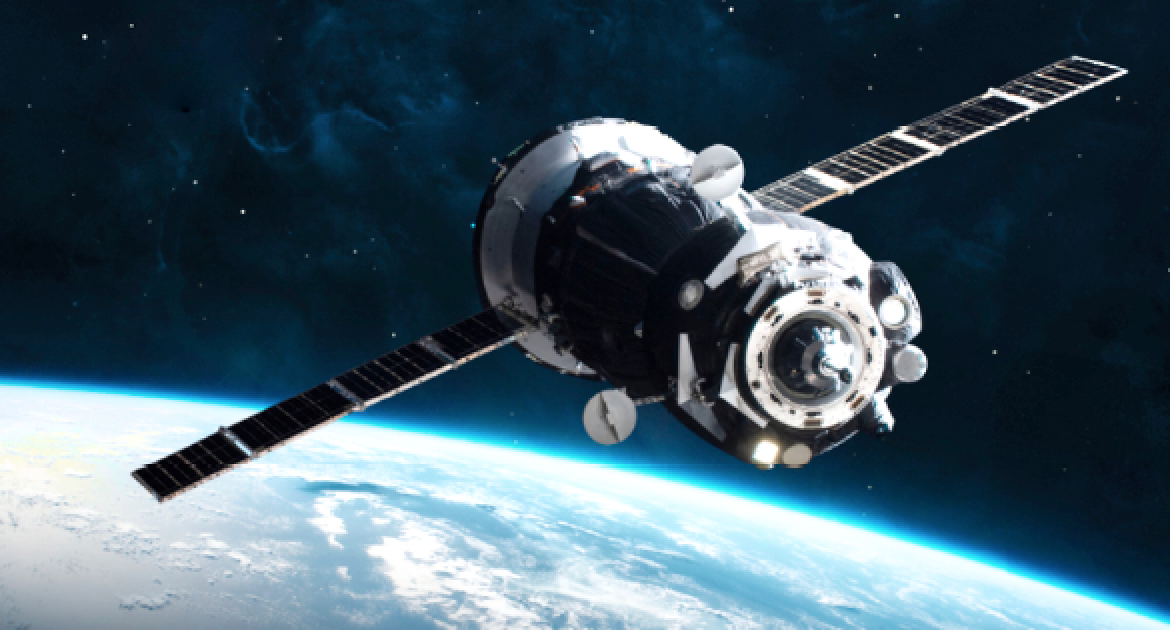 ---
U.S. officials have concluded that GRU — Russia's intelligence office — carried out the cyberattack, and Viasat has confirmed that Russian wiper malware was the source of the denial-of-service (DDoS) attack that took the modems offline.
Since the Viasat attack, commercial satellite operators across the globe have been on high alert for potential cyberattacks and breaches that could potentially compromise or disable their critical systems. In fact, the Viasat attack led the U.S. to issue an official statement imploring the commercial industry to prepare for what may come next.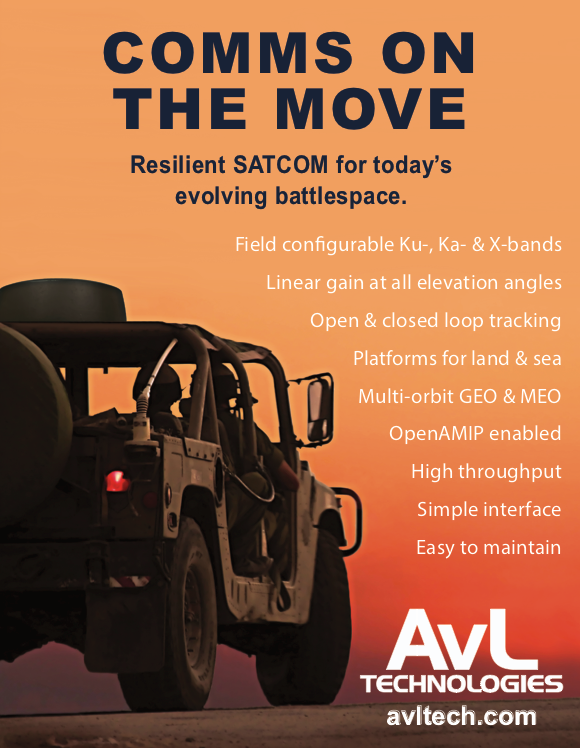 "Most of America's critical infrastructure is owned and operated by the private sector and critical infrastructure owners and operators must accelerate efforts to lock their digital doors," read the government's statement. "If you have not already done so, I urge our private sector partners to harden your cyber defenses immediately."
The Viasat incident was the top-of-the-mind as far as conversations were concerned at a recent trade show. The Viasat cyberattack set the table for a panel discussion during the exhibition as experts from SES Government Solutions, Inmarsat Government, Eutelsat, the Office of the Director of National Intelligence (ODNI), and the U.S. Army examined how the U.S. government and the commercial satellite industry can work together to bolster the security of our nation's commercial systems in space.
Here are a couple of key takeaways from that panel discussion regarding securing commercial satellite systems from the adversary and assuring the resiliency of satellite services and connectivity for the future battlefield:
GEO, MEO, LEO… + Switching In Between
It is imperative that the U.S. military have access to the satellite technologies and services that facilitate assured communications for the warfighter. But just as important as providing those services is the security, resiliency and speed of those critical systems.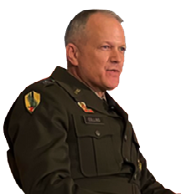 Major General
Robert Collins
The importance of high-throughput and low latency satellite services provided by Medium-Earth Orbit (MEO) and Low-Earth Orbit (LEO) satellites was a major discussion point during the session. U.S. Army Maj. Gen. Robert Collins shared with the panel that the Army's focus on its next capability set will be expanding its capacity for MEO and LEO connectivity at the edge, pointing to the orbits' proven track records on delivering high-throughput, low latency connectivity.
He continued to say how PACE (Primary, Alternate, Contingent, and Emergency) communications plans on-orbit could also strengthen resiliency of critical space systems. "I think this SATCOM layer just adds an additional ability for us to do that," said Maj. Gen. Collins. "We want to leverage it…This is certainly something that we can tap into, and really thickens our communications structure."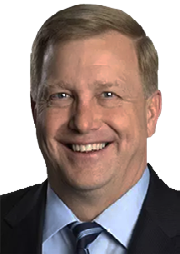 Pete Hoene
Pete Hoene, President and CEO of SES Government Solutions, also agreed that connectivity provided by MEO satellites will provide the warfighter with high-speed connection that they require on the ground. Referring to the SES O3b MEO satellite service, Hoene explained that it can deliver, "fiber-like latency that is very highthroughput," and that the next-generation constellation — O3b mPOWER — will build upon those capabilities even further.
Though the latency and throughput provided by MEO satellites solves the issue for warfighters on the ground, they do not necessarily solve security issues on-orbit. But in a recent, successful test by SES and Hughes, the satellite providers were able to demonstrate their ability to switch signals across satellites in Geostationary (GEO) and MEO.
This new signal-switching capability solves a massive amount of on-orbit security issues. By being able to switch signals across orbits, the U.S. can assure the resiliency and security of the satellite systems and services that are available to the military.
Deploying a rapid beam switching capability on an integrated COMSATCOM and MILSATCOM architecture can enable the U.S. military to seamlessly roll-over applications and systems to other satellites inter- or intra-orbit, stopping adversaries in their tracks if they attempt to jam or execute kinetic attacks on commercial satellites leveraged by the U.S. government.
---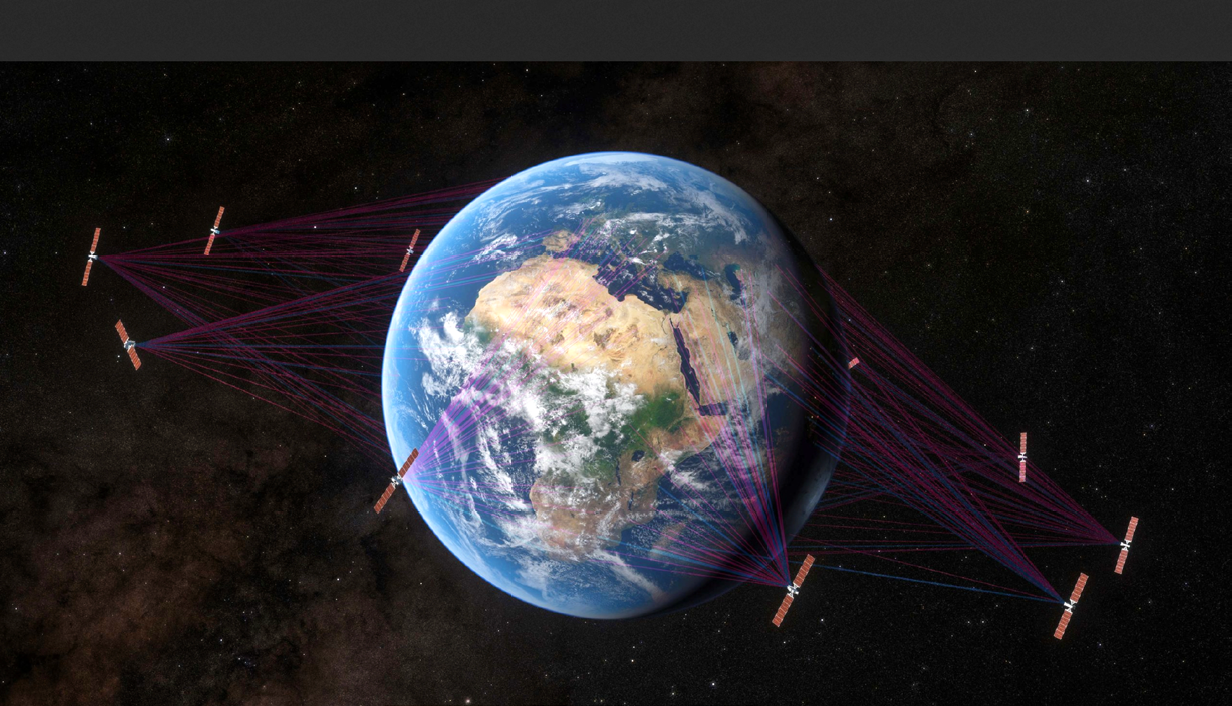 Artistic rendition of the SES O3b mPOWER constellation, courtesy of the company
---
Agile Acquisition
Another key takeaway from the session was the important role agile acquisition of satellite capabilities and services play in securing commercial space assets that the military utilizes.
Implementing an agile framework would facilitate faster military adoption of commercial capabilities that are modified and tailored specifically for the warfighter. According to Maj. Gen. Collins, implementing an agile acquisition framework will allow the military to adopt new commercial capabilities quicker, enabling operators to be ahead of the adversary, which in turn would make space systems more secure. "We can bring in these technologies faster, and we can keep pace with the threat," said Maj. Gen. Collins. For Hoene, stronger partnerships between industry and the U.S. government procurement agencies are needed in order for the commercial industry to properly invest in the new capabilities that the U.S. government wants and needs.
To learn more about the recent cross-orbit signal test by SES and Hughes, select this direct link....
David Presgraves also recently authored an article for GSR entitled "Moving the Terminal from the Ground to Space – How COMSATCOM Will Enable the NASA Communications Services Project." What follows is an excerpt from his article... As NASA lays the groundwork for the decommissioning of its legacy, agency-owned and operated Tracking and Data Relay Satellite System (TDRSS), the agency is also preparing to adopt commercial SATCOM networks and technologies for its upcoming missions.
In an effort to evaluate and begin tapping into the accelerated innovation coming out of the COMSATCOM industry, NASA has created the Communications Services Project (CSP), an agency initiative that seeks to harness commercial industry's advances in order to, "…ensure NASA missions have the reliable, secure and continual space communications on which their long-term operations depend."

NASA recently announced that SES Government Solutions (SES GS), in partnership with Planet Labs (Planet), will be awarded a Funded Space Act Agreement to support the development and demonstration of near-Earth space relay communication services in support of the agency's future mission needs.
To learn more about the CSP, why SES GS was chosen to support the project, as well as how the company's O3b mPOWER satellite constellation will deliver near-Earth comms capabilities to NASA, the Government Satellite Report recently sat down with Eric Gunzelman, a Senior Director at SES GS. Please access this direct link to GSR to read the entire, informative article.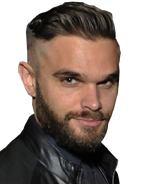 This article first on GovSat and is reprinted with permission from SES GS and Government Satellite Report.
ses-gs.com/govsat/
David Presgraves is a Staff Writer for GovSat Report, in addition to several other online publications dedicated to defense, military and federal government agency technologies.
---