---

---
SpaceX Transporter-1 Mission Successfully Launches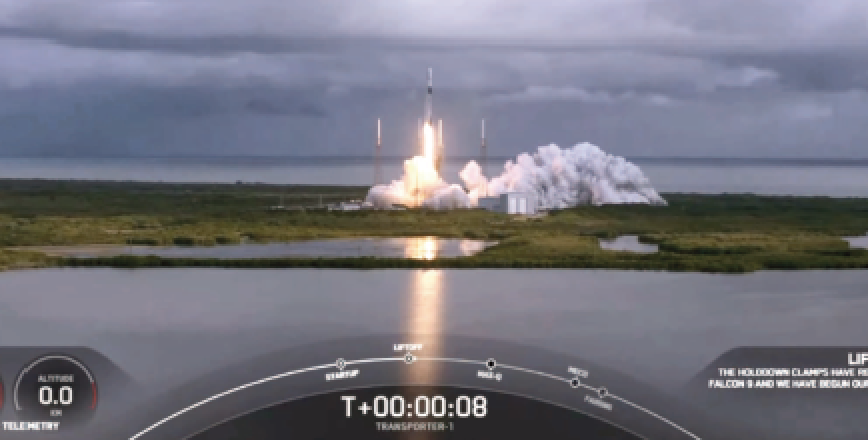 The launch of the Transporter1 mission by SpaceX.
No hesitation on Sunday, January 24, as the SpaceX Falcon 9 rocket lifted 133 commercial and government payloads to space. A feat worthy of note, as this is the largest number of satellites to be launched, all seated firmly within the rocket's fairing.
The SpaceX Falcon 9 launch vehicle attained supersonic speeds at 59 seconds after launch and, at approximately 07:58 into the launch, three of nine Merlin first stage engines ignited to return the the unit to the recovery vessel, Ms. Chief, awaiting the landing, positioned in the Atlantic Ocean.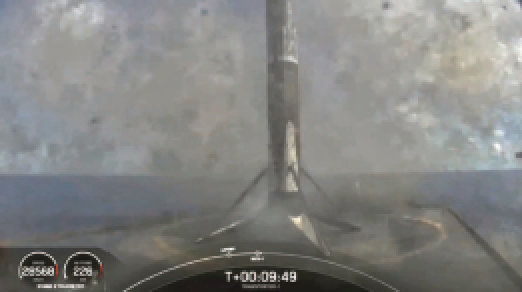 This return (photo at right) was accomplished without any apparent anomalies at 07:22 minutes postlaunch. Note the honeycomb appearing devices at the base of the first stage (image to the left)… those assist with the first stage's navigation to the recovery vessel.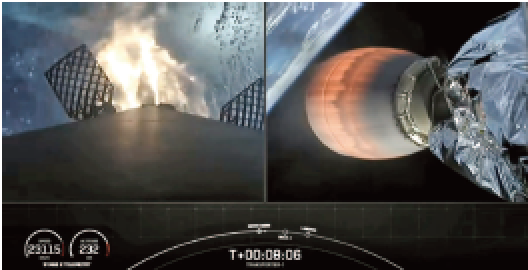 This launch, part of SpaceX's SmallSat Rideshare Program, was the fifth launch of 2021 by SpaceX and the 73rd recovery by the company of an orbital class rocket.
SpaceX's Transporter1 flight delivered 143 payloads from a range of companies, including Spire, Capella, NanoAvionics, Spaceflight, HawkEye, PlanetiQ, Astro Digital, DOrbit and 10 Starlink satellites.
All news story imagery is courtesy of SpaceX's live webcast of the launch via screen capture…
---
Eight Kepler Space Smallsats Rendezvous With Space, Launched By SpaceX
Kepler Communications have welcomed eight new satellites into their constellation, further expanding the firm's active constellation to 13 satellites in total.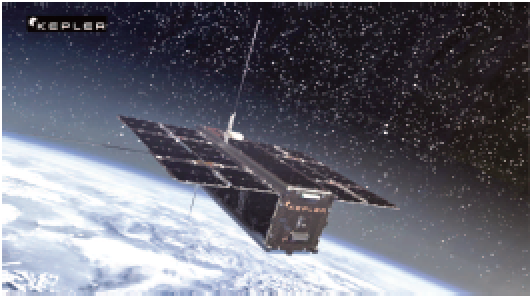 These eight satellites, KEPLER8 through KEPLER15, were successfully launched via SpaceX's first dedicated SmallSat Rideshare Program mission at approximately 10:00 AM EDT on January 24. Once fully operational within the constellation, these smallsats will significantly increase the capacity of Kepler's Global Data Services offering.
Kepler's GEN 1 satellites were assembled at the company's facility in Toronto, Canada. The GEN1 platform represents an evolution beyond Kepler's pathfinder satellites, with an increase to a 6UXL satellite system. The increased size accommodates significant technology enhancements, including additional power and antenna capabilities that allows the support of both Ku and narrowband spectrum from a single satellite.
This multispectrum support is achieved with Kepler's proprietary Software Defined Radio (SDR) which has been proven onboard the five satellites already on orbit.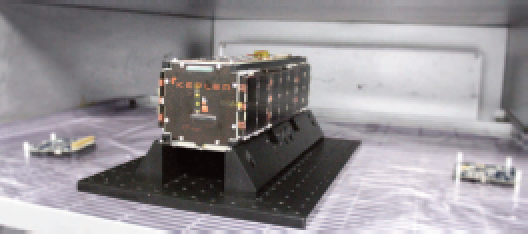 Kepler SDR.
Kepler's launch plans include several additional launches in 2021, with launches planned for the first half of 2021 in March and June, which will add additional GEN1 satellites to the Kepler constellation. As with this launch, these satellites will service the growing customer demand for Global Data Services and increase our ability to provide an industry leading service.
Mina Mitry, CEO of Kepler Communications, said, "We're excited to continue our network deployment in response to the overwhelming global demand for our network capacity. As our network continues to grow, we move closer to recognizing Kepler's vision of providing connectivity on and off the surface of the Earth."
Wen Cheng Chong, CTO of Kepler Communications, added, "The launch of 8 GEN1 satellites on the Falcon 9 merely a few months after the launch of 2 GEN1 pathfinder satellites clearly demonstrates Kepler's ability to 10x our capability in a short period of time; practically unheard of for a company of our size. This showcases the ingenuity and resourcefulness of our Engineering team and the company at large. We're well on our way to recognizing Kepler's vision of providing the internet in space."
---
D-Orbit's ION SCV Laurentius Smallsat Launched By Spacex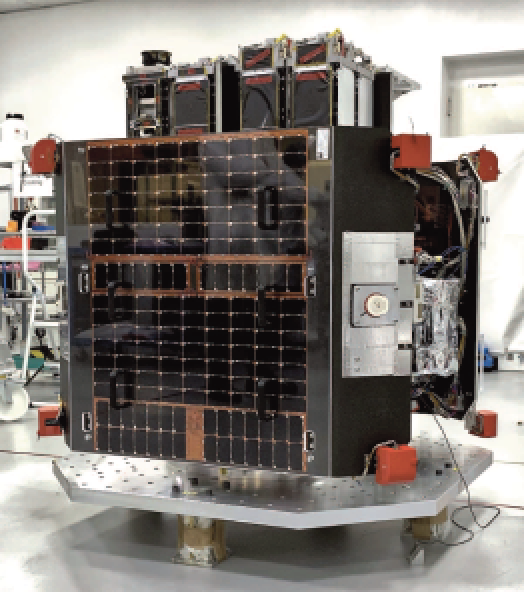 ION SCV Laurentius.
On January 24th, 2021, at 4:00 pm CET, DOrbit launched another ION Satellite Carrier atop a SpaceX Falcon 9 rocket from the Space Launch Complex 40 (SLC40) at Cape Canaveral Space Force Station (CCSFS), Florida. On the same day, 1 hour 16 minutes and 28 seconds later, the vehicle was successfully deployed into a polar orbit.
The spacecraft, named ION SCV Laurentius, is an upgraded and enhanced version of the vehicle launched in the fall of 2020 which precisely deployed 12 satellites in orbit. ION Satellite Carrier is a space cargo designed to accommodate several satellites, transport them into space and release them precisely into independent orbits and orbital slots. ION's integrated
capabilities also enable the spacecraft to perform onorbit demonstration (IOD) services for thirdparty hosted payloads.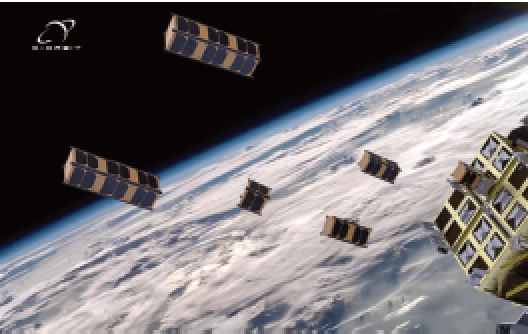 During the mission, named PULSE, the vehicle deployed 20 satellites, including 8 SuperDove satellites from Earth imaging company Planet Labs, and it will then perform the onorbit demonstration of several payloads, including an optical instrument from EICAS Automazione and one from Instituto de Astrofísica de Canarias (IAC).
"At DOrbit we focus on our customers' success, no matter what it takes. We are the company with most heritage, reliability and results
accomplished in the market in this business. It has been just two months since the historical success of our previous ION Satellite Carrier mission, and we are back in space already," said Luca Rossettini, DOrbit's CEO. "We are already building the space logistics infrastructure enabling the next trilliondollar space economy."
---
Hiber's Green Propulsion Smallsat, Hiber Four, Launched Via The SpaceX Transporter-1 Mission
IoT solutions provider Hiber has successfully launched their 3U cubesat, Hiber Four, onboard SpaceX's dedicated rideshare mission: Transporter1. The satellite was equipped with a newtomarket green propulsion system from Dawn Aerospace and Hyperion Technologies.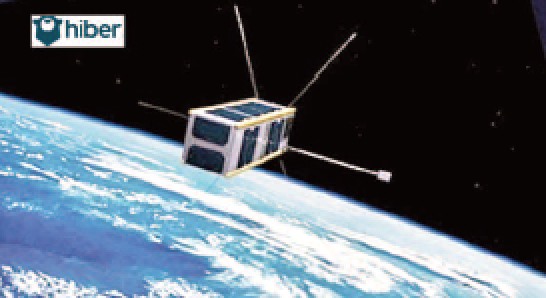 "By using our highperformance green propulsion technology, Hiber Four
is able to take advantage of the world's most costeffective launch whilst maintaining independence and operational flexibility", said Stefan Powell, CTO of Dawn Aerospace. "Our system is the connector for using these lowcost launch options and still getting to your desired orbit, fast."
Dawn Aerospace green propulsion module for smallsats.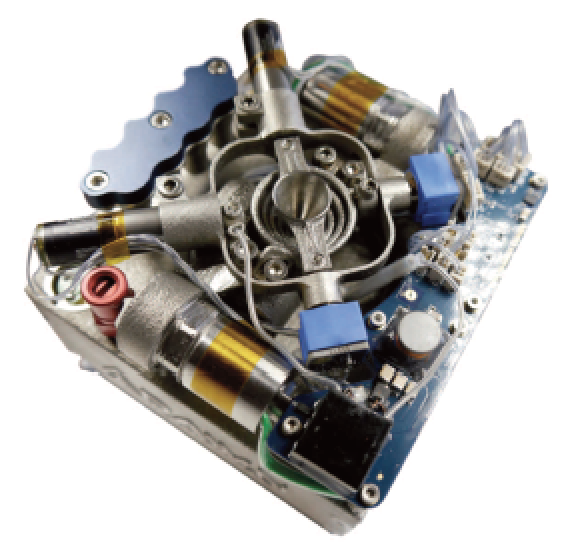 Dawn Aerospace green propulsion module for smallsats
To date, the majority of 3U cubesats have been deployed without propulsion, making them difficult to control once in orbit. New Space operators have been choosing to forgo this vital piece of technology due to the lack of performance, high toxicity and the unreasonable costs of currently available systems.
Supported by the European Space Agency and Netherlands Space Office via the ARTES program, Hiber teamed up with Dawn and Hyperion to find a better solution. Using this new system, the Hiber Four will swiftly move from its deployed 500 km SSO out to its final 600 km orbit. The maneuver is expected to be complete three months faster than electric alternatives.
Hiber is setting the standard for responsible satellite operations. Governments, space agencies and insurance companies are starting to revamp global policies as the public concern for space debris rises, and with thousands of new satellites heading to orbit, propulsion may soon be mandated. Once on orbit, the Hiber Four can easily avoid space debris, increase its lifetime by raising orbit, and when ready to decommission, Hiber can deorbit within days instead of months.
Powered by the green fuels of nitrous oxide and propene, this bipropellant system delivers significantly higher efficiency than ADN, HAN, coldgas and monopropellant hydrazinebased alternatives. At just 0.7U in size, it's the first propulsion system of its type to be launched from USsoil to space.

Hiber Four is the first of two identical satellites Hiber plans to launch this quarter, with the next one launching on Soyuz. These satellites will join the Hiberband constellation to expand offerings to existing customers, particularly those from the oil & gas, transportation and agricultural industries.
"It is revolutionary to the cubesat market," said Maarten Engelen, CTO of Hiber. "There are alternatives out there, but nothing that suits a 3U CubeSat like this."
"I'm proud to say we've debunked the myth," said Stefan Powell. "Cubesat operators are not forced to use, lowperformance systems to get on board these lowcost flights. We've shown that our highperformance chemical propulsion systems can fly on rideshare missions from the EU, Russia, and now the United States."
---
Exolaunch Zeitgeist Mission Takes Off With 30 Smallsats Aboard SpaceX's Transporter-1 Mission
Exolaunch has announced the successful launch of 30 commercial, space agency and university satellites for the firm's customers from Europe and the U.S. on the first dedicated rideshare mission of SpaceX's SmallSat Rideshare Program. The mission, named "Zeitgeist," lifted off on January 24 at 15:00 UTC on Falcon 9 "Transporter1," completing one of the largest and most diverse rideshare missions for Exolaunch.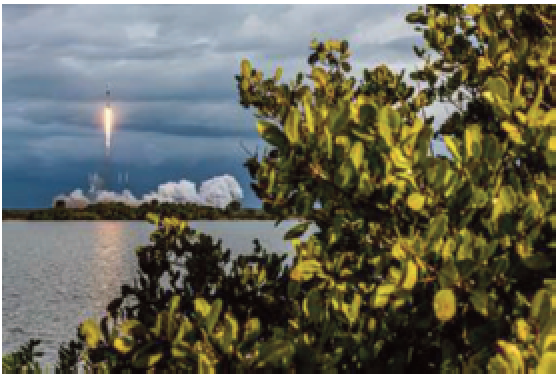 SpaceX Transporter1 liftoff via Falcon 9 rocket with the
Spaceflight SXRS3 mission aboard.
Zeitgeist kickedoff the first of several rideshares Exolaunch will manifest on Falcon 9 as part of a multilaunch agreement with SpaceX. On this mission, Exolaunch provided deployment, mission management and integration services to the German Aerospace Center (DLR), Dresden Technical University, ICEYE, NanoAvionics and other commercial companies for IoT, Earth observation and scientific applications.
Zeitgeist was Exolaunch's 12th rideshare mission. As with previous launches, Exolaunch utilized its proprietary flightproven separation systems – CarboNIX, the next generation shockfree separation system for microsatellites, upgraded modifications of EXOpod cubesat deployers, as well as its EXObox sequencers to flawlessly deploy its customers' satellites into the target orbit. With this launch, Exolaunch has flown 140 smallsats on multiple launch vehicles.
"This Zeitgeist mission set a new standard for rideshare launches and not only was a successful demonstration of Exolaunch's capabilities, but also paved the way for smallsat developers from around the world to participate in SpaceX's SmallSat Rideshare Program," said Jeanne Medvedeva, Vice President of Launch Services at Exolaunch. "We are proud to be working with so many of the world's leading satellite and technology companies to advance the NewSpace industry, and we are already looking ahead to additional Falcon 9 launches later this year."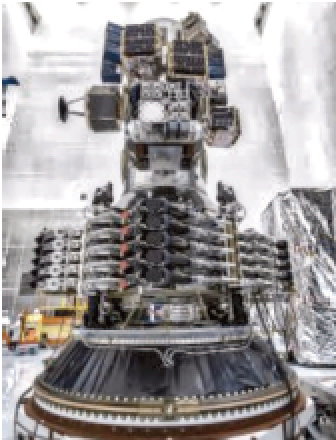 Exolaunch's manifest on the Transporter1 mission (launch photo above, courtesy of SpaceX) includes the following satellites:
• Charlie smallsat built by NanoAvionics for Aurora Insight: The first of two nanosatellites, built and integrated by NanoAvionics for US radio frequency spectrum and wireless data provider Aurora Insight.
• CubeLCT smallsat from the German Aerospace Center (DLR): The CubeLCT is developed by DLR Institute of Communications and Navigation in close cooperation with its commercialization partner Tesat-Spacecom (TESAT) in Backnang. The satellite has been developed and integrated by the Danish company GomSpace. The development of the CubeLCT serves the demand for increasing bandwidth, resulting in new sensor capabilities on small satellites.
• SOMP-IIb (Student's Oxygen Measurement Project) smallsat from Dresden Technical University: Part of a student smallsat project of the Dresden Technical University, the goal is to measure atomic oxygen of the upper atmosphere, test flexible solar cells and more.
• 3 x ICEYE satellites: Three more satellites of the commercial constellation of radar imaging satellites built and operated by ICEYE.
• 24 satellites from unnamed commercial customers.
---
LiveEO Performs Satellite-Based Vegetation Risk Analysis of Entire U.S. Electric Transmission Grid
For the first time in history, vegetation encroachment risk to the entire publicly available U.S. transmission grid has been analyzed from space by the Berlinbased startup LiveEO.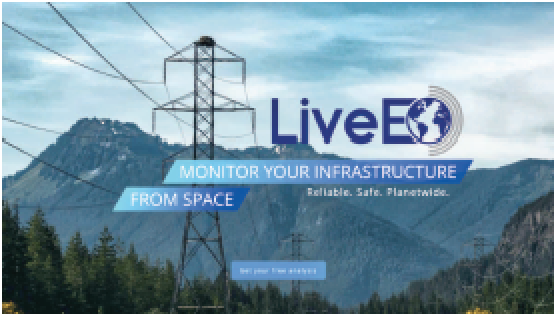 The goal of this largescale analysis was to demonstrate LiveEO's analytic capabilities to a North American audience. In total, more than 15,000 public satellite images were used to evaluate risk to 574,000 miles of electricity lines. (Details about the analysis can be found at www.liveeo.com/uspowertransmissiongridanalysis.
The analysis covers the detection of vegetation along the transmission grid, as well as the identification of grid segments that are exposed at dangerously close distances. These are some of the biggest challenges and operational cost factors for utility companies in maintaining their assets. Proven by studies vegetation is one of the main challenges for utilities globally, causing up to 56% of externally triggered power interruptions. In the United States alone, approximately US$ 6 billion is spent on vegetation management by utility companies annually.
In addition to the sole detection of vegetation distance from transmission grids, LiveEO is experienced in highly accurate and efficient investigations of vegetation height, condition, and species determination to improve cycle trimming activities and dangerous tree removal while reducing vegetation management costs on transmission and distribution levels. Additionally, LiveEO is already helping utility companies to identify wildfire risk areas and inspect postwildfire areas with high precision for fast recovery activities.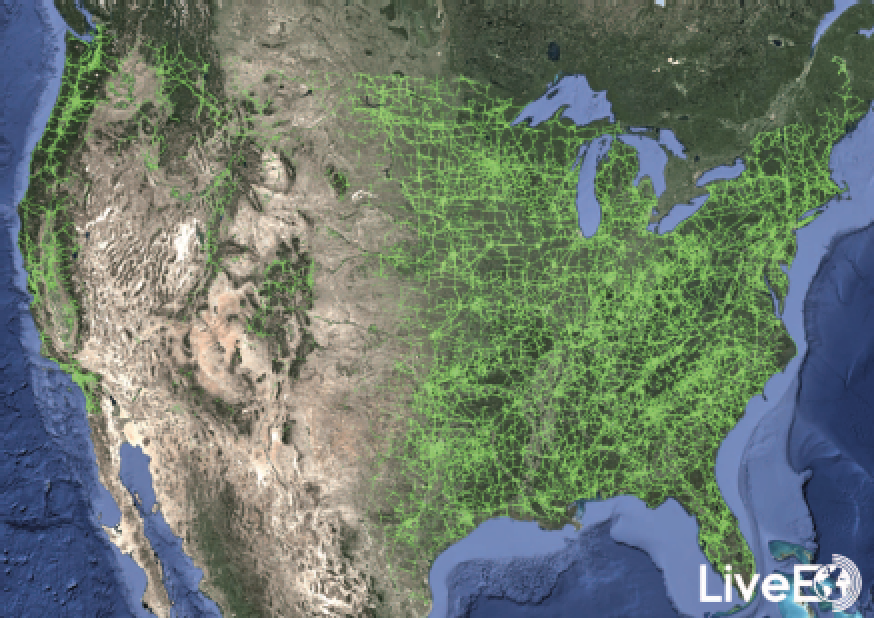 With multiple utility and infrastructure customers in North America, Europe, and Australia, LiveEO has proven its capabilities in numerous pilot projects and largescale deployments on the scale of entire countries.
To strengthen contact with its customers by physical presence, LiveEO opened an office and subsidiary on the East Coast of the U.S. in late 2020.
LiveEO offers a sample analysis using commercial satellite data of their network free of charge for utility customers.
"The scale combined with the detail of the analysis represents a milestone in satellite data analytics for utility companies and proves that satellite data represents a viable alternative for vegetation management to Lidar or foot patrols." said LiveEO's CoFounder, Daniel Seidel.
"Additionally, these insights can be made actionable directly via our tool set of mobile and web apps, and API integrations to improve workforce efficiency in the field and to realize OPEX saving," said LiveEO's other CoFounder, Sven Przywarra.
---