A number of countries are looking to explore and physically mine other planets with either manned or unmanned systems. These systems require larger and more complex platforms in order to allow such multifaceted missions. However, with a drive to reusable and lower cost launch systems, and privately funded projects, this poses a dichotomy for mission planners. How can we get extra functionality and lighter weight, for less money?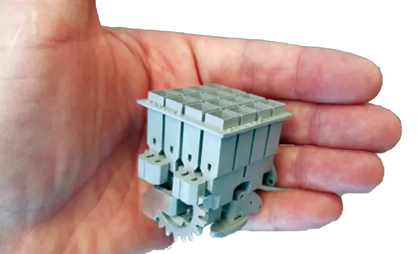 Optisys is a company that was born out of a group of engineers and their frustration with the market controlling leaders in the Antenna and Radar industry.
These large companies are reluctant to turn their back on the previous 60 years development of antenna structures using traditional manufacture methods, and for obvious reasons, in their view, if it is not broke, don't try and fix it. However, the founders of Optisys saw a giant inefficiency in RF solutions that Additive Manufacturing (AM) could solve.
"When we started on this process," explained founding member and CEO Clinton Cathey, "and we knew we would have a better product for satellite applications, but the more we delved into the design, and developed generation after generation of new structures, we realized we truly had a disruptive solution too big for the industry to ignore."
Traditional antenna manufacture requires lots of components to be separately developed and assembled in a long chain, the accumulation of which leads to degradation in performance. Plus, due to the manufacture tolerance of each block, the same assembly can have a great variance in performance, a real problem when new constellations of smallsats require thousands of the same antenna. These structures are large, and heavy. Both of these are highly undesirable for the new flux of space missions.
Optisys, using AM, went back to the drawing board, and asked one simple question, "Where do we need the material to be?"
______________________________________
The advent of Additive Manufacturing in
general, and in antenna design in particular,
seems largely set to give the new space race
the efficiencies needed to allow advanced
missions to other worlds as well as the next
generation of communication infrastructures.
______________________________________
Such a simple question and one that can only be answered with AM. In all other traditional manufacturing methods, such as machining, expense is added when material is removed.
With AM, expense is added when you add material — complexity is not a cost driver. Combining lots of the RF feed chain into one single component is the correct mix of performance, lighter weight and better cost. In many cases, one part replaces as many as 100 separate ones.
The benefit this gives to the payload engineer is increased capability, advanced functionality, lower size and weight, plus lower cost for their system and the subsequent launch costs.
In 2016, Optisys wanted to show off this capability.
CBO Janos Opra said, "One of our early projects was to see what we could do for a UAV customer who wanted a monopulse tracking radar to go onto one of their smaller UAV platforms. The existing product was far too big, measuring 16"x6"x4", and weighing in at 14 lbs. We took four, 8 to 1 combiners, a monopulse tracking system, mechanical gimbal mount, 5 SMP connectors, heat management, and a 4x4 horn arrangement and shrunk those components into a package of 2x2x3 inches and weighing 1.4 ounces — now, that's a game changer for that customer."
Since then Optisys has been miniaturizing, perfecting and inventing procedures and process and now has a product for every antenna type that operates from 1 to 100 GHz.
"We are gradually incorporating more and more of the passive RF chain into one component," said Cathey. "We now have assemblies that include a set of waveguide switches, filtering and multiple combiners in a part that weighs less than 2 lbs., and most of that weight are the actuators for the switches. This replaced a 40 lb. product."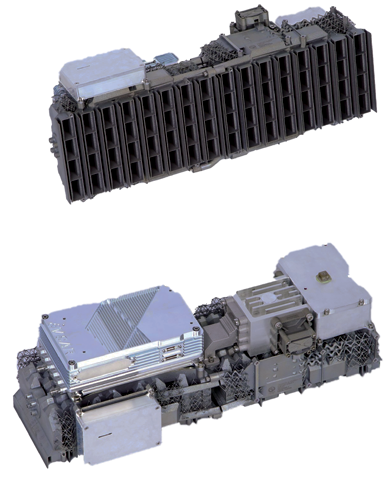 IMSAR waveguide antenna showing the level of
integration possible using Optisys technology.
This amalgamation of components is of great interest for the new space race. The unrivaled integration of components is allowing weight reductions that give advanced functionality for a fraction of the launch cost.
CTO Michael Hollenbeck explained, "When we include all these advanced separate features into one component, the overall weight of the system typically can be reduced by an order of magnitude, and in some cases has come down 100 times. Especially when we start to use the antenna as the mounting structure for all the other components, and as the thermal heat sink, its one big aluminum mass after all, then we really see the biggest benefits."
He continued, "With our IMSAR customer, we just attached all the hot active components right to our antenna structure. We even tailored our heat structures to be both heat radiating and, in places, thickened up to be structural members, as well. This reduced overall weight by 94 percent. Previously, these types of systems could only be fitted to satellites or large aerial platforms. This added agility to the customers mission planning that is highly desirable in its surveillance operations on their high altitude UAV's."
Optisys is now emerging as a key player in the production antenna market for space and aerospace markets with a new product range of phased arrays, that are causing quite a stir, due to their performance and low power requirements when compared to their competition.
"Traditional phased arrays that use 2-axis electronic scanning are usually expensive, have reduced scan volume performance, and require extremely high power to operate," noted Hollenbeck. "Our solution balances the strengths of phased arrays and passive arrays in a 1-axis hybrid approach where we can add tiles to scale up our phased array to get the required gain easily, but also because we are dealing with all metal structures, we are very power efficient. A large array might normally need 3 to 4kW to feed, we only need 200W, and we can deal with the heat better as we have an all-aluminum construction."
All these added benefits are challenging the space market to come up with imaginative solutions that two years ago would not have been feasible. The current crop of advanced satellites, and exploration missions are uncovering challenges that Optisys seem well placed to solve.
Opra added, "This year has seen an interest we hadn't expected in the space market. We are working very hard and expanding rapidly to keep up with demand. Fortunately our production process is quite simple, with short lead times."
The advent of Additive Manufacturing in general, and in antenna design in particular, seems largely set to give the new space race the efficiencies needed to allow advanced missions to other worlds as well as the next generation of communication infrastructures.
This is now the job of the systems and payload planners to understand and use their new found capabilities to extend humanity's reach further into the cosmos.
www.optisys.tech/

Adam Arnold is the European Divisional Lead for Optisys. After an initial career in Motorsport journalism, Adam turned to engineering where, after 15 years in the defence and aerospace antenna industry, he became a subject matter expert for mechanical design of metal 3D printed components. Ultimately, he was brought on board with Optisys to connect customers with their market leading solutions in the European region.
---