Second mobile launch platform to be built at Kennedy Space Center
NASA has selected Bechtel National, Inc. to design and build a second mobile launch platform, known as Mobile Launcher 2 or ML2, for Exploration Ground Systems at the agency's Kennedy Space Center in Florida.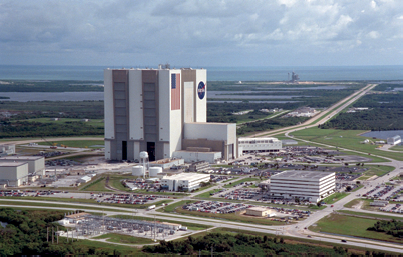 Photo of NASA's Kennedy Space Center.
The cost-plus-award-fee end item contract has a total value of approximately $383 million.
Bechtel National will complete the design, build, test, and commissioning of the mobile launcher within a 44 month period beginning July 1.
ML2 is the ground structure that will be used to assemble, process, and launch NASA's Space Launch System (SLS) Block 1B rocket and Orion spacecraft from Launch Pad 39B at Kennedy for missions under NASA's Moon to Mars exploration approach.
It will consist of a base structure, the platform for SLS, and a tower equipped with a number of connection lines called umbilicals, as well as launch accessories that will provide SLS and Orion with power, communications, coolant, fuel, and stabilization prior to launch.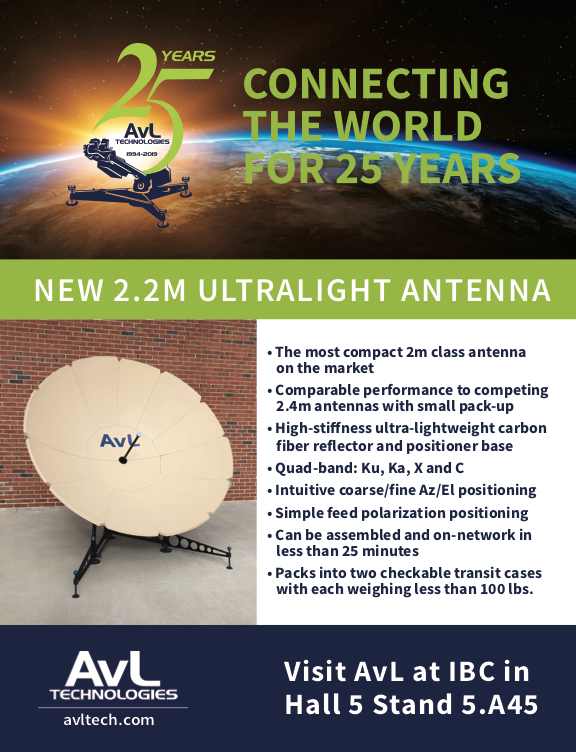 www.nasa.gov/centers/kennedy/home/index.html
www.bechtel.com/
---
Cobbett Hill Earth Station acquired by CETel
CETel has acquired UK-based Cobbett Hill Earth Station Limited ("Cobbett Hill") in terms of an asset purchase transaction for an undisclosed amount.
This acquisition is a further milestone in CETel's growth and diversification strategy alongside its continuing customer base expansion.
The acquisition further strengthens CETel's position as a leading global end-to-end communications solutions provider.
Alongside CETel's strong presence in the mining, energy and oil & gas markets, this acquisition will now significantly increase CETel's presence and activities in the marine and broadcast markets.
Cobbett Hill offers an extensive range of satellite communication services to both marine and terrestrial clients in the corporate, media, O&G, NGO, military and government sectors.
Core service provisions include, but are not limited to, Internet, voice, data, broadcast, DTH, enterprise, TV & radio, iDirect, SCPC, network design, network management, co-location, data center, occasional use and bandwidth.
Cobbett Hill is located 25 miles from central London in the UK, and occupies a seven acre secure compound on 200 acre of land. Currently, it houses more than 25 antennas with active operations on 13 satellites plus spare capacity enabling quick turnaround times on even short-notice customer requirements.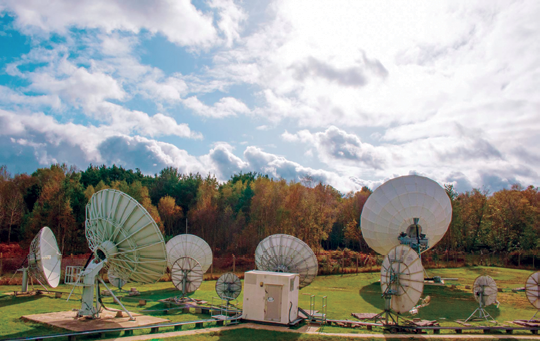 Due to the locations historical use by the British Ministry of Defence it has blanket planning permission for unlimited antenna installations within the 200 acres and operate within an RF exclusion zone preventing any local interference.
Cobbett Hill presents the sixth merger and acquisition activity led by CETel over the last years.
Guido Neumann, CEO of CETel stated that the company is extremely happy to complete this transaction that ideally fits into the firm's growth strategy. CETel has grown significantly over the past years. Their data services, especially in the maritime sector, present a perfect opportunity to grow this vertical — additionally, and with the existing services and experiences at Cobbett Hill, the company is now entering the broadcast market where excellent opportunities exist to develop this business further.
He added that CETel's existing and prospective customer and partner base will ultimately benefit from this acquisition technically
and commercially.
Paul O'Brien, Managing Director of Cobbett Hill, added that in CETel, the firm has found the perfect fit in a buyer for the teleport and satellite-based operations. Their long-term expertise in the market will assure that the implementation will run smooth and the two companies will merge and grow into an even greater company.
www.ce-tel.com/
---
NSR's satellite constellations assessment is published
To bridge the digital divide... to connect the unconnected... here are the dreams of satellite HTS constellations. With more than half the planet currently unconnected, the addressable market and potential revenues look enormous.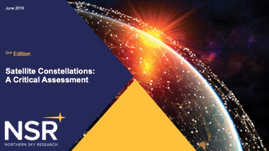 Thus, the race to space, with operators chasing this opportunity, driven by the belief that Non-GEO HTS, specifically LEO constellations, will be able to provide unprecedented global coverage and market penetration at significantly lower price per bit. Excitement is rampant, spurring industry-wide developments, such as assembly line-like satellite manufacturing, more competitive launch options, and even unexpected incumbents.
However, to date, only two operators have begun launching, with service not set to commence for another few years at the earliest. End-user terminals do not exist and are expected to lag behind satellite deployment. Customer channels, landing rights, and spectrum allocation remain serious, and unresolved, obstacles.
Given the amount of funding, at least $4 billion in committed investment and capital estimated by NSR, and efforts invested, coupled with these challenges, the industry should be asking, "Are we sure the future of SATCOM lies in LEO constellations? Can they really connect the connected, or are we all making a leap of faith?"
NSR's Satellite Constellations: A Critical Assessment, 2nd Edition report forecasts the cumulative revenue opportunity for Non-GEO HTS capacity and service will amount to $43.6 billion, between 2018 and 2028. The Consumer and Enterprise Broadband Access segments drive the forecast, responsible for 79% of these revenues.
However, despite the potential of LEO constellations, NSR estimates that only 14 percent of the total HTS SATCOM market will be served by Non-GEO by 2028. To put it another way, Non-GEO HTS revenues will be 4x smaller than GEO, the majority of the addressable market will not be captured by Non-GEO, and the dream begins to look more like a financial nightmare.
Primarily, the driving force behind constellations is the belief that not only is the entire telecom business addressable by satellite, but that these future networks will greatly expand the addressable market. In short, virtually every person who could use these services, will be served by Non-GEO HTS. NSR heard from one large LEO HTS constellation player that the entire telecom spending ecosystem was "in play" for addressable business, and a quick top-down estimate of penetration of this market yielded a large LEO revenue play. Suffice it to say, this top-down logic could be met with a heavy dose of skepticism.
In reality, there are reasons why satellite has always been a niche market. Terrestrial services have established vendors, customers, equipment, and infrastructure, and while the satellite industry is excited about reaching 21 Tbps of global capacity by 2028 for Non-GEO HTS, people are signing up for Google Fiber and getting Gbps to their homes, today. And those that remain unconnected globally most often present challenges from an ability to pay standpoint, further limiting the potential for classic B2C access distribution.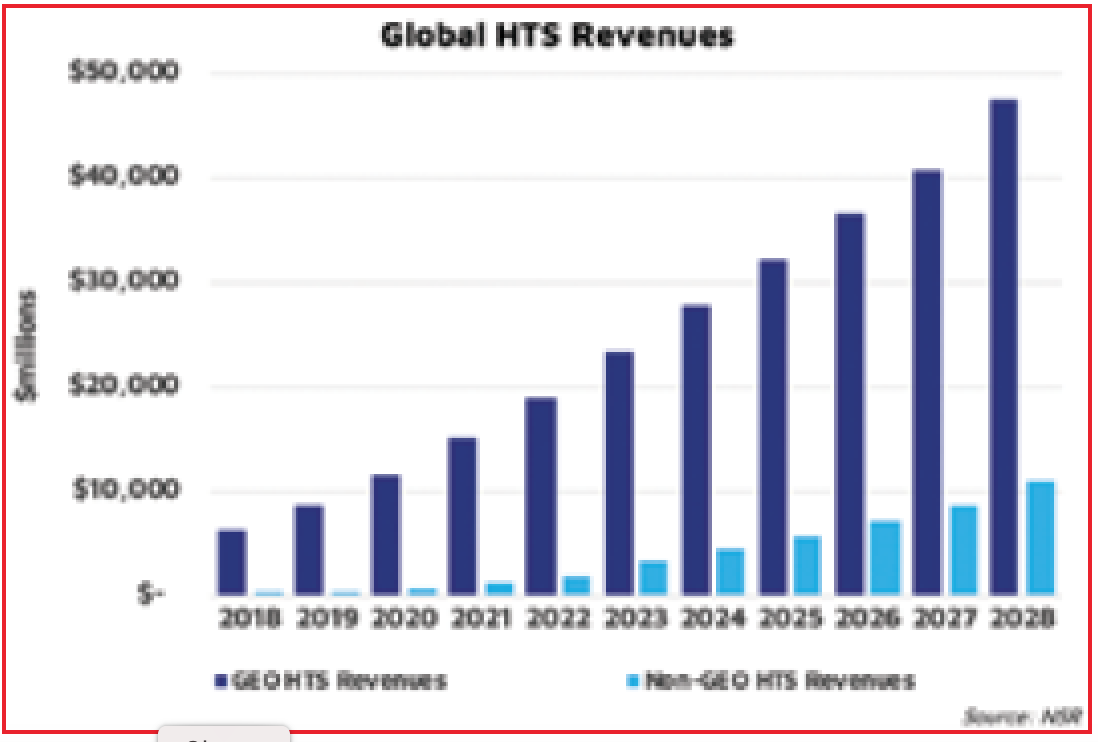 Next, NSR believes that, despite the potential for global coverage, constellations will face severe challenges in reaching customers. End-user terminals, flat panel antennas (FPAs), necessary for delivering Non-GEO HTS, are in development, but expected to remain expensive, with little incentive on manufacturers to lower prices. Securing landing rights in all target markets also represents a sizable challenge since LEOs will compete against incumbents in all markets, which is not necessarily an easy battle to fight.
Pricing pressure on Non-GEO HTS capacity and service will also likely force a LEO to race to the bottom to compete with GEO and other constellation players, limiting the revenue opportunity unless the subscription base expands dramatically.
Of course, not all is doom and gloom for satellite constellations. Innovations throughout the value chain have made mass production and launch of satellites easier, though not "easy", nor "cheap". Partnerships and technology development for FPAs have increased greatly in recent years, with over 20 manufacturers now on the market. Access to space has also never been as open as today, with launch costs declining as more options are available for constellation players.
Bottom Line
The excitement for satellite constellations shows no sign of slowing down, especially due to the efforts of notable industry champions such as Greg Wyler, Elon Musk and now Jeff Bezos. However, realizing the dream of connecting the unconnected is more than building a dam of capacity in the sky. There are clear obstacles regarding CAPEX costs, launch delays, under-developed terminal equipment, and difficult to establish customer channels and pricing that have to be overcome to realize it.

To deny the risks, give in to the hype and excitement of LEOs, and believe that "if you build it, they will come", is not charting a clear, strategic path to success, but making a leap of faith.
www.nsr.com/research/satellite-constellations-a-critical-assessment-2nd-edition/
Article by Dallas Kasaboski, NSR Senior Analyst

---
MOU signed between LeoLabs and New Zealand's MBIE for radar placement
LeoLabs, Inc. has a broad-based agreement to build their next space radar in New Zealand — this establishes New Zealand as the site for the first radar of its kind in the Southern Hemisphere.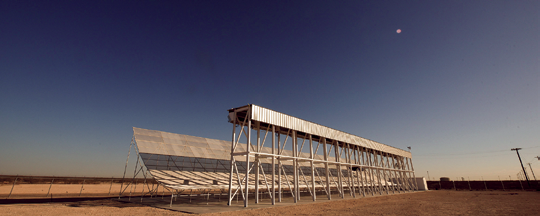 LeoLab's Midland Space Radar. Photo is courtesy of the company.
As the third radar in LeoLabs' network, the New Zealand radar will be the first to track debris as small as 2 cm. in LEO.
The company also announced an agreement with New Zealand's Ministry of Business, Innovation and Employment (MBIE) to promote the creation of applications and services that enhance New Zealand's contribution to the space industry.
In addition, LeoLabs is pleased to announce that the New Zealand Venture Investment Fund (NZVIF) participated in LeoLabs' recently completed Series A round of financing.
LEO is rapidly emerging as the focus of commercial activity in space, with thousands of satellites spawning new generations services, ranging from broadband internet to Earth imaging.LEO represents a new economy and a critical ecosystem shared globally by governments, space agencies, regulators, commercial satellite operators and insurance. Against this backdrop is the risk to satellites and astronauts posed by space debris, especially from the estimated 250,000 dangerous objects which are untracked today.
LeoLabs' announcement is ground-breaking in two respects. First, establishing a unique presence in the Southern Hemisphere enables LeoLabs to more accurately track objects and provide earlier notification of important events in space. Second, the phased array radar LeoLabs intends for New Zealand will be capable of tracking objects as small as 2cm, and address 95 percent of the risk that has never been tracked.
LeoLabs and the Ministry of Business, Innovation and Employment (MBIE), which leads the Innovative Partnerships program, have signed a Memorandum of Understanding (MOU) that includes LeoLabs' commitment to locate its next debris-tracking space radar in New Zealand.
The MOU also expresses a mutual aspiration to expand New Zealand's capabilities in space-related R&D.
The phased-array radar announced for New Zealand will complement two existing LeoLabs radars in North America.
LeoLabs has been providing commercial SSA services since its founding in 2016. The company estimates completion of the New Zealand radar in mid-2019.
Dan Ceperley, LeoLabs CEO, remarked that New Zealand is a multi-decade strategic decision for the company. The threats posed to a viable LEO economy and a sustainable space environment escalate with every launch. The firm's goal is to build out the LeoLabs global space radar network at a pace to match that threat. New Zealand represents the ideal location and partner to take that next step forward. The New Zealand LeoLabs radar represents the future of commercial SSA.
Dr. Megan Woods, New Zealand's Minister for Research, Science and Innovation, noted that the nations is thrilled to welcome LeoLabs to New Zealand as part of the Innovative Partnerships program. Innovative Partnerships is all about helping future-focused companies collaborate, innovate and connect here in New Zealand.
Dr. Woods added that the nation's history is all about the ability to innovate and be at the forefront of change. New Zealand's flourishing space industry is absolute testament to that fact.
www.leolabs.space/
www.mbie.govt.nz/science-and-technology/space/
More information can be found about LeoLabs and the company's work in New Zealand by selecting this video link:
www.youtube.com/watch?v=z93SM1WlIXs
---
Former NGA Director joins HawkEye 360's advisory board
HawkEye 360 Inc. has named Robert Cardillo to the firm's advisory board — Cardillo is the former Director of the National Geospatial-Intelligence Agency (NGA) and a highly experienced national security professional and geospatial expert.

During his tenure as the sixth Director of the NGA, Cardillo sought to leverage the growing commercial capabilities of the geospatial industry. Prior to the NGA, Cardillo served as the first Deputy Director for Intelligence Integration, Office of the Director of National Intelligence, where he was responsible for delivering the President's Daily Brief and overseeing the National Intelligence Council and the National Intelligence Managers.
Currently, Cardillo is president of The Cardillo Group LLC, founded in May 2019.
In addition to his extensive work in the intelligence community, Cardillo has been awarded the Presidential Rank of Distinguished Executive (twice), the Presidential Rank of Meritorious Executive, the Director of National Intelligence Distinguished Service Medal (twice), the Secretary of Defense Distinguished Service Medal (twice) and the Chairman of the Joint Chiefs of Staff Joint Meritorious Civilian Service Award.
Cardillo becomes the 19th member of HawkEye 360's advisory board. The advisory board contains a wide breadth of leadership experience and knowledge, including members such as Advisory Board Chairperson Letitia Long (former fifth Director of the NGA), Doug Wolfe (former Chief Information Officer of the Central Intelligence Agency), Admiral James A. "Sandy" Winnefeld, Jr. (former United States Vice Chairman of the Joint Chiefs of Staff), Robert Work (former United States Deputy Secretary of Defense), and Douglas Loverro (former United States Deputy Assistant Secretary of Defense for Space Policy).
HawkEye 360 CEO John Serafini said Robert's work in the intelligence community and geospatial industry is highly regarded and extremely valuable. His counsel, combined with that of the firm's exceptional advisory board members, will provide great benefit to the company in its continued engagement and support of critical U.S. and international government customers.
Cardillo remarked that the potential of the commercial geospatial industry grows every day — especially in partnership with the intelligence community. He looks forward to working with the advisory board members on HawkEye 360's pioneering technologies and offerings.
www.he360.com/
---
Inmarsat's Fleet One SATCOM solution sailing on 5,000+ vessels
Inmarsat's Fleet One solution has been installed on more than 5,000 vessels as demand increases, due to growing awareness and partnerships with key boatbuilders, such as Groupe Beneteau.

Inmarsat's Fleet One satellite connectivity solution for the leisure and fishing markets has surpassed the 5,000-installation landmark as the rate of service uptake continues to increase. Reflecting a growing demand from leisure boat owners for Fleet One's flexible and reliable connectivity anywhere on the world's oceans, the 5,000-boat milestone has been achieved just three years after the launch of the Global service plan.
Inmarsat has introduced a range of Fleet One leisure plans, providing recreational sailors on any sized vessel with the reassurance of a consistent, simultaneous voice and data connection that enables them to stay in touch with family and friends back home, use email and social media, and access applications to assist with navigation.
To further boost performance of Fleet One as user numbers rise, Inmarsat has also announced an increase in the service's maximum data speeds. Effective immediately, all current and new leisure boat owners, or fishing and commercial vessel operators using the service, will benefit from reliable simultaneous voice and IP data at up to 150 kbps for even faster always-on connectivity outside MF/HG and GSM coverage.
Inmarsat has implemented the speed upgrade from a previous level of 100 kbps to enhance the user experience provided by the Fleet One Global and Coastal service plans, delivered through the proven reliability of Inmarsat's global L-band coverage. All newly activated Fleet One terminals will automatically access the increased speed. Customers with active terminals can update their service to benefit by following a simple implementation procedure.
With a compact antenna, in-built safety services and flexible air-time plans, Inmarsat's Fleet One provides recreational sailors and a range of other seafarers with the reassurance of a reliable, simultaneous voice and data connection for business, support services and staying in touch with people at home from anywhere on the world's oceans. The Fleet One service also has a free voice distress (505) call service that connects leisure users directly to the nearest Search & Rescue team in case of an emergency. Easy to install and use, Inmarsat offers two service plans — Fleet One Global, offering flexible connectivity for any size of vessel for both seasonal and regular users, and Fleet One Coastal, which is aimed at occasional users looking for tailored airtime pricing to keep costs down.
Inmarsat, in partnership with terminal manufacturers Cobham, AddValue and Spaceon, is continuing to strengthen partnerships with boatbuilders and key resellers.
Groupe Beneteau recently extended Inmarsat's satellite communications solutions as a line-fit and retro-fit option on the manufacturer's leading brands Lagoon, CNB Yachts and Beneteau, enabling customers to benefit from Fleet One for a two to three year period during the purchase phase of a sail or motor yacht through a tick of the box in the options catalog of the yacht builder.
www.inmarsat.com/service/fleet-one
www.beneteau.com
---
The 2019 Spaceport America Cup propulsion contest winning team named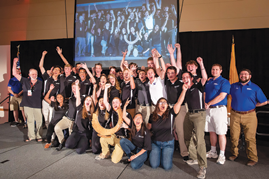 The Spaceport America Cup's winning team from the
University of Washington.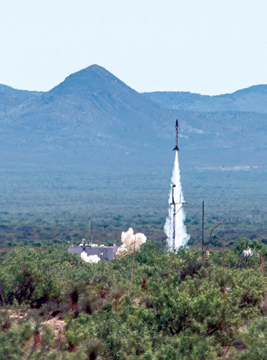 Student rocket launch of Day Five of the Spaceport
America Cup contest. Photo is courtesy of Joe Najera.
Spaceport America congratulated the University of Washington Society for Advanced Rocket Propulsion as the Champion of the
Third Annual Spaceport America Cup.
Champions were selected in each category, and the University of Washington team was chosen by judges from the group of category champions as the overall winner.
From June 18 to 22, thousands of students and spectators flocked to southern New Mexico from across the globe, creating an economic and tourism boost for surrounding communities as part of their attendance at the 2019 Spaceport America Cup.
This year's competition was the largest to date, with more than 120 teams registered including a large international presence from 14 different countries.
The week long event kicked off on June 18 at the Las Cruces Convention Center, where students displayed their rockets to judges and spectators, and had the opportunity to network with top commercial space companies and recruiters.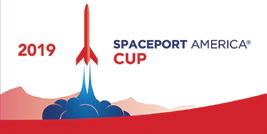 Then, from June 19 to 22, students competed, launching liquid, solid and hybrid rockets from Spaceport America's Vertical Launch Area.
With over 90 rockets launched, the majority reaching their intended altitudes, this year marked more successful launches and increasing ingenuity from students, as well as continually improved experiences for spectators.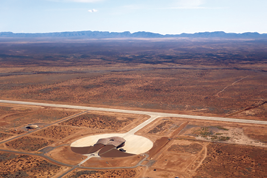 Aerial photo of Spaceport America in New Mexico.
Dan Hicks, CEO of Spaceport America, said the company is honored to serve as the host site for the Third Annual Spaceport America Cup, the world's largest intercollegiate rocket engineering competition. This competition showcases some of the brightest minds of Universities from around the world — the rockets launched at the Spaceport America Cup are the result of months of hard work and planning. As evidenced by their teamwork, dedication, innovations, and tremendous successes this week, the future workforce of the world's space industry sector is in good hands.
Dan added congratulations are in order to all of the 2019 Rocketeers and Spaceport America extends gratitude to the sponsors, volunteers, and those who traveled to New Mexico to be a part of the Spaceport America Cup.
www.spaceportamerica.com
---